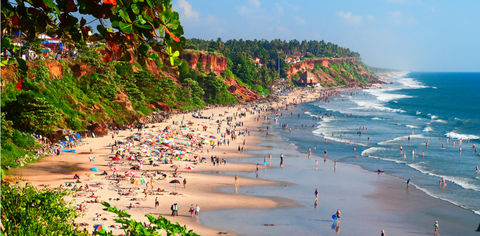 If you are in no mood to compromise your mental peace for touristy pleasures, give these alternative tourist destinations a chance over the popular tourist attractions in India. By Karan Kaushik
Travel to these alternative tourist destinations instead of overcrowded tourist attractions in India
Belum Caves instead of Ellora
View this post on Instagram
If caving is what interests you, give Belum Caves a chance. Famed as the second-largest cave system in the Indian sub-continent, Belum Caves make for an unforgettable experience. The caves were discovered by Robert Bruce Foote, a British surveyor, in 1884. Visitors should be prepared to be amazed by the arch-like formation resembling a lion's head and is aptly named Simhadwaram. Deep inside the cave is a stone formation dubbed the "Saint's Bed". It tells us of a time when Buddhist monks meditated inside the caves. Don't forget to listen to the sounds the stalactites created in the Saptasvarala Guha when you strike the rocks. They sound like music.
Jharkhand instead of Meghalaya
View this post on Instagram
If you had planned a monsoon trip to Shillong and around and the recent floods forced you to postpone your plans, try Jharkhand. The land of forests is blessed with verdant hills and valleys, and an unmatched natural wealth of enchanting waterfalls. You'd go to Meghalaya for the greens and the tranquillity they offer. You'd also go to Meghalaya for the many pristine waterfalls that embellish its landscapes. Jharkhand has all that and more. From shimmery waterfalls to age-old temples and dense forests, Jharkhand is one of the most gorgeous states one could visit in India. Popular natural attractions include Hundru Falls, Dassam Falls, Jonha Falls, Sita Falls, Lodh Falls, Kanke Dam, and Betla National Park, among others.
Varkala instead of Goa
View this post on Instagram
People go to Goa for its beaches, happening nightlife, picturesque beauty, and bohemian vibes. But Goa is one of the most crowded tourist destinations in India. What if we told you that you could experience Goa-like vibes in Varkala? Spread over laterite cliffs, Varkala is blessed with blue-green seawater and ink-blue skies. A popular backpacking beach destination, Varkala is one of those places where you don't go with a long-preplanned list of must-dos. Enjoy seafood at one of the happening cafes at the Varkala Cliff, indulge in some retail therapy at the Tibetan Market, seek solace at the Odayam beach, pray at the Janardhana Swamy Temple, and pamper yourself with a restorative massage.
Omkareshwar instead of Rishikesh
View this post on Instagram
Next on our list of alternative tourist destinations is Omkareshwar. What attracts tourists and pilgrims to Rishikesh is its beautiful mix of nature and spirituality. If you think Rishikesh is too touristy for you, give Madhya Pradesh's Omkareshwar a chance. Nestled at the confluence of the Narmada and Kaveri rivers, Omkareshwar is filled with spiritual fervour and peaceful vibes. One of the 12 Jyotirlingas, the town derives its name from Omkara, one of the names that Lord Shiva is known by. Omkareshwar features age-old temples, gurgling streams, and a hanging bridge over the Narmada River. Home to as many as 68 teerthas of religious importance, Omkareshwar has 108 shivalingas residing in its many temples. The shayan aarti or the evening aarti is a sight to behold. It takes place at 9:00 pm every night in the main temple of Omkareshwar.
Valiyaparamba instead of Alappuzha
View this post on Instagram
Another incredible place on this list of alternative tourist destinations, Valiyaparamba is located in Kerala's Kasargod district. It is the third-largest stretch of backwaters in Kerala. Like the much touristy Alappuzha, Valiyaparamba is also endowed with secluded beaches, tranquil backwaters, lovely houseboats, and abundant natural beauty. You'll be able to enjoy the same boat rides here, sans the noisy vendors and noisier tourists. For the most serene experience, visit between the months of November to May.
Lepakshi instead of Hampi
View this post on Instagram
If you are someone who loves history and heritage, you must visit the lesser-known temple town of Lepakshi in Andhra Pradesh. It may not have as many heritage monuments as Hampi but Lepakshi will leave you smitten with its unspoiled charm and rich heritage. Draped with monolithic marvels of Hinduism, Lepakshi is a symphony in stones. What's common between Lepakshi and Hampi is their connection to the Vijayanagar Empire. The popular temples of Lepakshi, such as the Veerabhadra Temple, stand as fine specimens of the Vijayanagar architectural style. Impressive sculptures adorn the walls of these temples. The prime attraction in Lepakshi is the famous sculpture of the snake on the nagalinga.
Lachen instead of Leh
View this post on Instagram
If Ladakh is endowed with rugged topography, stunning lakes, high mountain passes, mammoth peaks, and a rich Buddhist culture, North Sikkim's Lachen is no different either. Famous for being the base for the majestic Gurudongmar Lake, Lachen and its sibling Lachung are drenched in incredible scenic beauty. You'd find the same jagged terrain, equally peaceful and beautiful monasteries, and large open fields with Himalayan yaks. While Kalapathar at 14,850 feet will remind you of the Khardungla pass, Gurudongmar will not less you miss Pangong Tso. If high-altitude adventure is on your mind, ditch Leh for Lachen this time.
Dhanushkodi instead of Rann of Kutch
View this post on Instagram
And last but definitely not the least on our list of alternative tourist attractions is Dhanushkodi. This south Indian town will remind you of Gujarat's Rann of Kutch with its pristine white sand beaches. The prime attraction here is the Dhanushkodi Beach Point, surrounded by casuarina groves and swaying palms. One of the world's smallest towns, Dhanushkodi is best visited during a trip to Rameshwaram, from where it lies at a distance of 20km. The town sits at the southern tip of Pamban Island. The main attractions here are Ram Setu, the Gulf of Munnar Marine National Park, and the iconic Pamban Bridge.
Related: 12 Best Places To Travel In August
(Main and Feature Image Credit: Shutterstock)
Written By