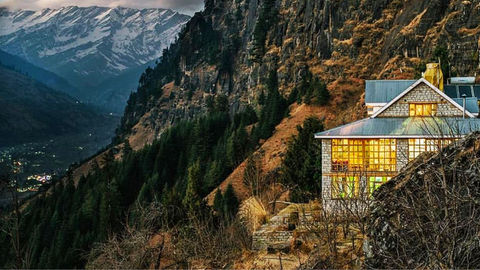 As the Republic Day-weekend approaches, move off the beaten path and check-in to unusual destinations that are not on most travel checklists. We've teamed up with Airbnb to offer you six experiences that will help you immerse yourself in local cultures, and give you a chance to experience a plethora of new things. The only way to reach this 2000-metre-high property is by walking through apple orchards and waterfalls—there's no road access. But the walk is worth it once you see the lush greenery that surrounds the house, and the view of snow-capped mountains from the inside. Instead of camping in just one spot, why not just hit the road in an SUV and park yourself in the included luxury roof-top tent? Start off at Guwahati and then go wherever the path takes you. Amenities comprise of camping chairs and a barbecue grill, making it perfect for a quiet sundowner. Located in a colonial-style estate, this quaint cottage is straight out of a whimsical dream. Sit by the fireplace inside your room, or step outside into the backyard, where the panoramic view of valleys and springs is pretty much inimitable. Sitting atop a cliff in Varkala, a gorgeous view of the Arabian Sea lie waiting for you at the Luxury Cottage. Its charm lies in its proximity to the secluded and picturesque Odayam beach. With French windows that showcase the Himalayas, you won't feel the need to step out of this property. A duplex that comes with a caretaker, it's always in demand.
Related: Dia Mirza Finds A Home At The Villa Goa With Airbnb (And It's Stunning!)
Written By