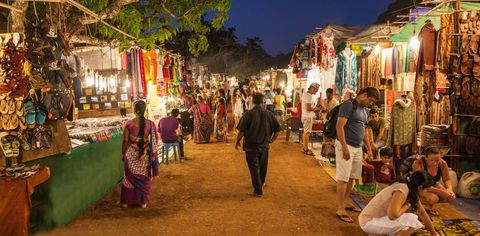 Oh, so your parents are not allowing you to go on that dream Goa trip with your friends? In that case, how about planning a Goa trip with your parents only? Trust us, Goa could be fun with parents too. All you need is this handy guide. By Karan Kaushik
Places to explore in Goa with parents
Beaches
View this post on Instagram
While your mom may not be too comfortable sharing the beach with bikini-clad hipsters and pot-smoking dudes, Goa has friendly-family beaches too. These include the popular Calangute and its twin Bagha beach, and the Vagator beach. Then there's Morjim Beach, known as Goa's turtle nesting beach, thanks to the Olive Ridley turtles that nest here every year. Miramar beach is where Goans descend every evening in droves. Miramar is to Panjim, what Chowpatty is to Mumbai. Family vibes only. You can also take your parents to Dona Paula beach, a little ahead of Miramar.
Nature
View this post on Instagram
If your parents love nature, take them to the beautiful island of Chorao and the Salim Ali Bird Sanctuary. Boat operators also offer dolphin and crocodile-spotting trips, island trips, fishing expeditions, and river cruises. Part of the Bhagwan Mahaveer Wildlife Sanctuary, the Mollem National Park, and Dudhsagar Waterfalls are other major natural attractions in Goa you may explore with your parents. Carambolim Lake, 12km from Panjim, is another great birding site. Other natural sites in Goa worth visiting include Curtorim Lake in Salcete, Mayem Lake in Bicholim, the spring at Saligao, the estuary at Morjim Beach, and the banks of river Chapora.
Heritage
View this post on Instagram
Goa is replete with Portuguese architecture. When travelling here with your parents, take them to the age-old cathedrals and forts. Start with the Bishop's Palace in Panjim, which was built in 1894 and serves as the abode of the current Bishop. Head to the Panjim Riverfront next, where you can explore the statue of Abbe Faria and Adil Shah's palace next to it.
Among the churches, Basilica de Bom Jesus is the most famous. Dating back to 1594, the grand Baroque structure serves as the resting place of the remains of St Francis Xavier. You must also visit the iconic Church of Our Lady of Immaculate Conception.
Another must-visit heritage spot is Fort Aguada. Located at a short driving distance from Candolim, the fort was built by the Portuguese in 1612. Then there's the super-famous Chapora Fort, which is a must-visit for all Dil Chahta Hai fans. The fort offers amazing views of Vagator beach, Morjim beach, and Chapora River.
Temples
View this post on Instagram
Goa is blessed with a rich built heritage. The state has its fair share of Hindu temples too. Most of the popular temples in Goa are located in Ponda Taluka, 28km from Panjim. Keep a day for visiting these shrines. Your first stop should be the Shantadurga Temple at Kaullem, constructed in 1728. The next temple could be the temple of Nagueshi in Bandora, 4km from Ponda. Another popular temple in Goa is the 17th-century Mahalaxmi Temple near the temple of Nagueshi. Then there's the Lakshmi-Narasimha Temple in Velinga. The most important of all temples in Ponda is the Mangesh Temple in Priol, which dates to 1561.
Shopping
View this post on Instagram
There's shopping and then there's shopping with your mom. There's no better bargainer in the world than Indian mothers. Take your parents to the flea market at Anjuna Beach. Held over coconut plantations at the southern edge of the beach, the flea market has vendors from as far as Kashmir and Tibet, who sell all kinds of trinklets and clothes from across India. In Panjim, foodstuffs like Goa's famous cashews are your best buys. Your parents will also love the bustle of the Panjim Corporation Market in Campal. For branded shopping, head to MG Road.
Related: Hidden Gems Of Karnataka You Need To Add To Your Bucket List
Written By