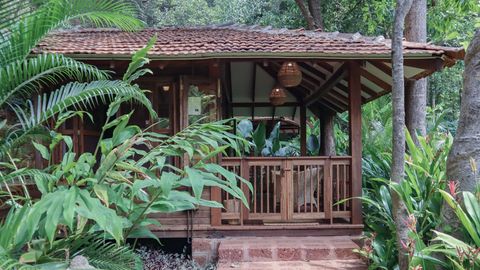 Tucked in the quaint heritage village of Assagao lies one of Goa's hidden gems, Mojigao. It is an eco-village that is a destination on its own, offering a serene experience surrounded by lush tropical gardens and forested slopes. It is renowned for its ambience, luxury cottages, healthy grub and a variety of activities, making it an ideal escape for those seeking serenity in the ever-buzzing North Goa.
Whether you're drawn to healthy dining, yoga and fitness or simply immersing yourself in the tranquillity of nature, Mojigao offers a wellness-inspired experience like no other. Discover the magic of Mojigao, where the boundaries between architecture and nature blur, leaving you with a sense of relaxation and peace of mind. Below, we have outlined some of the remarkable experiences that await you, ensuring your visit or stay is nothing short of memorable.
Mojigao location
Mojigao Bairo Alto, near Ganga Tiles, Goa, 403507, Assagao, India.
Mojigao – tickets, prices, bookings
Entry to the village is free of cost. The cottages can be booked here and are priced from INR 10,500, exclusive of taxes.
Experiences at Mojigao
From going on a gastronomy trail to cycling around the village, experiences can be customised in Mojigao.
Artjuna Cafe Focusing on building a community and well-being, one can participate in various classes offered at the venue. You can either pick up the paintbrush and create art, read a book or play a game or two of table tennis here. You can explore a diverse range of culinary delights, including Middle Eastern and Mediterranean delights, a Tapas menu (small savoury dishes) on weekends, freshly brewed coffee, healthy salads, smoothies and sandwiches and delectable desserts.
On weekends, especially in the afternoon, you can browse through the cocktail menu and choose the in-house specials such as Jaffa Nights, Sara & Suzie, Jamun Ji and Tango Basil, or stick to classics like Sangria. Refill your glasses while you listen to foot-tapping live music.
Art Bazaar
View this post on Instagram
Go on a shopping spree at the afternoon shopping market, which the venue hosts regularly. Here, you can buy homegrown, eco-friendly products. While you shop, enjoy live band performances and participate in arts and crafts workshops that promise to keep you entertained throughout the day.
Co-working space
View this post on Instagram
Work from a co-working environment of a unique kind. Here, you are enveloped by lush green surroundings rather than brick walls and you breathe in the oxygen-rich air of the forest. The Wi-Fi is complimentary.
Yoga and Meditation
Practice yoga and meditation in the open-air set-up, Yoga Shala, every day. Guests staying on the property can enrol in the classes for a 50 percent discount.
Luxury Spa
Sign up for natural therapies offered at the luxury spa which use ancient massage techniques, in-house herbal oils and botanicals to rejuvenate your mind, body and soul.
Gastronomy trail
Foodies can sample cuisines from local Goan households to South Indian Peninsular food, as Assagao is home to some of the best restaurants and cafes located only a few kilometres away from Mojigao. Don't be surprised if you come across some fantastic fine dining as well as fusion food options here. Some of the must-visit restaurants here are Jamun, Barsa and Maai.
Leisure walks
Explore the heritage village of Assagao by taking long leisurely walks or pass by the old and contemporary architecture on your bicycle. A tour of the village can be arranged on special request.
Shopping
Surrounded by several designer and local stores, one does not have to step out of Assagao to shop for souvenirs. Pick handcrafted artefacts, jewellery, clothes, spices and local Goan delicacies from these markets.
Shop the best travel experiences here
Bird watching
The property is home to several species of birds and small animals. Walking around, one can admire these natural wonders in this bird paradise.
Sunbathe at the nearby beaches Located just a few minutes away from the village are the stunning Anjuna and Vagator beaches that are perfect for sunbathing.
Accommodation Choose to stay at any of the ten luxury cottages built with a minimalist design that seamlessly blends wood, stone and glass with natural surroundings. Each suite offers a grand outdoor veranda, scenic views and complimentary breakfast at the Artjuna Cafe.
Book your stay at Mojigoa in Goa on Booking.com
Book your stay at Mojigoa in Goa on Agoda.com
For more information, visit here
(Hero and feature image credit – Mojigao/Facebook)
Related: Susegad Beyond The Sea And Sand: See The Lesser-Explored Side Of Goa
Frequently Asked Questions (FAQs)
– Is Mojigao a place to visit with family?
Yes, Mojigao is the perfect place to visit and spend time with family.
– What are check-in & check-out times for Mojigao?
The check-in is at 2 pm, and check-out is at 11 am.
– What is the menu for Mojigao?
Mojigao has Artjuna Cafe that serves all-day breakfast, including eggs, pancakes and waffles, smoothie bowls, Mediterranean cuisine, Lebanese cuisine, freshly made Italian pasta and desserts.
Written By