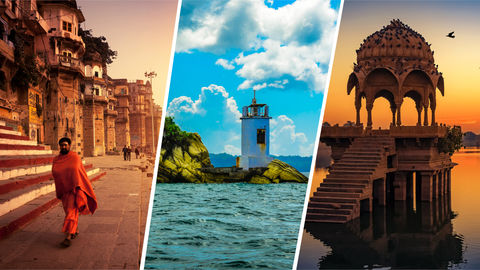 Get your travel diaries ready for we are about to spew out the ultimate travel list you will need to set your New Year resolutions right for 2019. What do we have in store? Let's just say something for everybody! By
Shubhanjana Das
1. Explore Indian History In The Pink City Of Jaipur:

Jaipur stands as one of the epitomes of India's glorious history, which is immortalised in the forts, palaces and museums dedicated to the Rajas and the Maharajas. Every winding street has a story to tell and you will be left spellbound by the gorgeous pink hue of the buildings that dominates the city tones. Make sure you don't miss out on Amer Fort, Hawa Mahal, Jantar Mantar and the City Palace at any cost!
2. Spelunk In The Borra Caves Of Andhra Pradesh:

A New Year deserves acquiring new hobbies, so we thought spelunking may just be it. After all, exploring the stalagmites and stalactites in one of the deepest caves of the country in the Ananthagiri Hills of the Araku Valley is something worth being ticked off the list. If you're wondering how old these formations are, the answer is a century and a half.
3. Experience The Grand Ardh Kumbh Mela:

The Ardh Kumbh Mela, which happens every six years, is taking place in Prayag, Prayagraj (erstwhile Allahabad) this year. A pilgrimage that brings millions of devotees from across the nation at one place for faith, religion and spirituality, it is a spectacle typical only to India.
4. Scuba Diving In Andaman And Nicobar:

Learn a new skill? Check! Get your PADI certificate at the Havelock island in Andaman and Nicobar. If Hrithik Roshan's Arjun in ZNMD can find bliss after a dive, why not you? And hey, you don't even need to know swimming to dive!
5. Enter China Through Nathu La Pass At Sikkim:

Nathu La pass is one of the three borders India shares with China and is located at a height of 4,310 m. Only Indian citizens can visit the pass after attaining a prior permit at Gangtok. The coolest part is that your mobile network will send you a message saying that you're in China! So technically, this is your golden opportunity to be in one places at the same time.
6. Visit The Haunted Fort In Bhangarh:

This eerie fort in the village of Bhangarh Rajasthan, built in 1573 AD, is cursed by a tantric to lie in desolation forever. It is also said that any effort to build a roof on the fort fails as it mysteriously collapses. Not only the fort but even the ride up to it will give you the chills. Now that's some scary stuff!

7. Celebrate Holi In Vrindavan, Uttar Pradesh:

Ditch the usual bhaang plans for Holi and head to Vrindavan this year. The GRAND holi celebrations here attract photographers from all over the world for its vibrancy and distinct character of the festival.
8. Rock Climbing At Malshej Ghat:

Try your hand at rock climbing in Malshej Ghat, Maharashtra's top rock climbing spot. The area around is studded with waterfalls and temples and attracts both rock climbers and trekkers. If you're a newbie, then this is your chance at adding a feather to your hat.
9. Experience Eco-Tourism In Kashmir:
Following the steps of Karnataka, Jammu and Kashmir has stepped up its tourism game to conserve the state and its eco-system. Under the state's eco-tourism project, tourists can experience adventure tourism, trekking, water rafting, bird watching, fishing, night camps, forest camps, wetland visits and receive wildlife education. This is aimed to uplift the local population living in rural areas through tourism.
10. Drive The Length Of The Pamban Bridge To Rameswaram:

The only way to go to Rameswaram is by the Pamban Bridge, India's longest and first sea bridge. This 2,065 m long bridge can be covered either on train or by a mighty long drive. What say?
Related: India's Top 10 Most Instagrammed Destinations Might Make You Re-Plan Your Next Trip
Written By