On This Independence Day, Visit Places In India That Have Paved The Path To Freedom
India's freedom struggle has been a long, winding road to success. This year marks the 75th Independence Day, and to commemorate that, we've curated a list of places that you can visit to learn more about India's road to freedom. By Anushka Goel
India has a rich historical past, with each era leaving a mark of its own. Similarly, India's freedom struggle, which eventually led to the country's independence in 1947, has a history of defiance and bloodshed of its own, now remembered via textbooks and iconic places in the country, which are also popular tourist spots. On this Independence Day, here are some places that you must visit if they're in your city, to get some insight on the British Raj.
Red Fort and Raj Ghat, New Delhi
View this post on Instagram
Delhi has a rich past that reflects in its architecture – from the old, winding lanes of Chandni Chowk to the Mughal marvels of Humayun's Tomb and Victorian-style buildings at Connaught Place. However, some places that hold significance or pay homage to India's freedom struggle include the Red Fort, which was built in the Mughal Era and was where Prime Minister Jawahar Lal Nehru hoisted the flag of India on August 15, 1947. Till date, this is where India's Prime Minister hoists the national flag on every Independence Day, i.e. August 15. Raj Ghat is yet another significant site in Delhi, where Mahatma Gandhi's last rites were performed after his assassination in 1948.
Sabarmati Ashram, Ahmedabad
View this post on Instagram
An important historical site, Sabarmati Ashram is located on the banks of River Sabarmati in Ahmedabad. It was Gandhi Ji's home in Ahmedabad and served as the starting point of the Dandi/Salt March of 1930. One of the main focal points of India's freedom struggle, it was here that Mahatma Gandhi formed a school centred around manual labour, literacy and agriculture to promote self-sufficiency.
Jallianwala Bagh, Amritsar and Wagah Border, Attari
View this post on Instagram
Jallianwala Bagh and the Wagah-Attari border are among the most popular sites commemorating India's freedom and struggle. Jallianwala Bagh is the infamous place where General Dyer and his soldiers opened fire at the men, women and children gathered there on April 13, 1919, to discuss two resolutions – one that would condemn the firing that took place on April 10 that year, and the other which would request authorities to free the imprisoned leaders. All exits closed, General Dyer's men shot at the crowd, reportedly killing 379 people and injuring over 1,200.
Sewagram, Wardha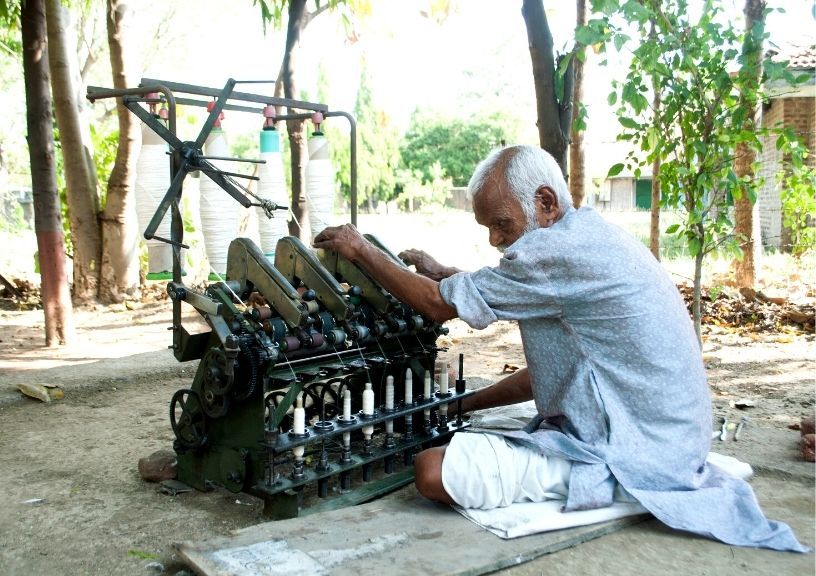 Located in Maharashtra's Wardha district, near Nagpur, Sewagram is where Gandhi Ji settled down in April 1936, after the Dandi March. The well-preserved ashram at Sewagram features minimal everyday use products used by Gandhi Ji, and highlights his philosophies, with simple huts and buildings where various aspects of his work used to take place, and peaceful lawns and trees planted by Gandhi. You can visit the quaint ashram and learn more about his life, and also witness people practising the Gandhian way of life.
Cellular Jail, Andaman
View this post on Instagram
You must have read in school about the atrocities inmates (who were freedom fighters) faced at Kaala Paani or the Cellular Jail, located in Port Blair at the Andaman Islands. The building, today, has a museum where you can learn more about their freedom struggles.
Barrackpore, West Bengal
View this post on Instagram
Barrackpore in West Bengal was where the Britishers set up the first British barrack. The city gained popularity due to the mutiny of 1824 and the revolt of 1857. The Britishers had set up their first Barrack in the city, which gave the city its name. The fight for independence is said to have begun here when sepoy Mangal Pandey attacked his British commander in the events leading up to the 1857 revolt. The main reason behind it was the introduction of a new cartridge for rifles, which was greased with the fat of cows and pigs, and had to be torn by the mouth to be used. Barrackpore today has a Gandhi Museum and Mangal Pandey park, among many other things.
August Kranti Maidan, Gateway of India, Mumbai
View this post on Instagram
August Kranti Maidan, which was earlier known as the Gowalia Tank Maidan, was where the Quit India Movement began on August 8, 1942. Leaders gathered here that day and on August 9 the movement was born, with the chant 'Do or Die'. Today, the ground is divided into five smaller sections used by people to play sports, a children's park and more.
When in Mumbai, the Gateway of India is a must-visit place. The spot, from where you can view the Arabian Sea, was built to commemorate the arrival of King George V and Queen Mary to India. The Gateway is also iconic as it served as the departure port for the British, and the last of British ships left from here after India gained independence.
Related: 8 Stunning War Memorials Of India That Celebrate The Country's Unsung Heroes