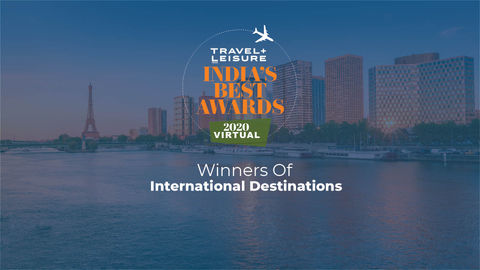 As travel lovers, celebrating and dreaming of visiting new destinations comes naturally to all of us—even during tough times. And this year's Travel + Leisure India & South Asia's India's Best Awards are no different. At a time when overseas holidaying is off the charts, these international destinations helped keep the wanderer in us alive with armchair escapism and surreal photographs. Which is why they've emerged victorious, thanks to your votes.
View this post on Instagram
BEST COUNTRY
Switzerland
View this post on Instagram
Its magical mountains and charming villages and cities might have been the draw for Bollywood, but what makes Switzerland stand out as a tourist destination today is the exceptional experience it provides. It's easy to reach and convenient to explore, thanks to the Swiss Transport System. Adventure enthusiasts see it as a natural theme park, and couples love its cosy chalets and dreamy landscapes. In response to the pandemic, Switzerland has initiated a campaign to create a 'Clean & Safe' label, which will indicate establishments that have made a conscious commitment to comply with protection plans.
Singapore
View this post on Instagram
The Southeast-Asian country of Singapore is a melting pot of culture and heritage, and offers a multitude of tourism offerings, experiences, diverse culinary options, and more. Singapore inspires all kinds of visitors, from families to working millennials, cruise passengers, and business travellers. The country runs on passion. Whether you're a foodie, explorer, collector, socialiser, action-seeker, or culture-shaper, you find limitless possibilities to do what you love. Its architectural wonders, lush parks, proud heritage, world-class attractions, and amazing food can fill up an itinerary of any length.
BEST CITY
Paris, France
View this post on Instagram
Paris remains a coveted destination for a range of tourists, from families to couples and even groups of friends. Its iconic monuments, emblematic museums, and fascinating array of sightseeing options guarantee a busy agenda. There is always something for everyone in Paris. If you are a foodie, Paris satiates your appetite with food markets, food walks, and restaurants that showcase the excellence of French cuisine. For shopaholics, the glamourous city offers the best haute couture designers and local boutiques. For luxury seekers, its exquisite hotels present the best of French hospitality and fine dining experiences.
Dubai, United Arab Emirates
View this post on Instagram
Thanks to its spirit of inclusion, stunning architecture, and futuristic layout, Dubai stands out as the leading tourism destination of the world. With its unmatched coastline, beautiful desert, and magnificent cityscapes, the city showcases the best of everything. The Textile Souk in Bur Dubai, the historic Dubai Creek, and Downtown Dubai deserve a spot on your bucket list. Other unmissable attractions include Dubai's Miracle Garden, the Burj Khalifa, Palm Jumeirah, The Dubai Mall, and Dubai Fountain. The UAE government's handling of the pandemic has further established Dubai's credentials as a safe tourism destination.
BEST GREEN COUNTRY
New Zealand
View this post on Instagram
With environmental sustainability at the heart of its tourism strategy, New Zealand emerges as one of the best green countries in IBA 2020. The idea is that tourism should give back more than it takes away. Its roots lie in the native Māori culture, which has a deep connection of respect and reciprocity with the land. The country inspires its tourists to make the 'Tiaki Promise' and become kaitiakitanga (guardians) of the land and environment. The country also recognises Whanganui River, Te Urewera, and Mt Taranaki as legal living entities with the rights, duties, and liabilities of a person.
Bhutan
View this post on Instagram
One of the smallest countries in the world, Bhutan has the highest green footprint with more than 71 per cent forest cover. Its unique development philosophy of Gross National Happiness has been applauded around the globe, and the country is known to be the only carbon negative country in the world. A rich biodiversity hotspot, Bhutan is home to several endangered bird and animal species. Its idyllic landscape, adventures, and wellness activities, coupled with the tourism policy of 'High Value, Low Volume', make it one of the greenest destinations in the world.
BEST HONEYMOON DESTINATION
Maldives
View this post on Instagram
Love is always in the air in the Maldives. No matter which island you choose, pristine beaches, gentle waves of mesmerisingly clear waters, and a song of swaying palms make you fall in love all over again. The fairy-tale setup of the archipelago is known to draw couples, especially those who are about to start their journey together. They're spoilt for choice with luxury resorts offering beach villas, overwater residences, and accommodation amid dense vegetation. The country also has a wide range of couple's activities—from underwater explorations to spa treatments, cultural discoveries, and artsy experiences.
Thailand
View this post on Instagram
Thailand is another destination that scores highly among our readers. For Indians eyeing a romantic getaway in an exotic but easily accessible location, Thailand is often the answer. Famous beaches, world-class accommodation options, exciting nightlife, a rich culture, and historic temples—Thailand has it all. Add tantalising shopping, indulgent spas, and mouthwatering food, and Thailand turns out to be a wholesome package for honeymooners of all stripes.
BEST MICE DESTINATION
Abu Dhabi, UAE
View this post on Instagram
The capital of the UAE is conveniently linked to all major cities around the globe. Abu Dhabi boasts world-class infrastructure with a wide range of accommodation options that suit every budget and preference. Considered one of the safest cities in the world, it features reliable transportation and advanced event management technology. For instance, the Abu Dhabi National Exhibition Centre hosts more than 327 events and over 1.6 million visitors, annually. In addition, the capital is home to a multitude of cultural and entertainment attractions, including Ferrari World Abu Dhabi, Warner Bros World Abu Dhabi, Louvre Abu Dhabi, and Sheikh Zayed Grand Mosque. The smooth interweaving of business and leisure in Abu Dhabi has increased its popularity among MICE travellers.
Tokyo, Japan
View this post on Instagram
The fast-paced megacity of Tokyo houses abundant business opportunities and establishments. The country capital is also the business capital of Japan. Besides the city's well thought out event facilities and world-class service quality rooted in the Japanese culture's ethos, Tokyo offers cutting-edge technology, art galleries, museums, and a vibrant culinary scene involving high-tech restaurants. Its fusion of tradition and innovation make Tokyo the ideal MICE destination. Two international airports and a well-established transportation network also add to its credentials.
BEST WEDDING DESTINATION
Monaco
View this post on Instagram
The Principality of Monaco is the second-smallest sovereign state in the world. And it is also one of the wealthiest. There's little wonder then that it has become popular for its opulent weddings. Its hotels offer personalised service and a combined capacity of just over 2,500 rooms and suites. Over 170 restaurants serve everything from Italian to French to Mediterranean cuisine, and even vegan options, while nightclubs and casinos make sure wedding guests never run out of things to do. Haute couture, perfumes, jewellery, and the gamut of finery have established it as a global shopping capital. Weddings on the French Riviera have that je ne sais quoi appeal that makes them so exciting and unique.
Bahrain
View this post on Instagram
The Kingdom of Bahrain has quickly risen on the chart of wedding destinations, especially for Indians. The country's well-preserved heritage, opulent offerings, regal Arab hospitality, and modern infrastructure constitute the perfect setting for a memorable wedding. A dedicated website (bahrainislandwedding.com) acts as a comprehensive guide for anyone interested in having their ceremony in the country. Bahrain has also been working with its partners on a Standard Operating Procedure, which would make families feel safe when they plan a wedding in 2021.
BEST SHOPPING DESTINATION
Outletcity Metzingen
View this post on Instagram
Europe's largest factory outlet, Outletcity Metzingen, offers visitors more than 130 brands. The fabulous collection spans luxury, premium, sports, jewellery, and home and living products, with prices reduced up to 70 per cent all year long. Located just 30 kilometres south of Stuttgart, Outletcity Metzingen is only a two-hour drive from Munich, Frankfurt, or Zurich. It is famously home to the world's largest Hugo Boss flagship outlet store, spread over 5,000 square metres. The outlet also houses restaurants, cafes, and play areas for kids, making it a complete destination.
The Dubai Mall
View this post on Instagram
With more than 200 luxury stores, The Dubai Mall is one of the best shopping destinations in the world. It is home to iconic brands like Bvlgari, Cartier, Louis Vuitton, Tiffany & Co., Roberto Cavalli, Chopard, Christian Louboutin, and many more. When hunger gets the best of you, a wide range of eateries offers every cuisine you could crave for, including Chinese, Japanese, Indian, French, American, British, and Italian. The mall also packs an impressive range of entertainment options, from the Dubai Aquarium & Underwater Zoo to a VR Park, the Dubai Opera, and the Dubai Ice Rink.
BEST HERITAGE DESTINATION
Spain
View this post on Instagram
Spain is one of the leading countries in the world when it comes to historical monuments. Its astounding 15 World Heritage Cities are a testament to that reputation. Each of these has exceptional sights and monuments that have been declared as World Heritage Sites, and intangible cultural values in the form of flamenco, Mediterranean cuisine, or parties in the open-air courtyards of Córdoba. This network of cities is distributed throughout mainland Spain, along with a city on Tenerife island (in Canary islands) and the city of Ibiza in the Balearic islands and reflects the diversity and mixture of cultures that is Spain.
Saudi Arabia
View this post on Instagram
Within a year of introducing tourism, Saudi Arabia has become the fastest growing leisure tourism market in the world. With more than 10,000 sites of historical interest, including five UNESCO World Heritage Sites, the country was an undiscovered gem for explorers seeking to better understand a part of the world that has been at the crossroads of civilisations for millennia. As travellers seek less crowded destinations, Saudi Arabia's wide open spaces are compelling choices, especially when coupled with the locals' unparalleled hospitality and culture of generosity that traces its origins to centuries of trade and exploration.
BEST EMERGING DESTINATION
Vietnam
View this post on Instagram
Vietnam's strong safety record since the start of the pandemic and its ability to provide physically-distanced holidays have made it one of the best emerging destinations at this year's IBA. The country has always had a host of lesser-known destinations, delicious food, and a timeless culture that visitors can soak up with peace of mind. Their 'Why Not Vietnam?' campaign highlights suitable experiences for travellers looking to escape and unwind after COVID-19 passes.
Ireland
View this post on Instagram
The island of Ireland is a mix of dramatic landscapes, stunning cliff tops and sea views, ancient treasures and historic locations. Northern Ireland thrills with its varied offerings: Belfast's medley of cultural treasures, Victorian grandeur, and industrial grit; the walled city of Londonderry; Fermanagh's lakes and underground caves; and the iconic Giants' Causeway. Ireland's Ancient East and Hidden Heartlands are carpeted by lush landscapes and idyllic towns. Add plenty of castles, golf courses, delectable cuisine, whiskey and gin distilleries, and famous shooting locations, and you have something for everyone.
BEST ADVENTURE DESTINATION
South Africa
View this post on Instagram
With more than 3,000 adventure offerings, the Rainbow Nation of South Africa has clinched the award for best adventure destination this year. Home to captivating wildlife, the country is big on sustainable offerings and eco-tourism experiences like cycling tours, nature safaris, conservation projects, and rural experiences. It boasts world-class facilities, excellent infrastructure, and distinctive attractions, along with internationally benchmarked health and safety standards—an important consideration for any adventure enthusiast. For travellers seeking offbeat destinations, the country has opened up picturesque new regions, including Port Elizabeth, Robertson, West Coast, Drakensberg, and Panorama Route.
Indonesia
View this post on Instagram
Adventure seekers find their heart's deepest desires fulfilled in Indonesia. Bali's beautiful coastline offers the perfect combination of vitamin sea and adrenaline rush. There's a wide range of activities—practice aqua yoga on a stand-up paddleboard or inside a warm pool; try water skiing, parasailing, or flyboarding at the Tanjung Benoa Beach; drive an all-terrain vehicle through Bali's lush forests, rich farmland, and golden sand; soar through the air on a flying fish raft ride on the Serangan Island in Denpasar; wear a waterproof helmet and take a sea walk, or take kitesurfing lessons in Sanur.
Related: Bookmark These Dates For The Week-long Travel + Leisure India's Best Awards 2020 Virtual Celebrations!
Written By