A couple travels to the famous Greek island–Santorini–in winter to find it completely bereft of tourists, an unlikely but ideal scenario for a honeymoon. By Huzan Tata
We sipped on our glasses of rosé and blue wine, sitting under a pergola at Pelican Kipos, a garden restaurant with decor that comprised palm trees and vibrant blooms. The open-air eatery was empty except for one couple dining in a far corner. In that quiet moment, we knew that our Greek getaway was going to follow this tranquil template.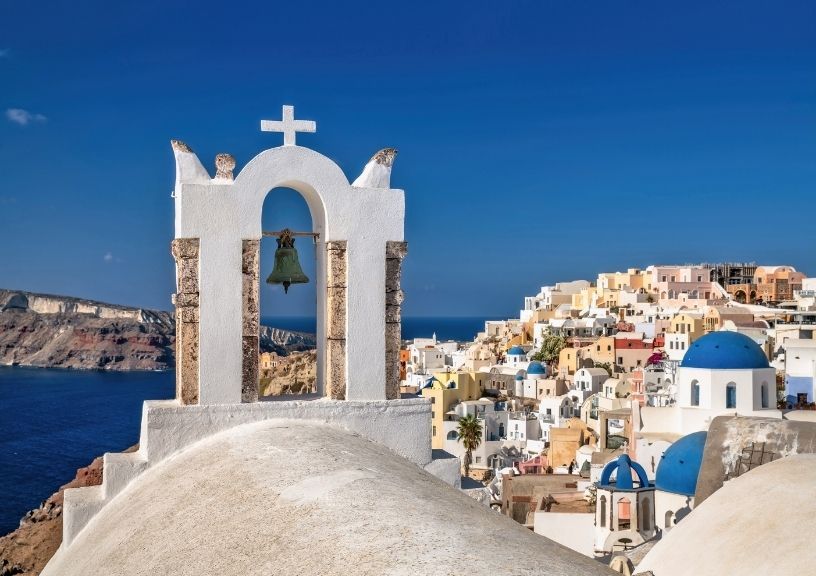 Just a little over an hour earlier, our 30-minute flight from Athens had touched down at Thira International Airport to kick-start the second leg of our winter honeymoon. As we walked out with our bags, my husband and I never imagined that we would get to experience our shared dream of living on our own private island in the middle of the Aegean Sea—even if just for two days. Santorini, the crescent-shaped volcanic locale famed for its sunset vistas and pristine white houses, is also known to be overcrowded with tourists and cruise ships that usually dilute the perfect romantic holiday. We were prepared for this, but the five-minute drive to our villa through empty roads painted a different picture. "It's off season, almost no one comes to vacation here. You'll find only locals who live on the outskirts. This island is all yours," our driver explained in a thick Greek accent.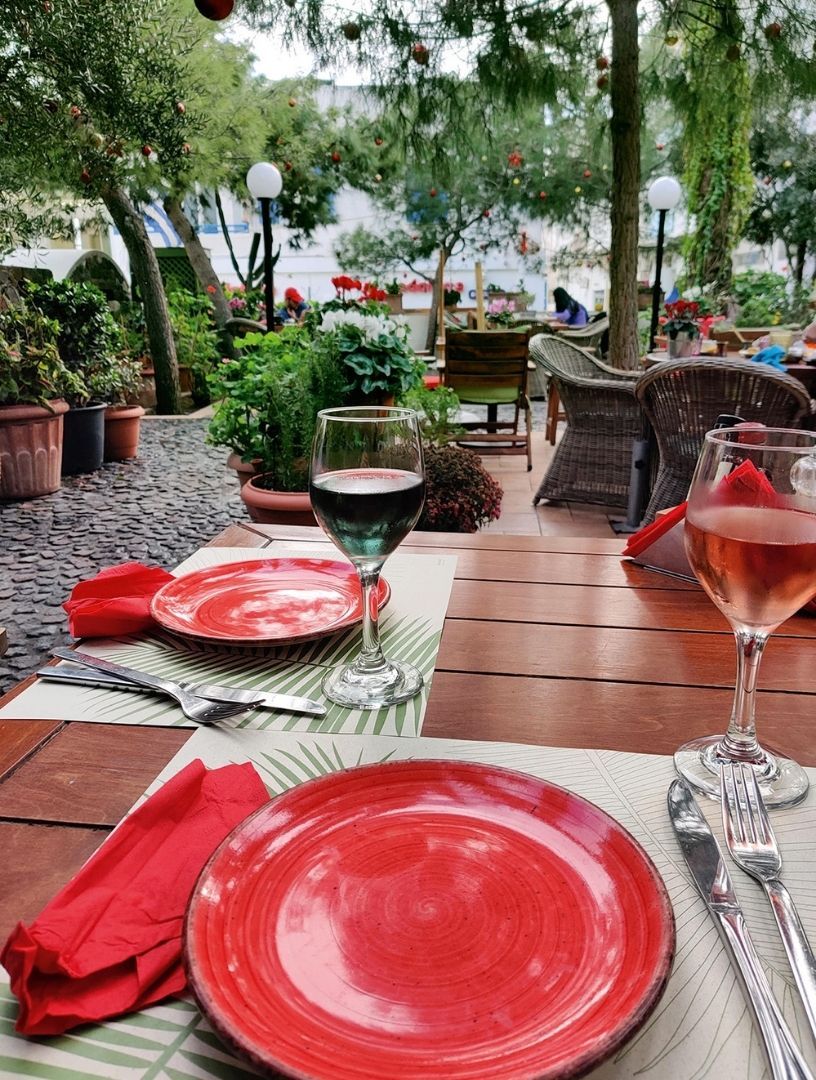 After a delectable lunch of potatoes au gratin, spinach-stuffed chicken, and grilled pork fillet, we headed to our restored 18th-century villa at one end of the main street of Fira, the capital of the island. Although it was the middle of the afternoon, a week before Christmas, there wasn't a single human in sight. Fira's main road, a bustling area in summer, could be mistaken for a ghost town in the cold months, but there's something about winter that makes Santorini feel serene.
After we got our fill of the azure waters from our private balcony, we headed north to Oia—on the northwestern tip of the island—in our rented hatchback for that sunset view we had read so much about. I'd first seen the white houses of this tiny, coastal Greek hamlet in a movie when I was 12, and I'd held on to the dream of walking its pathways on my honeymoon ever since. "Be prepared to be disappointed because of the rush and the difficulty to get a good photo," I had read on a blog. "The view is marvellous, but the jostling of people for photos takes away from the experience," a friend who had visited in summer told me.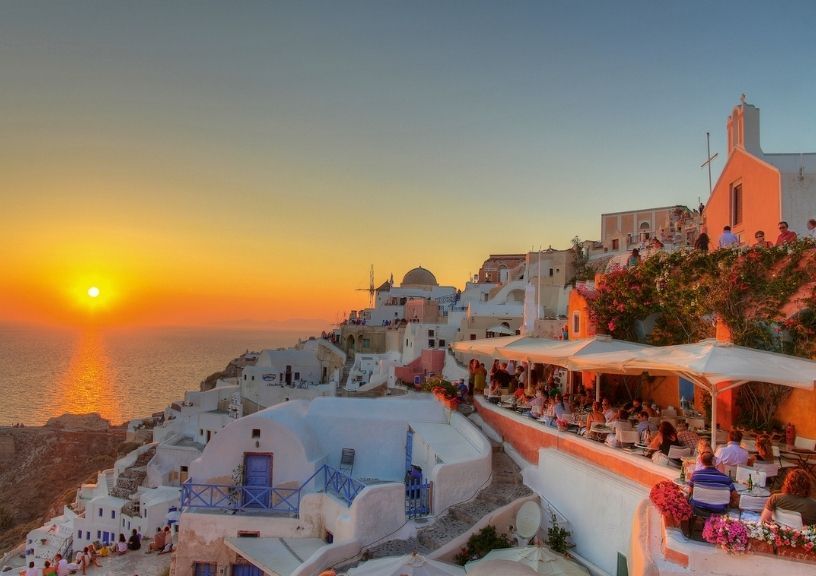 The shortest route from Fira to Oia takes just 20 minutes, but since there was no traffic, we enjoyed a leisurely long drive through the winding roads, swaying to country music as the cold December wind messed up my hair. We could go as fast or as slow as we wished—the island was our oyster. In the Monastiri neighbourhood, we walked along cobblestone pathways, lush bougainvillaeas providing shade and pops of colour. Several blue doors led to nowhere, and the whitewashed houses and shops were all shuttered down, save for a single gift shop. Rumour has it that the homes were painted white to prevent diseases from plaguing the town since whitewash was the most affordable disinfectant. Another theory says that it was simply to keep the houses cool during summer. Whatever be the reason, the white town makes for a beautiful sight, especially if you get to explore it in solitude and at your own pace. My husband and I took selfies at every corner until we found a friendly local who photographed us under an arch of the lush pink blooms that dominate the town.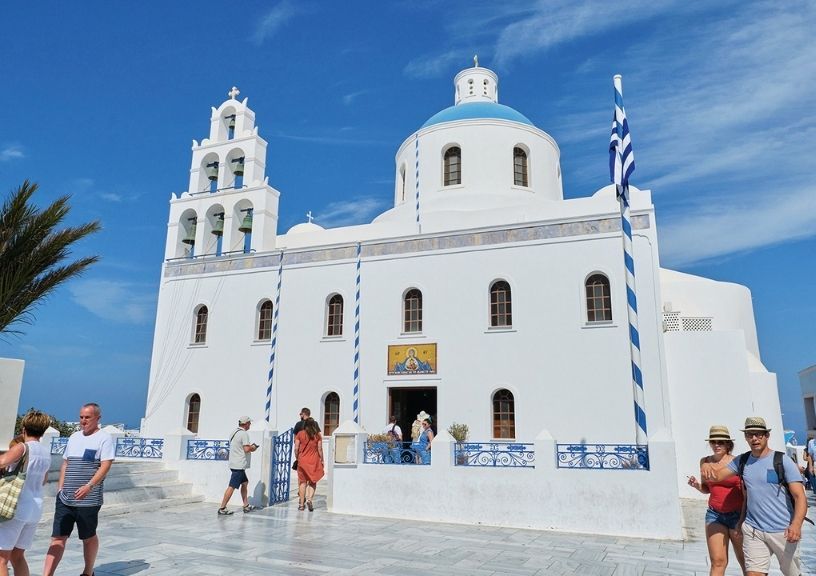 After a walk through the winding alleys, a sign along the main street of Nikolaou Nomikou informed us that we had reached the 'photo point'—in time for sunset hour. The changing colours of the skyline and the famed blue domes of Panagia Platsani and Anastasi Orthodox Church overlooking the caldera were ours to savour, exclusively. My husband had been wary of travelling to Europe in the off season, but on this evening of solitude, he learnt how fulfilling it was to be alone in a beautiful place like Santorini. I could see why the locals call the town Apano Meria— it's truly 'a place on top of the world'.
At Kokkalo, the sole open restaurant in Fira, we toasted to our evening in Oia with some Cretan raki—an anise-flavoured alcoholic beverage that warms you up with a single shot—and ended the night with some luscious lamb souvlaki.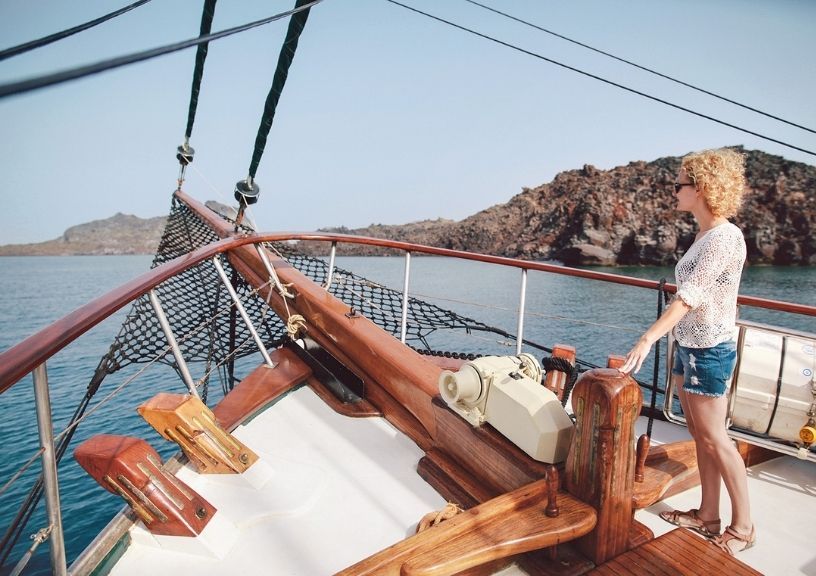 On our morning walk through the alleys of Fira the next day, we found ourselves following a path of nearly 300 steps to a cable car station. A stone statue of a donkey welcomed us inside, but no human was around. A few moments later, the official at the ticketing office stepped out, surprised at our appearance. A stowed away ticket machine suggested that no tourist had come this way in months. We headed down for a view of the volcanic islands from the old port, watching the whitewashed buildings of Fira shrink behind us. The port may be a vibrant place to hang out in the summer, but it is desolate in winter. The only human presence at the landing was a fisherman catching his wares close to the shore. There was none of the famous tourist jostling as we captured a picture of the magnificent seascape for posterity.
A spanakopita (filo pastry stuffed with spinach and feta cheese) in one hand and the steering wheel in the other, we then drove to the highest part of the island, the Profitis Ilias Monastery, 565 metres above sea level. Winding roads and hairpin bends led us to our destination, but the church was shut. This was the downside of the off season, but we did score some postcard-worthy panoramic views of the city. Our pre-booked luxury catamaran ride with Spiridakos Sailing Cruises proved to be a great way to end our honeymoon. Three more couples were on the boat, but each of us got a private corner to enjoy the waves as we sipped on wines from a local vineyard. We sailed to the famous White Beach and Red Beach. On a brief stop at volcanic hot springs, we tucked into a lunch of Greek salad, pasta, shrimp, grilled chicken, and tzatziki, while goats and seagulls perched on black rocks nearby and stared at us curiously.
As the sun went down and sunglasses were traded for sweaters, we watched, one last time, the orange Greek sky enveloping the island. As the world seeks physical distancing and private retreats in the wake of the pandemic, we now look back at those winter days in Santorini with much fondness. I hope all of us can find such islands of joy and pristine beauty all to ourselves, in the new world.
GETTING THERE
British Airways flies from Mumbai to Santorini via London. Alternatively, several international airlines, including Etihad and Swiss Air, fly from major Indian cities to the Greek capital of Athens. Olympic Air has daily flights from Athens to Santorini.
STAY
Casa Santantonio is a restored 18th-century mansion in Fira that offers luxe apartments to couples and families all year round. All three rooms of the villa come with an outdoor jacuzzi and patio, and the honeymoon suite on the third level offers a brilliant view of the sea. From INR 9,000. Andronis Luxury Suites offers the ultimate hotel experience to indulge yourself in the summer, with stunning views of the caldera. From INR 40,000.
Related: Water Babies, Take Note Of These 10 Seaside Sanctuaries