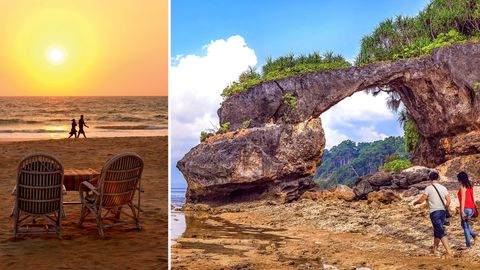 Give new bonds a real chance to blossom—plan the perfect honeymoon in this imperfect world of today with our handy guide to the most romantic Indian destinations. By Satarupa Paul A wedding may end with the ceremonies, but a marriage only begins at the honeymoon. For newly-weds, the honeymoon marks the first time when they can get away from the maelstrom of crowd that accompanies a big fat Indian wedding—ready to embark on that new journey together. This is also the first chance for many couples to travel together and explore each other's likes and dislikes, set relationship goals and boundaries, and most importantly make memories to last a lifetime. Which is why, it is so important to choose the right destination for a honeymoon. While the pandemic may have made many destinations around the world inaccessible for the time being, it doesn't mean that you've to give up on your honeymoon plans entirely. Take a cue from our curated list of the top 10 Indian honeymoon destinations, pick the one that best suits you and your partner, and get planning on that much-awaited vacation! One of the most beautiful islands in the Andaman Archipelago, the tiny Neil Island features magnificent white sandy beaches, dense tropical woodlands, rich farmlands, and enchanting coral reefs, all of which together make it a biodiversity hotspot. Spread over just 14 square kilometres, the island is best explored on foot or bicycles. The sea around is rich in corals and marine life and makes for some of the best scuba diving and snorkelling
spots. Go inland from the sparkling beaches and a profusion of greenery meets the eye, as banana plantations, paddy fields, vegetable gardens and forests dot the landscape. Away
from the hustle-bustle of the mainland, life here is slow, idyllic, and relaxing. Ideal For a laid-back escape amidst stunning landscapes.
Getting there: Neil Island is approximately 35 km by sea from the closest airport at Port Blair and takes about 90-120 minutes to reach by ferry.
Stay: Sea Shell, Neil (seashellhotels.net)
Best time to visit: September to April Perched on the edge of majestic red laterite cliffs along the Arabian Sea is the quiet little hamlet of Varkala, known for its pristine beaches. A declared geo-heritage site, these cliffs have numerous natural spas of mineral-rich springs sprouting from their sides. A golden strand of sandy beach nuzzles the cliffs at one end and houses restaurants serving a variety of cuisines, cafes playing world music, and shops selling yoga mats, silver jewellery and harem pants. Further away, the Papanasam Beach or Varkala Beach is renowned for its natural spring that is believed to have curative properties. A revered Hindu site known for the 2,000-year-old Janardhanaswamy Temple, Varkala has also become a coveted wellness destination in recent years due to its health resorts and Ayurvedic massage centres. Ideal for a relaxing beach honeymoon in beautiful settings, interspersed with rejuvenating wellness therapies.
Getting there: Fly into Thiruvananthapuram and hire a taxi to Varkala, 1.5 hours away.
Stay: Gateway Varkala – IHCL SeleQtions (seleqtionshotels.com)
Best time to visit: October to March The original dream honeymoon destination, Kashmir still remains a hot favourite for its incomparable beauty. Literally meaning 'meadow of gold', the valley of Sonmarg is strikingly set amidst flower-laden meadows that appear golden in spring, with magnificent snow-capped mountains rising in the backdrop. A base for the holy Amarnath Yatra as well as the Great Lakes trek, Sonmarg is enticing for adventurous couples whose idea of bonding is a long hike together. For old-school romantics too, it's an absolute paradise of forests, lakes, and glaciers that lend themselves perfectly to days of picnics, horse riding, snowball fights, and nights of camping, bonfires, and star gazing over delectable Kashmiri food. Ideal for both adventure seeking and romantic honeymooners.
Getting these: The nearest airport is in Srinagar, about 80 km away. Taxis are available for hire from here.
Stay: The Villa Himalaya (thevillahimalaya.com), Rah Villas (rahvillas.com)
Best time to visit: March to July Nestled in the lap of the Kumaon Himalayas, the hamlet of Mukteshwar features unspoiled hills and forests with breathtaking views of snow-covered ranges around. Away from the popular, tourist infested hill stations, Mukteshwar provides a serene haven for newlyweds to bask in love while soaking in the nature. Imagine waking up to the chirping of birds, enjoying long walks through forests of oak, pine and rhododendron, visiting quaint mountain villages and old colonial bungalows for a taste of local history, splashing in cool waterfalls, and feasting on freshly-plucked fruits from the many orchards here. And if you need some blessings for your new journey, the 350-year-old Mukteshwar Dham Temple dedicated to Lord Shiva is not far away. Ideal for those who want all the frills of a hill station vacation sans the milling crowds.
Getting there: Mukteshwar is about 350 km from Delhi and takes around 8 hours to reach by road. You can also take a train to Kathgodam and then hire a cab (54 km).
Stay: Te Aroha (tearoha.in), Sitla Estate (sitlaestate.com)
Best time to visit: All year round With a coastline of palm fringed beaches along the Arabian Sea, Goa is everybody's favourite destination. Whether you crave the soothing seclusion of South Goa, or the pulsating energy of North Goa; whether you wish to spend your days lazing around at the private beaches or azure pools of your luxury resort, or go beach hopping; whether you want to explore the many famous sites from the comforts of a chauffeured sedan, or hire a scooter for two and discover offbeat treasures on your own; whether you prefer fine dining and world cuisines, or love binging on Goan delicacies and fresh seafood preparations; whether you're a party animal or a casino aficionado, an adventure sports enthusiast or
a wellness connoisseur—the choices in Goa are endless! Ideal for fun-seeking couples with varying interests, as there's something for everyone here.
Getting there: Dabolim Airport connects Goa to all major Indian cities.
Stay: Alila Diwa Goa (alilahotels.com), Grand Hyatt Goa (hyatt.com), Taj Exotica Resort & Spa (tajhotels.com)
Best time to visit: November to April Located right in the midst of the great Thar Desert, the city of Bikaner is a haunting beauty of barren landscapes, extravagant royal palaces and forts, a delicious cuisine that makes you reach out for second helpings, and markets teeming with vibrant handicrafts. This city attracts a discerning crowd looking to enjoy the allure of the desert. The 16th-century Junagadh Fort with its ornate buildings and decorated halls is the prime attraction, whereas the Karni Mata Temple is unique for its rats that are considered sacred. Embark on a walk around its palaces and havelis, go on a desert safari aboard a jeep, enjoy a sundowner by a lush oasis, and relish a feast of Marwari delicacies. You're guaranteed a honeymoon worth rambling about later. Ideal for couples with a penchant for history, heritage, and offbeat explorations.
Getting there: Jodhpur airport is the closest to Bikaner (250 km).
Stay: Narendra Bhawan Bikaner (narendrabhawan.com)
Best time to visit: October to March Sprinkled with numerous temples and bestowed with abundant natural beauty, Kullu may be best known as a gateway to the tourist hub of Manali and the backpacking destination of Parvati Valley. However, it has much to offer of its own. Towering forests of pine and deodar straddle the Beas river that winds through the valley, while apple orchards rise up the sides of hills. A base for adventure activities such as river rafting, trekking, and paragliding, Kullu is also known for its local handicrafts and shawls. Located in the ancient town of Naggar that was once the capital of the Kullu kingdom, the 15th-century Naggar Castle built of stone and wood was converted into a rest house over a 100 years ago. Today, it makes for an enchanting stay for honeymooning couples. Ideal for newly-weds who love going off the beaten path to experience something unique.
Getting there: Kullu is 490 km from Delhi and about 250 km from Chandigarh.
Stay: Hotel Naggar Castle (hptdc.in), Baragarh Resort and Spa (baragarhresortmanali.com)
Best time to visit: March to June Situated on the endless expanse of the Bay of Bengal, Konark is known for being the site of the magnificent Sun Temple (konark.nic.in). Built in black granite in the mid 13th century, this UNESCO World Heritage Site is one of the most stunning examples of religious architecture in the world. Once the sea kissed its edges, but today the massive structure sits in solitary splendour by the drifting sand about two kilometres away. Konark is also blessed with the beautiful Chandrabhagha beach, with a lighthouse and deer park in its vicinity. Short drives away are the holy city of Puri, the excavated Buddhist site of Kuruma, and the handicrafts village of Pipli known for its applique embroidery work. If you plan your honeymoon in the first week of December, you can witness the annual Konark Dance Festival (konarkfestival.com). Ideal for couples who want to infuse their first holiday with lessons in heritage, architecture, and culture.
Getting there: Konark is easily accessible by taxi from Bhubaneshwar airport, which is about 65 km away.
Stay: Lotus Eco Beach Resort Konark (orchidhotel.com)
Best time to visit: September to March Sprawled on the slopes of the Western Ghats is the sleepy town of Chikmagalur—home to the first coffee estates in India. Thick plantations dot the hilly landscape here, with tall silver oak and teak growing in tight rows to provide shade to the coffee bushes and support for pepper vines. For newly-wed connoisseurs of the beverage and others alike, Chikmagalur makes for a luxurious honeymoon. A stay at one of the finest resorts here set amidst plantations translates to plantation walks, coffee appreciation sessions, culinary masterclasses, and spa therapies. The Mullayanagiri Hill and the sacred caves of Baba Budangiri, make for interesting explorations. Ideal for couples who have a penchant for coffee and the finer experiences in life.
Getting there: Chikmagalur makes for a beautiful five-hour drive from Bengaluru.
Stay: The Serai Chikmagalur (theserai.in), Java Rain Resorts (javarainresorts.com)
Best time to visit: September to May The ancient city of Ujjain is steeped in history and heritage. It served as the seat of the Mauryan Empire under Emperor Ashoka in the second century BCE. Geographically, Ujjain lies at the precise point where the Tropic of Cancer intersects the first meridian of ancient Hindu geographers. It's thus often referred to as 'navel of the earth' and 'Greenwich of India'. Enthusiasts can learn more about this at the Vedha Shala, while heritage hunters will find an interesting study in the scores of temples, of which the centuries-old Mahakaleshwar Temple is the most prominent. For culture explorers, the Kalidasa Academy (kalidasaacademy.com) dedicated to the revered poet and the Bhartrihari Caves where the great Sanskrit scholar is known to have meditated, offer wonderful insights. Ideal for culturally-inclined couples who'd love a heritage-packed honeymoon.
Getting there: The nearest airport to Ujjain is about 56 km away in Indore.
Stay: Radisson Blu Hotel Indore (radissonhotels.com), Sheraton Grand Palace (marriott.com)
Best time to visit: October to March
Related: 9 Honeymoon Destinations in India That Will Make You Ditch That International Travel Plan
Written By