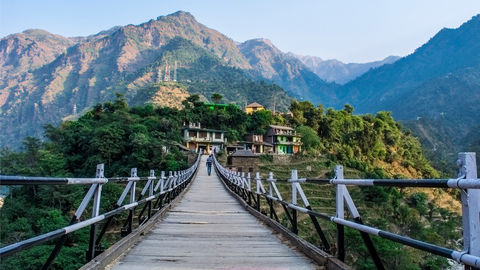 Himachal Pradesh scraps the need for any kind of registration, e-pass, COVID-19 test report or mandatory quarantine, for incoming travellers. By Tanvi Jain
Himachal Pradesh has finally reopened its borders for tourists and visitors, and is not even asking for a registration or an e-pass or a COVID-19 test from travellers anymore. While free movement has been permitted by the state government, inter-state buses have still been kept on hold.
The announcement has been made in an attempt to revive tourism, a major source of income across the state, specially during winters, as many travellers flock the place in hope of experiencing snowfall, and other adventure sports.
"Now that the state has opened its borders, no registration will be required to enter and exit the state. The tourism business will be opening after this and this will help to revive the economy of the region. After the monsoon season, tourism will start as the tourist arrival begins here after monsoon," Hindustan Times quoted Chief Minister Jai Ram Thakur.
View this post on Instagram
He however, appealed to the people to follow all the required safety protocols related to coronavirus. The decision to scrap any kind of registration, e-pass or test certificate to enter Himachal Pradesh has garnered mixed reactions. The decision came into effect as of September 16; till September 15, it was mandatory to show a COVID-19 test report/ certificate.
"We welcome the decision to open the borders but the tourism industry is not in good health and we must be given soft loans to get it back on track," Mohinder Seth, president, Tourism Industry Stakeholder Association, told The Tribune.
"We welcome the decision to lift all restrictions, including opening of bars but then all shops and markets too should be allowed to keep open as was the norm before March when Covid outbreak took place," The Tribune further quoted Sanjay Sood, president of Shimla Hotel Association.
View this post on Instagram
Moreover, the CM has also scrapped any kind of quarantine requirement for visitors, as he mentioned at the Vidhan Sabha.
As of today, the state has reportedly recorded a total of 10,411 positive cases of coronavirus, with 3,875 active and 6,481 recovered cases.
Related: #TnlSupportsLocal: 5 Boutique Hotels In Himachal Pradesh For That Perfect Rebound Getaway
Written By