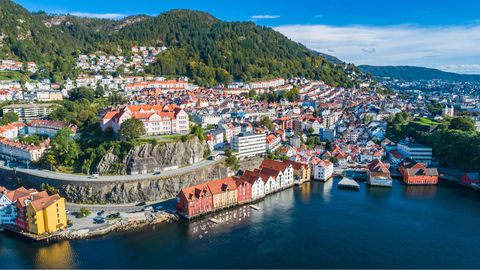 Bergen, one of the most lively cities in Norway is surrounded by hills and fjords, alike. The present-day modern city used to be Norway's capital and also an important seaport in the past. The fact that the beautifully preserved wooden buildings of Bryggen decorate the list of UNESCO World Heritage sites further solidifies that claim. Bergen is a popular tourist destination, and as the case with every popular destination is — visitors often miss out on its hidden gems. Fret not, for here we have listed some of the hidden gems of Bergen that you can explore on your next visit. By Kumar Shree
1. Fantoft Stave Church
History buffs, imagine witnessing a millennium-old church! Well, that's exactly what you witness when you arrive at the Fantoft Stave Church. The history of this one is as fascinating as its view is enthralling. The original Fantoft church was built in a small village called Fortun in somewhere around 1150. It was then shifted piece by piece to Fantoft and then rebuilt there before being burnt to the ground in 1992 by the emerging Black Metal scene of Norway. The construction that stands on location today was rebuilt in 1997 and tries to emulate the glory of the original one as closely as possible. Now, if that doesn't qualify for fascinating history for you, we don't know what will.
2. Tubakuba
Ever fascinated of living in a rabbit hole? Even if you haven't, you would be compelled for staying in one upon seeing Tubakuba, world's most fascinating man-made rabbit hole. Yes, you read that twice and you read it correct every time. Tubakuba enjoys a lovely location in the forest just outside the city of Bergen and is available for rent on a per-night basis. It is perched on the edge of a cliff and offers magnificent view of the Bergen city. What's even more fascinating about Tubakuba is that it was designed by the second-year students of the Bergen School of Architecture.
3. Nordnes Peninsula
Nordnes peninsula is a traditional neighbourhood of Bergen replete with colourful wooden houses that are absolutely breathtaking. It is a short walk away from Bergen and makes for a popular getaway near Bergen. It is also home to the largest aquarium in Norway — Bergen Aquarium.
4. Det Lille Kaffekompaniet
The name translates to The Little Coffee Company and it is indeed a small coffee shop, that irrespective of its size appeals to a wide base of coffee enthusiasts. The warm and cosy setup is the brainchild of four local university students who saw an opportunity in the absence of a coffee shop in Bergen and decided to set up one in 1996. Rest is all a 'little' history. The place is usually brimming with students and tourists who have done their research. We suggest you visit for an unwinding evening over a cup of coffee after a day of exploration.
5. Fake Windows In Bergen
Well, this entry on the list might meet a few raised eyebrows, but it has made the cut just for the sheer joy of it. What if we told you that a lot of windows on the buildings in Bergen are fake, especially those on the traditional buildings. Yes, many of these windows are painted in the exact same proportion as the real ones to make it almost impossible to identify, but you'll spot them if you look real close, and that's exactly the joy we are talking about.
6. Skivebakken – The Secret Vantage Point
Aerial views are just the best and that's where Skivebakken comes into play. Shivebakken is the steepest street in Bergen and once you trace your way to the top, it showers you with a befitting reward — a sweeping view of Bergen. While the street is very popular among the locals, it is barely known to the tourists, and this is where you take an edge above others. Hmmm, you're welcome!
Related: Norway's Green Movement Is All Set To Heal The World!
Written By