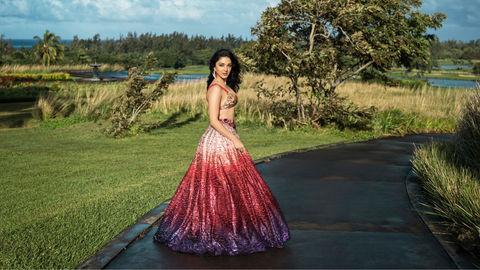 The alchemy of the air in Mauritius lends it the status of a premier romantic destination. We fly down to the African island with Bollywood diva Kiara Advani and get enchanted by its mysticism. By Rashima Nagpal
Producer Aindrila Mitra
Photographer Abhay Singh
Assistant Photographer Thimmesh Mallikarjun Godgu
Stylist Aastha Sharma
Assistant Stylists Manisha Chhanang & Malvika Tater
Hair Asif Ahmed Sultan
Makeup Lekha Gupta
Location Heritage Le Telfair Golf & Wellness Resort
Courtesy Mauritius Tourism Promotion Authority
Airline Partner Air Mauritius
Dina Arobi, Ihla do Cirné, Maurice, the Land of the Dodo, and finally, Mauritius—the beauty of the island nation is as varied as its nomenclature. Civilisation knocked on its door only six centuries ago and yet it dons layers of intriguing history. A series of invaders—from the Arabs and the Portuguese to the Dutch, French, and British—has transformed it into a potpourri of cultures. Freedom in 1968 unfurled the wings this paradisiacal island was born with. Its sublime outskirts, with white sands melting into turquoise waters and rivers foaming into the sea, need no introduction. But Mauritius's bosom is just as swell. Until recently, a stunning 90 per cent of the country's verdant landscape was made up of sugarcane fields. With the fluctuations in its economy, other crops have been introduced, but even so, the air smells sweet round the year.
Far from the energetic capital of Port Louis, we head towards Bel Ombre on the exotic southern coast of the country, where Heritage Le Telfair Golf & Wellness Resort awaits the arrival of our pack of 10. As we pass through unending fields of sugarcane and some bucolic hamlets, I question the lull on a Monday afternoon. Our host jokingly pins it on the lazy nature of lunch hours for Bengalis (she is one herself), and inadvertently gives us insight into Mauritius's cultural landscape. The heterogenous demography of the country comprises Indian-origin Hindus, Creole speaking Africans, Franco-Mauritians, Chinese-Mauritians, and a community of Indians, including Tamil, Telugu, and Bengali diasporas. It is equal parts baffling and fascinating to land in a rather compact foreign country where the language varies from one street to the next. At the hotel, I'm left racking my brain for a reply in French when I am greeted with a 'Bonjour'. But it is not long before my merci beaucoup comes as naturally as theirs. Mauritius is a fairly populated island with almost 13 lakh residents, but the place we are at feels disconnected from the rest of the world. It is the height of the tourist season and the shores of Savanne district are almost empty, with just a handful of lounging Europeans and a couple of active bicyclists like myself. Add to this the beatific feelings of having the ocean to yourself and witnessing a rainbow five times in three days!
The other hue of Mauritian heritage is evident in the larger than-life festivities that lend depth to a vacation on the island, I am told. For instance, Maha Shivratri is traditionally celebrated along Ganga Talao—a crater lake lined with Hindu temples—and Ganesh Chaturthi is as fondly observed as it is in Maharashtra. Similarly, Ugadi is a joyous occasion for the local Telugu people; Tamils have their Cavadee; and Eid is the festival of revelry among the Muslim populace. The cultural harmony with which temples, mosques, churches, and pagodas co-exist in Mauritius is exemplary. Geologically, Mauritius is painted in shades of milky waterfalls, lush rainforests, dramatic craters, and extinct volcanoes. Three of the world's rarest birds—the Mauritius kestrel, echo parakeet, and pink pigeon—can be spotted here. In the thick of the Black River Gorges National Park, Indian flying foxes thrive. And giant tortoises can be found roaming freely on Île aux Aigrettes, an islet off the southeast coast of Mauritius that doubles as a nature reserve. Hundreds of tortoises also live in La Vanille Nature Park, famous as the world's largest breeding centre of the giant aldabra variety. On our brief visit here, our cover girl for this issue, Kiara Advani, enjoys her rendezvous with Domino, a 110-year-old giant aldabra tortoise who happens to be the oldest of the lot. La Vanille also houses Nile crocodiles, geckos, macaques, deer, and mongooses, among other animals.
Honeymooners vouch for Mauritius's wanderlust quotient and exclusivity, and those who plan their destination weddings here are drawn to its unadulterated beauty and feel-good weather. But I am most smitten by its effortless candour. Compared to its more glamorous counterparts, Mauritius doesn't try hard to impress. It is more traditional dhows than fancy cruises, more walks on the beach than sundowners, more folk tunes than electronic beats, more Creole homes than overwater villas. At the heart of the Mauritius experience is a way of life that invokes humility, a feeling detached from the rush of the 21st century, a feeling of nostalgia… A feeling that makes you want to just be.
VISIT MAURITIUS
Getting There
Air Mauritius operates direct flights to Sir Seewoosagur Ramgoolam International Airport in Mauritius. Services are available from Delhi every Sunday and Thursday; from Mumbai every Monday, Wednesday, Friday, and Saturday; and from Bengaluru, with a quick stopover in Chennai, every Tuesday.
Stay
Heritage Le Telfair Golf & Wellness Resort on Domain de Bel Ombre in the unspoilt South of Mauritius is a tasteful oceanfront property, a part of Small Luxury Hotels of The World. Embellished with 158 suites, 12 restaurants and bars, a wellness sanctuary, an activity centre for adults and kids alike, an 18-hole golf course, and more, it makes for a luxurious holiday.
Must Visit
Black River Gorges National Park for nature trails and hiking, Sir Seewoosagur Ramgoolam Botanical Garden to get an insight into the rich diversity of flora in the country; Flic-en-Flac Beach for watersports; Seven Coloured Earth to experience a unique geological formation and for the ultimate Instagram picture. tourism-mauritius.mu.
Related: Spotted! Kiara Advani Seems To Be Having A Lot Of Fun In Mauritius
Written By