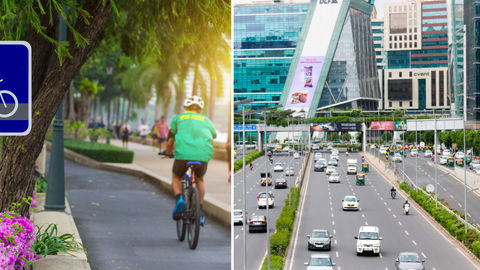 Gurgaon now has a special cycling track that runs between Huda City Centre and Subash Chowk, making travelling in the region hassle-free, healthy and fun. By Amitha Ameen
Today, more than 1500 people bicycled on the newly inaugurated 10 km bicycle track on Netaji Subhash Marg. The authorities plan to bring more such initiatives to catalyze #Cycles4Change and #Streets4People campaigns of @MoHUA_India.@Raahgiri_Fdn @MunCorpGurugram @gurgaonpolice pic.twitter.com/tyqOCkjt6p

— GMDA (@OfficialGMDA) October 2, 2020
Gurgaon has a new and first-of-its-kind dedicated cycling track that has opened to the public on Friday. The cycle track that covers a distance of 9.6 kilometres between Huda City Centre and Subhash Chowk was developed by Gurugram Metropolitan Development Authority (GMDA) along with the Municipal Corporation of Gurugram (MCG).
The cycling track in Gurgaon was thrown open to the public with a cyclothon that saw the participation of more than 1,500 people in the early hours of Friday morning.
दे दी हमें आज़ादी बिना खड्ग बिना ढाल
साबरमती के सन्त तूने कर दिया कमाल
आँधी में भी जलती रही गाँधी तेरी मशाल
साबरमती के सन्त तूने कर दिया कमाल!

The 10 km cycle track is the best gift to Gurugrammers on #GandhiJayanti by @OfficialGMDA & @MunCorpGurugram @mlkhattar @HardeepSPuri pic.twitter.com/B5ArYKyVGF

— Sarika Panda Bhatt (@SarikaPanda) October 2, 2020
"The first cyclothon of this year was organised on the occasion of World Car Free Day on September 22 along Golf Course Road. At that time, the idea of building a special cycle track came up. This cycle track is dedicated to the common man and we are appealing to the citizens to continue using it so that there is no encroachment on the track and cyclists can keep availing the facility to the fullest," said chief executive officer (CEO) of GMDA, VS Kundu (as reported on Hindustan Times).
The new cycling track is the first among many projects that GMDA and MCG are planning to undertake in order to achieve 650 kilometres of dedicated cycle tracks around the city. Authorities are affirmative that this is a step in the right direction and are sure that it will be a game-changer for Gurgaon.
Gurugram has its first dedicated Cycle Lane at Netaji Subhash Marg now ????@OfficialGMDA has put a cycle stand taking away space from vehicular parking
Great team work & association of authorities, civic groups, leaders & volunteers #Cycles4Change@MunCorpGurugram @gurgaonpolice pic.twitter.com/NWrcVhU6XC

— Raahgiri Foundation (@Raahgiri_Fdn) October 2, 2020
The next phase of the project will see similar cycle tracks from Huda City Centre to other major areas like MG Road, Gurgaon-Faridabad Road, Golf Course Road, and Extension Road and Signature Towers.
These initiatives will come under the scope of the Ministry of Housing and Urban Affairs through various trailblazing campaigns like Cycles4Change and Streets4People. The cycling tracks will reduce traffic in the area and will also contribute to diminished pollution levels if it becomes a success.
Related: Ola Starts Emergency Cab Service For Non-COVID-19 Patients To Travel In Gurgaon
Written By