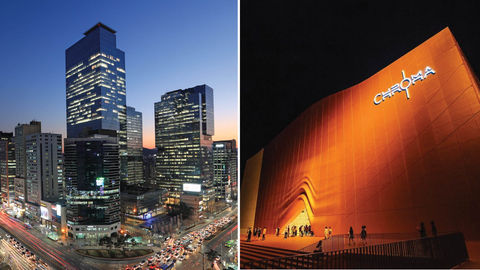 The next time you find yourself in South Korea, more specifically Seoul, you have to head to 'Imprint' which houses a gold club among other eye-catching elements. By Amitha Ameen
Globally famous architecture firm MVRDV founded by architects Wilhelmus "Winy" Maas, Jacob van Rijs and Nathalie de Vries has recently completed two new buildings in close proximity to Seoul's Incheon airport.
'Imprint' houses a nightclub and an indoor theme park, but what makes these places stand out is the futuristic facades and entrances. The most striking feature, of course, has to be the golden entrance that covers one corner of the nightclub, Chroma.
The two completed buildings will be a part of a total of six buildings in the complex. The complex will have plenty of entertainment and hotel sites housed within, all missing one important feature – windows. The clients who commissioned the complex had asked for a design that featured no windows.
Around 3,869 glass-fibre reinforced concrete panels were used to achieve the desired result. To create a sense of excitement, the facades feature curtain like lifts that reveal mirrored ceilings and glass floors.
The nightclub Chroma features four floors complete with a musical lounge, an EDM-based dance floor, a VIP zone and a beach club with cabanas.
To know more about Paradise City that is being called the new travel hub of Soeul, click here.
Related: Got Only 48 Hours In Seoul? Here's How You Should Make The Most Of…
Written By