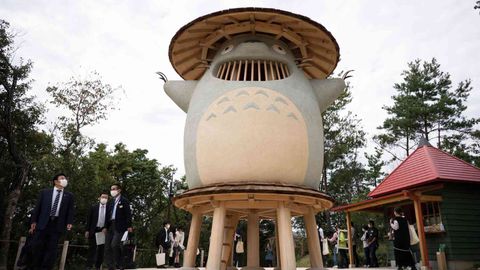 From the lovable creature Totoro from "My Neighbor Totoro" to the Oscar-winning "Spirited Away," Japan's Studio Ghibli is behind some of the most beloved — and recognisable — animated characters around the globe. And now, there's a whole new way to experience the magical worlds as the much-anticipated Ghibli Park which opened this month.
Located about a four-hour drive southwest of Tokyo or two hours east of Kyoto in the Aichi prefecture's Aichi Expo 2005 Commemorative Park (also known as Moricoro Park), the theme park is unlike any other that's dedicated to an animated franchise.
All about the newly opened Ghibli Park in Japan
"There are no big attractions or rides in Ghibli Park," the official site says. "Take a stroll, feel the wind, and discover the wonders." Three of its five areas debuted in its first opening phase, the most significant being Ghibli's Grand Warehouse, described as "a spectacular display of all things Ghibli." Here, there's Garden in the Sky with the robot soldiers from "Castle in the Sky;" the Director's Room with Yubaba's office from "Spirited Away;" a Cat Bus Room play area from "My Neighbor Totoro;" and the House Below and the Little People's Garden from "Arrietty." Also in this Grand Warehouse is the Children's Town play area, mosaic Central Stairs, Minami-machi shopping street, Cinema Orion screening room; and three special exhibitions.
Dondoko Forest area, with Satsuki and Mei's house from "My Neighbor Totoro," and The Hill of Youth section with Nishi's shop from "Whisper of the Heart" and Cat Bureau from "The Cat Returns," also opened according to The Washington Post. Mononoke Village, themed around "Princess Mononoke," will open in the fall of 2023, followed by Valley of Witches from "Howl's Moving Castle" and "Kiki's Delivery Service" in the spring of 2024.
Needless to say, the tickets have become a coveted commodity. The previous lottery system has now been adapted into a first-come, first-served method, with new tickets released on the 10th of every month, Variety reported. That said, only domestic tickets are being sold at the moment through the Japanese-language Boo-Hoo ticket service, as well as at the country's ​​Lawson and Mini-Stop stores. Advance reservations are required for entry in every case.
For now, the English-language ticket site simply reads, "Tickets to overseas visitors are not on sale now. The release date will be announced on this website."
While the rest of the world waits, there's also the Ghibli Museum, Mitaka in Tokyo, which is still offering its pandemic-sparked virtual tours.
This story first appeared on www.travelandleisure.com
Main and Feature Image Credit: Tomohiro Ohsumi/Getty Images
Related: I Visited Japan As Soon As It Fully Reopened To Travellers – Here's What It's Like And How to Plan Your Trip
Written By