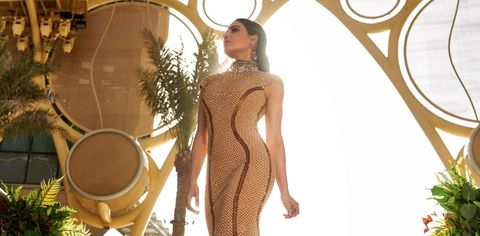 Expo 2020 Dubai is melting geographical borders and serving as a global incubator for new ideas. As we shoot this issue's cover with the talented and spunky actor Samantha, we tuck into the event's gastronomic offerings. By Bayar Jain
Produced by Aindrila Mitra
Photographed by The House of Pixels
Assisted by Babu Bhimappa
Styled by Preetham Jukalker
Make-up by Sadhna Singh
Hair by Amaranath Koduru
Location: Expo 2020 Dubai
It might sound like a cliche, but Dubai truly is a melting pot. Sitting between the East and the West, this bustling metropolis exudes a cosmopolitan and inclusive vibe. Its high-rises tower over smooth highways, desert sand is speckled with manicured palm groves, malls like The Dubai Mall, Mall of the Emirates, and Ibn Battuta Mall offer outlets of both global luxury brands and local favourites, and unsurprisingly, the cuisine has little regard for borders. A microcosm of this cultural cocktail is found at Expo 2020 Dubai, which we sampled during this issue's cover shoot.
Running from October 1, 2021 to March 31, 2022, Expo 2020 Dubai is catalysing an exchange of new ideas and perspectives, and inspiring action to deliver innovative solutions to real-world problems. A unique blend of modernity, tradition, and technology infuses the entire space, as does the theme underlying this edition—Connecting Minds, Creating the Future. For instance, the three friendly and emotive robot mascots—Alif (the mobility pavillion guardian), Opti (the opportunity pavillion guardian), and Terra (the sustainability pavillion guardian)—set the tone of the event as one of a utopian future, where technology lives in harmony with humankind. The sheer number of entry points to Expo 2020 Dubai is testament to its massive scale, which is accentuated by 20-metre-high lightweight carbon-fibre portals. Accessible via four main gates— Opportunity, Sustainability, Mobility, and Dubai Exhibition Centre—the event boasts of being the world's largest cultural gathering. Rows of country pavillions line either side of the paved walkways, with regional songs spilling out of each. Over 200 participants—including nations, multilateral organisations, businesses, and educational institutions—are set to call this place home for over 180 days. No wonder, then, that people from all over the world seem to have made a beeline to the Expo. (Reassuringly, a negative RT-PCR test report is mandatory to gain entry into Dubai.) And where there's people, there's food!
With food central to Expo 2020 Dubai's multi-cultural experience, it comes as no surprise that global gastronomic delights are available in abundance. Marjan Faraidooni, chief visitor experience officer, says, "It's universally agreed that one of the best ways to discover a country is by sampling its cuisine… and at Expo 2020, visitors are able to eat their way around the world without leaving the UAE." I'm intrigued, and our cover star, Samantha, is delighted. "I'd love to sample dishes from each country!" she exclaims between shots. My curiosity compels me to find out more about the culinary experiences on offer. At Expo 2020 Dubai, each country on showcase has not only pitched its pavillion, but also packaged its cuisine for a motley audience. Beyond the regional specifics, there are local gems, authentic street food, and fine-dining tasting menus to sample.
Take The Rising Flavours Food Hall at the Jubilee Zone, for instance. The three-storeyed dining hall celebrates the range and creativity of the Gulf region and its evolving food scene. The chef-led pods represent the seven GCC countries—Bahrain, Iraq, Kuwait, Oman, Qatar, Saudi Arabia, and United Arab Emirates—with guest chefs and live cooking shows. Also at Jubilee is The Jubilee Gastronomy. Here, the Chef's Table floors diners. Every Tuesday, an intimate lunch and dinner degustation experience unfurls, wherein 26 of the world's greatest chefs create a signature four- and nine-course menu, with appearances from celebrated local chefs twice a week. Visiting names include the likes of Indian chef Vineet Bhatia, the brains behind Zaika and Rasoi in UK's London; Thoman Buehner, from the Michelin three-starred La Vie in Osnabrück, Germany; Catalan chef Paco Pérez, who owns five Michelin-starred restaurants across Spain; and many more. Resident head chef Guilherme Freire's signature menu pampers guests, while lighter bites paired with breathtaking views await at Jubilee Mixology, an open-air rooftop bar. Sustainability, too, is a major pillar this year. It's a motto that Chef Matthew Kenney firmly believes in and has peppered in outlets all over the Expo. Take Veg'd, for instance. Aligned with the trending shift towards healthy and plant-based diets, the 100 per cent plant-based menu here offers nourishing whole foods and drinks on-the-go, while also ensuring that sustainability is one of the ingredients. Kenney's other green restaurants here include XYST, which takes a plant-based approach to Mediterranean and Middle Eastern cuisine, and Mudrá, which pairs rooftop venues with gourmet pizzas and burgers, novelty Nikkei sushi, moreish starters, and cocktails. For the guests with a sweet tooth, there are vegan desserts too! Created by London-based pastry chef Kimberly Lin, Floozie Cookies marks its Dubai debut by offering its signature fully vegan 'stuffed cookies' in mouth-watering flavours. Other restaurants too have established their maiden Dubai outposts here. London's famous Bread Ahead is one such joint. In a first, the bakery has brought its signature doughnuts onto Emirati soil, without skimping out on fresh, seasonal ingredients. Heavenly goodies aside, the iconic bakery is also running a series of baking workshops at their on-site baking school. Chef David Myers' ADRIFT Burger Bar has made a similar journey. After a decade on the road, in 2020 Myers launched the juicy burgers in his hometown, Venice Beach. Since then, his burgers, shakes, and crispy sides have travelled to Tokyo and Singapore. On the Dubai chapter, he is ready to wow guests with a menu that reflects his Californian roots interlaced with influences of his travels.
Serving as the first-ever burrata bar in the UAE, Scarpetta creates bold flavours by amplifying the essence of seasonal ingredients. Each of its signature pastas is made in-house and peppered with high-quality, locally sourced ingredients. The shining glory of firsts, however, rests at Alkebulan. Named after the continent's oldest recorded moniker—which translates to 'Garden of Eden'—this is the world's first African dining hall, curated by Chef Alexander Smalls, a classically trained opera singer-turned-restaurateur. Recreating the multifarious traditions of the region are 10 counters: visit Afro Street Eatery for aromatic flavours of West African street food; Bar Cane for satiating your sweet cravings; Chicken Coop for Tunisia-inspired rotisserie and fried chicken; Choma BBQ for roasted, grilled, and smoked meats along with Zanzibari and Kenyan flavours; Jiko Cocktails for Africa's heady spirits and cocktails; Penja for a world-class culinary experience from Cameroon and Benin; Seven Seafood for a contemporary look at East African seafood; Shoebox Bakery for the ultimate pan African bakery experience, including Ethiopian injera flat bread; Sweet Ophelia's, an Afro-Asian wok bar; and The Tasty Goat, which celebrates goat meat by combining it with the textures and flavours of modern East African cuisine. Meanwhile UAE-based restaurants offer cuisines from all over the world, ranging from India to Ireland. They include brands such as Arabian Tea House; biryani specialist Al Farwania; Dampa Seafood Grill, a Filipino hotspot; Lebanese stalwart Al Reef Bakery; and Hanon Feras Sweets, renowned for its traditional Middle Eastern dessert kanafa. The six-month spectacle also features Pakistani street food specialist Ravi Restaurant; Maraheb Yemeni Restaurant; Chicken Tikka Inn; and Sarouja Restaurant & Café, a popular Syrian and Mediterranean spot. With so many options on offer, walking through the Expo turned out to be more like #EatatExpo for me. Luckily, buggies ply the premises. And Rove Expo 2020 Hotel—the sole accommodation within the premises—was always ready to welcome me with the refreshing aroma of coffee, and other surprising delights.
Related: Our November Cover Star Sonakshi Sinha Talks About Her Love For Scuba Diving And Her India Bucket List
Written By