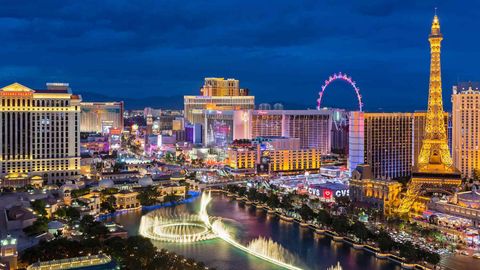 There's no need to leave the kids at home when you plan a trip to Las Vegas. The town usually associated with adult-focused fun offers plenty to do for the whole family, and there are many free things to do in Las Vegas that your entire crew will enjoy, too. Shows, amusement park rides, arcades, and even educational opportunities make Las Vegas a great family destination. By Patricia Doherty
Here are 25 things to do in Vegas with kids
Drive a go-kart at Las Vegas Mini Grand Prix
Las Vegas Mini Grand Prix Family Fun Center features go-karting for all ages, including high-speed karts for ages 14 and up. There's a Super Slide as well as arcade games, amusement park rides, pizza, and desserts.
Visit the Discovery Children's Museum At the Discovery Children's Museum, kids can create art with crayons and watercolours, become an archaeologist and solve a mystery, or have fun with experiments and inventions. For toddlers, a desert-themed exhibit is a great place to crawl and play.
See sea creatures at Mandalay Bay
At Shark Reef Aquarium, visitors can feed the resident stingrays and other inhabitants. Guests can see thousands of sea creatures, reach into the touch pool, or watch sharks at their feeding session and learn about them from Shark Reef Educators.
Go skydiving
Vegas Indoor Skydiving offers guests (40 pounds or 18 kg and over) the experience of skydiving in a vertical wind tunnel with a mesh trampoline floor and foam-padded walls. After a brief training class, guests don flight gear, jump into the tunnel, and fly.
Have a sweet time at a chocolate store
At Hershey's Chocolate World, visitors learn how chocolate is made and discover the art and science of chocolate in a theatrical show. They can create their own candy bar, choosing the ingredients and designing the wrapper.
Brave a thrill ride with a Vegas view
From a 921-foot-high platform, riders are catapulted 160 feet into the air at 45 miles per hour (72 kmph) for a magnificent view of the Las Vegas Valley. Riders reach a height of 1,081 feet with four Gs of force on the way up. Guests must be at least 48" tall to take this daring ride.
Play at an indoor amusement park
Circus Circus is home to Adventuredome, a five-acre indoor amusement park with a classic arcade, roller coasters, bumper cars, a rock climbing wall, and miniature golf. Play laser tag, ride a Ferris wheel, or enjoy family rides with plenty of fun for younger visitors.
Cheer on knights in battle
Jousting, sword fighting, horse racing, and a medieval atmosphere fill an evening of entertainment in a theatre-in-the-round arena at the Excalibur Tournament of Kings. Dine on Cornish hen, potatoes, corn, and dessert while Merlin and the jester provide some laughs.
Chill out at an ice bar
Minus5 ICEBAR is a literally cool experience where visitors will find everything made of ice, from seats and walls to beverage glasses. Ice sculptures, music, and a light show are part of the entertainment for guests who don gloves and a parka or faux fur coat to stay comfortable. Guests ages seven and over are welcome until 9:00 pm at three Las Vegas locations.
Stop by the Bellagio Fountains This free entertainment is one of the most exciting and popular sights in Las Vegas. Stroll by and enjoy the music while you marvel at the perfectly choreographed fountains. Each song is accompanied by a unique show of light and water on most evenings until midnight.
Laugh at animal antics
Featuring an all-star cast of rescued dogs, cats, parrots, and even a miniature horse, the Popovich Comedy Pet Theater show consists of stunts and demonstrations of the animals' skills. The pets dance, jump, balance, and entertain in a variety of ways at this popular family show.
Visit the Las Vegas Natural History Museum
You may not think of a museum as a Las Vegas attraction, but this is a perfect way to spend some time, especially on a hot summer day. Exhibits include a recreation of King Tut's tomb, a mummy, dinosaurs, prehistoric creatures, marine life, and a gallery of Nevada's wildlife.
Take a gondola ride
Guests board at St. Mark's Square in the Venetian Resort and glide along canals past shops, cafes, and beneath bridges while a gondolier sings Italian favourites. St. Mark's Square, the Rialto Bridge, and the Grand Canal are remarkable recreations, so it's the closest thing to a trip to Venice.
Shop, eat, and play at Town Square
For little ones ten years old or younger, the Children's Park features a climbing cube, slides, a trampoline, and a splash park during the summer. Kids can take a ride on the Cactus Coaster, an electric trackless train with a locomotive and four-passenger wagons. Town Square also includes retail shops, food, and a movie theatre.
Fly over Fremont Street
Two slot machine-themed ziplines take riders (who must weigh at least 50 pounds or 22 kgs) for a thrill ride. The Zip-Zilla takes flyers halfway down the Fremont Street Experience in a seated position. On the upper level, the Super-Hero Zoom takes guests for a ride "superhero style" all the way down the Fremont Street canopy.
Join the Avengers and ride Captain America's motorcycle
A display of original Avengers operational equipment includes Captain America's uniform and shield, Hawkeye and Black Widow uniforms and weapons, and more. Visitors become qualified members of the Avengers S.T.A.T.I.O.N. in an activity for fans of the superheroes.
Take a selfie with your favourite celebrity at Madame Tussauds
Amazingly lifelike figures at the wax museum include music legends, sports stars, actors, and celebrities in clever settings for the perfect selfies. A new 4-D movie stars Marvel superheroes Captain Marvel, Thor, Black Panther, Spider-Man, and others in an exciting experience.
See flamingos at the Flamingo
The free Wildlife Habitat at the Flamingo Hotel is a garden setting with a flock of Chilean Flamingos, Brown Pelicans, native hummingbirds, and a variety of exotic waterfowl and songbirds. Visitors can learn about the habitat and creatures during twice-daily Keeper Talks at 8:30 am and 2:00 pm.
Take a ride on the Big Apple Coaster This wild roller coaster goes over 67 miles per hour (107 kmph) with a 180-degree twist and 203-foot drop for a heart-stopping ride (for guests at least 54" tall without footwear). At the Big Apple Arcade, play the latest video and arcade games as well as classics like Skee-Ball and air hockey.
Hit Topgolf for some friendly competition
Topgolf Las Vegas features climate-controlled hitting bays with HDTVs, complimentary clubs, giant outfield targets, and high-tech balls that score themselves for a fun family competition. No experience is necessary, so everyone can pick up a club and swing. There's a restaurant and bar for refreshments while you play.
Be amazed by world-class entertainment
Las Vegas offers acts like Cirque du Soleil, magic shows, and big-name concerts. The new Awakening production at the Wynn is presented in a custom 360-degree theatre with music, dramatic choreography, technology, fantastic creatures, and puppetry by Michael Curry of "The Lion King" fame.
Or watch a Blue Man Group show from the splash zone
The clever performances by Blue Man Group are presented in a specially designed theatre at the Luxor Hotel. Music, art, comedy, and surprises make their shows unique and fun for all ages.
Check out the Downtown Container Park
The Downtown Container Park features free family entertainment in an interactive play area with The Treehouse, a slide, open-air shopping, restaurants, and bars. Set in repurposed shipping containers and Xtreme cubes, the venue greets guests with a 35-foot-tall praying mantis sculpture that shoots flames from its antennae. (Container Park is a 21+ venue after 9:00 p.m.)
Create custom M&M's
Guests create their own M&M's using a personal printer, images, and a choice of 16 different colours. Racing fans will want to see the replica of Kyle Busch's NASCAR vehicle and shop for colourful M&M's Racing merchandise.
Take a ride on the High Roller Guests soar 550 feet above the Las Vegas Strip on the largest observation wheel in North America. The wheel takes 30 minutes to complete one revolution, providing 360-degree views from its 28 spacious cabins.
This story first appeared on www.travelandleisure.com
Main and Feature Image Credit: Westend61/Getty Images
Related: The Best Things To Do In Las Vegas That Are Absolutely Free
Written By