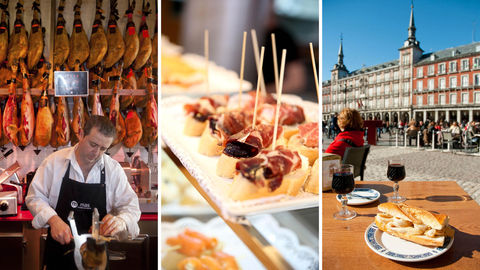 Innumerable jamón museums, endless tapas bars, plenty of cafes, classic churro houses, and over 20 Michelin-star restaurants make Madrid the ultimate destination to eat and drink in Europe. By Anubhuti Krishna "You must try our speciality: pig's ears!" suggests Savio, a cheerful waiter at De Jaime, one of the many tapas bars on Calle De La Victoria. It is our first meal in Madrid, and we are a bit disconcerted by the offer. The discomfort turns into curiosity, and shortly after, we are munching on orejas con patatas bravas, a tapas delicacy we had never even heard of.
If you are new to Madrid, chances are that you will be overwhelmed by the culinary landscape of the city. Being uncomfortable, though, is essential to make the transition from ignorance to bliss—for in Madrid, if you know your food, you know everything. Known to take pride in its leisurely breakfasts, languorous lunches, and endless pub-crawls, Madrid is the perfect place to let go of your inhibitions. Mercados and Meats
Madrid loves its meats. Ham, or jamón, comes in uncountable varieties. Sardines are dressed in olive oil and served on slices of bread. Anchovies are everywhere, and salted cod, or bacalao, hang like streamers on food stalls. Shrimps sizzle in olive oil, crab is made into cakes, octopuses are staple. Chicken and mutton are rare to find here, but beef is abundant. Suckling pigs and lambs, roasted whole, are delicacies. Stews made with pork and beef are revered. With all the meat around, it may seem like Madrid is no place for vegetarians, but its fresh produce remains some of the best in the world. Ever heard of Spanish oranges, olives, tomatoes, and pimentos?
Owing to its unique location, Madrid has access to the freshest fruit and vegetable produce of the Iberian Peninsula. Cheese is abundant, as are fresh herbs. And no one can deny the charm of Spanish wine—made from Rioja grapes, it is easily the finest vegetarian product of the country. The best places to find fresh produce are the mercados of Madrid. They are also great alternatives to traditional restaurants for experiencing authentic local cuisine. "Market culinary experiences," says Paula Valluerca, a guide with Devour Madrid, "may be better options if you want smaller bites and larger variety." While there are quite a few markets in the city, Mercado de San Miguel (mercadodesanmiguel.es) remains the most iconic. I visit it on a sunny day. A man, dressed in a crisp white chef coat and black apron, carves wafer-thin slices of a cured Iberian ham. He then places each slice on a plate as if decorating a delicate bouquet. Meanwhile, a middle-aged woman places small pieces of bread on paper plates. Some have pieces of fish on them, some are topped with roe, some are dressed in sliced octopus, and some others with cheese. Two young men swiftly refill glasses with wine, vermouth, beer, and sangria, while some sprightly girls offer bocconcini and pesto salads off a pretty stand. Tarts, churros, and chocolates call out to the child in me from a corner of the market.
A 100-year-old iron and glass structure in the middle of the Old Town, Mercado de San Miguel had its phoenix moment a few years ago when the dilapidated building was restored. Its historical significance, prime location, and unique architecture make San Miguel one of the most popular food haunts in the city. Every morning, locals throng the stalls to stock up on fresh produce brought in from across Spain. By noon, the shoppers clear up, and the stage is set for diners—a mix of locals and tourists. The market peaks in the afternoon. Tables are full, diners queue up outside stalls, and servers sprint to fulfill orders. Here, popular brands rub shoulders with artisanal stands. Tapas, pinchos, salads, enchiladas, ham, chorizos, tortillas, mussels—the variety of food is mind-boggling. The trick is simple: get in a queue, pick up small portions from
everywhere, and try everything!
After the gluttony at lunch—at a mercado or otherwise—it is time for a siesta. Madrid
likes to rest in the middle of the day. The siesta, say the locals, prepares them for the long night ahead: one that starts at a coffee shop and ends at a tapas bar.
La Merienda
As the golden rays of the setting sun illuminate the columns of the Museo Nacional del Prado (museodelprado.es), madrileños start to trickle out of their homes and workplaces. The city with a culture of late dinners spends its evenings—or afternoons as they are called here—indulging in merienda, a light meal or snack that's almost a ritual in Madrid.
In recent years, the Spanish capital has seen a rise in modern cafes that boast edgy
spaces and believe in personally roasting and grinding organically grown coffee beans. Madrid's speciality, however, remains its old-fashioned coffee shops nestled in small neighbourhoods and barrios. Elderly men leaning on walking sticks, silver-haired women with their girlfriends, groups of school kids, and families with toddlers descend upon these neighbourhood jaunts for la merienda like clockwork. Late afternoons in Madrid are for café con leche. One part espresso and one part foamed milk, café con leche is, in a manner of speaking, the national coffee of Spain. Traditional coffee bars use old-fashioned espresso machines to brew frothy espresso and top it with foamy milk. While adults indulge in cups of joe, the younger ones fill up on churros and chocolate. Meanwhile, French bread with jamón remains the classic accompaniment. And, if you are lucky, the server may hand you a plate of complimentary chips, too. Don't go overboard asking for a refill though: it will be politely refused.
Tapas
The plate of gambas al ajillo (Spanish garlic shrimp) arrives on my table, still sizzling. Pale and smoky, the oil emanates a strong aroma of garlic. I'm dining at Cerveceria La Cruz De Malta, in the old quarters behind Madrid's famed shopping avenue of Gran Vía.
Patatas bravas (fried potatoes dressed with paprika sauce and parsley) are next. Pinchos come pierced and perched on a slice of bread, and creamy croquetas, loaded with béchamel and cod, follow. Waiters dart from wine kegs, beer taps, and sangria decanters, to the tables. The chef pulls off a solo act, flitting from one burner to another, dishing out plates of finger food. The patrons, meanwhile, sip on vermouth, house wine, sherry, and beer. If they have any problems in their lives, they have clearly left them outside the bar. Every evening is a party in Madrid. Cobbled streets in the historical centre, wide avenues downtown, and tiny taverns in the literary district—all come alive with cheerful madrileños out for their daily quota of a drink or three. Pick any place, and you find men and women jostling for a spot, precariously balancing glasses of wine and plates of tapas, waiting for a table or just standing by the window as they smoke. But don't let the crowds deter you. In Madrid, no matter how full the bar, they'll make space for you.
On a tapas crawl—guided or otherwise—there is just one simple rule: keep going. The idea is to get to as many places and have as many wines as you can. Tapas comes as an added advantage. Born as a complimentary accompaniment to wine in southern Spain, tapas are typically bite-sized snacks served at bars. Over the years, they have evolved from small canapés to large sharing portions of finger food. In Madrid, especially, tapas is an amalgamation of regional cuisines brought in by people from across the country, from Basque to Andalusia and Catalonia. Serving these interesting, fascinating, and sometimes intimidating, preparations are tapas bars. Small and big, rich and modest, some of these bars date back hundreds of years, others a few decades, but all of them are undisputedly quirky. Colourful tiles depict butchers and vintners; matador hats, bullheads, and old photos hang from the walls; vintage furniture creaks with age. In this sense, the tapas bars of Madrid are a lot like its food—a heady mélange of tradition, history, culture, and fl avour —you might take some time to get used to it, but you can never get over it. Must Eat In Madrid
Jamón ibérico: Iberian ham, served on bread, with chips.
Bocadillo de calamares: Calamari sandwich
Orejas con patatas bravas: Stir-fried pig ears with potatoes and paprika sauce
Cocido madrileño: A meat and chickpea stew
Tortilla con patatas: Thick Spanish omelette with potatoes, served with paprika sauce.
Pimientos de Padrón: Fried green peppers from the Padrón region.
Gambas al ajillo: Shrimp sautéed in garlic and olive oil.
Champiñones a la plancha: Mushroom tossed in olive oil, often served with shrimp.
Pulpa à feira: Octopus fried with potatoes sprinkled with paprika.
Getting There
Air India (airindia.in) offers daily direct flights from Delhi to Madrid; other major Indian cities have easy connections. Swiss, Emirates, Qatar, Etihad, Turkish, and Lufthansa offer short flights to the Spanish capital.
Stay
Hotel Wellington is one of Madrid's most loved stays. Located close to the city's famous El Retiro Park, it offers the exclusivity of the upmarket Salamanca District and easy access to attractions like Museo Nacional del Prado, Gran Vía, and the Atocha station. From INR 15,000 per night; hotel-wellington.com Hyatt Centric Gran Via Madrid, located on the famous Gran Vía, is a modern hotel with chic and smart rooms that overlook the 20th century boulevard. From INR 18,000 per night; hyatt.com.
Food Tours
Devour Madrid (madridfoodtour.com) offers various food and culture tours in and around Madrid. The Evening Tapas and Wine Tasting Tour takes you to Madrid's best tapas bars with a chance to meet the families that run them. The Tapas and Flamenco Tour lets you experience Madrid's famous nightlife and Spain's trademark dance performance.
Related: Viva La Vida In Madrid To Experience The Essence Of Spain
Written By