Following The Life Of Dr. Martin Luther King Jr. On A Road Trip Through The Deep South
Few people have challenged, shaped, and loved the world so deeply and with such a resounding defiance of the status quo as Dr. Martin Luther King Jr. Like most young Americans, I learned about the pastor and Civil Rights leader in school; I heard his "I Have a Dream" speech before I reached second grade. A staunch pacifist, King unapologetically protested the Vietnam War and challenged modern-day capitalism; when he died, he was preparing to support Black sanitation workers fighting for fair wages. Despite his elevation to the status of national hero — and the widespread use of his words across the political spectrum — the majority of Americans disapproved of him while he was alive. And still, he marched on. By Kayla Stewart
That fact is what has pushed me, as an adult, to learn more about his life. King was born in Atlanta, and though he travelled around the world — meeting with leaders in countries like Ghana and India — much of his time was spent in the Deep South, where Jim Crow laws had created a world of legalised terror for Black Americans. To better understand his life, and how the South shaped him, my sister and I were inspired to pick up a car in South Carolina for a road trip tracing King's legacy across the region. We decided to walk the same paths he had, visit monuments and landmarks of his influence in each place we stopped, and eat at the restaurants he enjoyed — plus others that might not exist today without his bravery. What I found was a land that had been brutalised by racism, but one that continues to be full of possibility, charm, and, thanks to some of those who live there, hope.
Following the path of Dr. Martin Luther King Jr. through these cities and places
South Carolina
My sister and I met up and spent the first two days of our trip in Charleston. Known for its Lowcountry cuisine and well-preserved historic buildings, the city was also the disembarkation point for millions of enslaved Africans whose servitude built the wealth of the South. In 1816, a group of them founded the Mother Emanuel AME Church, part of the country's first independent Black denomination and the oldest African Methodist Episcopal church in the South, in the heart of downtown Charleston. This church has represented both freedom and tragedy, and is perhaps most familiar to outsiders as the site of a horrific white-supremacist shooting that claimed nine Black lives in 2015.
Despite the painful events the church has seen, brighter days have existed within this simple white building. King visited as a relatively new leader in 1962, urging the congregation to register to vote. He returned in 1967 to speak to a much larger audience of about 3,000 people, all eager to hear his words of thoughtful resistance. To protect church members, visitors are now required to make a reservation. Inside, stunning stained-glass windows preside over the commanding pulpit where King once stood. As I left, I placed flowers outside to pay my respects to the Charleston Nine.
After the heaviness of the experience, we needed peaceful lodging and comforting food. We spent two nights at the endearing Dewberry Charleston, which occupies a mid-century former office building just around the corner from the church. We also got our hands good 'n' dirty at Rodney Scott's Whole Hog BBQ, named for the lauded Black pitmaster who founded the restaurant. The pulled pork and ribs are not to be missed, nor are the deeply flavourful side dishes, like collard greens and potato salad. On our way out of town, we snacked on garlic crab from Ravenel Seafood, about 30 minutes west of the city.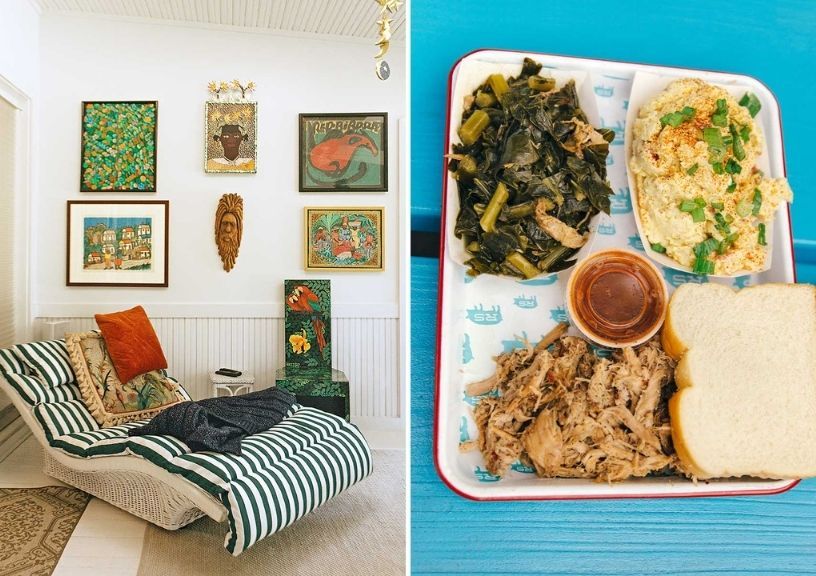 Georgia
We got on the highway for the longest drive of our trip, to Atlanta — King's birthplace, and final resting place. The city remains deeply influenced by his work, from its many HBCUs (historically Black colleges and universities) to its current political landscape. Here, Black history is everywhere, even in the accommodations. At the Hamilton Howell House, we enjoyed sleeping in the John Coltrane Suite — an ode to the great saxophonist. Built in 1890 by African American architect Alexander Hamilton Jr., the massive house was purchased in the 1980s by Mtamanika Youngblood and her husband, George Howell; after his death, Youngblood began converting it into a B&B, which opened in 2018. It is now filled with the work of Black designers and pays homage to influential Black creatives and intellectuals.
After sleeping off our dinner from cult favourite Slutty Vegan, a Black-owned plant-based-burger joint, we walked just a few minutes to Martin Luther King, Jr. National Historical Park, where preserved landmarks like King's yellow childhood home and Historic Fire Station No. 6, which was desegregated in the 1960s, are open to visitors. Though we couldn't go inside any of the buildings because of COVID-19 precautions, we were still able to visualise what life might have been like in the middle-class Black neighbourhood of Sweet Auburn.
We also visited Ebenezer Baptist Church — both the old location, where King preached to hopeful congregants, and the new building where Senator Raphael Warnock is pastor. My sister and I paid our respects at the tomb of King and his wife, Coretta Scott King, which is surrounded by a reflecting pool. For lunch, we stopped at Paschal's, a long-standing Black-owned restaurant that was a favourite of King's when he was in town. After tasting the crispy fried chicken and candied yams, I could see why.
Alabama
From Atlanta, we drove southwest toward Selma, a town still infamous as the site of Bloody Sunday. On March 7, 1965, police officers brutally beat a group of peaceful marchers — led by King's colleague, future congressman John Lewis — as they attempted to cross the Edmund Pettus Bridge in protest of the state's discriminatory voting restrictions. My sister and I followed their footsteps in silence, reflecting on the terror that happened just decades ago.
The bridge is a few minutes from the National Voting Rights Museum & Institute. As we walked through the sombre space, we were startled to see young faces; the museum has collected photos of many of the marchers, some of whom were just teenagers at the time. Afterwards, we stopped by Lannie's Bar-B-Q Spot, a Black-owned barbecue joint that fed protesters and activists in the 1960s. We practically inhaled the perfectly sweet ribs, baked beans, and potato salad.
It was another two hours to Birmingham, also known for its rich Civil Rights history. After a long day of travel, we ate at celebrated chef John Hall's phenomenal Post Office Pies, where good, hearty pizza reigns supreme, before our stay at the Elyton Hotel, Autograph Collection. Housed in the historic Empire Building downtown, it's named for an area that pre-dates the city of Birmingham.
The next morning, we visited the Birmingham Civil Rights Institute, which houses a remarkable collection of artefacts from Alabama and throughout the country. King was arrested in the city in 1963, and while detained he wrote his famous "Letter from Birmingham Jail," a manifesto on the inherent rights and sovereignty of Black Americans, and a damning assessment of race relations in the United States. The museum includes a sobering replica of the prison cell King was confined to for eight days. Tennessee
My sister and I braced ourselves for the most emotional part of the trip on the 250-mile (402.3 km) drive to Memphis. On April 4, 1968, King was assassinated with a single bullet at the Lorraine Motel, a Black-owned motor inn that had hosted the likes of Aretha Franklin, Otis Redding, and Nat King Cole. The Lorraine has since been transformed into the National Civil Rights Museum, and the sense of tragedy, even 53 years later, remains palpable. Inside, guests can learn about King's final days, which were spent working on the Poor People's Campaign, and view the rooms he and his colleagues occupied before his untimely death. A replica of the wreath laid at the spot of his assassination remains there today.
To catch our breath, we stayed at the Central Station Memphis, an eclectic hotel inside an active train station. In historically Black South Memphis, we stopped for some classics, like fried chicken, green beans, and cornbread, at the Four Way Soul Food Restaurant, a major hub for activists during the Civil Rights movement and another known favourite of King's.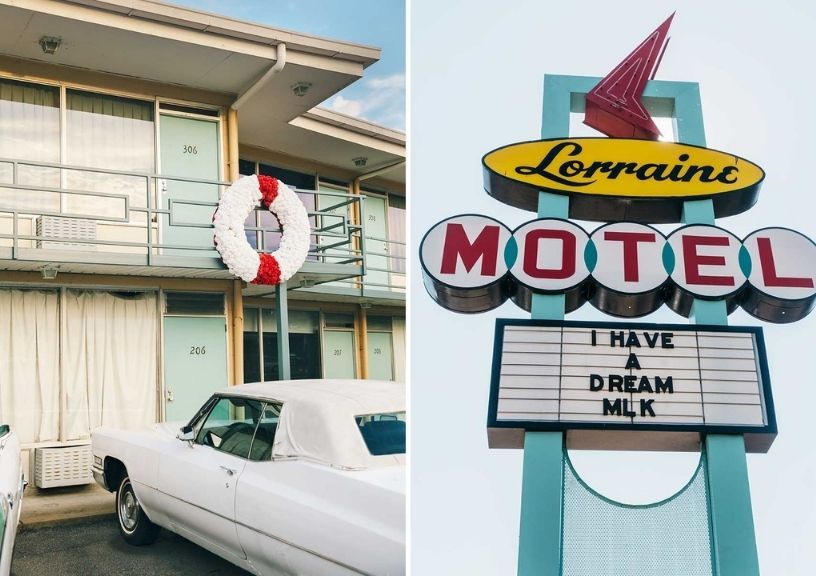 Arkansas
Our trip through King's life story culminated in Little Rock. In 1958, then relatively unknown, he had attended the graduation of Ernest Green, the oldest of the Little Rock Nine — a group of Black students who became the face of education desegregation in the city. Little Rock Central High School is still in operation and now serves a diverse population, but a museum across the street highlights the tumultuous years during the late 50s known as the Little Rock Crisis, which culminated with President Eisenhower sending in federal troops to quell white supremacist riots. The anger and vitriol directed at the teenagers was condemned around the world, and set off a new chapter in the Civil Rights movement.
A stay at the regal Capital Hotel, opened in 1876, gave us a peek into old Little Rock. Located in the centre of the city, it's just a quick drive from the House of Mental, a Black-owned restaurant that offers delightful vegan versions of Southern favourites. Over garlicky "shrimp," okra, and rich macaroni and cheese, my sister and I reflected on an unforgettable trip, tracing a remarkable life that has directly impacted our own. Even for just a few days, we had gotten to know better a man whose legacy can never fully be captured — but who will forever continue shaping this land.
A version of this story first appeared in the November 2021 issue of Travel + Leisure under the headline Toward Justice.
Related: The 50 Best Places To Travel In 2022