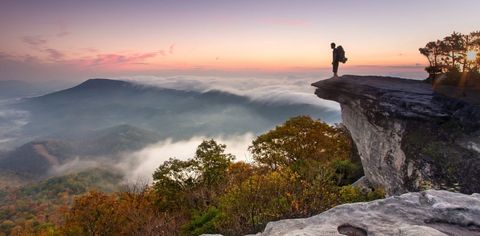 If Virginia isn't on your radar as a place to travel in 2022 it should be. We give you five reasons why!
Virginia is convenient to reach, with non-stop flights from India to Washington Dulles International Airport, located in Chantilly, Virginia. It's also an easy addition to a trip to the American capital or New York City, whether traveling by car, air or train. Beyond that, Virginia offers unique experiences and a diversity of offerings not often found in a single American state. Read on to discover five reasons Virginia will inspire your love to wander this year and beyond.
Off the Charts Culinary Scene American cities with great restaurants are not hard to find. So, when you choose a destination for its culinary scene it needs to be off the charts, providing more than just a good meal. Virginia offers gastronomy experiences sure to inspire cravings. Like a kayak paddle on the Chesapeake Bay heading for a tasting at one of Virginia's more than 300 wineries; Chef's Table Tours, in the water, with fresh oysters pulled direct from the bay; Dinners on the farm, under the stars, with every element of the meal grown or raised on site; Or a taste of whiskey made using the same method George Washington employed during colonial times.
A Truly Great Outdoors One of the reasons the culinary scene is so fantastic – besides the many talented chefs – is the landscape. Few states offer the diversity of Virginia – from mountains to ocean, with rolling green hills between. That setting makes for an ideal place to farm and raise incredible products. It also creates the backdrop for every outdoor activity imaginable, and then some. Driving the world-renowned Blue Ridge Parkway – check. America's East Coast Mountain Biking Capital – check. Whitewater river rafting through the state capital – check. Kayaking with dolphins – check. Camping with wild ponies – check. Hiking on the Appalachian Trail – check. Sailing on the Chesapeake Bay – check. And we're just getting started.
The Heart of American History A trip to Virginia is an essential part of exploring American history. Virginia is the Birthplace of America, with Jamestown the first permanent English settlement in the new world. It's also home to Colonial Williamsburg and numerous influential presidential estates, such as George Washington's Mount Vernon. The potential for historical discovery though runs even deeper. A visit to Thomas Jefferson's Monticello showcases why Virginia is the Birthplace of American Wine. Spending time in the Blue Ridge Mountains allows for a taste of moonshine history and the very beginnings of American car racing. A trip to Richmond offers insight into the American Civil War. Even today, Virginia plays a major role in rewriting the narrative of the country.
The Roots of Culture The roots of America run so deep in Virginia that history is woven through the very culture, melding seamlessly with modern attractions. Experiencing music in many destinations equates to a concert. In Virginia it is a visit to the official Birthplace of Country Music and to one of the original homes of hip hop, Hampton Roads. Gorgeous gardens and spring blooms often inspire travel. In Virginia, Historic Garden Week has been celebrated just shy of 90 years, opening private homes and gardens for public tours. Small, distinctive museums showcasing American culture abound – like the Edgar Allen Poe Museum, which sits side-by-side with a major street art scene in Richmond.
The Luxury to Take it Slow
In today's world, the ability to take it slow is the true luxury – and a visit to Virginia is an ideal way to take a break from the everyday. Picturesque scenic byways lead travellers to small towns, five-star resorts, spas and golf courses tucked away from the troubles of life. Exploration of the outdoors can be had from above, drifting along in a hot air balloon, or from below, serenely taking in the stars from a mountain observatory or state park. Discovery waits around every turn, from culture, art, and music to the very roots of American history. Most of all, in Virginia you can wander to your heart's content, taking the sweet time to discover why 'Virginia is for Lovers'.
For more details on Virginia, click here.
Related: Explore The Gastronomic Landscape Of Maine, USA
Written By