Santiniketan in West Bengal is the vision of the great social reformer, Rabindranath Tagore. Travel+Leisure India & South Asia's contributor travels to this far-flung land for a taste of its discreet charm. By Anubhuti Krishna
Step out of your small little self, feel your pulse beat to the rhythm of this worldwide and wondrous." The opening lines of one of Rabindranath Tagore's famous poems call out to me from afar. Etched on a humble wall piece, under the outline of Tagore's face, they seem to be describing my state of mind.
I am in Santiniketan on a bright December morning after a long journey that included a flight from Delhi, a layover in Kolkata, and an early morning train to Prantik, a tiny railway station that feeds the town of Santiniketan. My husband and I are the only people to get off at the empty, two-platform station that could very well belong in a Byomkesh Bakshi story. Just like in the stories, we too find our ride outside the station, toto driver Nobi-da who has been sent to fetch us. He hasn't seen us before but recognises us nevertheless. In less than five minutes we are on our way to our friend Nayana's place that is to be our home here.
I was supposed to come to Santiniketan 20 years ago. My father wanted me to study at the Visva-Bharati University, the beating heart of Santiniketan. I, on the other hand, wasn't convinced. Santiniketan, according to me, was not a place where a modern woman was supposed to spend her best years. Ironically, even though I did not want to move here, Santiniketan has always intrigued me. It has taken me 20 years but I am finally here. The catalysts for my trip are Nayana, a friend whose beautiful home I could not resist, and Poush Mela, the annual craft fair that has been on my list for years.
Santiniketan is Bengal's epicentre of literature, music, art, and culture, and has been so since 1921 when Rabindranath Tagore set up the Visva-Bharti University. Created with the intention of bringing the world to India (hence the name Visva-Bharati), the university has steadily attracted poets, artists, writers, and intellectuals from across the globe; even today, people from all over the world live and work here. And yet, the town is quiet, obscure, and devoid of any touristy paraphernalia. Poush Mela turns out to be larger than I had imagined. There are artisans everywhere and art forms I haven't seen before; terracotta, dokra, clay, ceramic, pottery, fabrics, paintings, jewellery, saris are few that I recognise, there are many I don't. We stop at almost every stall, marvel at every craft, and talk to many artisans. Some tell us about their villages, others explain how they've created an artefact and yet others sing songs for us. In a section dedicated to Pattachitra paintings (tales of Ramayana and Mahabharata painted in bright colours on long scrolls), the artists, mostly Muslim men and women, sing songs of Rama and Krishna to narrate the story as they have painted it. While groups of baul singers perform under large trees, small shacks dish out local fare. We sample keteli pithe, a rice-flour and date-jaggery dish made over a kettle, mishti doi, the quintessential caramelised sweet yogurt of Bengal, and shinghara, the small yet flavourful Bengali samosa with peanuts and raisins. "Do you see that chatim tree? This is where the seeds of Santiniketan were sown." While waiting for the university gates to open, (they open for visitors post morning classes), we meet Anirban Sarkar, a music student, who offers to show us around. "Debendranath Tagore, Rabindranth's father, is said to have liked the spot under that tree so much that he bought the land from a fellow landlord and built a house here. The house was called Santiniketan and lent its name to the town that developed around it," he explains. Santiniketan, the house, is now a museum but is revered like a temple. Visva-Bharati University is an independent eco-system within the town. On one side are Tagore's many homes that he built over his lifetime, and on the other is the campus where they still hold classes under the trees as they did over a 100 years ago. "Our university is the only one in the country where the prime minister presides over the convocation," informs Sarkar. "It is also the only place where classes are conducted in the open." We walk by open-air classrooms, which are just enclosures under large trees with a small platform for the teacher, and wonder how children are still open to doing that. "There are classrooms too," informs Sarkar, "for extreme winters and summers, but we prefer being outside."
As we walk through the raanga maati, or the red soil in the campus, we notice that every department here has its distinct identity. Kala Bhavana, or arts department with its expansive murals, unfinished paintings, and mammoth art installations looks like an open art gallery. Strains of music waft in from Sangit Bhavana, the music department, which is a large colonial-style building, and Vidya Bhavana, the centre for social sciences, with students clad in saris and kurtas riding bicycles and arguing about politics, feels like a universe in itself. The space reflects Tagore's philosophy of learning without barriers, in close proximity to nature. Tagore created Santiniketan as a place of learning, but it also became his place of work. In his lifetime, he built and lived in five different houses here and created some of the greatest works of art, literature, and poetry. We walk across the narrow street from Kala Bhavana to Uttarayana, home to Tagore's five residences — Udayana, Konark, Shyamali, Punascha, and Udichi—the sprawling complex with gardens, waterbodies, sculptures, and five distinct buildings. Each house, designed by Tagore himself, is more striking than the other. My favourite is Punascho, a single storeyed, two room space with red floors, low steps, and curved verandahs.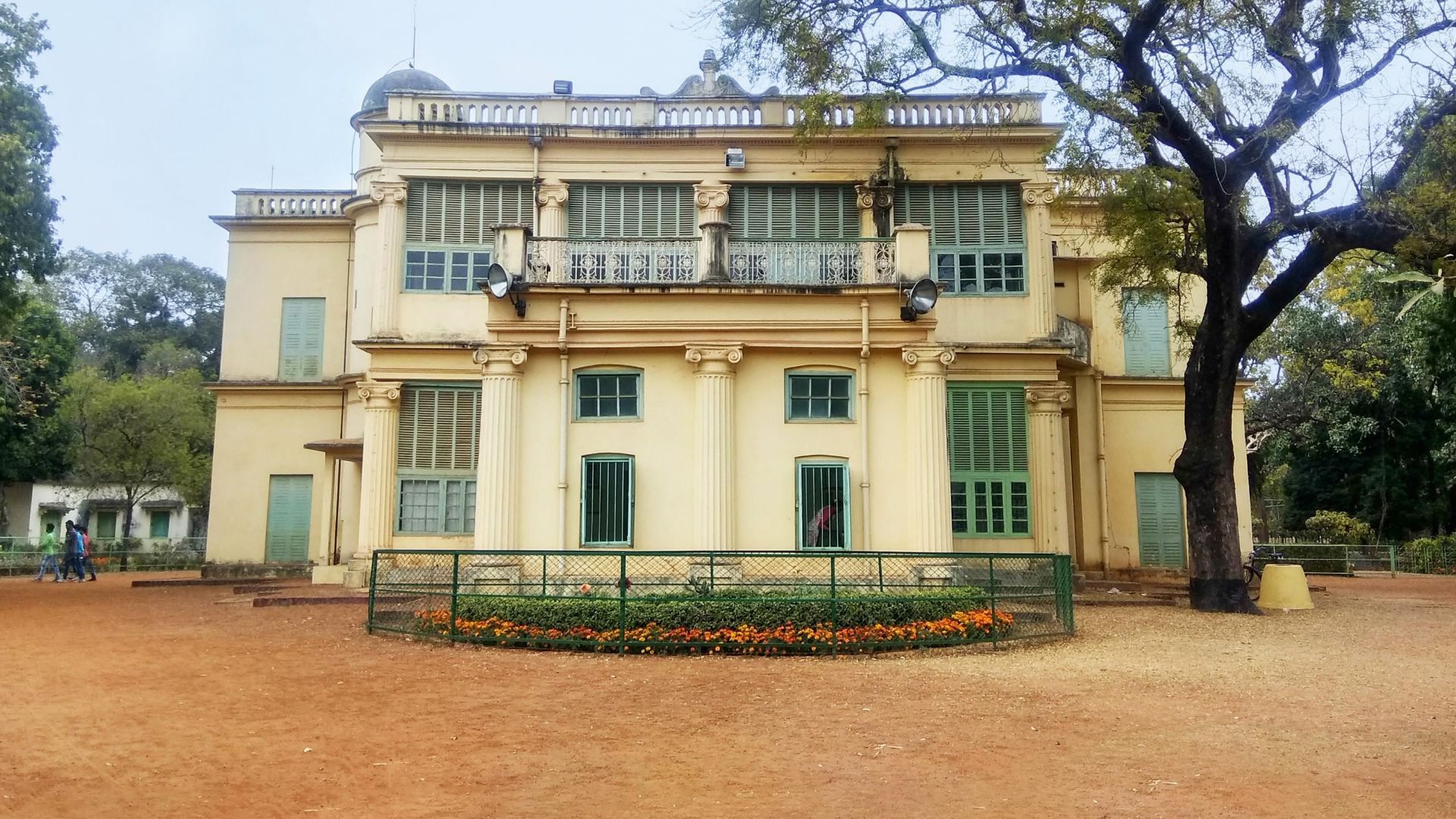 Even though there is hardly anything to do in Santiniketan, I have a long list of things to do and places to see. And the next place on my list is the Kopai. Like everything else here, the Kopai River also carries legends of Tagore. His poems often feature the river and he is known to have written many a verse sitting by its quiet waters. Given that I am a writer, I hope to find both inspiration and immortality there.
It is almost dusk when we leave the campus for Kopai. Nobi-da who is still with us, promises us tea and nimki at the corner shop. "Aapni boshun, aami ekhuni nimki kore debo," (please sit, I will quickly make fresh nimki for you), the lady at the shop tells us when we reach. In no rush to leave, we settle on the smooth narrow wooden bench outside the shop. While my husband gets talking to locals, I look around. It is here that I see Tagore's silhouette etched on a plank and under it his famous lines. As an 18-year-old I may have laughed at the thought, but today, sitting in Tagore's land, I very well understand what they mean.
Getting To Santiniketan
SpiceJet and Vistara operate regular flights to Kolkata from all major Indian cities. From Kolkata, Santiniketan is well-connected by rail and road.
Stay
Nayana's Homestay is a quaint homestay replete with artefacts from all over the country and is an ideal choice for great conversations, good food, and a well-stocked bar Doubles from INR 5,000
Santisudha Guesthouse in Sonajhuri Palli has sprawling lawns and large balconies, parking and in-house dining. Doubles from INR 2,000
Related: Loved Ponniyin Selvan: I? Visit These Indian Destinations That Will Teleport You To The Chola Dynasty Era