We Discover The Rich Heritage And Hidden Treasures That Madhya Pradesh Has To Offer
In the brief lull between the waves of the raging pandemic, a trip uncovered assorted treasures in Madhya Pradesh: from the ornate palaces of Orchha to the iconic temples of Khajuraho, and the wild denizens of Panna Tiger Reserve. Text and photographs by Rashima Nagpal
A trip to Madhya Pradesh helps us uncover its many secrets
Day One: Old is Gold in Orchha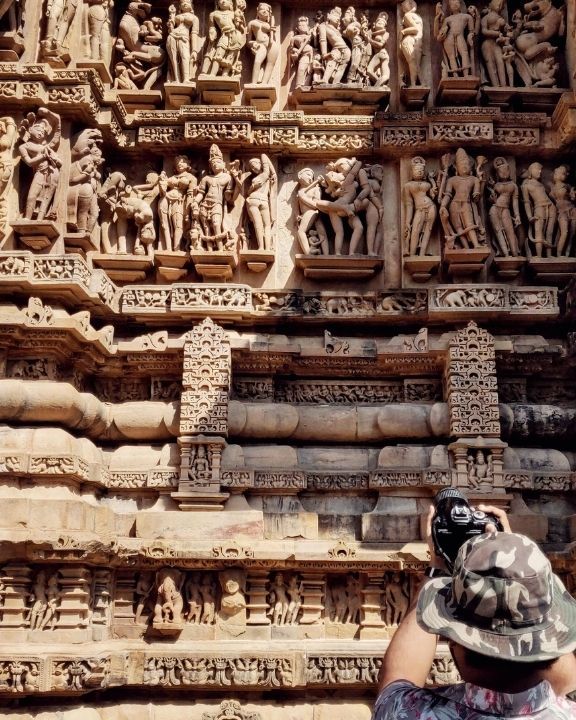 A wide stretch of River Betwa in Madhya Pradesh flowing in front of my guesthouse is a sight for sore eyes. It is mid-afternoon, but the gentle breeze on the riverbank mellows the sun's gaze. The placid water body stretched like a panorama on either side, and the deserted riverbank betray Orchha's laid-back vibe. Home to roughly 10,000 people, the sleepy little town feels far removed from the worries of modern life. "Small town, small problems. But everyone knows everyone's problems," laughs the local guide showing us around.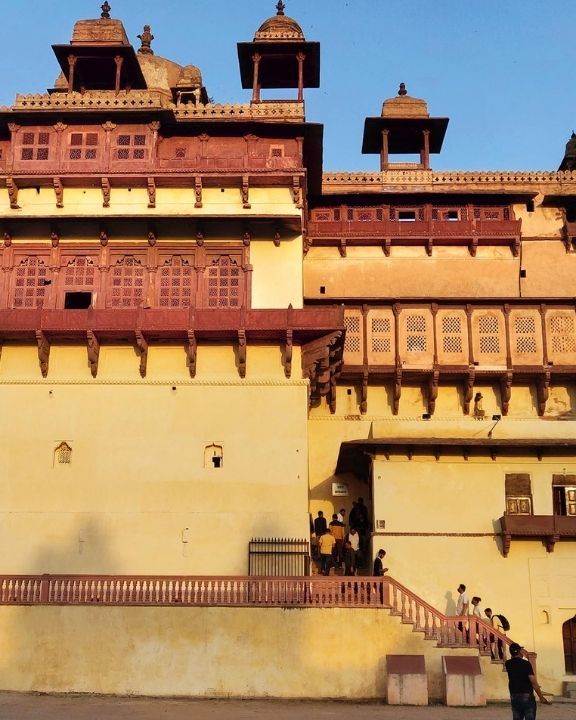 Until the 16th century, the town of Orchha didn't exist. The semi-arid jungles of the Vindhya Range dominated this terrain. It is not hard to picture that time, especially from one of the many vantage points in town. As we arrive at Laxmi Narayan Temple, set on a rocky outcrop in the western part of the town, I can see plateaus in the distance. However, the real marvels await me inside the temple-fort, which dates back to the 1660s. The structure exhibits a blend of Bundeli and Mughal architecture. Interestingly, the site does not house any idols of deities. In the middle of a triangular court, an octagonal dome soars high above the temple's square-walled periphery with cannon slots on the roof. Arched doorways lead me to galleries with curved ceilings featuring intricate hand-painted frescoes. These artworks tell tales from Hindu mythology, captivating enough to make me linger longer than I've planned. At the heart of Orchha's old-world charm lies its eponymous fort. The majestic Orchha Fort Complex comprises multiple structures built over a span of 200 years by several rulers. Standing in a quadrangular courtyard, I find myself surrounded by three palaces—Jahangir Mahal, Raj Mahal, and Sheesh Mahal. While Sheesh Mahal has been transformed into a heritage hotel with a restaurant, Raj Mahal is the oldest part of the complex (and the town) and features two unembellished royal wings. The golden hour is upon us by the time I walk through the gates of the most coveted of them all, Jehangir Mahal. Visibly more attractive than the others, it is an iconic example of Indo-Islamic architecture. The three-storey palace is built with red and yellow sandstone and flaunts ornate details in its balconies with latticework, a wall with turquoise tiles, delicate trellis, domes, and sculptures. Awash in the glow of the setting sun against the backdrop of a blue sky, with a crescent moon looming over it, the palace looks ethereal. At that moment, the grandeur of Orchha's heritage dawns on me all at once, and I try my best to capture it. Photographs cannot do it justice, I declare as my camera runs out of storage space and I run out of time.
Day Two: The Kaleidoscope of Khajuraho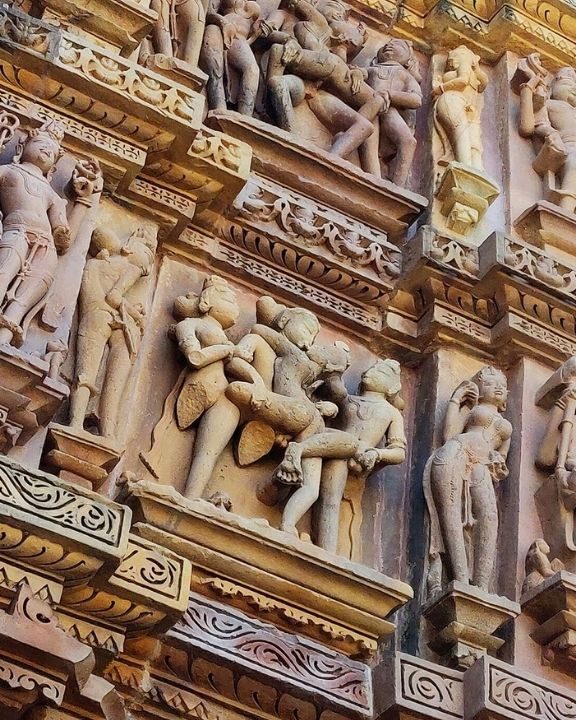 A little less than five hours from Orchha by road, Khajuraho is fairly popular among tourists. While Orchha is an iconic remnant of the Bundela dynasty, Khajuraho has its roots in the Chandela era. It is best known for its UNESCO World Heritage Site: a collection of 23 Hindu and Jain temples—classified into western, eastern, and southern groups—and known collectively as the Khajuraho Group of Monuments. Dating back to the 10th and 11th centuries, these structures are rare surviving examples of the Nagara style of temple architecture. The most iconic and best-preserved temples fall under the western group, which also draws eyeballs with a unique set of erotic sculptures.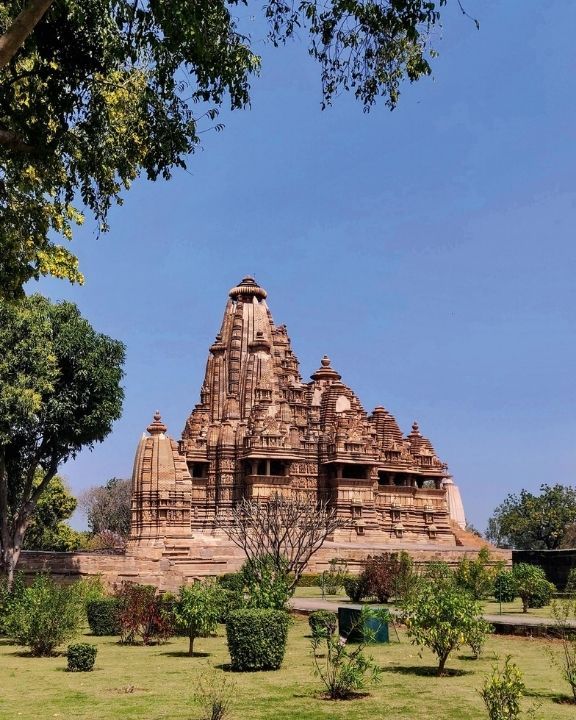 Much like any novice in Khajuraho, I arrive at the western group brimming with curiosity. The temples—and their infamous erotica—often elicit mixed reactions from visitors. And the stories of their provenance and artwork tend to differ even among the designated guides. So, before I begin my group tour, I discard everything I've heard and go in with an open mind. The western group includes six major Hindu temples spread across a vast garden. But the structures are less temples and more art galleries painstakingly built with sandstone.
The one that boasts the grandest carvings, Kandariya Mahadeva Temple, is dedicated to Lord Shiva and is known to be Khajuraho's largest monument. Lakshmana Temple, dedicated to Lord Vishnu, is the only one said to have the entirety of its original structure intact. Another grand edifice is seen at Vishwanath Temple, dedicated to the 'lord of the universe'. While one tends to focus on the startling sexual imagery— involving human and animal figures entangled with each other and among themselves—the craftsmanship that went behind the carvings is the real showstopper. You can easily spend a day observing and interpreting the details. Especially if you, like me, have a thing for symmetry.
Day Three: One with the wilderness in Panna Khajuraho also serves as a base for wildlife adventures, with Panna Tiger Reserve sitting just 100 kilometres away. And what better way is there to conclude a whirlwind trip of Madhya Pradesh than an experience of its natural heritage?
Well before the crack of dawn, I reach the gates to begin my safari. Established in 1981, Panna National Park—declared a tiger reserve in 1994—is home to over 50 tigers, around 200 species of birds, and other impressive fauna, including leopards and sloth bears. I venture into the woods with no great expectations. Minutes into the safari, River Ken joins our expedition, flowing through the reserve from south to north. On every riverbank, the jeep slows down and our eyes search for a big cat quenching its thirst. Bush after bush, three hours pass by with our wildlife sightings limited to a handful of black drongos, a pair of elephants, scattered herds of chital, and some monkeys. Parked close to yet another water body and frustrated by the waiting game, I ask a forest guard if there are indeed big cats in the reserve. "When I went to fetch water from the pond two days ago, I saw one stretched out on his back," he asserts.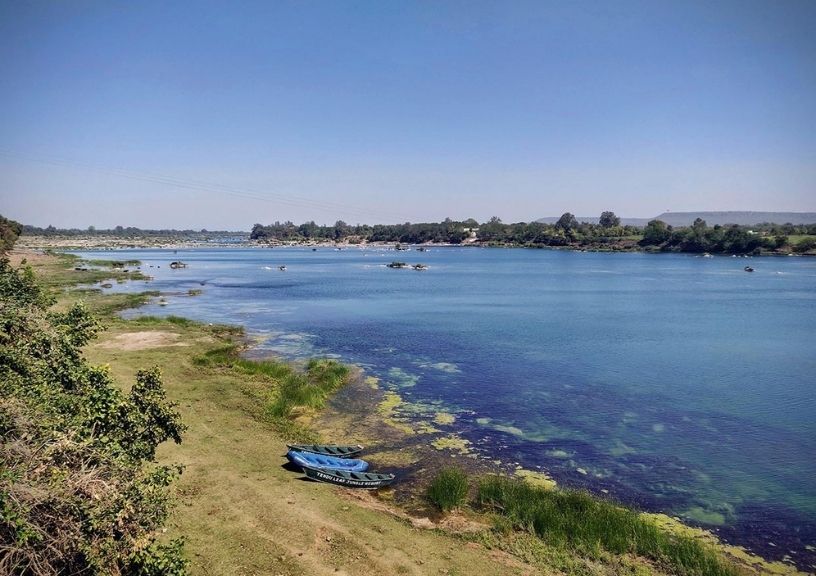 With the clock ticking, the driver accelerates uphill. Soon, I'm at the precipice of a wide gorge with birds of prey gliding overhead. The reserve is also a breeding ground for five kinds of vultures, I'm told. The tiger is not the only endangered creature in these woods. Just short of the exit gate, a flock of jeeps blocks our path. There's palpable excitement in the air. "There's been a sighting," I overhear. Visitors are standing up in their seats and aiming their binoculars in one direction. I follow the gaze of their gadgets. Between fumbling with a pair of binoculars and balancing on the edge of the jeep, I spot a tigress with two playful cubs! Just as I lose focus, the stripes disappear in the bushes. Madhya Pradesh makes sure I see it all, no matter how briefly.
Getting There The nearest domestic airport to Orchha is in Gwalior. Hire a private car to reach the other destinations from Orchha.
Stay
Hotel Bundelkhand Riverside (from INR 6,543) offers a comfortable stay with views of River Betwa in Orchha. Hotel Chandela (from INR 6,000) is a four-star retreat located close to the heart of Khajuraho. Tendu Leaf Jungle Resort (from INR 6,750) is a beautiful, rustic property near Panna Tiger Reserve.
Related: Delicacies From The Royal Cookbook Of Madhya Pradesh's Rewa