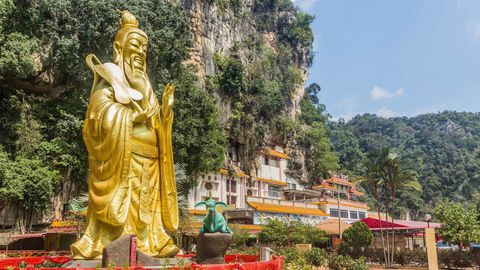 Ipoh, a sleepy town in Malaysia, offers the perfect setting for a rejuvenating holiday with its limestone karst mountains, cave temples, and hot springs.
While I soaked the geothermal water of my private outdoor hot spring whirlpool at the garden villa of The Banjaran Hotsprings Retreat in Ipoh in Malaysia, I felt relaxed. The warm water with its rich mineral content eased my body of aches and pains. Calcium in the water strengthened my bones, iron aided the immune system and reduced fatigue, chloride maintained suitable pH levels, potassium helped normalise my heart rhythm, and magnesium reduced my high blood pressure. Caves of Ipoh
Rejuvenated, I set out to explore one of the many natural caves of Ipoh. The first one was special. Experts believe that it was a former temple founded by a priest of Nichiren Shu, a Japanese Buddhist school dating back over 750 years. The inscriptions here are in the Japanese writing system called kanji, which uses Chinese characters. On the way to the cave, we passed a number of limestone hills that were partly hidden by lush trees growing around them. Each of these caves are the living heritage of Malaysia.
The first limestone cave temple we stopped by was the revered Kek Lok Tong Cave Temple. Meaning "the cave of great happiness", it is spread across 12 acres. Though the cave was used for worship in the 1920s, it was not very popular due to its discreet entrance. Sometime in the 1960s, as part of an iron mining project, the entrance was enlarged for lorries ferrying iron ore through the cave. Inside the cave, a bronze statue of Buddha is seated on a lotus flower with 108 petals. It is flanked by Manjushri Bodhisattva and Samantabhadra Bodhisattva statues. I spent some time soaking in the tranquil vibe of the temple whose myriad rock formations are complimented by numerous stalactites and stalagmites. A Spiritual Turn
My next stop was the Ling Sen Tong Temple. It is a colourful Taoist temple whose entrance is adorned with spiral incense hanging from the ceiling. Each spire burns for a couple of hours. The temple has statues that are part of Chinese mythology. Inside the premises, visitors burned joss sticks in front of the deities. I noticed that these joss sticks had a wax exterior that burnt alongside the natural materials inside.
Two minutes from here is the Nam Thean Tong Temple, a Taoist structure decorated with dragons, lions that are a part of Chinese folklore, and Chinese letters. When I visited, there was a cluster of joss sticks almost seven feet in height placed in one corner!
The oldest and the main cave temple in Ipoh, however, is Sam Poh Tong Cave Temple. A functional temple, it is located within walking distance of Ling Sen Tong and Nam Thean Tong. Its walls have been plastered, and the red pagoda on its premises has graced many Instagram feeds. Legend has it that the cave was discovered by a Buddhist monk from China who lived there until his death 20 years later. I walked beyond the altar of the temple into a beautiful garden with a fountain and a tortoise sanctuary. If the limestone hills and caves of Ipoh lend a distinct spiritual vibe to the city, its jungles abound in native flora. The 260-million-year- old forest located near the Lost World of Tambun has various hiking trails. Escorted by a guide, I spent an hour learning about endemic palm trees and orchids.
Serenity, Spas, and More
To relax my muscles from the hike, I opted for the Banjaran Signature Massage at the resort's award-winning spa and wellness centre. It was a decadent pampering session with a head massage from India, a traditional Urut massage from Malaysia, and foot therapy from China. The Malay Urut incorporates techniques that are generations old. The oil used for the massage is an indigenous one made from palm oil boiled with herbs and spices.
Feeling Zen-like, I strolled along the geothermal lake and four inhouse caves—the crystal cave, meditation cave, thermal steam cave, and Jeff's cellar. My favourite was Jeff's cellar, a 260-million-year-old limestone cave built in a grotto. On entering, I spotted mushroom-shaped hemispherical calcite concretions on the walls.
A table was set inside a chamber surrounded by columns, stalactites, and stalagmites. Here,a gourmet nine-course dinner awaited me. The first course was vegetarian caviar prepared using kochia seeds, smoked radish, Arima pepper dip, honey ginger oil, and wood sorrel. I relished potato pavé with 23k edible gold, guava shot with plum pop, asparagus with pine leaves, russet potato with burnt flour gnocchi, and local Chemor cacao (drinking chocolate made of cacao beans from Perak Chemor). Apart from its spectacular interiors and delectable menu, the cellar also has an impressive collection of wines.
Ipoh is famous for its pomelo fruit too, and a local proudly told me how Malaysians and tourists not only enjoy the fruit when they are in the city but also carry it home to share with friends and family. Taking the cue, I bought a few as a befitting sweet reminder of Ipoh.
Related: Explore Malaysia's Hidden Gem With This Ultimate Ipoh Travel Guide
Frequently Asked Questions (FAQs)
— How do you reach Ipoh, Malaysia?
Malaysia Airlines operates direct flights from New Delhi and Mumbai to Kuala Lumpur International Airport. The resort is a 2.5-hour drive from the airport.
— Where does one stay in Ipoh?
The Banjaran Hotsprings Retreat from Sunway Group is a luxury geothermal wellness retreat. It offers longevity, detoxification, weight management, rejuvenation, and fitness wellness programmes that can be customised.
Written By