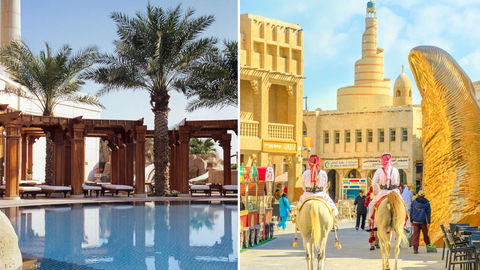 The Qatari capital—Doha—will be one of the host cities of the 2022 FIFA World Cup. With a flurry of upgrades set to bedeck the city before the fans descend, there's never been a better time to explore the ever-expanding metropolis and its surrounds. By Aatish Nath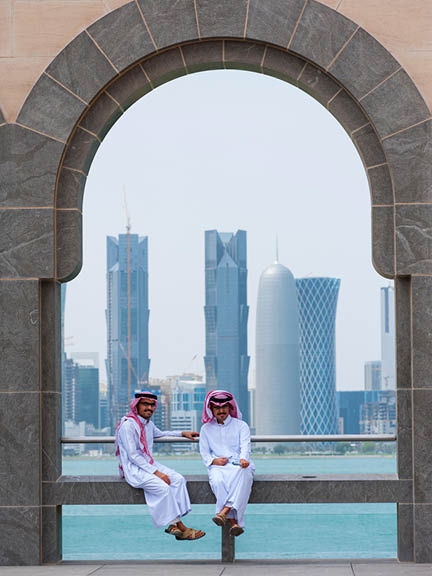 When in Qatar, you're probably going to spend most of your time in Doha. Hamad International Airport is about 20 minutes away from the hustle and bustle of the city and its capitalist centre of West Bay. Further to the west is Education City, where you find the Qatar National Library and the campuses of many international universities. Not to be missed is a walk along Corniche, which offers views of the Museum of Islamic Art. Souq Waqif offers its own dose of history and plenty of eateries, ranging from traditional to exotic. Lastly, make time to visit Pearl Qatar, a man-made reclamation extending into the sea with its own set of hotels, shops, and things to do.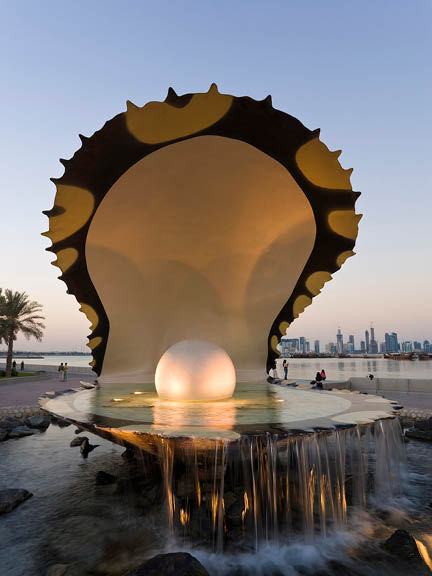 Dining
Doha is a magnet for expatriates; after all, almost 90 per cent of its population is made up of immigrants. Hence, there's plenty of diverse dining options. Be warned, alcohol is still tough to get outside of restaurants.
1. Musherib, near Souq Waqif is a neighbourhood filled with cheap fare that caters to those who are building the Doha Metro and the country's stadiums for the World Cup. As a result, you can expect cheap, authentic fare from South Asia at places like Himalayan Restaurant (from INR 900 for two) and Punjab Restaurant (from INR 1,800 for two).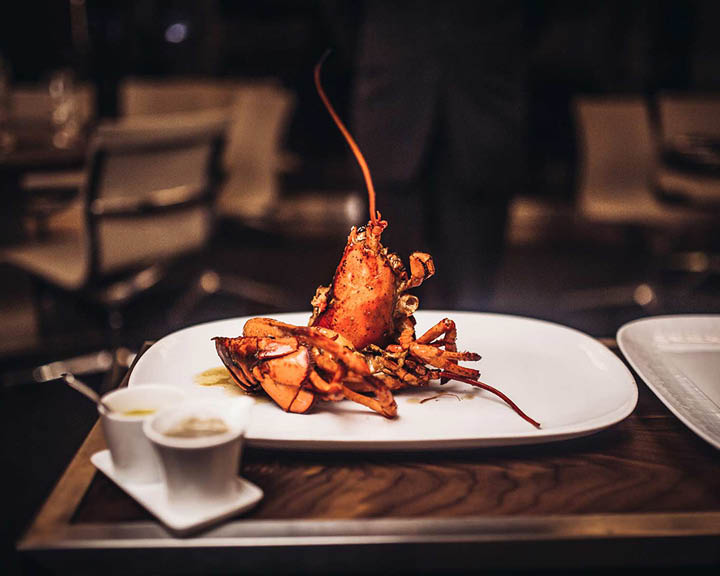 2. Novikov Doha at Katara Plaza is a London import that serves up delicious Asian fare. Seafood lovers will be delighted with their raw bar selection, though their dim sums are superb as well. From INR 3,907 for two.
3. If you're looking for a good steak, Cut by Wolfgang Puck at the hip Mondrian Doha is a great option. There, you'll find a melt- in-the-mouth mac 'n' cheese, and of course, some meat options too. From INR 7,815 for two.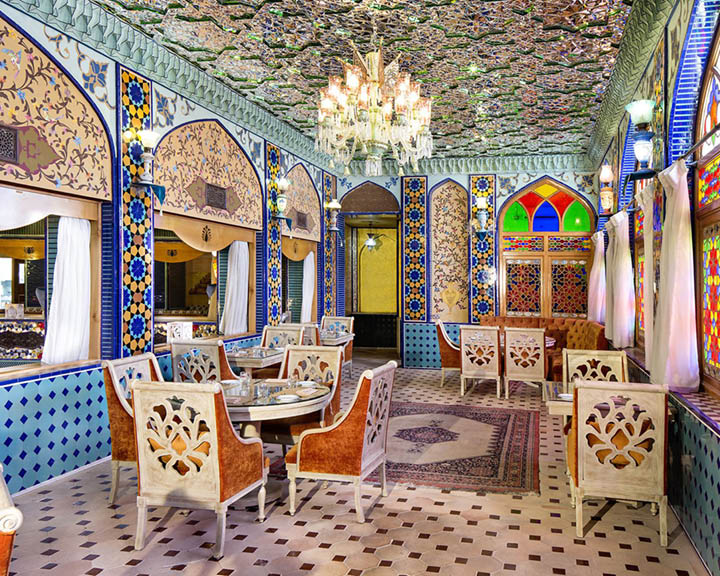 4. For some local fare, there are a number of great options. Parisa Souq Waqif offers succulent meats and other Iranian dishes. The restaurant itself is extremely Instagrammable, full of hand-cut mirrors, gorgeous fountains, and some of the best cold appetisers in the city. From INR 5,328 for two.
Stay
The plethora of international brands, boutique hotels, and self-contained resorts in Doha will spoil you silly with their warmth and hospitality.
MARSA MALAZ KEMPINSKI, THE PEARL – DOHA For those travelling with families, this mini- resort has multiple pools, a private beach, and acres of space for children to run around. The rooms are spacious, and there are some great restaurants too. Al Sufra offers delicious Middle- Eastern delicacies, while Toro Toro pairs its stunning views with some quality Latin food. This property is being refurbished, and reopens on November 15, 2019. The new look will feature redesigned rooms, a new signature restaurant, and a cigar club. The luxury brand's West Bay location makes it a favourite among those visiting for work. Dining options include Nobu and the popular Seasons Tea Lounge. This Marriott property has an array of hip eateries and a signature design that has made it a favourite among creatives and professionals the world over. It's the kind of hotel that hosts celebrities on their visit to the capital (we hear Trevor Noah was a recent guest) with a lot to offer. Remember to grab a drink or get some shisha at Wahm, which overlooks the pool deck.
If you're flying on Qatar Airways, you can get visa-free arrival into the country and also stay for up to four nights in the city at reduced rates when transiting through Doha.
ART DETOUR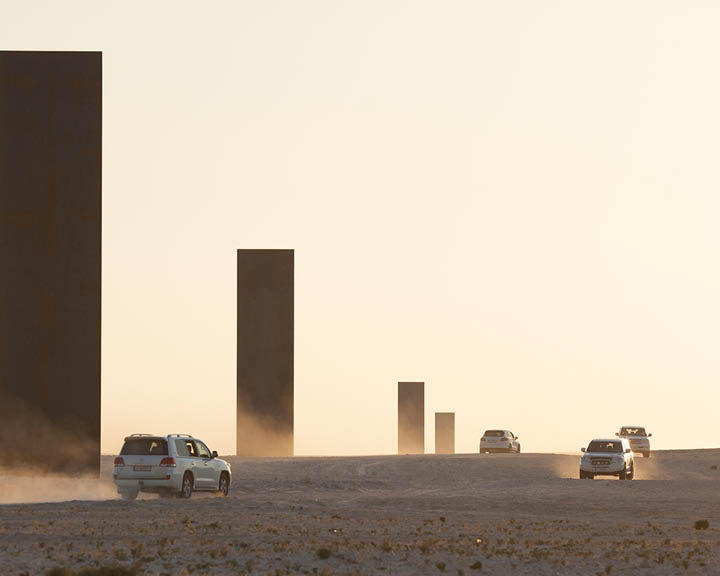 For art lovers, Richard Serra's East-West/ West-East is a series of four steel plates in the Brouq Nature Reserve. Only approachable by all- terrain vehicles, the installation sits about two and a half hours away from Doha. A trip to see it is a chance to experience the country's natural landscape and even possibly spot its national animal, the Arabian oryx, in the midst of a desert landscape.
See and Do
A remarkable range of sights and experiences await you in Doha, where the rustic past meets an exciting future.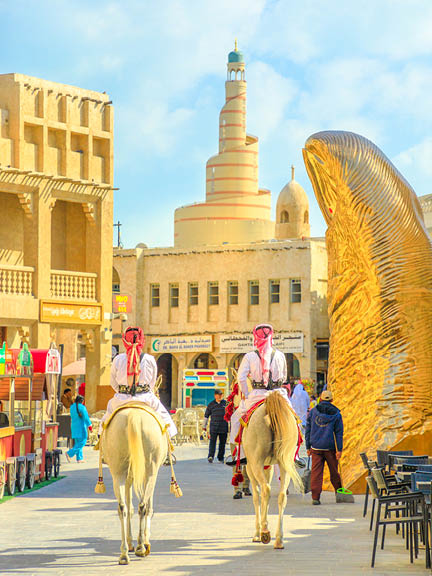 Designed by Jean Nouvel, this newly opened museum tells the story of Qatar—from before it was a country to present day. Indulgent but beautiful, the structure takes its inspiration from the gypsum desert roses that 'bloom' in the country. Spread over 1.5 kilometres, the museum houses 11 galleries that happen to feature the Pearl Carpet of Baroda, which is still the most expensive carpet in the world.
If you're travelling with children, this indoor amusement park is sure to delight them. With rides that encompass everything from go-karting to the thrilling Angry Coaster, it's got something for every traveller. If you are a video game geek, this is an ideal place to spend an afternoon in Doha's Festival City. It also features multiple retail booths.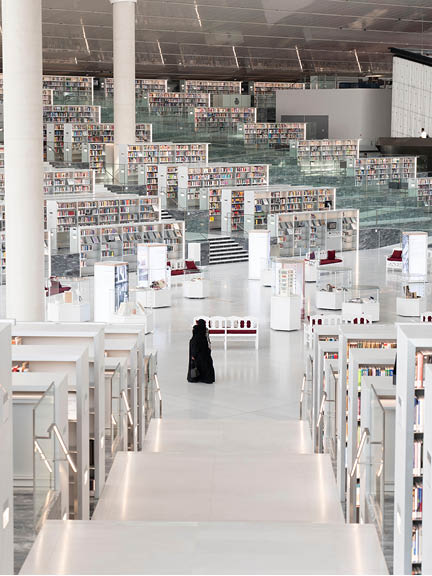 Surrounded by the sea, it makes sense to get out and on the water. While dhow boats are slow, they're traditional and a great way to immerse yourself in the culture. Those looking for a luxe experience can book a yacht ride, which offers photo opportunities and makes for more comfortable transfers.
SOUQ FOR THE SOUL
For those seeking spices, food, or just a chance to visit the Falcon Souq (it's where locals buy hunting falcons)—make your way to Souq Waqif. Frequented by residents of the city, the souq is a great place to learn about the region's spices or relax over tea and shisha. Look out for the Giant Thumb by artist César, which has now become a popular selfie spot.
Culture
Be it avant-garde international art, gems from Islamic craftsmanship, or a musical show, Doha will reward your culture quest.
Qatar's capital is becoming a hub for art and architecture enthusiasts with the ruling Thani family making arts a priority. There are multiple museums to check out. Start with IM Pei's gorgeously designed Museum of Islamic Art, which is a monolithic work on an artificial island. Inside, you'll find works from all over the Middle East and Asia that trace the evolution of Islamic art, from its armour to jewellery, carpets to wooden ornamentation, among other things.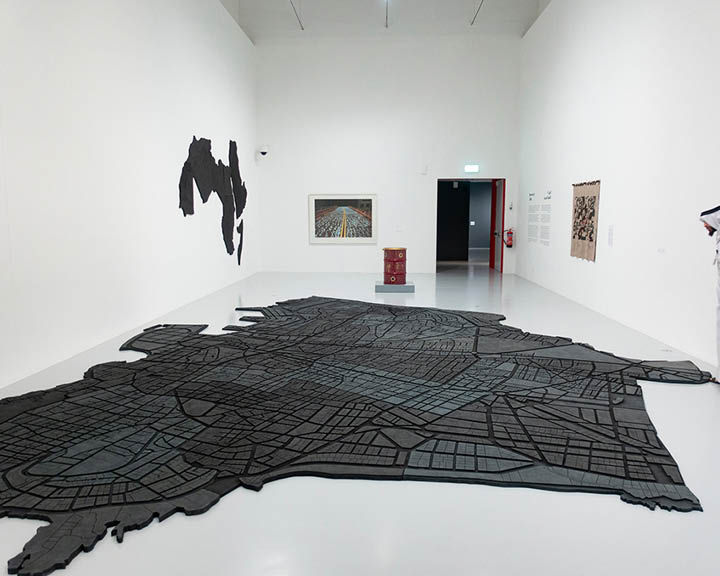 Mathaf: Arab Museum of Modern Art should be on your list as well. It has shown works by cutting-edge Indian artists like Raqs Media Collective and recently staged an MF Husain retrospective. Also, in Education City is the OMA-designed Qatar National Library, which takes its architectural inspiration from an open book. The airy space is at the forefront of bringing together technology and knowledge. In the area is also the Qatar National Convention Centre, which is a great place to catch a show, ranging from international DJs to comedians. During the recent #SummerInQatar promotion, you could catch Trevor Noah and Marshmello playing in the country. It helps that the building itself is designed by Pritzker Prize-winning Japanese architect Arata Isozaki. Lastly, there's a lot of public art spread around the country, making every day something of an adventure. Even if you're just flying through Doha's Hamad International Airport, you can spot works by artists like Urs Fischer and Dior collaborator, Kaws.
Related: 20 Super-Luxe Experiences You'll Find Only in the Middle East
Written By