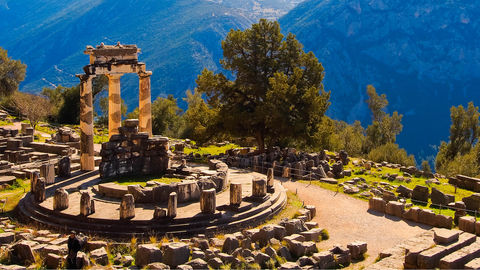 What makes Delphi one of the most important archaeological sites of Greece? Immense history, breathtaking scenic beauty, UNESCO World Heritage Sites, and more. Here's why this sanctuary dedicated to Greek God Apollo should be on your travel bucket list in 2020. By Tanvi Jain
Once a major cultural and religious centre, the seat of Pythia — the oracle known for her prophesies and consulted for major decisions across the globe back then; dedicated to Apollo — the Greek God of Light and Prophecy, the sanctuary of Delphi is one of the most important archaeological sites in Greece.
It's located at the foot of Mount Parnassus and as per mythology is considered the site where two eagles sent from East and West by Zeus met. From the sixth century BC to fourth century CE, various athletic games and musical competitions were organised in honour of Apollo. Majority of ruins from that Neolithic period stand even today.
It was only after 1891 that the archaeological research started, and many things including two Delphic sanctuaries were discovered. Later from 1903-1906, the Treasury of Athenians was reconstructed and the Altar of the Chians, the temple of Apollo, and the Tholos were all partially restored.
When in Delphi, make sure to visit The Delphi Archaeological Museum for its outstanding collection of artefacts.
Castalian Spring is the archaic sixth century BCE fountain where it is believed that Pythia and the priests cleansed themselves and the pilgrims who came to visit the oracle also stopped to wash and quench their thirsts. What makes it a picturesque site is the fact that the two fountains, which were fed by the sacred spring, still survive.
Another place worth visiting is the Temple of Athena Pronaia, which comprises of temples and treasuries as well as the famous Tholos of Delphi -– also a part of the UNESCO World Heritage Site.
Country's largest Parnassos ski resort located at an altitude of 2,260 meters gives you immense options for winter sports as Parnassos is covered in snow for long periods.
Just 25 minutes away from Delphi, Arachova is another town that deserves a visit especially for its delicious wild boar meat, free-range goats and local cheese. If you want to enjoy some music, theatre and various other cultural activities, the European Cultural Center of Delphi (ECCD) is the perfect place to go in summer. Foodies must try Delphi's goat and lamb often roasted on wild greens, feta cheese, potatoes, eggplants, tomatoes, pligouri and a yoghurt-based granular pasta trahana. Adventure junkies can go for skiing, snowboarding, hiking, rock climbing, paragliding, parapenting, cycling, kayaking or Nordic walking.
Another half an hour drive from Delphi takes you to the beautiful Galaxidi, a seaside town whose elegant neoclassical mansions and old captains' houses form the bulk of the harbour town make it seem as if time has come to a standstill. When here, do go swimming at the little coves near Hirolakas port.
Related: Fancying A Europe Trip? Go Explore These Hidden Gems Of Geneva
Written By