This Is How It's Like When You Hit The Road To Everest Base Camp—Via China—On A Bike
A contributor reminisces about his memorable motorcycle ride to the Everest Base Camp in Tibet and takes us along on a flight of fancy. By Rishad Saam Mehta
We were settling down at a table in one of Thamel's popular restaurants. On the adjoining table, a Swiss couple's order of a huge rib-eye steak with a green peppercorn sauce and creamy potato mash had just arrived. When I looked at their food with pure unadulterated lust, the lady smiled and explained that they were usually vegan but they were celebrating a successful Everest Base Camp trek at that moment. I politely beckoned the waiter and told him I'd have the same, not because I was celebrating anything but because the beefsteak looked like a celebration in itself. I told the couple that I was about to start off for the Everest Base Camp, but on a motorcycle. They gave me a suspicious stare, probably assuming I had smoked something acquired from one of Kathmandu's nefarious nooks and crannies, and quietly went back to their meal.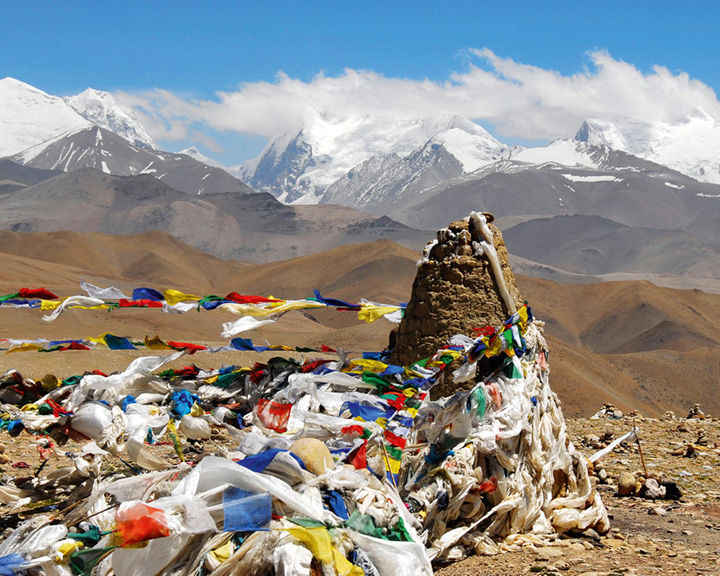 To set the record straight, I wasn't high. But I was going to get high. I mean really, really high—above the realm of recreational skydiving—on a motorcycle. There are two Everest base camps. Mount Everest itself straddles the border between Tibet and Nepal. The
south base camp, the one that most people trek to, over a period of 15 days, definitely cannot be ridden to. On this trek, while glimpses of Mount Everest can be seen along the way, it cannot be seen at the base camp itself. What you see there is the Khumbu Icefall. I was setting off for the base camp on the north side, in Tibet. And I was on my trusty Royal Enfield Himalayan, in the company of 10 other riders.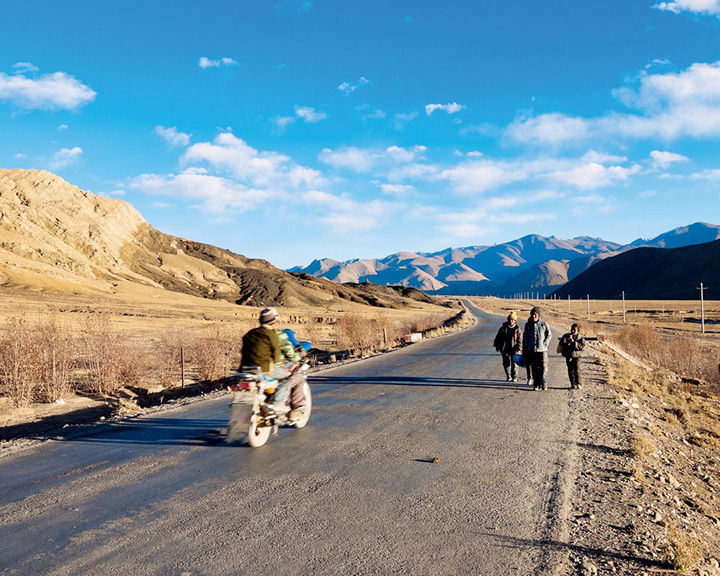 We were a tightly bunched group as we headed out of Kathmandu towards Nepal's border with Tibet. It was the holiday season, and the main roads were packed to capacity. So, Sabin, a Kathmandu local and our leader, took us through myriad shortcuts that couldn't have been navigated by a four-wheeler. Once we'd left the capital behind, our formation stretched out. While Kathmandu is urban with traffic fairly peppered with fancy cars and bikes, Nepal's countryside is quite rural. The roads were an odd mix of smooth tar, slush-filled craters, and moraine trails that made me thankful for riding a motorcycle that was built to handle hardcore off-roading. My gear was splattered with mud and muck, while locals riding the same terrain on far less capable motorcycles managed to come through clean. I guess this is a skill acquired over the years.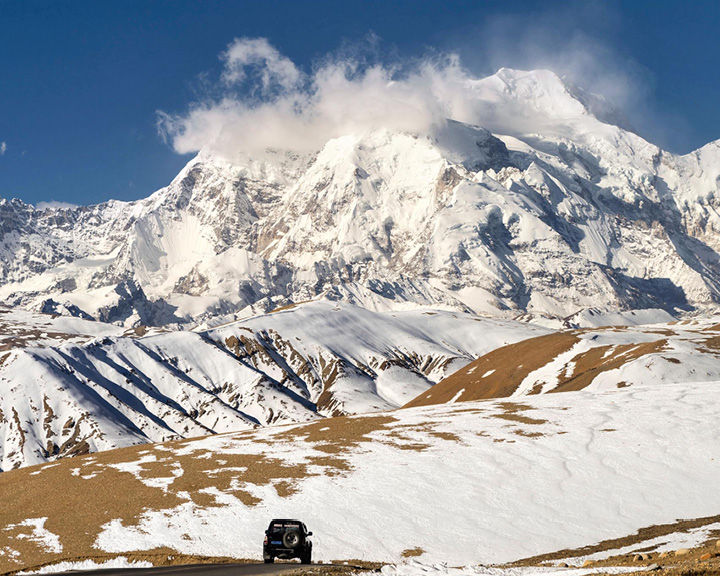 Over two days, we headed north on the Trishuli Highway, skirting the Langtang National Park and dodging everything from errant piglets, to stray dogs, and chickens crossing the road—never mind why! In the past, Tibet was the forbidden kingdom, somewhat of an enigma that made it all the more attractive to adventurers. In fact, the pages of history are full of renegades trying to sneak into Tibet. So, it wasn't a surprise that on the morning we were supposed to cross the border, the mood was apprehensive. And the Chinese, who effectively run the country, do nothing to alleviate this feeling. Even the area before
the immigration counter was fitted with X-ray and thermal mapping so that every person was monitored while still in the queue. Not only was every article of baggage checked, but the galleries of our smartphones were also searched for any pro-Tibet or anti-China material. But Sabin and his Tibetan counterpart, Tenzing, are old hands at this game, and we were through with our bikes in about 20 minutes. We did, however, hear horror stories of travellers taking as long as seven hours to cross the border.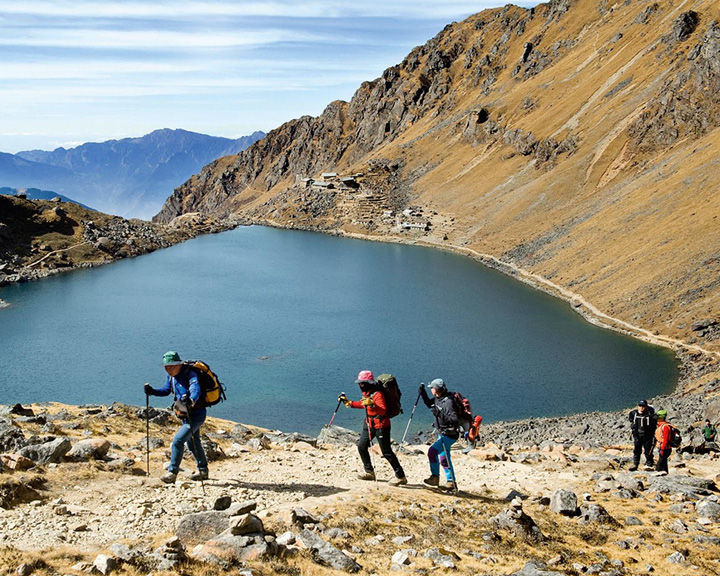 Do you know that pleasurable feeling of coming out into the open after being in a confined area for long and stretching yourself? That is how my motorcycle must have felt as I gunned her up the road to Kyirong. The roads were smooth and the corners perfectly cambered. For the first time after swinging my leg over the saddle in Kathmandu did I rue the fact that the Royal Enfield Himalayan's engine is just 400cc. The thought would
cross my mind many times in the days ahead, as I wrenched the throttle open to full whack on roads that begged speed. For now, I was thoroughly enjoying the switchbacks on the 24-kilometre run from the border to Kyirong. The border crossing also marked the start of our ascent to the Tibetan Plateau. By the time we got to Kyirong, we had gained 2,000 metres. And because of this altitude gain, the temperature, too, dropped sharply. I had been sweltering under my riding gear in Nepal, but as we set off from Kyirong the next morning, it felt like I hadn't layered up enough.
Within the next hour, as I climbed higher towards the Tibetan Plateau, my fingers felt
like long digits of ice. I was sure that if I tried to flex them beyond a certain point they
would break and fall away. Luckily, I had anticipated this temperature contrast and bought an extra pair of gloves. Slipping these on under my riding gloves gave me some respite. It also took my mind off the cold, and for the first time, I was staggered by the landscape I was treading. When we reached Tong La pass (5,100 metres), I realised that I had ascended 5,000 metres in just over 24 hours. But that worrisome thought was soon forgotten as we rode onto the Tibetan Plateau. Now I was riding in the hallowed company because stretched out across the horizon were the 'Eight Thousanders'—the peaks that are over 8,000 metres high. The most prominent one was the Shishapangma, reflecting in the
deep blue water of Lake Paiku where we stopped for lunch. That was our longest riding day, with 270 kilometres covered from Kyirong to Tingri. But I didn't entirely realise this as I was so enamoured by my surrounds. My gear was doing great—there was no renegade draught of cold air making inroads into my jacket, pants, or shoes; my hands were toasty thanks to the extra pair of gloves; the new helmet that I had bought in Mumbai at an exorbitant price was now showing its true worth as it held my head snug and the airtight visor seal didn't let any wind in.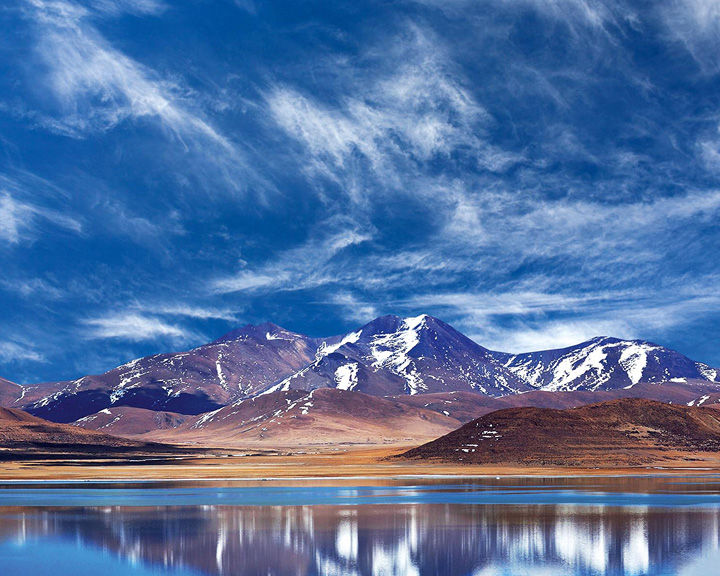 Headache and nausea began clawing at me just as Mount Everest broke into view, 30 kilometres short of Tingri. It was a moment that I had waited for—that first sighting of the
world's highest mountain—but I wasn't in a celebratory state of mind. The old demon in
my head had woken up—Acute Mountain Sickness (AMS). From past experience, I knew that my only option was to acclimatise or descend—there was no way that I could carry on towards the base camp the next day if I didn't put that demon back to bed. So, as soon as I got to Tingri, I ate a light dinner that wasn't too heavy on taste or smell—a tall order in China—and went to bed. I slept for 12 hours straight, and the next morning, the demon had been defanged and slayed. I walked out into the open and felt like I was entering a freezer, even though the sun was up. The frost on my motorcycle confirmed that the temperature was hovering around the 0°C mark. The motorcycle's temperature gauge, in fact, read -1°C.
Two of our gang members had to stay back in Tingri because they hadn't yet acclimatised to the altitude. That day's ride was 150 kilometres of sheer wonder. We crested the 5,212-metre-high Kya Wu Lha pass, where I celebrated my sighting of the mountain. Even though it stood among other peaks like the Cho Oyu and the Shishapangma, there was no need for
anybody to point out the Everest. It stood head and shoulders above the rest. The ride
from the Pass to Rongbuk—the monastery at the Everest Base Camp—was even more
spectacular because the Everest was a constant companion as I zigzagged down over a 100 switchbacks.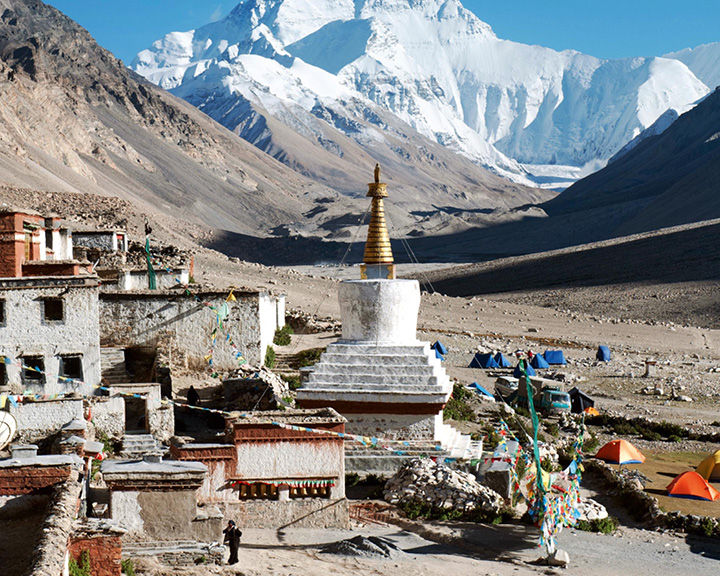 Unlike the base camp in Nepal, the view of Mount Everest from Rongbuk is 'in your face'. So close that you feel you can almost touch it. That night, as I lay in bed with the curtains drawn apart, Mount Everest was framed in my window, the snow on its top shining like a beacon. Sleep didn't come easy because it was cold and the oxygen in the air was 45 per cent less than what I was used to in Mumbai. So, I brewed myself a cup of coffee and climbed out of the window. It was -4°C, and the eerie silence made me think I had lost my hearing till I noisily slurped my coffee, a sound that must have carried all the way to
Kathmandu! At that moment, shivering and gazing at that mountain, I understood the
allure that had afflicted men like George Mallory and Edmund Hillary and hundreds of others since who have lusted to stand atop that pool-table-sized granite rock topped with ice—the highest you can get on planet Earth.
GETTING THERE
There are many direct flights to Kathmandu from Mumbai and Delhi.
TOURS
There is a host of paperwork and permissions required to navigate the red tape involved in taking your vehicle into China. Wild Adventure Nepal (wildadventurenepal.com) was the agency that sorted everything out for us.
THE ROUTE
Kathmandu to Bidur: 66 km (3 hours). Bidur to Dhunche: 70 km (5 hours). Dhunche to Kyirong: 28 km (2 hours, including border crossing). Kyirong to Tingri: 270 km (6 hours)
Tingri to Rongbuk: 130 km (2 hours).
Related: #SomeGoodNews: Mt Everest Is Clearly Visible From Kathmandu Valley, Thanks To Lockdown