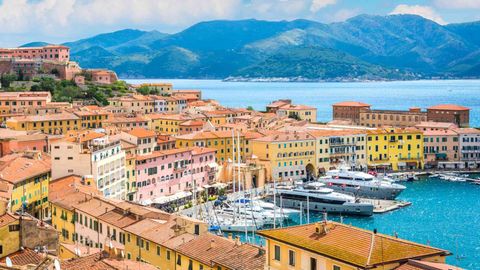 More than 50 million people visited Italy in 2022, and many went to popular destinations like Rome, Milan, and the Amalfi Coast. But, if you're going to be among the millions that head to the European nation in 2023 and beyond, may we suggest you look beyond the normal spots and visit one of the most stunning Italian islands instead? Namely, we suggest heading to Elba, Italy's third-largest island, part of the Tuscan Archipelago National Park.
The island is by no means hidden — it does, after all, have a population of around 30,000 full-time residents — but it is by every measure an under-the-radar spot for most tourists. It's time you got to know what Italians already do: Elba is the place to be for summer break.
Things you should know about this Italian island
What to know Elba may be the third-largest island in Italy, but it still only measures 86 square miles (222.739 square kilometres). It's large enough to feel like a place you can spend days on end, but small enough to feel manageable. The island is a destination perfect for outdoor lovers with seemingly endless hiking and mountain biking trails and awe-inspiring beaches that are ideal for lounging around for an entire day in the sun. Elba is also packed with history — it's most famous for being the site of Napoleon's first exile. The French military commander lived on the island from 1814 until 1815, when he escaped back to France.
When to go to Elba
Like most places in Italy, there really is no "bad" time to visit Elba. There are just a few times throughout the year that may feel a little more pleasant than others. The summer months (between June and mid-September) are ideal, with daily average highs hitting above 75°F (23.88 degree Celsius), according to WeatherSpark. However, even January, the island's coldest month, is still worth considering for a vacation, as the daily high hovers around 55°F (12.77 degree Celsius). The island's rainiest months arrive in the fall, between September and early December — so if you're hoping for a beachside break, perhaps avoid this time.
Elba is the place to be for summer break
Soak in the Thermal Baths Of San Giovanni
Vacations should be a time for rest and relaxation, and the island of Elba more than delivers thanks to its famed thermal baths. The baths can be found in a thermal basin located on the Portoferraio Gulf. It's a place that's said to be rich in iron and iodine, which will help soothe aching muscles.
Climb Mount Capanne
Work up a sweat and take in the gorgeous view with a hike up Mount Capanne, the tallest mountain on the island. The mountain rises some 3,200 feet in elevation, and the trail to its peak is about eight miles long. If you plan to make the trip to the top and back, make sure to plan for an entire day and pack plenty of water.
Lounge on the beach
Though the island has gorgeous beaches worthy of your vacation days, Biodola is a standout option. The beach is home to stunning azure waters and warm, soft sand. It's also sheltered from southern winds, making it the perfect place to lounge under an umbrella from sun up to sun down.
Go snorkelling The waters around the island make for an ideal place to go for a dip and take a peek at the fish swimming below. Guests here will find eels, starfish, and colourful coral. There are plenty of outfitters that are happy to take you out to various destinations around the island; see many of the spots and book a tour online.
The best hotels in Elba for a comfortable stay
Hotel Hermitage
Have a dreamy escape in Elba when you book a room at the seaside Hotel Hermitage. The charming hotel is home to rooms with massive balconies providing sweeping views of the gin-clear waters outside, as well as plenty of private beach frontage with loungers and umbrellas for everyone.
Book your stay at Hotel Hermitage via Booking.com
Il Termine
Experience a bit of Elba's history with a stay at Il Termine, an 18th-century home-turned-boutique hotel. The hotel sits inside a lush forest just a few steps away from the shore. It's ultra-romantic and has a wellness spa with treatment rooms with floor-to-ceiling windows so you never have to leave the gorgeous views for long.
Book your stay at Experience Relais " Il Termine Elba " via Booking.com
Le Acacie Hotel & Residence
Those travelling as a family will adore Le Acacie Hotel & Residence. This hotel sits right on the water's edge and comes with plenty of high-end amenities, but it also boasts a kids club and teens club, so everyone in the family can experience something special.
Book your stay at Residence Le Acacie via Booking.com
How to Get to Elba
The easiest way to get to Elba is via ferry from the mainland town of Piombino. See all the options for ferry rides on the Visit Tuscany website.
(Hero and feature image credit: e55evu/Getty Images)
This story first appeared on travelandleisure.com
Related: 29 Most Beautiful Places In Italy
Written By