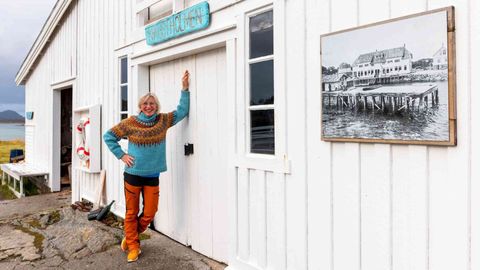 Much like our wildly beautiful, untamed landscapes, I've always believed that Norway's women possess remarkable strength and power. When I founded bespoke the luxury travel company, Up Norway, my goal was to give guests an authentic, off-the-beaten-track experience in my homeland during their trip, but I also wanted to showcase the ground-breaking female stories of Norway's past and present.
I'm proud to say that Norway counts itself among the top five gender-equal countries in the world, and it was with this in mind that we set about creating a unique new journey, Tracing Norway's Super Women. It's an enlightening, soul-stirring adventure that delves into Norway's rich history and culture to reveal some extraordinary tales of women living in one of the world's most unspoiled, rugged landscapes. Here are a few examples of what to do and who to meet on a trip to Norway.
This trip through Norway celebrates the country's inspirational women
A Taste for change One of my favourite parts of this itinerary is visiting the female-run Feddie Ocean Distillery on Fedje Island, a wild speck of land accessed by boat from Bergen. I feel a sense of freedom as our ferry approaches this remote outpost, home to just 551 inhabitants and a collection of entrepreneurial-spirited women. When I say "spirited," I really mean it: their mission is to use whisky to make a positive change. Founder Anne Koppang and her team are distilling what will eventually be an organic handcrafted Norwegian single malt, aimed to rival Scotland's best and be ready for whisky lovers in 2024. Koppang has also made a point of inviting only women as investors: her aim is to encourage women to step up and learn more about investing while readdressing the balance since 80 percent of the Norwegian stock exchange is still owned by men.
With a passion for pushing boundaries, Koppang's not one to rest on her laurels. The distillery's award-winning flagship gin, Nine Sisters, is named after Norse mythology — the nine daughters of the god Jotne Aegir and the goddess Ran, who are said to personify the sea. When I sip the gin I can taste a hint of saltiness, along with floral notes and a peppery kick. For some fresh air to clear our heads, we then hike along the dramatic North Sea Trail, where I fill my lungs with pure sea air and keep my eyes peeled for seals playing in the foamy waves. When we stop to enjoy the sun's warmth and the ocean view from a local dagsturhytta (which translates to 'day-trip-cabin'), it's the perfect moment to reflect on this pioneering business and the women driving its success.
Cosmopolitan calm
Contrasting Feddie's edge-of-the-world feel and entrepreneurial spirit, a stay in Camillas Hus, an exquisitely restored boutique hotel in Oslo, offers another chance to reflect upon Norway's history of game-changing women. Once home to author Camilla Collett, one of Norway's most significant novelists and women's rights activists, it's one of my favourite urban hideaways for its cloud-like beds and supremely elegant decor.
Book your stay at Camillas Hus via Booking.com
Book your stay at Camillas Hus via Agoda.com
Meeting a legend The woman who most embodies the Norwegian spirit might be the adventurer, Randi Skaug, the first Norwegian woman to reach the summit of Mount Everest — and then tick off the Seven Summits, climbing the highest mountain peak on each continent. After such an extraordinary achievement, what do you do next? In Randi's case, she headed home and bought the unspoiled island of Naustholmen in northern Norway, where she's surrounded by nature and peace. I'm thrilled that we can arrange for guests to stay on Randi's Island and hear her incredible tales. She has coined a saying in Norwegian called kongefølelsen, which loosely translates as "feeling that you're on top of the world". That's exactly the feeling that I aim to give every traveller who joins this incredible journey — along with a new female perspective on this magnificent country.
Shop the best travel experiences here
(Image Credit: Up Norway)
This story first appeared on travelandleisure.com
Related: Checkout Some Of The Best Destinations Around The World For Female Solo Travellers
Written By