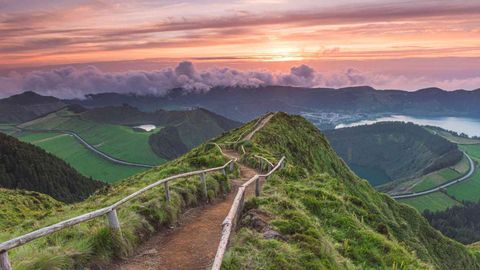 The largest island in the Azores, an autonomous archipelago smack dab in the middle of the Atlantic Ocean, São Miguel feels like an entirely different world — one that's still in its most pure, pristine stage. It has an almost primal, prehistoric lushness that gives visitors the impression they've stepped into a time and place untouched by humans. The terrain is dramatic and varied — volcanic crater lakes, lush forests, fumaroles, waterfalls, black-sand beaches, and azure waves define the breathtaking landscape.
Of course, the surreal scenery — and myriad ways to explore the unbridled natural beauty, from hiking to whale watching — tops the list of reasons to visit. To that end, travellers who have had the good fortune of journeying to both the Aloha State and São Miguel can't help but find commonalities between the untamed topography and eco-oriented tourism that thrives in both places — hence the nickname the "Hawaii of Europe."
The entire experience of visiting São Miguel is a feast for the senses. Whether you're savouring gourmet food, relishing a holistic spa ritual, soaking in the hot springs, admiring the seamless design at a boutique hotel, or learning about local culture in the capital, everything ties back to the land that's blessed the island for millennia.
Getting to São Miguel
As the largest island in the Azores, São Miguel is home to the international airport.
Best places to stay in São Miguel The accommodations on São Miguel aim to bring travellers closer to the natural world while simultaneously providing a halcyon — and oftentimes quite plush — place to unwind after an adventure-filled day.
Book your stay at Senhora da Rosa via Booking.com
In a position that's hugged by the mountains and sea, though not too far from Ponta Delgada, Senhora da Rosa, part of the Mr & Mrs Smith collection, supplies the sort of stay that's elevated yet unwaveringly linked to nature. The design and decor call back to the landscape at every turn, pairing modern furnishings with antiques and cosy textiles.
Book your stay at White Exclusive Suites & Villas via Booking.com
A true escape on the southern coast, White Exclusive Suites & Villas is a boutique hideaway with a minimal aesthetic and an adults-only policy, so the atmosphere matches the serene sensibility. Also under the Singular Properties umbrella, its sibling property to the north, Santa Barbara invites guests to glean a deeper understanding of what makes São Miguel so special. It's an eco-beach resort with a reverence for nature and refuge-level tranquillity.
Book your stay at Octant Furnas via Booking.com
Octant Furnas is a stylish, contemporary take on a thermal springs retreat with a spectacular spa. The villas featuring private outdoor decks, heated swimming pools, and sun loungers give off the fullest of vacation vibes. For a change of pace, it's nice to do a night or two in the capital. Octant Ponta Delgada offers a sophisticated home base between adventures with a gastronomic restaurant, views over the sea, and whale watching from the rooftop bar.
Best things to do in São Miguel São Miguel is not a place you go to solely see nature; it's a place to commune with nature. Yes, there will be some level of spectating — especially when your eyes meet the endlessly photogenic landscape for the first time — but the island implores travellers to be active participants and appreciators of every moment.
Travelling to São Miguel without hiking boots (and some sort of water-resistant outerwear, for that matter) would be a mistake. The trekking opportunities are boundless. A highlight of any trip, the stunning trails of Sete Cidades give travellers a front-row view of the famous twin crater lakes, Lagoa Azul ("blue lagoon") and Lagoa Verde ("green lagoon"). Lagoa do Fogo sits at a high elevation within the Água de Pau Massif stratovolcano in the centre of São Miguel. The routes to the main viewpoints — Miradouro da Barrosa and Miradouro da Lagoa do Fogo — differ in length (the latter being shorter). So, depending on time and stamina, that's something to think about, though both are beautiful. Cycling around the island is popular as well. If your legs need a rest, consider an e-bike ride.
Calling back to the practical need for waterproof gear, that's because São Miguel gets a lot of rain. All this precipitation keeps the land impossibly lush and feeds the many waterfalls. Travellers who enjoy a rush — and the zip of cool spray — should arrange a guided canyoning excursion to Ribeira dos Caldeirões.
The abundance of mineral hot springs, particularly around Furnas, are a wonderful way to soothe tired muscles. Want to wade deeper in the water tourism sector? Whale- and dolphin-watching tours are extremely popular. Travellers can continue the aquatic adventures with scuba diving, surfing, and stand-up paddleboarding. While the wild pull of nature remains the primary draw, the cultural touchpoint and capital, Ponta Delgada, offers the 18th-century City Gates, the iconic St. Sebastian Church, and the 16th-century Fort of São Brás. São Miguel also has some idyllic fishing villages that are worth checking out.
Best places to eat and drink on São Miguel
So much outdoor activity is bound to work up an appetite. Replenish all that expended energy by sinking your teeth into the rich culinary traditions of São Miguel. Local ingredients shine at eateries around the island. That includes produce ripened by the sun (and watered by the rain), meat raised in verdant pastures, artisan-made local cheese from nearby São Jorge, and seafood caught in the waters off the coast.
Most of the bars and restaurants are located in Ponta Delgada. This includes the cosy charm of Michel Restaurant, Reserva Bar for wine and small plates, and Gastrónomo, which delights diners with grilled limpets, octopus, tuna, clams, and squid that taste like they were just pulled from the sea. Plant-based food isn't particularly prevalent in the Azores, but Rotas da Ilha Verde endeavours to change that — and convert carnivores — with its bountiful veg-forward fare and decadent, crowd-pleasing chocolate cake.
Hotels also provide a place to let top chefs show off their culinary talents. An agriturismo on an organic farm with a seasonally inspired gourmet restaurant and accommodations, Quinta dos Sabores does many things exceptionally well — and with a sense of ease that belies the painstaking effort it requires to care for the earth in such a dutiful way. The Gardener Bar & Terrace at Terra Nostra Garden Hotel is a dreamy setting for cocktails or vinho verde and tapas like garbanzo bean puree with red peppers from the Azores.
For an immersive gastronomic experience that shines a light on purveyors, platers, and everyone that's involved in the process, book a chef-guided heritage food tour through The Art of Tasting Portugal, which includes stops at a biodynamic farm, an earth-oven bread operation, a tea factory, and a lunch spot in Porto Formoso.
This story first appeared on www.travelandleisure.com
Main and Feature Image Credit: Hiral Gosalia/Getty Images
Related: This Is One Of The Most Scenic Train Rides In Europe — Here's What It's Like On Board
Written By