The Amalfi Coast — a photogenic 30-mile (48.28 km) stretch of vacation paradise on the southern edge of Italy's Sorrentine Peninsula — calls to mind postcard-ready seaside villages, sun-drenched beaches, and restaurant terraces overlooking the sparkling sea. While there are many standouts in this famous region, few match the charisma and magnetism of Positano. This seaside idyll is well known for its narrow cobbled streets, stylish boutiques, buzzy beach clubs, and cosmopolitan ambience. Hotels teetering above cliffs provide the perfect refuge for travellers after full days spent sightseeing, shopping, and gorging on fresh seafood.
Given its prime location, Positano also makes a wonderful home base for exploring the charming towns of Ravello and Praiano. Not surprisingly, this slice of coastal Italian paradise — and well-established tourism darling — draws hordes of travellers every summer.
Before jetting off to Positano, scroll on for everything you need to know to plan the perfect trip filled with fun in the sun, food, culture, and spellbinding views.
This is your travel guide to Positano on the Amalfi coast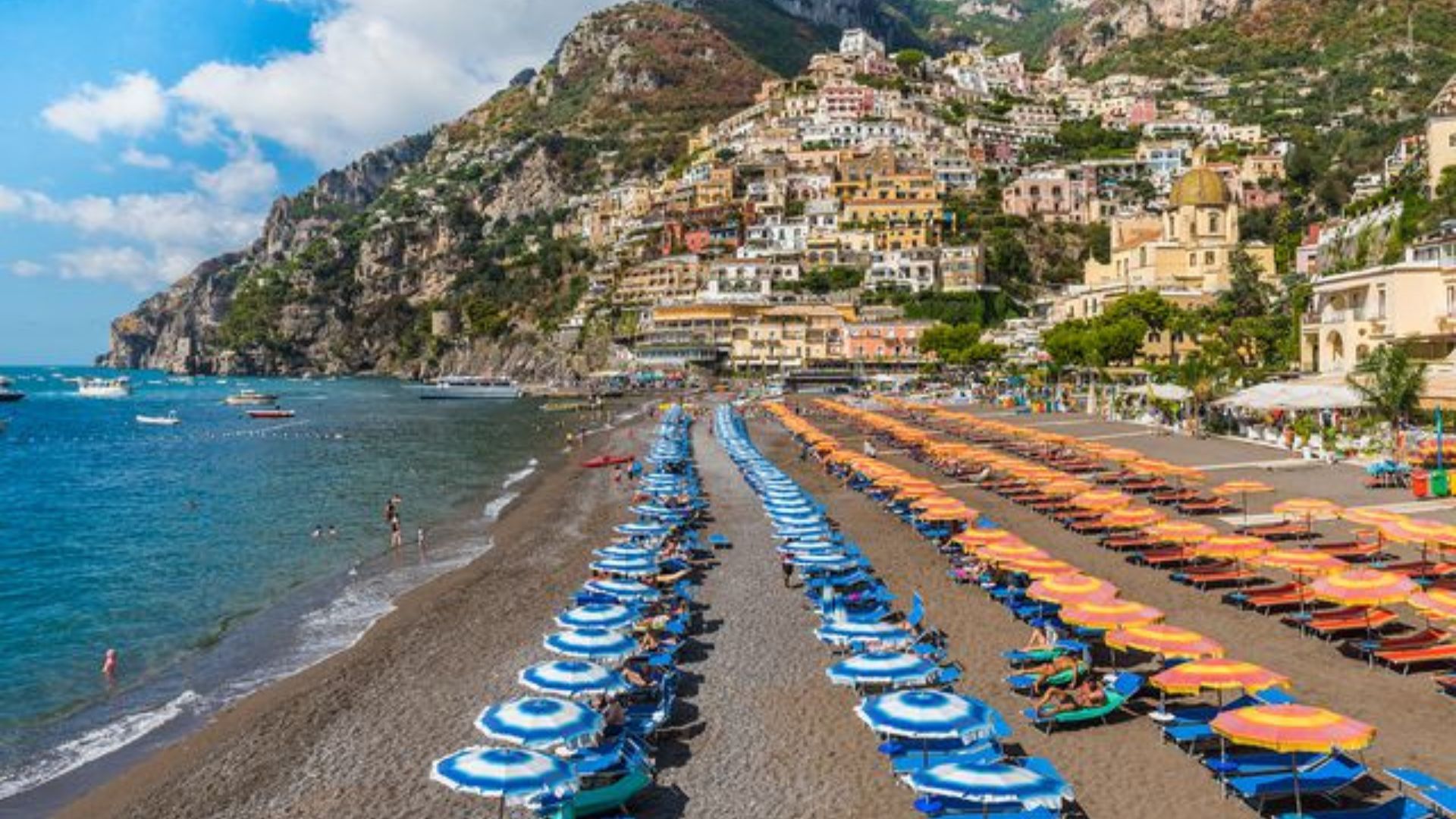 Getting to Positano
Most travellers will fly into Rome or Naples and then catch a train, bus, or shuttle — or hire a private car and navigate the curve-hugging roads on their own — to reach Positano. If you arrive during the day, you could also take a ferry from Naples, Salerno, Sorrento, or Amalfi.
Best times to visit Positano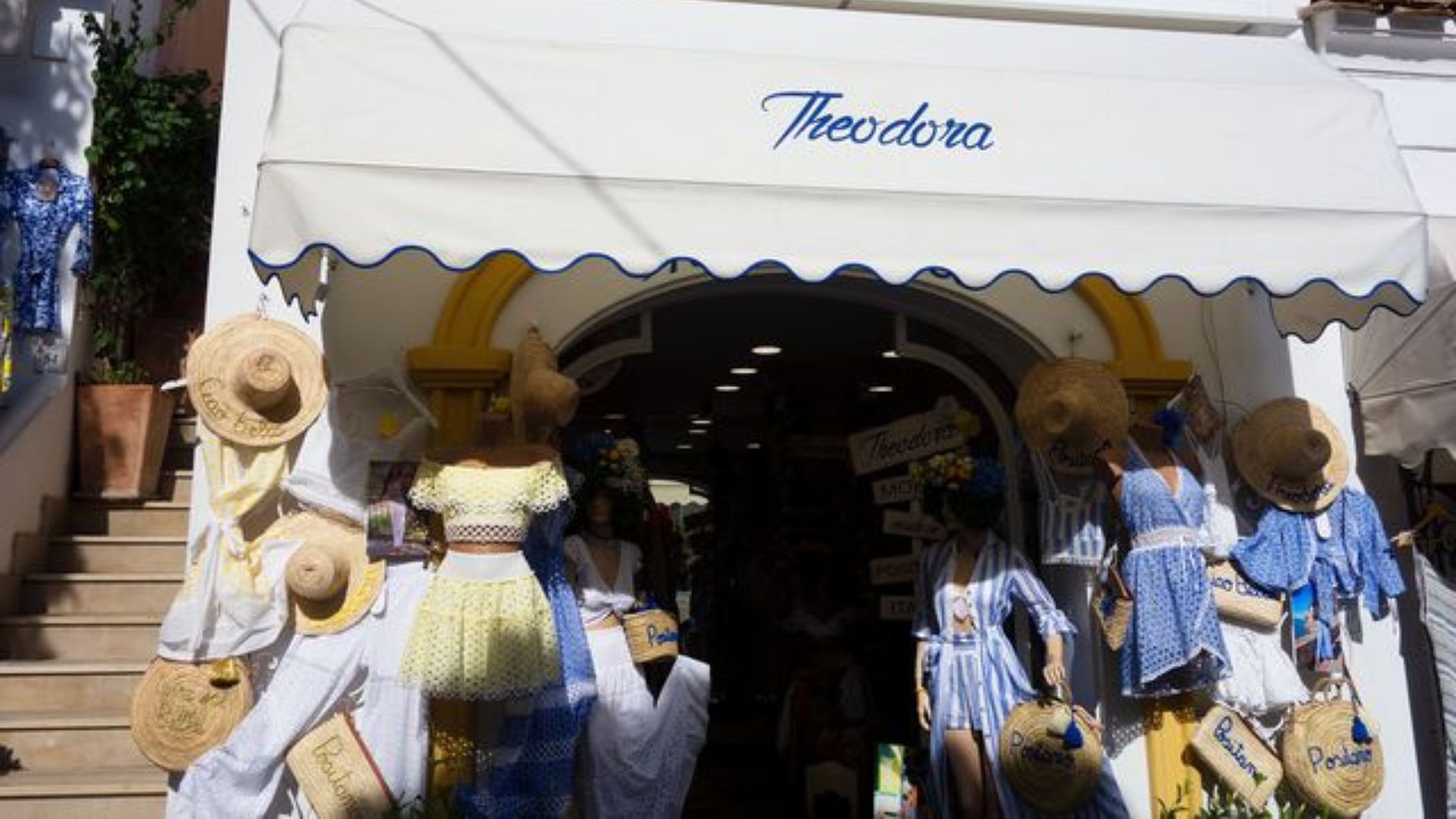 Summer is peak season in Positano — and all along the Amalfi Coast, for that matter — with droves of holiday goers packing the town to soak up the sunshine and laze on the beaches. While the crowds typically depart in early September, the weather remains pleasant and most restaurants, shops, and hotels stay open through late October. After that, virtually everything closes for the winter and reopens in April.
Best things to do in Positano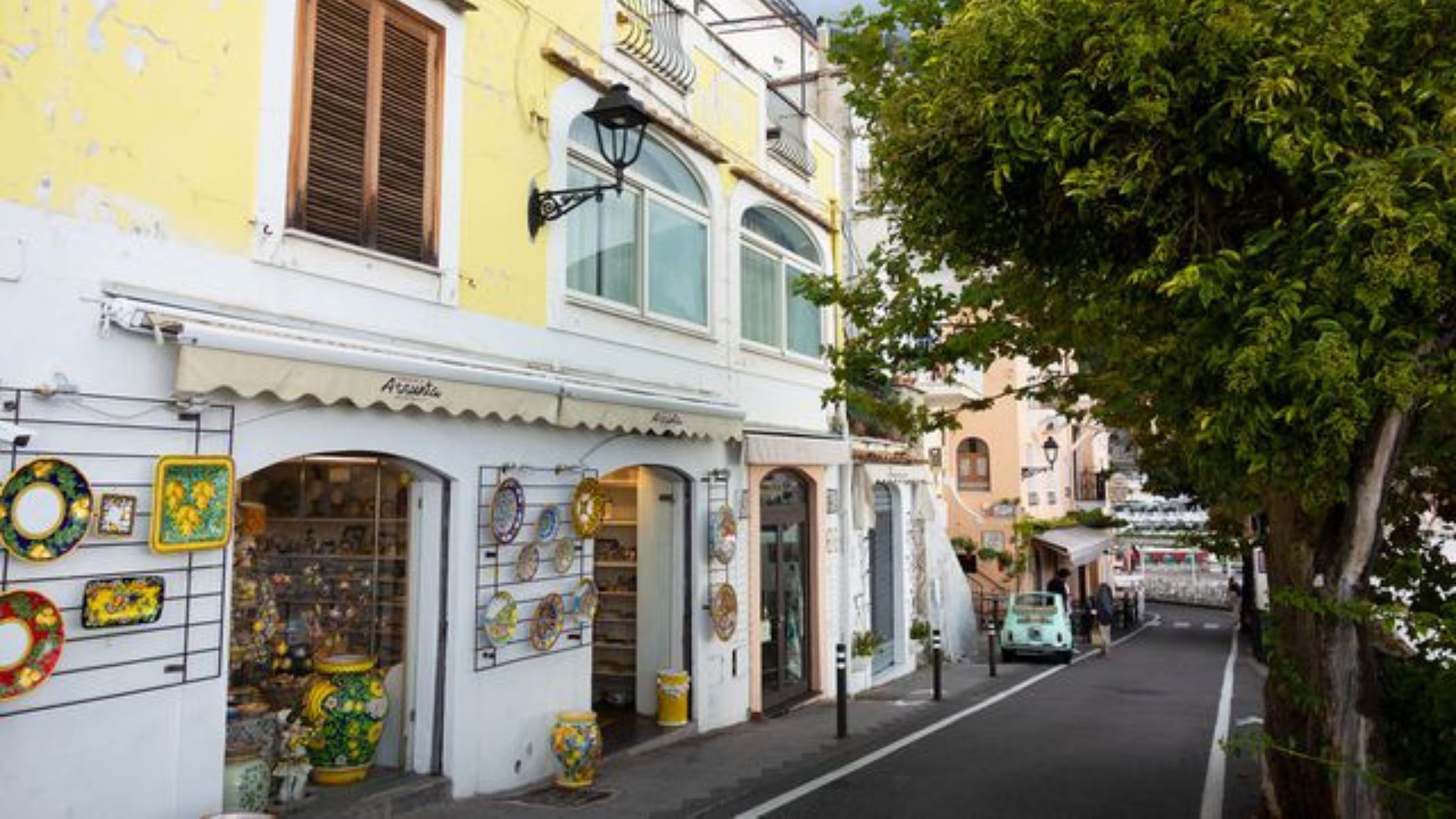 So much of the charm of Positano is tied to its scenic environs and laid-back yet buzzy energy. Spiaggia Grande combines both. It's the place to rent a sunbed, catch some rays, grab a drink, and snap photos of the colourful town above. Looking for a more low-key alternative to the crowds at the main beach? Consider Fornillo. For cocktails and coastal splendour, many travellers favour Arienzo Beach Club Positano, which is accessible via a short boat ride from the main pier.
Piazza dei Mulini buzzes with excitement and a mix of designer and artisan shops. One of the most unique and iconic things to purchase? Handmade leather sandals. Positano has many can't-miss cultural attractions as well. Captivating Chiesa di Santa Maria Assunta is a storied church featuring a restored Byzantine icon of the Virgin Mary, beautiful bas-reliefs, and a glimmering dome-shaped roof. MAR – Museo Archeologico Romano gives visitors a close-up look at an ancient Roman villa with crypts and beautifully preserved frescos.
The famous Path of the Gods hiking trail runs from Nocelle, a hilltop village just above Positano, to Bomerano. It's a great way to escape the crowds, stretch your legs, and soak in mesmerising views.
Of course, it's not just the allure of Positano itself but also its proximity to the many other wonders of the Amalfi Coast and nearby Capri that make it so irresistible. So definitely consider booking a boat excursion or even doing a road trip to see more of this breathtaking region.
Book your stay at Il San Pietro di Positano via Booking.com
Book your stay at Il San Pietro di Positano via Agoda.com
Best Positano restaurants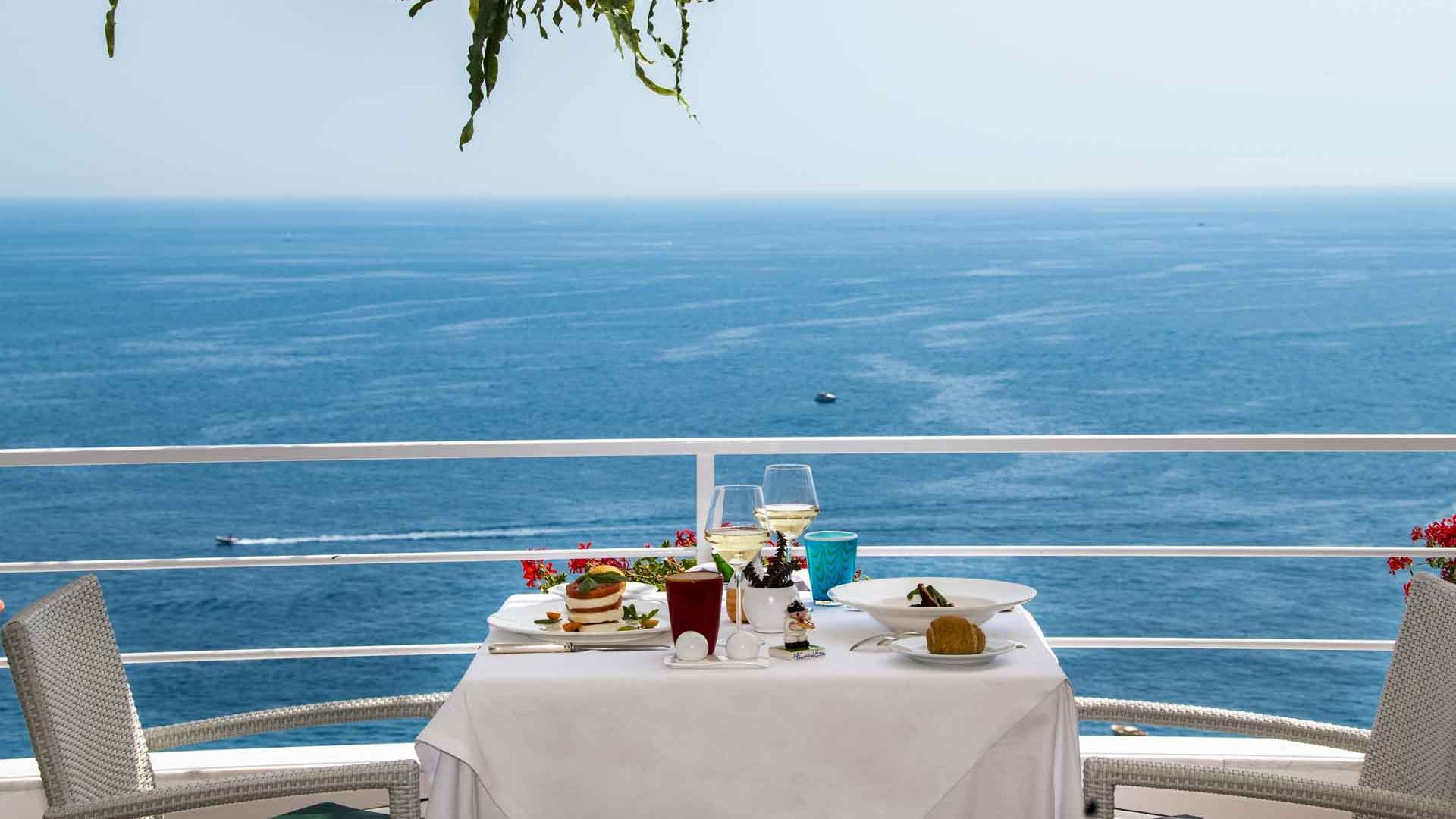 A stalwart establishment that dates back to 1965, Michelin-rated La Taverna del Leone continues to lure diners with its handmade pasta and warm, friendly hospitality. Casa Mele serves artful plates of mouthwatering food and also invites culinary enthusiasts to take cooking classes. Il Tridente sits atop the centrally located Hotel Poseidon. The combination of house-smoked meats and fresh seafood, cocktails, and sweeping panoramas from the rooftop terrace keeps the tables full and patrons coming back for more.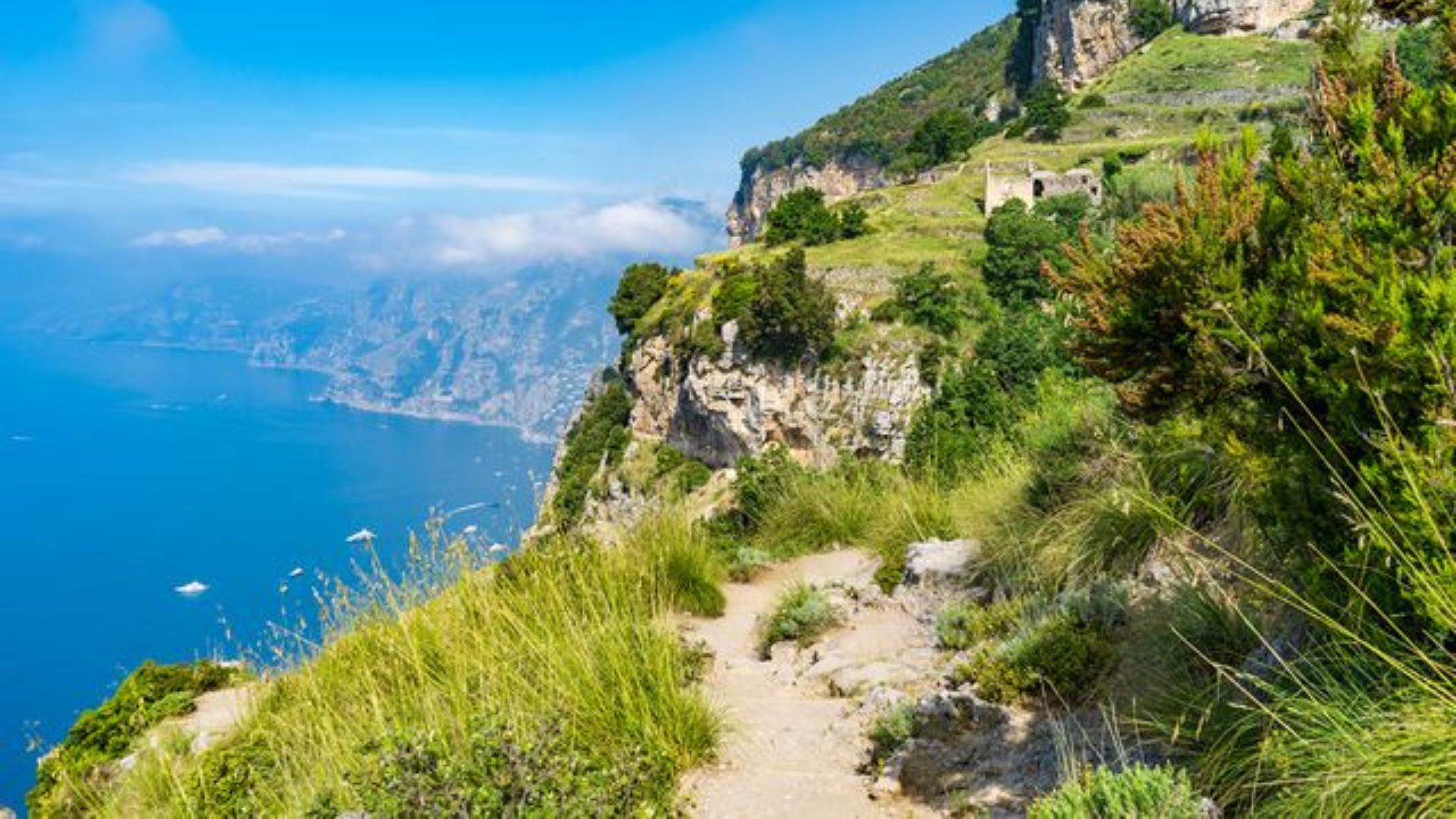 Adamo ed Eva at Hotel Eden Roc Positano exudes a romantic atmosphere that makes it ideal for honeymooners and couples celebrating a special occasion (yes, vacation certainly falls into that category). The sea bass, lobster pasta, and lemon risotto — all prepared with fresh, local ingredients — are some of the menu highlights. Zass at Il San Pietro di Positano earned its Michelin star thanks to delectably creative twists on gastronomic traditions. Stellar service, seaside vistas, and an impressive wine list enhance the appeal.
Best places to stay in Positano Travellers won't have any trouble finding a stylish place to stay in Positano — actually securing a room during peak summer, however, might be another story. Le Sirenuse is a perennial favourite set inside a striking 18th-century villa that's welcomed A-listers and literary giants during its illustrious history. The splurge-worthy hotel continues to wow travellers with well-appointed guest rooms, impeccable service, and a sense of laid-back luxury that encapsulates the most relaxing parts of an Amalfi Coast holiday.
Villa Magia offers both proximity to the centre of town and unobstructed azure seascapes that give it a privileged feel. The splendid indoor and outdoor spaces — which include 12 rooms, three pools, a spa, a restaurant, and a cocktail bar — evoke intimate vacation vibes. With Michelin-rated cuisine to savour, panoramic terraces that invite lingering long after the Aperol spritzes are finished, and rooms accented with character-rich details like custom-upholstered furnishings and hand-painted ceramic tiles, Il San Pietro di Positano, a Relais & Chateaux property, is thoughtfully designed to encourage guests to stop and appreciate each and every moment.
Book your stay at Le Sirenuse via Booking.com
Book your stay at Le Sirenuse via Agoda.com
(Hero and feature image credit: Alessandra Amodio/Travel + Leisure)
This story first appeared on travelandleisure.com
Related: This Beach Club Is The Amalfi Coast's Hippest New Address