How To Take An Unforgettable Winter Trip To Iceland; Northern Lights And Frozen Waterfalls Included
I had been in Iceland for two weeks and so far, had experienced several of the 85 types of snow identified in the Icelandic language. These ranged from a hríð — a blinding white out — to sliding over hjarn — the layer that freezes overnight and glows iridescently in the morning. And I had trudged through quite a bit of slabb, which is the translation for a sleety, slushy mess.
And then at Torfhús, a hotel retreat about 65 miles (104 km) northwest of the capital, Reykjavik, a new variety appeared. I was soaking in my private, geothermal outdoor tub (a "hotpot" in local argot) when wispy flakes began to billow around my head, the only part of my body that was not submerged in the 37-degree bath.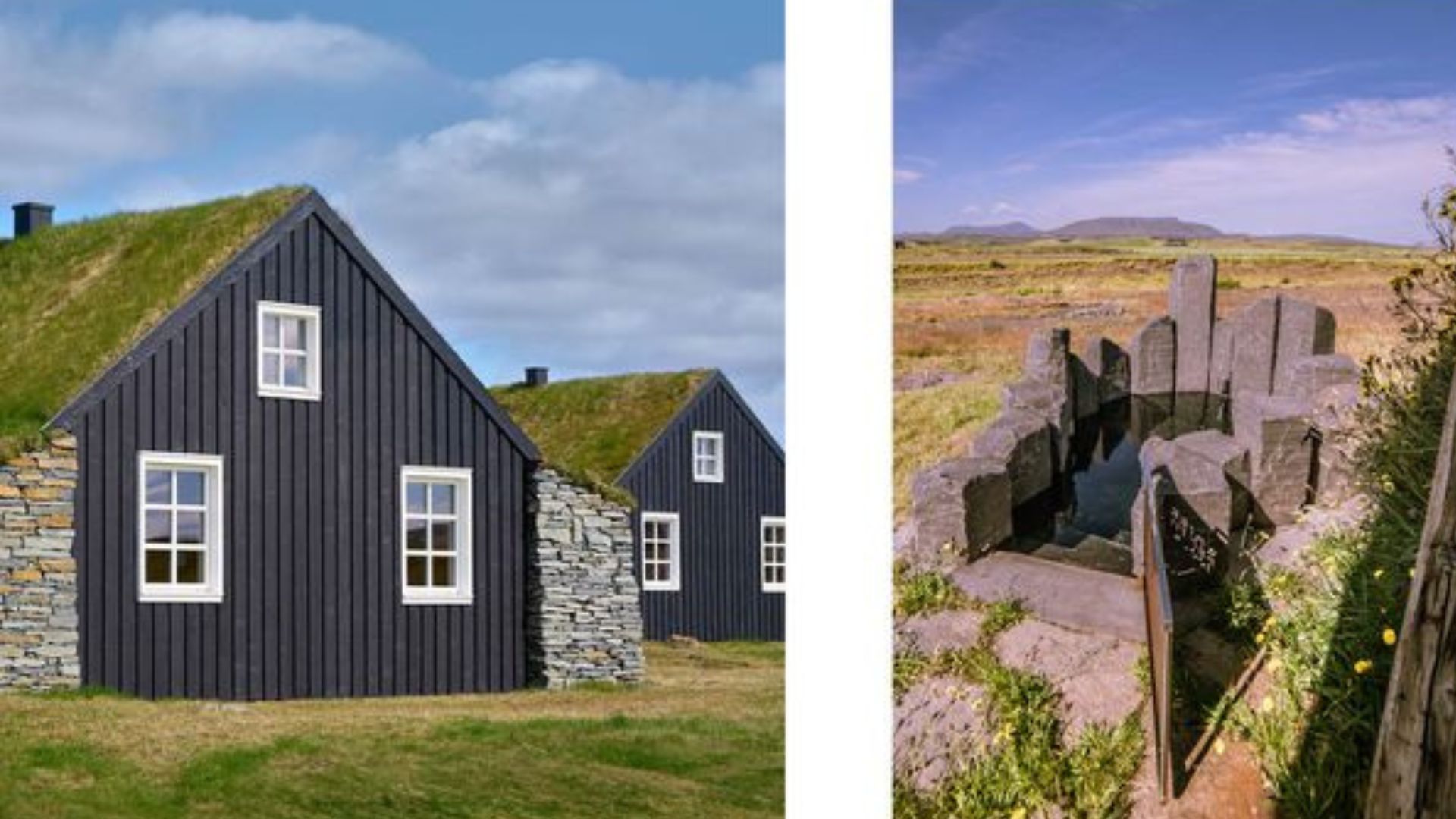 Just then, the funnel-shaped green blaze of the northern lights splashed across the sky. Afterwards, warmed to the core and floored by the pageant of auroral sublimity, I walked to the Langhús (longhouse), the communal area modelled after Viking dwellings. I sought out Helgi Bárðarson, Torfús' man-of-all-trades, at the front desk. We scrolled the glossary, and he shook his head. The right word did not appear. So, he made one up: podrmjoll. Powder snow. Eighty-six words for snow, and counting.
How to experience the best of winter on your next trip to Iceland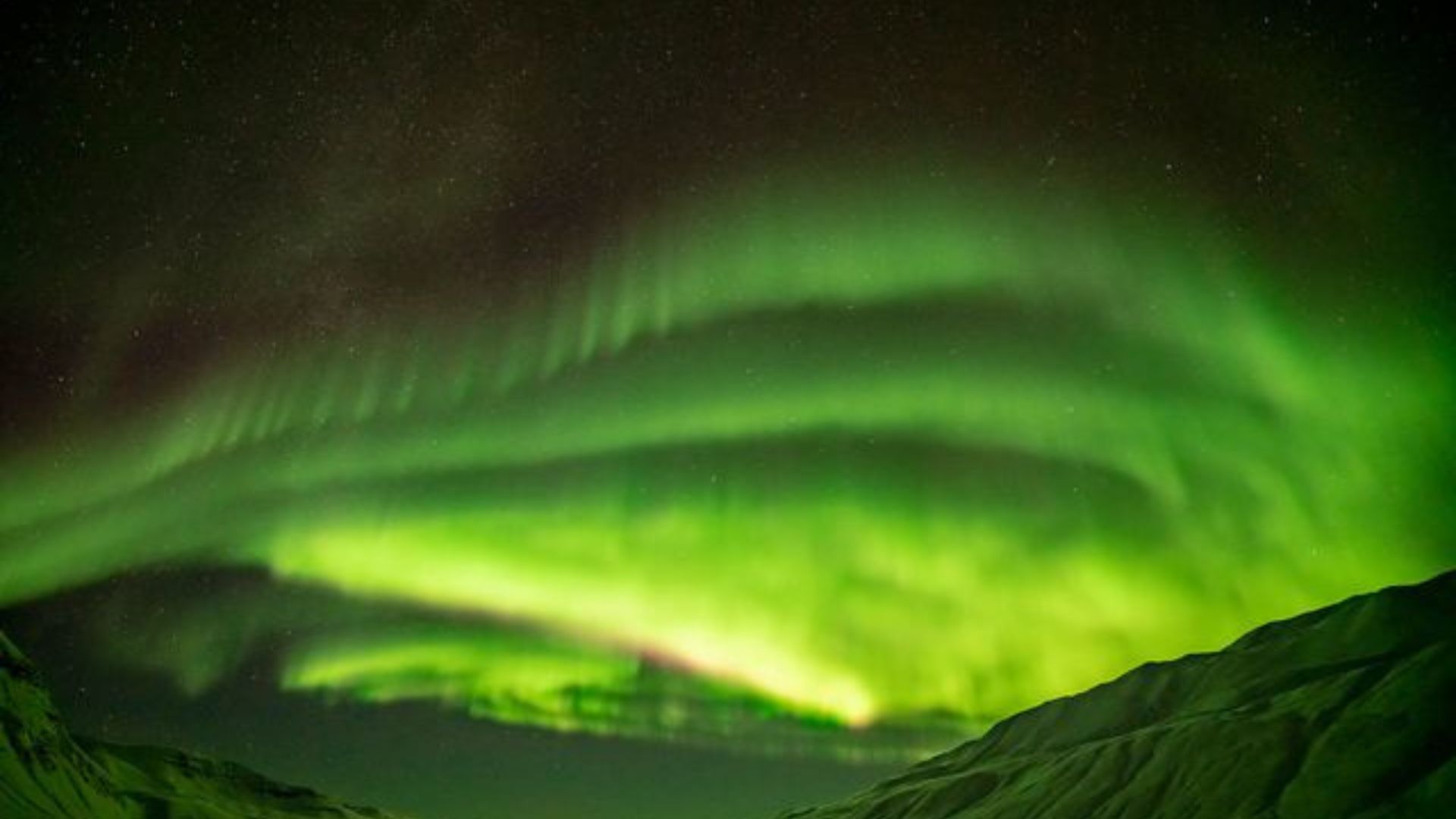 This is what I took a trip to Iceland to experience: an old-fashioned wintry hunker-down, and the team at travel company Black Tomato made it seamless, with a wild, three-stop, seven-day, intensely Nordic adventure.
"Iceland is an entirely different country in winter," Siggi mused. A larger-than-life Icelandic businessman in a larger-than-life, glacier-ready monster truck, Siggi Jensson expertly steered over ice-sheathed roads to the retreat he opened in 2019 with his partner, Alex Hoop. Torfhús, which means "turf house" is a cluster of cabins built in the ancient vernacular, clad in basalt and mossy slabs of sod (treeless Iceland has traditionally provided no lumber for building). Siggi first bought the 50 acres of glacier-scarred land, about 1.5 hours from downtown Reykjavik, as a site for a summer house, and a home for his collection of Icelandic horses. "And we realised that maybe Iceland needed a hotel like this, close to Reykjavik but far away from civilization, too."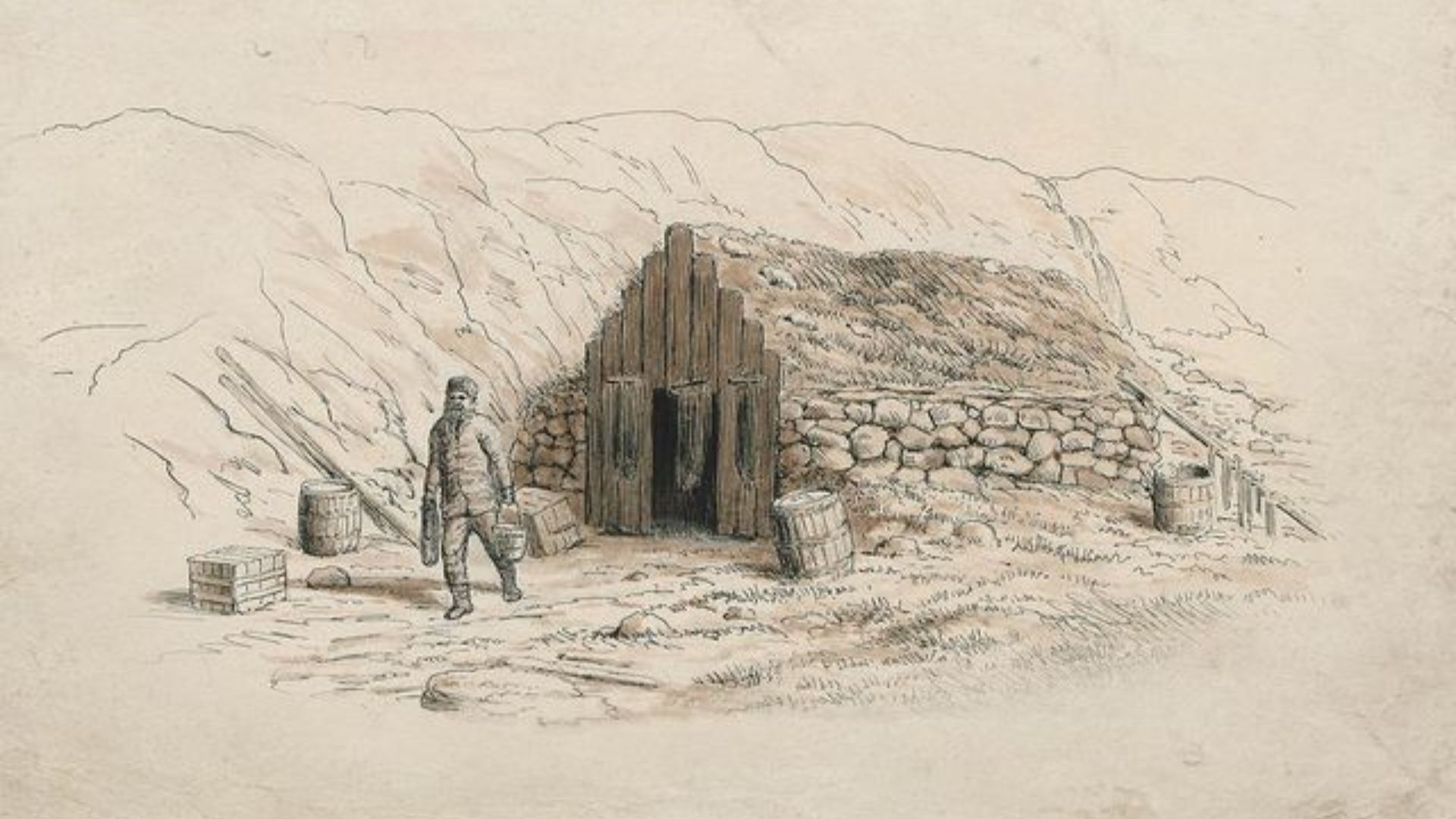 Just off the Golden Circle — South Iceland's ring of glaciers, waterfalls, and Game of Thrones backdrops — Torfhús in winter basks in dreamy never-quite-sunlight that befits a remote island in the far northern Atlantic. I wandered the property, with spikes strapped to my boots, air sharp as a cut gem, in an Arctic wind that numbed any extremities that I was foolish enough to leave exposed. But if the ruthless cold has one gift, it is the delicious sensation that comes from ducking indoors to thaw out.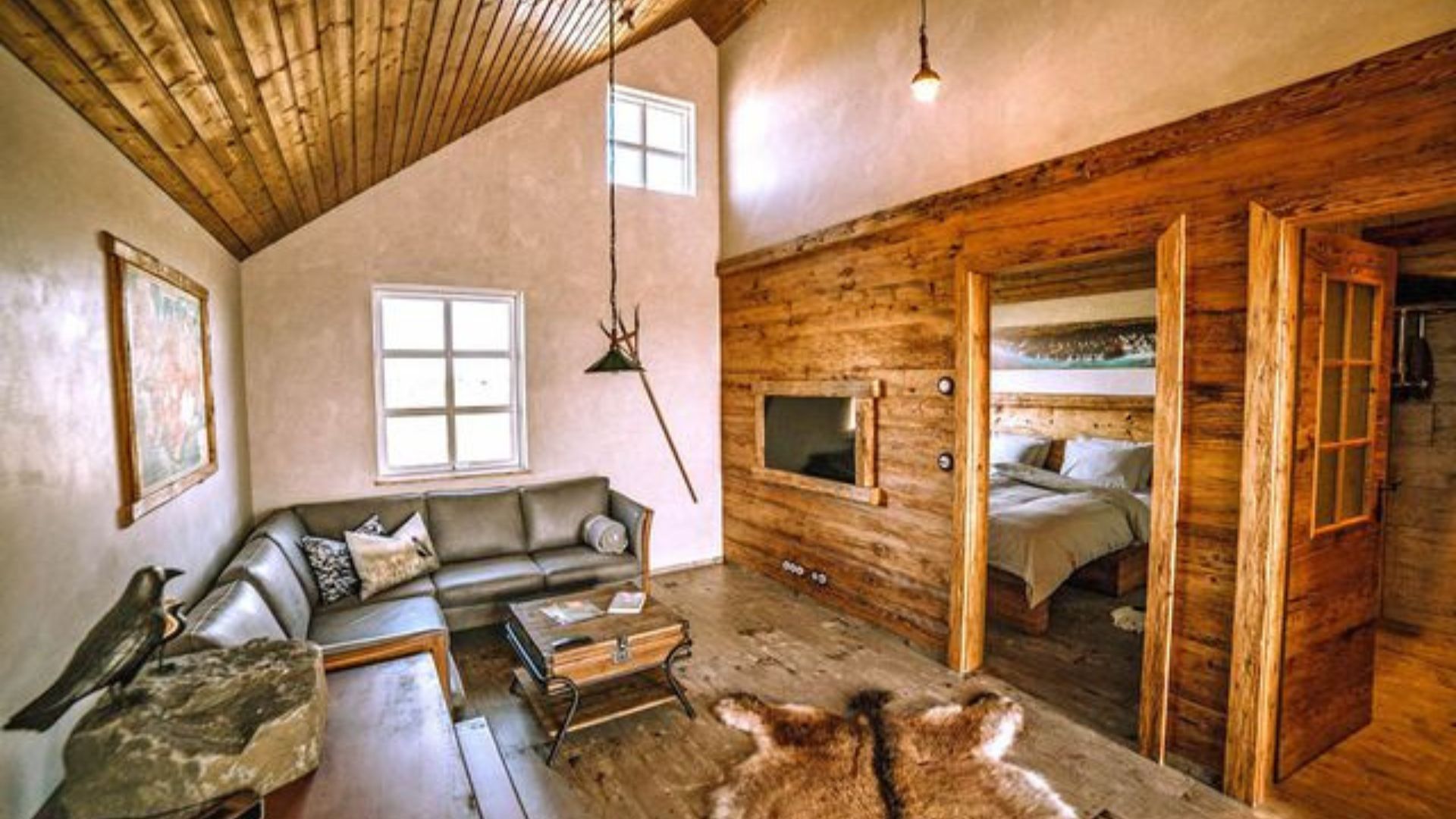 Torfhús lends itself to cosy languor inside a casually stylish cabin, punctuated by bracing walks, leisurely soaks, and gazing up at the stars. Siggi shepherded me for a small tour, to visit his tousle-haired horses that roam the property, to the ice-blue frozen expanse of Faxi Falls, and to lunch at a nearby tomato greenhouse, for thick soup with chunks of bread. "We are always trying to slow people down," Alex told me at day's end in the Langhús. The blonde interior walls are of reclaimed wood from her native Austria, lending it a chalet feel, and are decorated with torch-like sconces and bespoke Viking-style shields. Torfhús is the kind of place where deceleration means a seven-course dinner, while enfolded by an Icelandic sheepskin throw.
My visit corresponded with Thorrablót, an archaic celebration of the long stretch of winter, fêted with culinary arcana like rotten shark and lamb testicles. Chef Thorarinn Eggertson is a star of the Nordic kitchen, and he nods (palatably) to this tradition, serving sheep's head with artichokes (the cheek meat melted in my mouth), sea trout tacos, and a volcanic diorama of black codfish tempura balls topped with sesame oil fried to resemble snow. "We want dinner here to be an experience," he said, tossing chocolate-coated ice cream on my plate, which exploded like a pop rock.
The weather became treacherous for my next leg. Airports shut down, roads closed, and life paused all over Iceland. Also, I learned the hard way about skafrenningur — violent, wind-driven snow that forms towering drifts on the road, that are invisible until your car bellies on one. That's what happened to my guide, Kristján Logason, for whom the adjective "intrepid" does not do justice.
I cooled my heels in Reykjavik, adopting the Icelandic motto, petta reddas — go with the flow. With the threat of successive snowstorms, the Black Tomato team deftly readjusted my itinerary (and worked a few small miracles) before I finally flew north to Akureyri. From there, a three-hour drive along the Ring Road, through narrow mountain tunnels, past avalanche barriers, the steel-gray wash of Eyjafjörður, Iceland's longest fjord, to Deplar Farm. Part of the Colorado-based luxury adventure lodge group, Eleven Experience, Deplar is an achingly gorgeous, exquisitely appointed 13-room manor house in the Fljót Valley on the Troll Peninsula. My room abutted the spa, a refuge of palpable silence and lavender-scented tranquility. I slipped right into the indoor geothermal tub, and then swam underwater to the connected outdoor pool as the storm raged and wind stung my face.
If Torfhús is about kicking back, Deplar encourages the (pressure-free) pushing of physical limits, and sporty connections with nature in the surrounding, majestic countryside. In summer, I might have hiked or fished for salmon, but winter encourages bolder explorations — and the impressive gear shed contains the high-end hardware to facilitate them. And yet, relentless weather — a bylur, or dangerous storm — forced a temporary pivot (at least for me). "We call it gluggaveður," duty manager Tara Ósk Brynjólfsdóttir told me, introducing the concept of 'window weather,' whereby one is perfectly content to witness winter's drama from inside, under a wooly Icelandic blanket, wearing a wooly Icelandic sweater, gripping a mug of cocoa. "We always have a plan B," she says.
That night, there was a kafaldsbylur — a storm that brought 80 mile-per-hour gusts. My room was warm, but I doubled up my duvet to be extra snug while the wind roared like a hurricane. In the morning, I zipped on a padded onesie and endeavored out in snowshoes with my guide, Beda Mörgeli. Crunch, crunch went my feet on the snow, alongside 15-foot drifts from the previous night, while I absorbed the surreally ravishing landscape, and sweat began to drip down my back from exertion. On first glance, the valley and mountains seemed blinding white against the cobalt sky, but low sun painted pastels on the snowscape. What seemed white was actually pink, primrose yellow, lilac, watery green.
The other guests, with whom I shared an elegant communal table at mealtime, were a hardier and more adventurous (and athletic) bunch, and included both a cardiologist and a psychiatrist. This came in handy when I vacillated over the Viking Spa Ritual: alternating steam baths and cold-plunges (the latter, outdoors in whipping wind and frostbiting temperatures). The shrink urged me to confront my fears; the heart doctor told me there was little chance of cardiac arrest. So, I went for it, emerging lightheaded and euphoric. It took a snifter of bitter Brennavín (grain spirits), and fistfuls of chef Gardar's house-made bread with his tender Arctic char for the dopamine spike to settle.
For winter contingencies, Deplar employs an armada of plows, snow-removers, spiky-wheeled "Super Jeeps" as well as human ice-breakers and an unflappable team led by Steini Guðmundsson, who deadpanned, "It's a little wild out there," adding, "Not a big deal, we are always prepared."
"We're getting ready before the next storm rolls in," Steini told me in the morning, en route to the Langhús Farm. There, I met co-owner Lukka Heimisdóttir, and a bouncing litter of Icelandic sheepdog puppies. I was thrilled to be outside again, in the cutting wind, snow cracking under my mount, Askur's, hooves, with the whiff of the Greenland Sea before me.
Indefatigable Kristján was there to meet me, and off we went in his Land Rover, driving southwest on the coastal route, through mountain passes, alongside columns of volcanoes, both undulating and sharply conical. "The weather hasn't been this crazy since 1984," he told me, as we drove through fjúk — lightly drifting snow, past frozen rivers and lava fields, and the scarlet steeple of a small village church. I munched on licorice' Iceland's sweet staple—and was delirious from the sublime beauty. Also, I was lucky for Kristján and his skillful driving. "Iceland winter is beautiful, but you must be extremely careful," he told me, about the potential for danger in wind, cold, and especially on the road. "Things can go wrong very fast." Two hundred miles later, we arrived at modern Húsafell, to encounter more transcendence. Because the hotel sits in a gap in a valley, cradled by glaciers, storms last longer in Húsafell. "We have the best weather in summer, and the harshest in winter," manager Unnar Bergthorsson told me of his stylish and ultra-comfortable family-owned resort, started seven generations ago. It is unusual in other ways: fully sustainable, Húsafell produces enough cold water to provide for a city of 800,000 people, and its plentiful hot water is processed for hydroelectric power which goes to the national grid. Also, as I would witness in a midnight, shimmying, acid pink and green spectacle, it's pocketed placement can make for cloudless nights, and ideal conditions for Northern Lights.
In the morning, I boarded a 48-seat repurposed British mobile rocket launcher towards Langjökull, Iceland's second largest glacier. It was the first such tour in days — they had been canceled in the extreme weather, and soon we encountered a hundslappadrífa snowfall with flakes as big as dogs' paws. There are 269 glaciers left in Iceland, and they are disappearing quickly. This one, 900-feet thick, has melted as much in the last two decades as the prior 100 years. We were in white-out conditions. Our driver, Sigrun Sigurdardottir, deflated the rig's 58-inch tires to better navigate atop the glacier. Finally, we climbed off and entered the 2,500-foot tunnel, carved out of solid ice, along walls striated with different layers of the glacier, glowing pale blue, gray and ghostly white, like finely polished alabaster.
My winter sojourn reached its apotheosis in the afternoon, when Unnar drove me to Húsafell's Canyon Baths, a group of geothermal pools a few miles away, and an extraordinary natural phenomenon. He pointed out centuries' old lava fields, and the hydroelectric power plant his grandfather built, and we passed one of Iceland's rare native birch forests. He stopped alongside the racing Hvitá River and urged me to drink from it. Soon, I understood why. My hands had become numb (it was 18 degrees outside and the river, too, was ice cold), but it was the purest water I would ever drink.
We descended into Circle Canyon along a path cut from the snow; my crampons gripped the slick path. In the changing room, I tugged on my bathing suit, and darted back into the Nordic winter, wondering if I had lost my mind. I sank into one of the stone baths, reflecting on how easy it is to toast your bones in Iceland's frigid winter, even if it involves getting soaking wet. The canyon walls turned magenta in the setting sun, and a flurry— él—churned up, looking like clouds of loose glitter. I had come to Iceland in February expecting cold and darkness. But with steaming hot baths scooped right into the earth, the countless, endless snows, the moonlight, the starlight, and the Northern Lights, what I found instead, was warmth and light.
This story first appeared on www.travelandleisure.com
Main and Feature Image Credit: Courtesy of Eleven