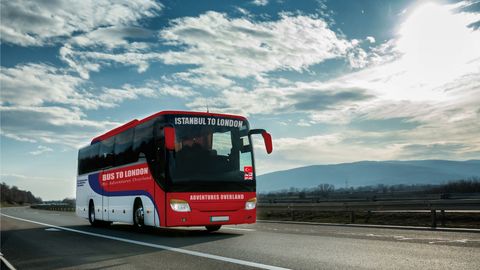 If you have always dreamt of travelling to Europe without having the hassle of changing flights, trains or rental cars, then we tell you that it is now possible to be on the road on a single bus journey that will take you across Europe in 56 days! An Indian expedition company – Adventures Overland is launching the "world's longest" bus journey called 'The bus to London' starting from Istanbul on August 7 and ending in London on October 1.
At present, the longest bus route runs from Lima in Peru to Rio de Janeiro in Brazil for 6,200 kilometres, according to Guinness World Records.
Highlights of the trip
This almost two-month-long journey will take you to 22 countries beginning from Turkey's culturally rich city of Istanbul, moving towards the Balkan countries, covering eastern Europe, Scandinavia, and western Europe and finally coming to an end in the capital city of the UK. The passengers on this 12,000 kilometres long journey will be able to board a ferry that will cross the Gulf of Finland, visit the North Cape (also known as Nordkapp), which is the northernmost point in Europe and cruise on the Norwegian Fjords.
"Every single route in each country has been vetted to ensure that the journey is seamless so participants on Bus to London can get on board with the knowledge and confidence that they are in safe hands," mentions Tushar Agarwal, Co-Founder, Adventures Overland, in a media release.
What can you expect inside the bus? The thought of being on a bus journey in Europe for 56 days doesn't sound comfortable till the time we tell you that you will be boarding a special luxury bus that has adjustable recliner seats with comfortable legroom that is perfect for long-distance travel. The bus has foldable trays, bottle and cup holders, along with AUX and USB ports. All passengers can carry two full-size suitcases.
Sharing details on travellers' comfort and safety, Agarwal said, "The bus on this epic journey is being customised to add all the necessities, comforts and luxuries which will ensure that participants travel in the lap of luxury."
Cost of the package
The entire package will cost USD 25,000 (INR 20,55,000) per person. This includes daily breakfast, 30 lunches and dinners, along with all hotel stays on a twin-sharing basis.
Booking details
Only 30 passengers can register themselves to be a part of this journey.
(Hero and feature image credit: Adventures Overland)
All INR conversions were done at the time of writing
Related: This 12-day Private Jet Tour of Europe Will Bring You to London, the Greek Islands, Italy, and Croatia in Style
Written By