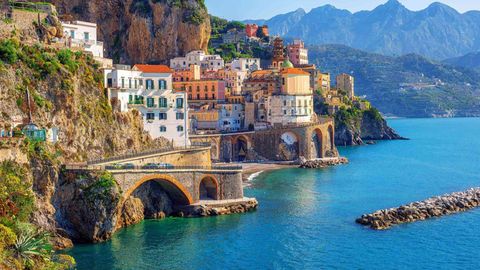 The Amalfi Coast is an idyllic 30-mile (48.28 km) stretch of coastal dreaminess on the southern edge of Italy's Sorrentine Peninsula that's prized for its dramatic landscape, delicious cuisine, and colourful fishing villages — each seemingly more lovely than the last.
While all the seaside towns offer something unique and special, travellers can bet on spellbinding scenery (think: towering cliffs, sheltered coves, vineyards, lemon groves, and cerulean waters) across the region. The accessibility factor means visitors are able to hit a few stunning spots in a single trip. Can't decide which photogenic destinations deserve a place on the itinerary? Scroll on for 10 of the prettiest Amalfi Coast towns you'll want to visit.
The prettiest seaside Amalfi Coast towns in Italy
1. Positano The most famous and flocked to of all the seaside villages in the region, Positano lures droves of travellers each summer. Narrow streets dotted with cafes, chic shops that sell handmade sandals, boutique hotels such as Le Sirenuse, and buzzy beach clubs contribute to the allure. Strike out on the fabled Path of the Gods hiking trail that runs from Bomerano to Nocelle, a hilltop hamlet just above Positano, for some of the best views around.
Book your stay at Il San Pietro di Positano via Booking.com
Book your stay at Il San Pietro di Positano via Agoda.com
2. Ravello One of the prettiest towns along the Amalfi Coast, Ravello is an endlessly romantic and resplendent destination set high above the Tyrrhenian Sea. Poets, musicians, and painters have created masterpieces based on their majesty. To really understand the enduring appeal of this long-standing summer retreat, feast your eyes on the cliff-clinging Italianate gardens of the 13th-century Villa Rufolo. Then head to Villa Cimbrone for even more botanical beauty and sweeping panoramas.
Book your stay at Palazzo Avino via Booking.com
Book your stay at Palazzo Avino via Agoda.com
3. Praiano Located between the tourist-flooded towns of Amalfi and Positano, peaceful Praiano looks like a movie set with wander-worthy streets, churches, and restaurant terraces teetering on rocky cliffs. Many visitors also prefer the more leisurely, almost sleepy pace that allows for really soaking in the full breadth and depth of its merits without feeling hurried. The five-star boutique gem Casa Angelina typifies the laid-back lifestyle and authenticity that makes Praiano so delightful.
Book your stay at Casa Angelina via Booking.com
Book your stay at Casa Angelina via Agoda.com
4. Conca dei Marini Situated on a hill overlooking the sparkling water below, Conca dei Marini is an ancient fishing village that dates back to the Etruscans. Today, it offers travellers an enchanting home base for an Amalfi Coast holiday that's filled with fresh-caught seafood, relaxing on the beach, and cooling off in the Tyrrhenian Sea. On the short list of modern attractions, the new luxury boutique hotel Borgo Santandrea has quickly made a name for itself with its sophisticated interpretation of coastal style and panoramic terraces.
Shop the best travel experiences here
5. Vietri sul Mare A quiet, more low-key alternative to Positano or Amalfi, Vietri sul Mare, which sits just west of Salerno, is the ceramics capital of Campania. It's here that many of the plates and bowls that fill the shelves at shops around the region are made. Souvenirs aside, hand-painted tiles adorn much of this charming town that also lays claim to the beautiful late Renaissance-style Neapolitan Church of St John the Baptist and a peaceful beach for basking in the Mediterranean sun.
Book your stay at Relais Paradiso via Booking.com
Book your stay at Relais Paradiso Hotel via Agoda.com
6. Atrani Atrani charms all who visit (and truth be told, it's not that many people in comparison to the likes of Amalfi and Positano). This pint-sized fishing village with a population of fewer than 900 residents has a frozen-in-time appeal. Simply wandering around is the best way to see the unspoiled virtues of its many alleyways, steep flights of stairs, churches, piazzas, quaint cafes, and cheerful cliffside houses. Below the town itself, a pristine stretch of coastline beckons locals and in-the-know travellers.
7. Amalfi The attractive town that shares its name with the region is an incredibly popular first stop for many tourists and acts as a main transport hub with boats constantly passing through the harbour. It's worth contending with the crowds for a close-up look at the Duomo di Amalfi in the main square. The surrounding streets ooze heritage — and lemon everything. Scented soaps, embroidered aprons, and bottles of limoncello spill out of souvenir shops. Gelaterias scoop sorbetto al limone.
Book your stay at Hotel Miramalfi via Booking.com
Book your stay at Hotel Miramalfi via Agoda.com
8. Minori If you've already done Amalfi, Positano, and Ravello, it's time to consider Minori. Lesser known than its celebrated neighbours — though, certainly no less dazzling — this tiny, uncrowded coastal town woos visitors with its wooden fishing boats bobbing in the harbour, terraced gardens, and al fresco eateries. Don't miss Villa Romana, an impressively preserved archaeological complex with frescoes, mosaics, and vases from the first century. There's also a scenic hike that links Minori to Maiori.
Book your stay at Villa Romana Hotel & Spa via Booking.com
Book your stay at Villa Romana Hotel & Spa via Agoda.com
9. Maiori What Maiori lacks in wide-spread name recognition, it more than makes up for in history and halcyon vibes. This under-the-radar slice of Amalfi Coast paradise that's less than a mile (1.6 km) from Minori shows off a pretty waterfront promenade that's great for casual strolls, picture-perfect landmarks such as Castello Mezzocapo, and a large sandy beach. Plus, the lack of notoriety means not having to dodge quite so many tourists when attempting to admire its breathtaking views of the sea and mountains.
Book your stay at Hotel Botanico San Lazzaro via Booking.com
Book your stay at Hotel Botanico San Lazzaro via Agoda.com
10. Furore Chances are good that most people haven't heard much about Furore, lovingly referred to by locals as the "town that doesn't exist." If this hidden gem located smack-dab-in-the-middle of the Amalfi Coast has popped up on your radar, it's likely because of one spectacular spot: a fjord that opens up to reveal a secret beach. Stairs lead down from the tiny village that displays cute bars, restaurants, and houses to the shimmering bay. The cinematic bridge serves unparalleled views from above.
Book your stay at Furore Grand Hotel via Booking.com
(Hero and feature image credit: Xantana/Getty Images)
This story first appeared on travelandleisure.com
Related: 29 Most Beautiful Places In Italy
Written By