Once a quaint fishing village, Cannes is currently one of the most glamorous attractions on the Côte d'Azur. Nestled on the crescent of the Gulf of Napoule with a pleasant Mediterranean climate, Cannes is the second largest city in the Alpes-Maritimes department. It hosts around a million foreign tourists per year and is renowned for the coveted Cannes Film Festival. However, the chic French town is much more than the red carpet glitz or the Palme d'Or.
Named after the canes that once crowded its shores, Cannes has an interesting history. When the Ligurian tribesmen first started a settlement in Cannes, it was soon occupied by the Phocaeans, Celts and Romans. In the 4th century, the town became a protected site under the monks of Lérins. It was only when the former British Chancellor Lord Brougham visited Cannes in 1834 that the town became one of the most famous spots on the Côte d'Azur.
With old sheltered lanes, timeless palaces, exquisite street arts, reedy shores with opulent yachts, stunning azure blue beaches, promenades full of luxury hotels and multiple haute couture boutiques, Cannes is undoubtedly an ideal destination to kickstart your French Riviera adventure.
Cannes climate and best time to visit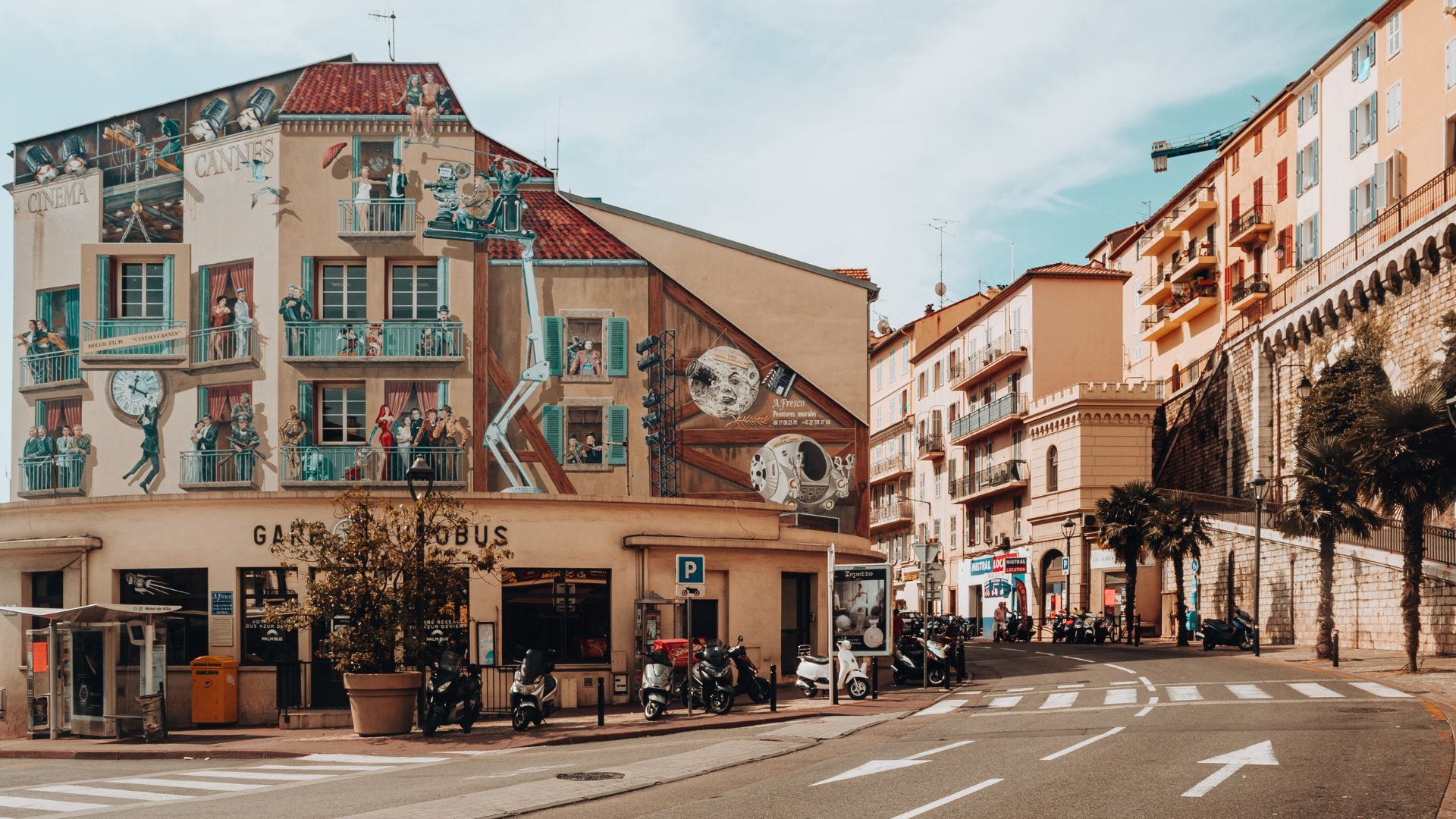 Known for its dependable climate, the town sees about three thousand sun hours per year and has mild winters and warm summers. Cannes also owes its favourable weather to the coastal mountain range, Massif de l'Estérel, which helps keep the chilly North-European weather at bay.
The average temperature here ranges between 8-12 °C (46-54 °F) in winter, 14-18 °C (57-64 °F) in spring, 25-35 °C (77-96 °F) in summer and 15-23 °C (59-73 °F) in autumn.
The best time to visit Cannes is between April and September. These months are less crowded than usual and have moderate weather.
It is best to avoid planning a visit during October and November as these are the wettest months in Cannes. The warmest months here are July and August. So, if you want to dodge the scorching sun and the busy streets, skip visiting during the summers.
However, if you want to specifically enjoy the Cannes Film Festival, May is the ideal month. The 76th Cannes Film Festival will take place from 16 to 27 May 2023, so make sure to plan accordingly.
How to reach the French town?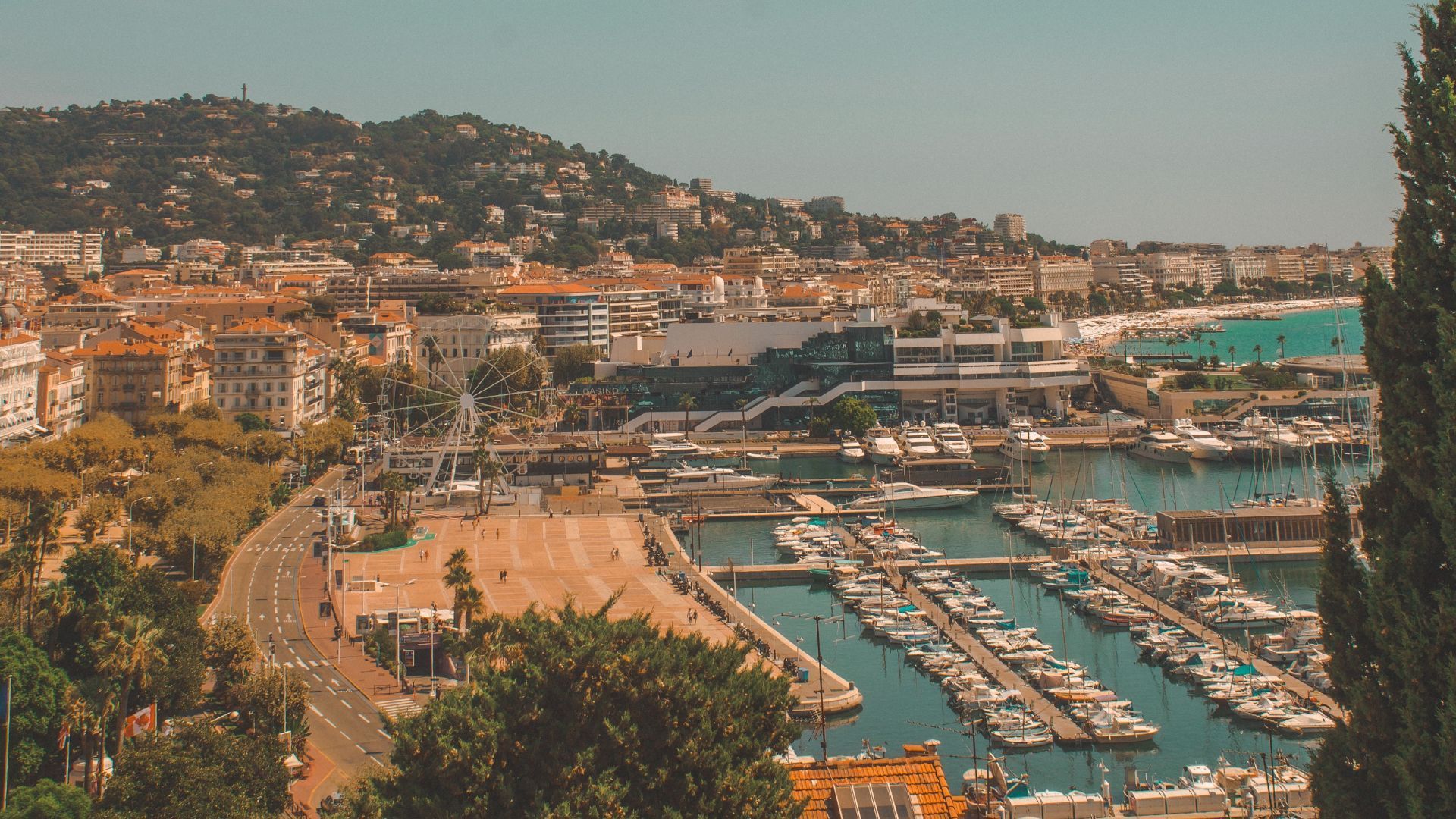 Cannes covers an area of 19.62 square kilometres. While flying is the quickest and most convenient way to reach the town, road and train journeys offer quite an experience too.
By road
The A8 motorway: Two exits of the A8 'La Provençale' motorway will take you to Cannes. The first is the Cannes-La Bocca (41), while the second is the Mougins (42) — from Aix-en-Provence to the west and Italy to the East. You can either take a local bus or rent a car. The bus services in Cannes are funded by the city council and provide easy intercity commutes throughout the area.
The Route Napoléon: This route runs from Golfe Juan to Grenoble and retraces the historic route taken by Napoléon on his return from Elba in 1815. You can find more information about Route Napoléon here.
By train
Train journeys are a great way to explore the beauty of Cannes.
TGV trains: Visitors can use the numerous trains, à grande vitesse (TGV trains) — France's local high-speed rail service, while in the town. There are also the widely used Corail trains and express trains which connect Cannes to all other regions and some of the largest cities in Europe. Journeys through these trains also offer great views of the Esterel Massif.
For more information on TGV trains, visit the state-owned railroad system of France — Société Nationale des Chemins de Fer Français (SNCF) website here.
TER trains: The Transport Express Régional (TER) trains run throughout the region from Les Arcs Draguignan to Ventimiglia while passing by Antibes, Biot, Cagnes-sur-Mer, Nice and Villefranche-sur-Mer. These regular trains connect Cannes to all the towns on the Côte d'Azur as well as to its other stations and Cannes-La-Bocca.
For more information, visit the official website here.
By air
You can reach Cannes in less than 30 minutes from its nearest airport — the Nice Côte d'Azur Airport. Located around 27 km from Cannes, it is one of the main airports with over 50 airlines that connects the town to the rest of Southern Europe. There are shuttle services every 40 to 45 minutes to reach Cannes from the airport. Reach bus line 210 and purchase your tickets. The price ranges from USD 24.15 (INR 1,981) to USD 36.23 (INR 2,973).
Another major airport in Cannes that connects the town directly to other European cities is the Cannes-Mandelieu Airport. It is situated around 15 minutes from Cannes city centre and the Palais des Festivals et des Congrès de Cannes.
Book flight tickets to Cannes here
Best places to visit and things to do in Cannes
Take a walk along La Croisette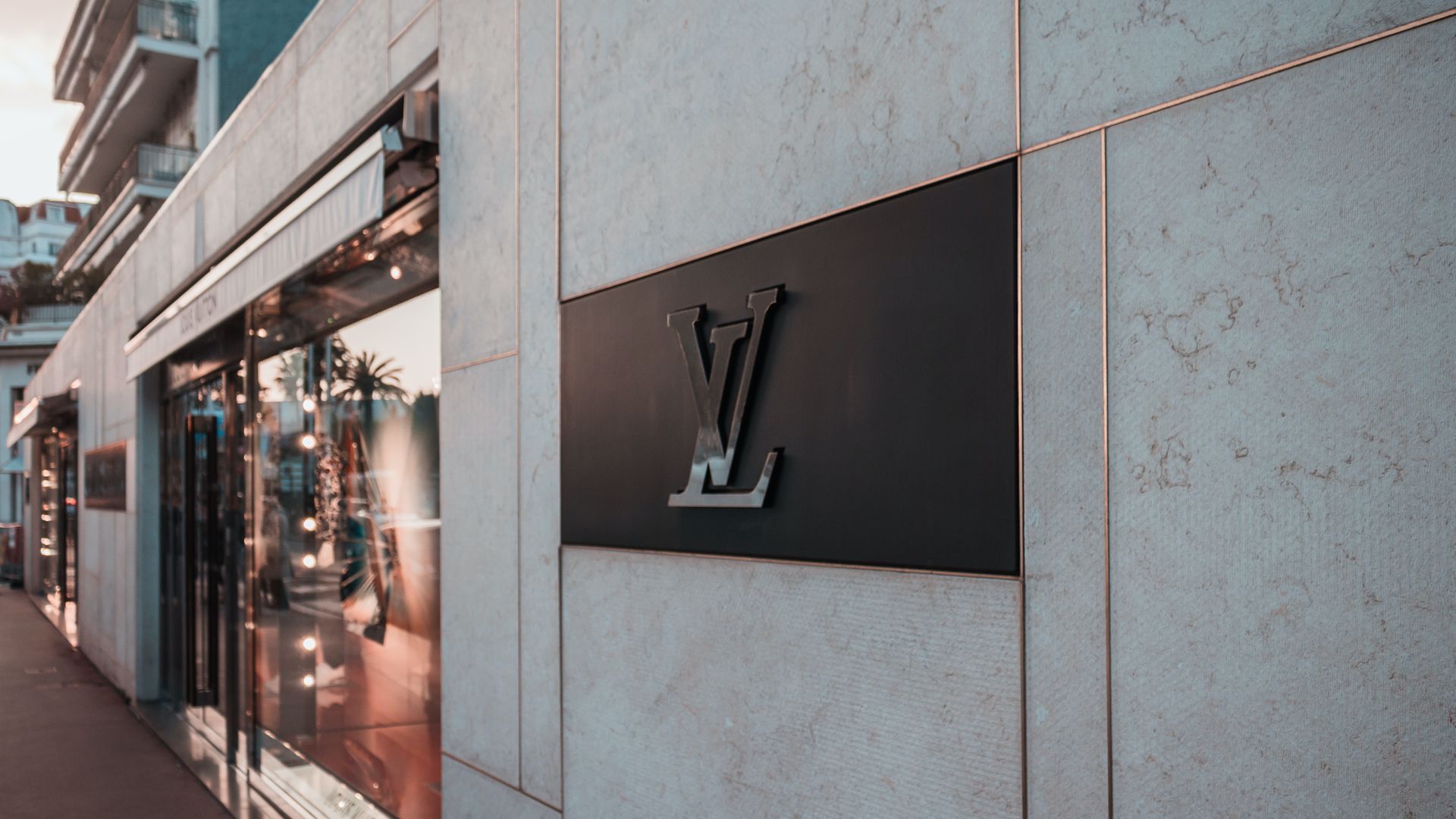 This wide pedestrianised walkway lined with sandy beaches on one side and glitzy and luxurious boutiques on the other is one of the main tourist attractions in Cannes. Stretching for over three kilometres along the Mediterranean coast, La Croisette is lined with palm trees and is a great spot for a lazy stroll.
Enjoy the old town charm of Le Suquet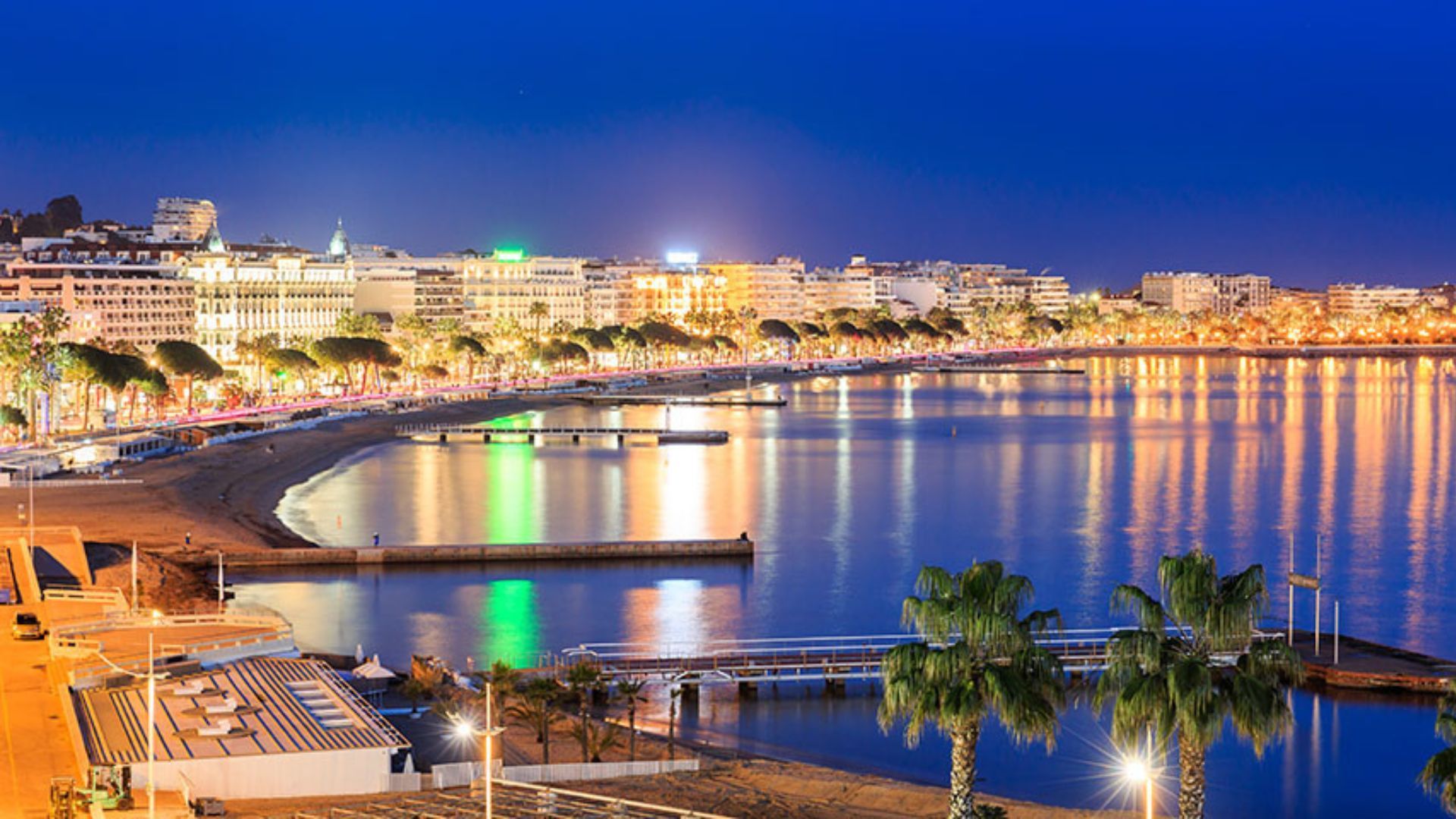 This historic district of Cannes, also known as the Le Suquet Hill, is the best place to enjoy a 360-degree panoramic view of the whole bay of Cannes, the old port and the Lérins islands.
Additionally, Suquet, like La Croisette, offers great views and is an ideal location for a jog.
If you are visiting Suquet at night, make sure to capture photos with the striking evening lighting.
Party at the old Palm Beach Casino
The Palm Beach Casino, formerly known as the Summer Casino, dates back to 1929 and is one of the most remarkable attractions in the town. It brings back the nostalgia of the old Parisian casino days.
This art nouveau-style Moorish building went through a transformation and currently serves as a major entertainment hub in Cannes.
Explore Cannes street art
One of the must-do things in Cannes is to experience the Cannes street art by walking through the streets and lanes.
Incredible murals adorn the walls and houses throughout the city, most of those being a reflection of the importance of the film industry in Cannes. Be it the Les Murs Peints – Marilyn Monroe near Prado-Republique or the famous Charlie Chaplin and 'The Kid' on Boulevard Vallombrosa, these pieces of street art are definitely a sight to behold.
Visit the Palais des Festivals et des Congrès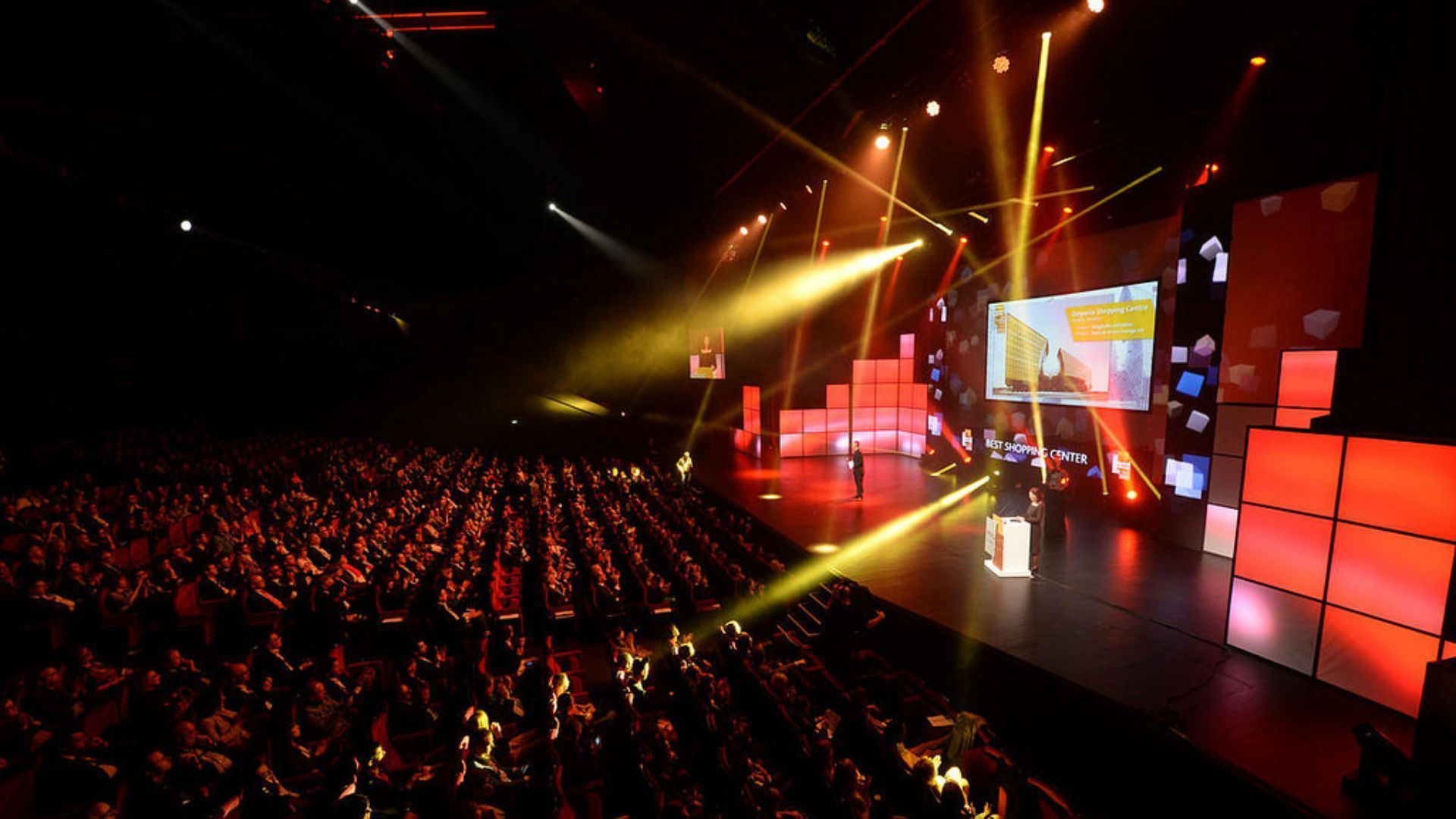 You can't leave Cannes without setting foot on one of the 24 most iconic steps of the Palais des Festivals et des Congrès. A convention centre in Cannes, Palais des Festivals is one of the major historical attractions here and serves as the venue for the annual Cannes Film Festival.
While its first building was built in 1949, the centre went through multiple renovations. The new Palace of Festivals and Conferences, which was completed in 1982, saw further work in 1999.
With 18 grand auditoriums and around 35,000 square metres of space available for exhibitions, the centre is also one of the major hosts of popular festivals other than Cannes such as Jazz à Domergue, the Cannes Lions International Festival of Creativity and the Festival of Russian Art.
Witness French markets at Marché Forville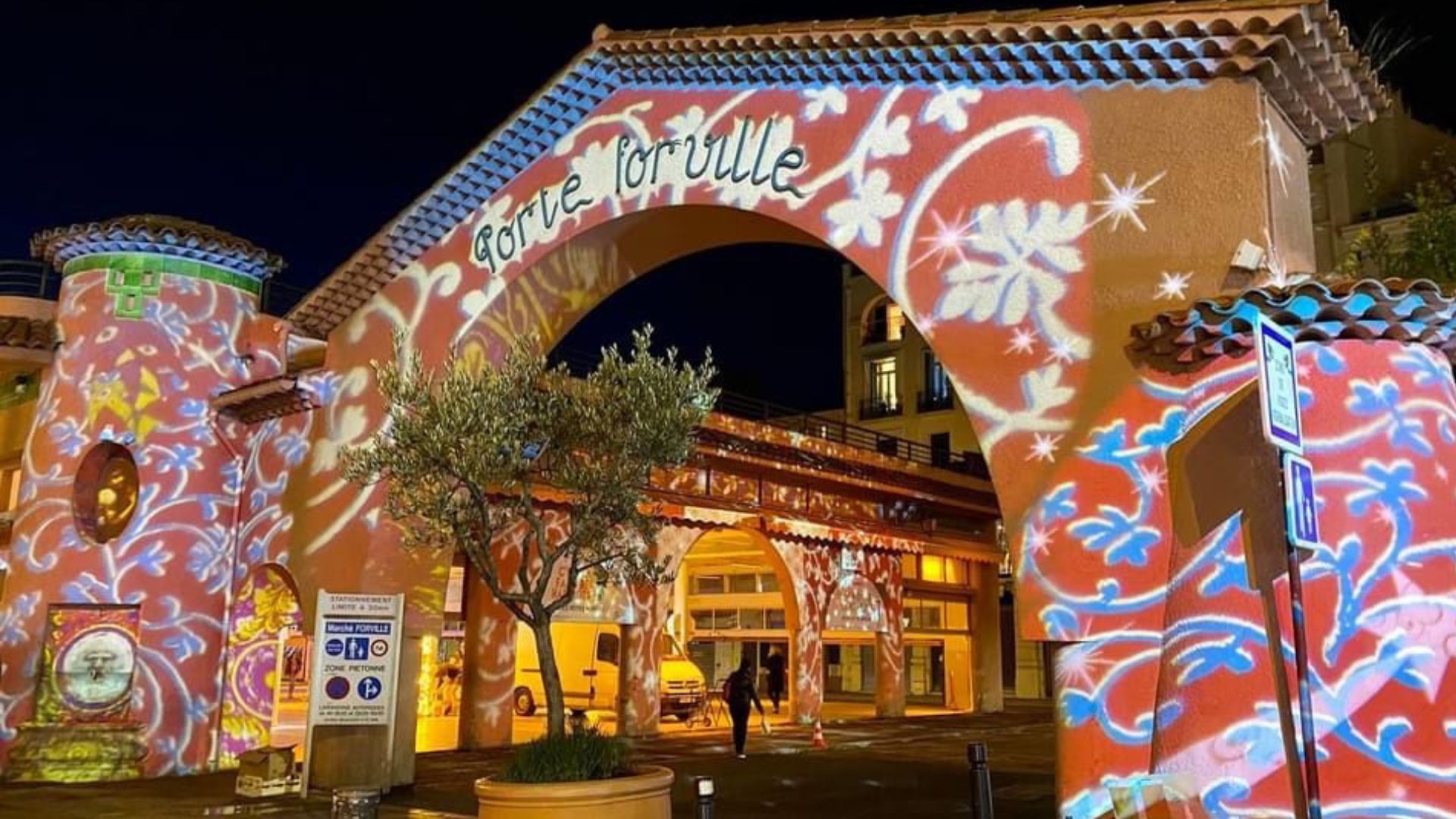 Marché Forville, popular as Forville market, offers some of the best produce you will find in Provence. With scented flower stalls, fresh fish, home-made sweets and fabulous truffles sourced from the south of France, the marketplace is undoubtedly a feast for your senses.
If you are staying in Cannes longer, this is an apt place to buy your meals.
The food market is open daily. However, on Mondays, it is transformed into an all-day flea market.
Shopping in Rue d'Antibes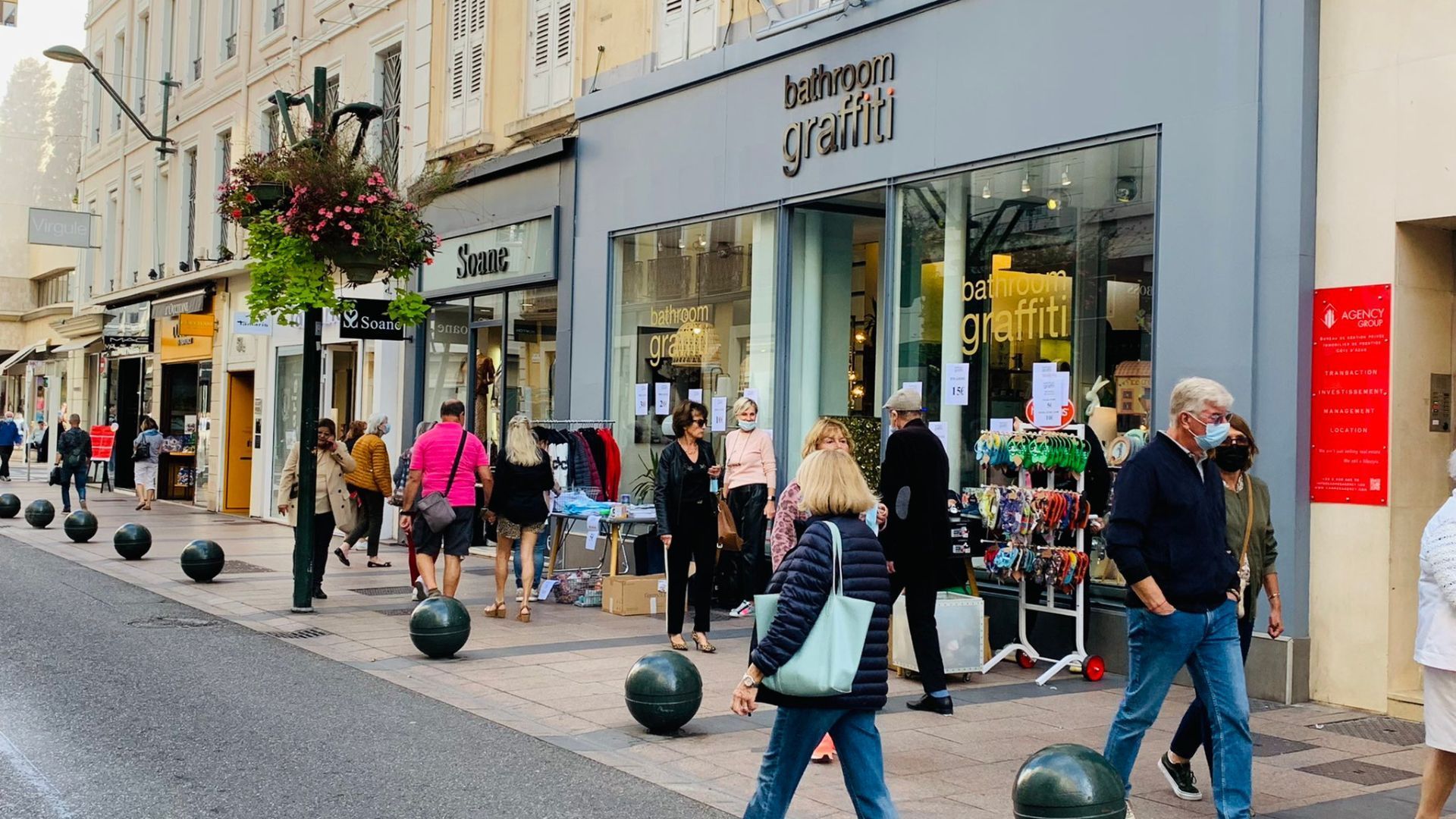 Rue d'Antibes is one of the Cannes attractions that offer a wide range of shopping experiences like exploring different name brands at Galeries Lafayette, buying souvenirs at Bathroom Graffiti and trying some fresh produce at Marche Forville.
The place is great for retail therapy and lies a few blocks away from La Croisette. This street also has plenty of inviting chocolate shops and pâtisseries.
Experience Le Festival International du Film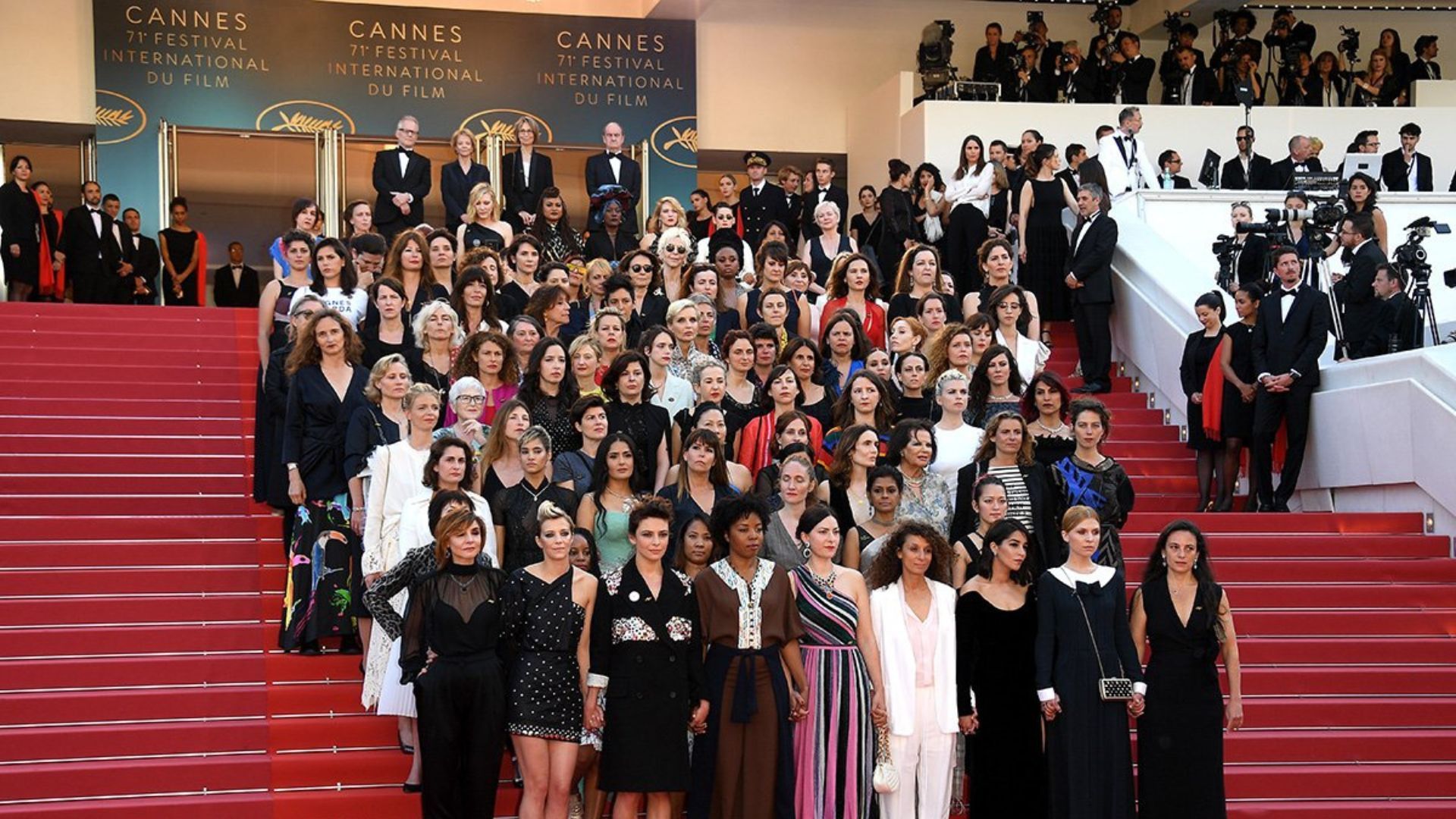 Popularly known as Cannes Film Festival, this is one of the most famous film festivals in the world. Visiting the town during this 12-day event lets you experience an unforgettable and star-studded affair along with the largest film market in the world known as the Marché du Film.
You might also catch a glimpse of your favourite celebrity around town during this festival. Cinephiles can also attend paid screenings of the previous Palme d'Or winners at the Croisette at night.
Indulge in sumptuous dishes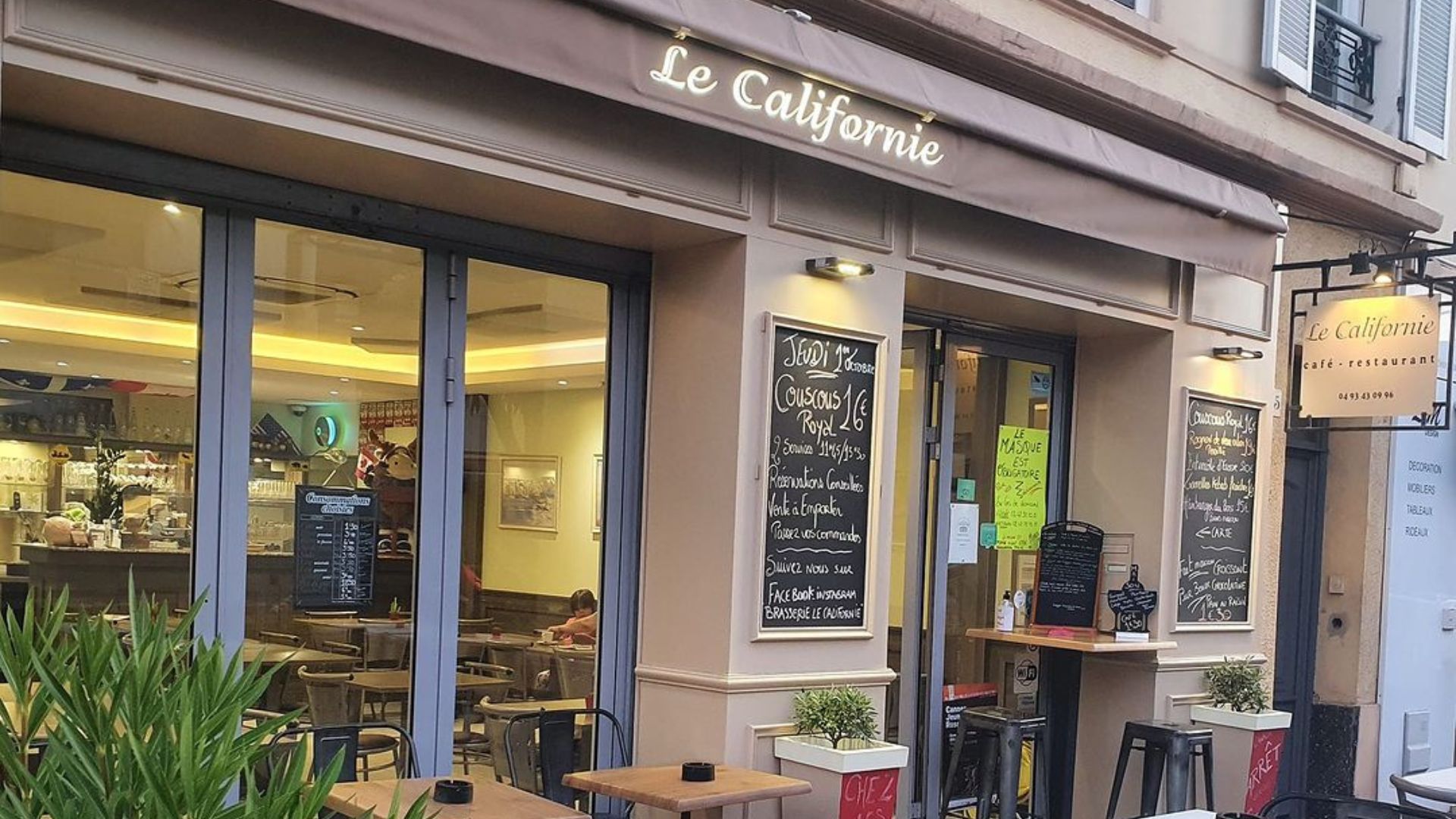 One of the best things to do in Cannes is to enjoy Mediterranean delights while sipping local rosé wine at a warm harbour-side restaurant.
While Cannes has plenty of fantastic seafood options, a popular fish stew dish, called Bouillabaisse, is a must-try. Brasserie Le Californie, located at 65 Av. Maréchal Juin serves one of the best Bouillabaisse in the town.
For visitors craving vegan food, there's nothing better than the iconic Ratatouille — a vegetable stew cooked with tomatoes, onions, courgettes and herbs. Head to Marché Gambetta and Marché Forville, located at the centre of Cannes, for the best of such local cuisines.
Book your stay at Cannes here
(Main image credit: Elisa/Unsplash; Featured image credit: Alexis AMZ DA CRUZ/Unsplash)
Related: 25 Most Beautiful Places In Europe — From Colourful Small Towns To Secret Beaches
Frequently Asked Questions (FAQs)
Question: How many days are enough to explore Cannes?
Answer: A full day is enough to explore Cannes. However, to experience the best of everything in Cannes, it is recommended that you spend at least two full days or more in this beautiful town.
Question: What should I know before planning a trip to Cannes?
Answer: Things to know before planning a trip to Cannes include learning a bit of French, researching about the climate and making early bookings for camping in Le Vieux Port.
Question: Do you need cash in Cannes?
Answer: Even though there are numerous currency exchange services available in Cannes, it is advisable to keep cash handy while travelling across the town.
Question: Which are the most famous historical places in Cannes?
Answer: Some of the most famous historical places in Cannes are Palais des Festivals et des Congrès, Église Notre-Dame d'Espérance, Marché Forville, Vieux Port de Cannes, Abbaye de Lérins, Monastery Musée des explorations du monde, Musée de la Castre, Royal Fort, La Croisette and Boulevard de la Croisette.
Question: Are there any beaches in Cannes?
Answer: Yes. Cannes has various beautiful beaches. Some of them are Carlton beach, Plage du Midi, Palm beach and Long beach.