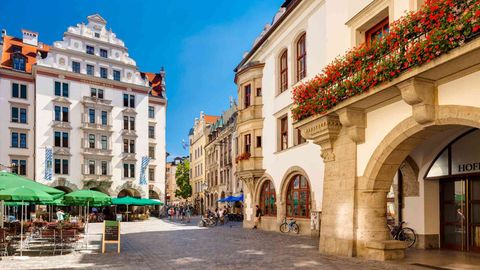 Let's get one thing out of the way: There's never a "bad" time to visit Europe. However, there are a few times when it makes a lot more financial sense. Namely, during Europe's shoulder season.
Shoulder season travel refers to those Goldilocks periods right before or after a destination's high season. It's a time when travellers can often find fantastic deals on flights, accommodations, and far fewer crowds. And it's an especially stellar time for travellers to explore Europe like a local.
"We saw extreme demand for European travel this summer by Americans, but even pre-pandemic Europe historically has been a favourite summer getaway for many," Katy Nastro, travel expert at Going, told Travel + Leisure. "A peak European summer translates to crowds taking advantage of warmer weather and, of course, higher prices. Shoulder seasons, though, are a magic time when you can experience the region's splendour with fewer people, temperate weather, and less sticker shock regarding costs."
As an example, Nastro pointed to places like southern Spain, which sees an influx of tourists throughout the summer. However, Nastro said you can still experience a summer-like beach getaway in the region at the end of September or early October. "It's also a better time to take advantage of attractions since there can be shorter lines and better weather to wait in compared to colder off-seasons," Nastro added.
Additionally, Nastro noted that most major cities in Europe are great to explore in the fall since "the heat of summer won't be breathing down your neck, but places where you can get into a bit of nature and explore the changing of the seasons, are worth considering as well."
Need a little inspiration on where to go this shoulder season? Here are five spots sprinkled throughout the continent that make for spectacular shoulder season getaways.
This is the best season to travel to Europe for your dream vacation
Lisbon, Portugal Lisbon has been having a real moment in the sun when it comes to travel, and for good reason. The capital city is home to fantastic boutique hotels, historic sites, and the tastiest pastries in the nation (we're looking at you, pastel de nata). Its shoulder seasons fall from March to May and September to early November, when you'll find fantastic flight deals and will finally be able to score reservations to some of its hottest hotels like the Four Seasons Hotel Ritz.
Book your stay at Four Seasons Hotel Ritz Lisbon via Booking.com
Book your stay at Four Seasons Hotel Ritz Lisbon via Agoda.com
Nice, France Want a luxury European seaside getaway for less? Book a trip to Nice, France, during shoulder season. The gorgeous town, located on the French Riviera, is a haven for those looking to relax by the gin-clear waters. Of course, because of its natural beauty, it attracts hordes of travellers over the summer months, making both accommodations and space scarce. However, you can still make the most of the quaint community by visiting in September or October, when temperatures remain relatively balmy in the mid-70s.
Book your stay at Hotel Le Negresco via Booking.com
Shop the best travel experiences here
Venice, Italy Venice is one of the most visited destinations in the continent, welcoming some 5.5 million visitors a year. It's a busy place, no doubt, but one that still belongs high on your must-see list thanks to its historic canals and world-class museums. To avoid the throngs of high-season tourists, make your way to the Italian town from March to May, or September to November for its shoulder seasons. This way, you may have a canal all to yourself.
Book your stay at Baglioni Hotel Luna via Booking.com
Book your stay at Baglioni Hotel Luna via Agoda.com
Munich, Germany Munich is the place to be to see centuries-old architecture, enjoy delicious Bavarian foods, and, of course, sip on some of the world's best beers. The city is a popular spot, especially around both the Oktoberfest season as well as the festive season, thanks to its famed Christmas markets. But, for those who want to see the city a bit more intimately, it's a fantastic place for shoulder season travel too. Plan a trip to the capital of Bavaria in the spring, from March to June, or just after Oktoberfest in mid-October for the best deals.
Book your stay at Mandarin Oriental, Munich via Booking.com
Book your stay at Mandarin Oriental, Munich via Agoda.com
Barcelona, Spain Barcelona is perhaps the best destination for those looking to see and do it all in Europe. The city offers just about everything, including gorgeous beaches, fantastic architecture, and utterly divine food, all in one compact city. While the summer season tends to be slammed, its shoulder season, which falls from April to May and September to October, still provides warm temperatures and much easier access to famed sites like the Basilica of the Sagrada Familia and Casa Milà.
Book your stay at Hotel El Palace Barcelona via Booking.com
Book your stay at El Palace Barcelona via Agoda.com
(Hero and feature image credit: Jorg Greuel/Getty Images)
This story first appeared on travelandleisure.com
Related: These Wallet-Friendly European Cities Might Just Be The Perfect Addition To Your Itinerary
Written By