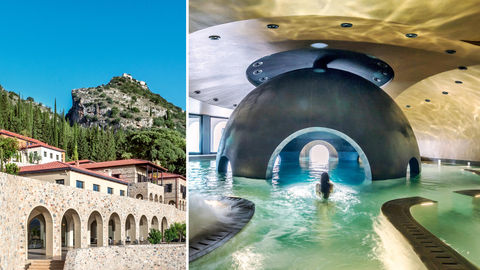 Euphoria Retreat draws on the healing traditions of ancient Greece while embracing the pleasures of a Mediterranean lifestyle. By Sarah Souli
I was halfway down the mountain when the church bells tolled. I had spent the past two hours alone, hiking the steep, rigorous trails of Mount Taygetus, the Peloponnese's highest peak, breathing the pine-scented air and hearing nothing but the satisfying crunch of the earth under my shoes. So when the bells rang, sending reverberations through the valley, I jumped, startled. Sitting down on a rock to catch my breath, it occurred to me that these bells had been ringing at the same time, daily, for hundreds of years. The moment filled me with a kind of divine inspiration that carried me down the mountain and back to Euphoria Retreat as fast as Hermes, the winged messenger god of ancient Greece. As a 30-year-old woman in good health, I hadn't come to Euphoria with any ambitious wellness goals in mind. More than anything, I was intrigued by the resort's goal of reviving the healing traditions of ancient Greece. I knew Hippocrates was the father of modern medicine, but I was surprised to learn his teachings were also the foundation of a wellness culture stretching back to around the first century BC, roughly the same time that Chinese medicine emerged. Would Euphoria be the first of many destination spas to draw on Greece's millennia-old techniques?
When I arrived on a sweltering day last July after a two-and-a-half-hour drive from Athens, I realised how inherently restorative it felt to be in a place as wild and unspoiled as the southern Peloponnese. Euphoria occupies one of the peninsula's most enviable spots, surrounded by dense pine forest and an expansive river valley at the base of Mount Taygetus. Facing the resort, with your head tilted toward the sky, you can make out the Byzantine town of Mystras, a UNESCO World Heritage Site, clinging to the mountain's edge. Built around a honey-coloured mansion that dates back to 1830, the resort has a warm, lived-in feel. Rooms are scattered throughout a trio of four-storeyed residences that have terracotta rooftops and stone archways. Everywhere I went, the sound of cicadas floated through the air. My room was bright and spacious, with an intricate red-and-gold tapestry, pendulum-style lamps, and a large window that looked out onto the deep green forest.
After getting settled, I met founder Marina Efraimoglou, a warm, charismatic woman in her 50s. Over smoothies on the veranda, she explained how a cancer diagnosis in her late 20s had caused her to abandon a lucrative career in banking. "I decided it was my purpose in life to share my passion for holistic medicine," she said.
Efraimoglou's journey took her around the world to study with gurus such as Deepak Chopra and the Taoist master Mantak Chia. Around this time, she also began reading the texts of Greek philosophers, including Plato and Epictetus. It was while she was enrolled at the Academy of Ancient Greek & Traditional Chinese Medicine, in Athens, however, that she had a breakthrough. "I discovered that herbs, cupping, and other age-old remedies were as much a part of Greek medicine as Chinese," she said. It took her two decades to track down healers in her native Greece who still practised the ancient forms.
Resident wellness therapist Katerina Kastrinaki is one such healer. During our session, she asked me a series of questions ("Do you get angry easily?") designed to identify which of my five elements—earth, fire, metal, water, and wood—were out of whack. Apparently, not one but two of my elements (wood and metal, linked to the liver and lungs, respectively) were imbalanced. The philosophy at Euphoria, Kastrinaki explained, was to maintain equilibrium between the elements. People with a dominant air sign, for example, are prone to restricted blood flow, causing dizzy spells.
Next, I met Euphoria's in-house nutritionist, Antonia Vasilakou, who administered a pinprick test that measured my glycogen, glucose, and glutathione levels, all of which are important biomarkers for metabolic health. Reminding me that it was Hippocrates who suggested, circa 400 BC, "let thy food be thy medicine," Vasilakou put me on a detox programme that was free of sugar, gluten, and alcohol. Any concerns I had about the food plan being too restrictive were quickly dispelled after my first meal at Gaia, the on-site restaurant, which sources ingredients like wild oregano and pomegranates from the garden. Sitting on the terrace in the shade of a mulberry tree, I ate a delicious lunch of charred octopus over a bed of puréed fava beans. Other standout dishes included keftedakia (traditional Greek meatballs) and a chilled savoury-sweet grape soup.
The ancient Greeks were famously interested in ideals of beauty, and at Euphoria, physical upkeep is taken seriously. Three-hour morning hikes through the mountains are an everyday prescription, as are hatha yoga classes. After one intense workout, I retreated to the spa, where I was slathered in products from French skin-care line Biologique Recherche, then given a scalp massage. For the final act, I soaked in an enclosed hydrotherapy pod, where jets blasted my achy muscles. I emerged half an hour later, feeling reborn.
I left Euphoria with a clear mind and an invigorated body, with the smell of pine trees and wildflowers still fresh in my memory. A Greek phrase rolled around my head as I drove back to Athens, 'pan metron ariston'. All things in good measure.
GETTING THERE
Gulf Air (gulfair.com) flies from Delhi and Mumbai to Athens via Bahrain. From there, a drive to Euphoria takes two and a half hours.
STAY
Euphoria Retreat (doubles from INR 40,773; euphoriaretreat.com) is a first-of-its-kind destination spa in the southern Pelo pon nese that's inspired by the teachings of ancient Greece.
Related: A Region Ripe For Discovery: Thessaloníki, Northern Greece
Written By