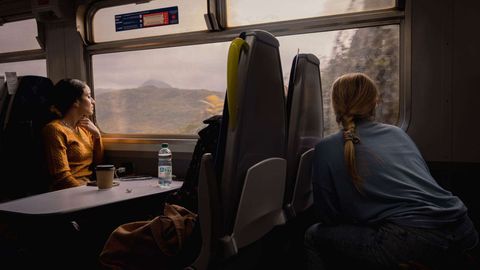 There's something I love about train travel: Even while sitting still, you don't miss a moment. And when it comes to Scotland, the best way to experience the country is by rail. Picture undisrupted rolling hills, rivers, and highland cows for your viewing pleasure as you dunk your customary shortbread into a cup of tea. This trip is about the journey, not just the destination. Holly-Marie Cato
I travelled with Vacations by Rail, a rail travel and tour operator that offers memorable adventures through Scotland, whether you're travelling as a group or solo.
Here's why you should be experiencing Scotland through train journeys I began my tour of Scotland in Edinburgh. From London, you can catch the train from King's Cross St. Pancras, bringing you right into the heart of Edinburgh in under five hours. I checked into the spacious Apex Waterloo Place Hotel, complete with beautiful views of the city that enticed me to go out and explore. The sound of bagpipes followed me around the city centre, with men dressed in traditional Scottish kilts. It didn't matter what plans I had made in advance, I couldn't help but stop and enjoy the music. Having hiked Arthur's Seat on my first visit, I chose the family-friendly walk up Calton Hill, which offers a great view of the city and the chance to explore one of Edinburgh's UNESCO World Heritage sites. There, you'll find the Nelson Monument — built in 1816 and with 147 steps to the top, you can experience an epic panorama looking out over Edinburgh. You'll also see National Monument, a semi-complete Greek Parthenon-like structure that even in its undress is altogether beautiful. I also went on a walking tour of the Royal Mile and Edinburgh Castle with Mercat Tours, learning about the medieval alleyways, why the town crier still reads important news three days after an event, and how the Stone of Destiny — used to inaugurate Scottish kings — was stolen by university students. My favourite meal in Edinburgh was at Luckenbooths. I tried the haggis and beef shin bon bons, Cullen skink, a traditional Scottish smoked haddock and cream soup, and whisky-glazed smoked salmon. (Don't worry, I was sharing.) Even better, I learned all the food is locally sourced. A stone's throw from the Apex Waterloo is the Waverley train station, where I caught the train to Fort William, via Glasgow, organised by Vacations by Rail.
A short drive later, I checked into Ballachulish Hotel in Glen Coe and was greeted by complimentary chocolates and the hotel's small-batch production of gin. The best thing about Glen Coe is the landscape. I woke up early to savour the crisp autumn air. It's worth hiring a local tour guide to show you the lay of the land. Most locals have a deep and prevalent knowledge of their history, as well as where Harry Potter scenes were filmed (we went to the location of Dumbledore's house). A 30-minute drive from Ballachulish Hotel is Ben Nevis Distillery, a must-visit during any visit. This award-winning small-batch distillery has created some of the smoothest whisky from the waters of the Ben Nevis mountain. My favourite was the 10-year-old, peat-smoked single malt, though I also liked their sherry-casked Scotch — all descriptors and flavours I learned during a whisky-tasting tour. If you're looking for an adventure, take the train down to Mallaig, a small, sleepy port with the best local fish and chips and a pleasant hiking trail. It's worth stopping here for lunch before catching a ferry over to the Isle of Skye. (I'm making it my mission to visit the island on my next Scottish venture.) The Isle of Skye is clearly visible from the Mallaig train station. I boarded the West Highland line to Fort William, and then headed back to Glen Coe for one more night. I travelled in style on the West Coast Railways steam train, resting against classic upholstered seats in first class and enjoying an onboard service of afternoon tea with scones, jam, and clotted cream while taking in the spectacular Highland landscape. For Harry Potter fans, listen for when the train conductor announces the Glenfinnan Viaduct is approaching, as it's seen in the Hogwarts Express. I joined the famous Jacobite cruise and voyaged along the legendary waters of Loch Ness. The boat's audio guide shared details about the mythical legend of the monster in the loch, as well as offered a deep dive into the Jacobite uprising and Bonnie Prince Charlie, who escaped the English army searching for him and travelled to the Isle of Skye, all with the help of a woman named Flora MacDonald in the 1700s. From the Loch Ness to Eilean Donan Castle, there are plenty of beautiful historic sites to experience in the Highlands. Situated on a small tidal island, in the Western Highlands of Scotland and only accessible by a footbridge, Eilean Donan Castle stands proudly against the rugged landscape. Roaming the castle walls, you can learn how this fortified stronghold of the Clan Mackenzie was blown up by the English government in 1719 during the Jacobite rebellion. It was left in ruins for 200 years, until it was painstakingly restored in the early 1900s by their allies Clan MacRae and friends. You'd be hard-pressed to make it to the Highlands without learning about the Jacobite uprising. Scottish history is seared into the minds of every countryman. I ended my Scotland trip in Inverness. Even toward the final leg of the journey, I struggled to sleep in late while travelling, so I took the opportunity to walk through the city's quaint streets in the early morning. I stopped at Cup & Cone with a friend to enjoy one of the best oat cappuccinos and pastries. As someone who doesn't drive, I thought Scotland would be largely inaccessible to me, especially the Highlands, which is why travelling with Vacations by Rail has been so transformative. Suddenly, nothing about visiting Scotland feels daunting. I've sailed breezy costal waters, sipped drams of whisky in local distilleries, indulged in haggis and neeps and tatties, danced to bagpipes, bundled up in Highland wool, and strolled around a castle. The best part? Knowing I'll be back to Scotland soon.
This story first appeared on www.travelandleisure.com
Main and Feature Image Credit: Holly-Marie Cato
Related: These Railway Stations In India Have Played A Major Role In Some Of The Iconic Bollywood Films
Written By