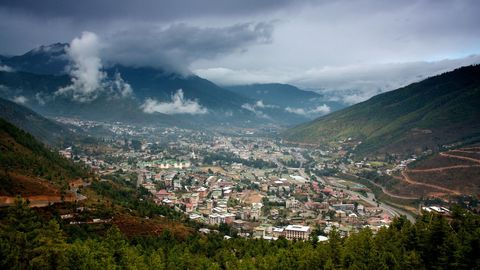 Drukyul's Literature Festival was held from August 4 to 6, 2023 in Bhutan. Besides displaying a flourishing literary scene, it also revealed glorious secrets of the mountain kingdom.
As the flight attendant announced that we had begun our descent and we needed to fasten our seatbelts, I eagerly peeked out of my window upon mighty mountains wearing a halo of clouds, and swathed in robes of green, proudly staring back. They looked like spiritual sentinels guarding the hidden mountain kingdom of Bhutan, hesitant to let open the secrets that they must have held for years. It was my first time in Bhutan. As it is with every first, I was filled with much curiosity and anticipation.
Bhutan Echoes: Drukyul's Literature Festival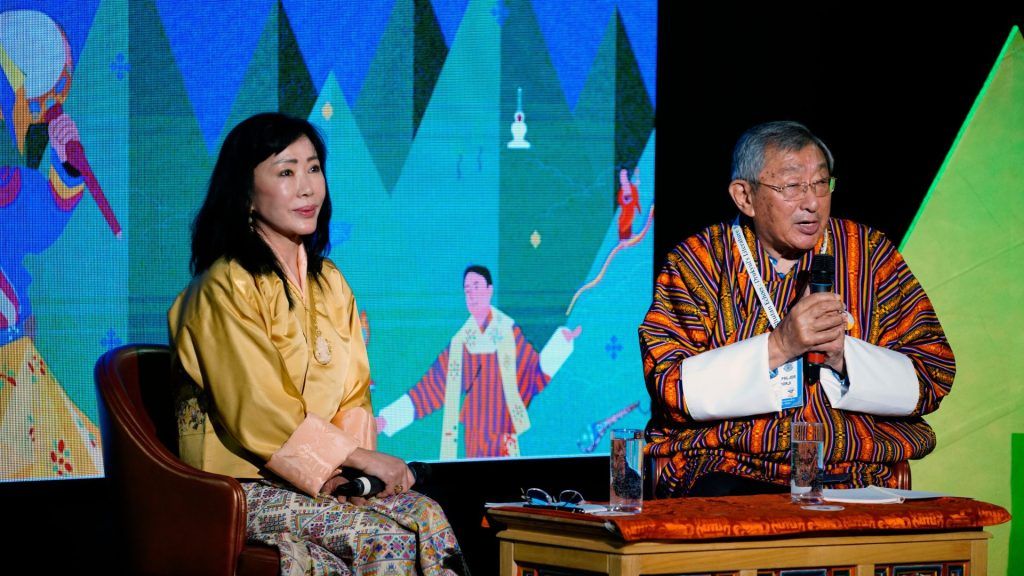 I was here to attend the 12th edition of Bhutan Echoes: Drukyul's Literature Festival. The festival, earlier known as Mountain Echoes, was co-founded by Queen Mother Ashi Dorji Wangmo Wangchuck in 2010 as a Bhutan-India initiative. This was the first offline edition being held at the Royal University of Bhutan in Thimphu after it was rebranded. The founding Indian organisers' team, which included literary luminaries like Namita Gokhale, Mita Kapur and Pramod Kumar K.G., was now replaced by a Bhutanese team of Kalden 'Kelly' Dorji, Tshering Tashi, Kitso Pelmo Wangdi and Sonam Wangmo Dukpa. However, the Indian involvement and camaraderie were evident in all three days of the festival from August 4 to 6. Each day was peppered with insightful sessions of not only the former organisers—Gokhale, Kapur and Kumar—but also other prominent Indian authors like Vikas Swarup, Geetanjali Shree, Shrayana Bhattacharya and Aanchal Malhotra. The social evenings organised on the sidelines of the festival had much Bollywood music put together by local Bhutanese people.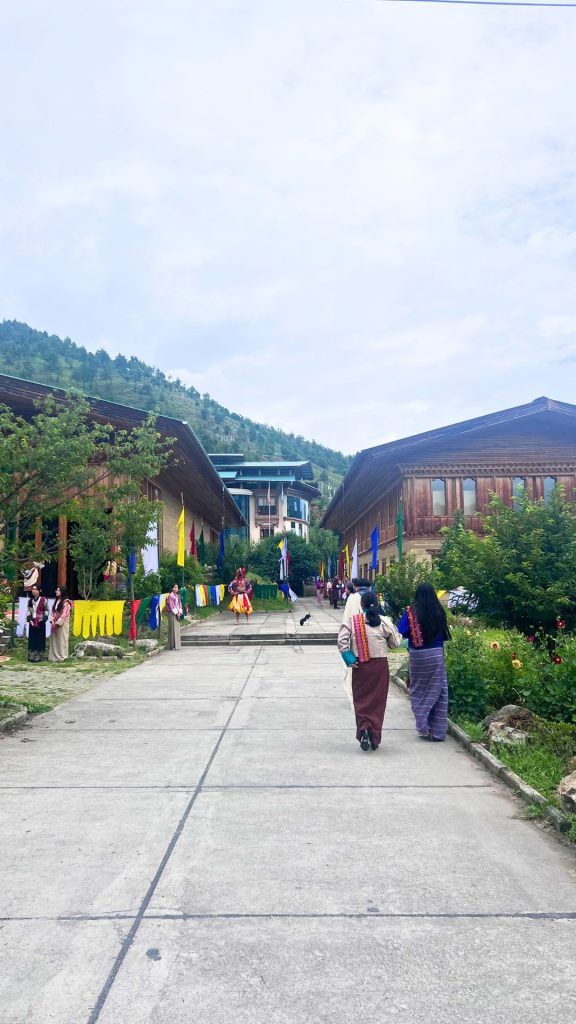 On the first day, as we drove from the hotel to the festival, I got a glimpse into the Bhutanese way of life—slow-paced, amicable and calm. It is a country that has strongly held on to its past. Urbanisation hasn't yet made significant inroads in this Himalayan Kingdom that got its first television in 1999. Many buildings–be it the Royal Textile Academy, the Tashichho Dzong, the fort that housed the king's office, or the shopping complexes–looked like they were from a fantasy land with elevated and layered roofs, wooden columns, brackets and windows adorned with mythical animal sculptures or painted with distinct Bhutanese patterns. A few shops in the buildings discreetly bore signages that read "pizza place", "karaoke bars" and "banks." Modern constructions of steel and concrete were conspicuously missing in this beautiful city, where monasteries outnumbered shopping malls and more than 69 per cent of the land was under forest cover. Men and women mostly wore their traditional attire with a handful of jeans-clad youngsters standing out in a sea of sameness. The festival seemed like an extension of this lifestyle. Bhutan wanted to open its doors to outsiders yet did not want to forego its privacy, exclusivity, and mystery.
Unlocking the Mystery of Bhutan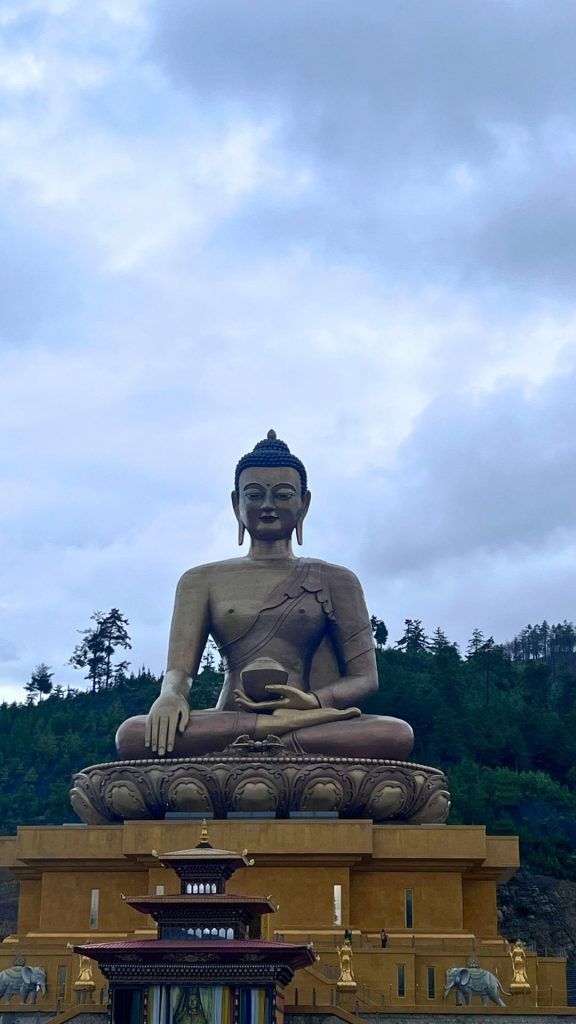 Day one of Drukyul's Literature Festival began as an initiation into Bhutan's rich culture and heritage. As Sonam Wangmo Dukpa, the festival co-director quoted poet Muriel Rukeyser,"The universe is made of stories, not of atoms," in her inaugural address, she made clear the intent of the festival to send the stories of the nation far and wide, beyond the mountains. Titled Reconnecting and Reviving, the festival focused on travel, rebuilding human connections, environmental concerns, economy, and holistic well-being.
The Queen Mother set the ball rolling by talking about her third book Dochula: A Spiritual Abode in Bhutan, emphasising on the spiritual side of Bhutan and why faith, hope and inner strength were important anchors in a cold, uncertain world. She narrated her story of resilience—how she bargained with the holy spirit at Dochula to protect her king in the war against insurgents and built the 108 stupas as a mark of gratitude when the king returned victorious.
Further picking up the spiritual thread Namita Gokhale, Tshering Tashi and Mita Kapur discussed the Himalayan Masters—the myths and miracles surrounding them. While Gokhale talked about her new book Mystics and Sceptics: In Search of Himalayan Masters, emphasising the healing power of the mountains, Tshering shared anecdotes from his quest to find trans runners who ran so fast that it appeared they were riding the wind. He candidly confessed that they existed but his efforts to meet one hadn't borne fruit.
Many folktales, legends and myths abound in this fragile country of less than one million squeezed between India and China—the two most populous countries of the world. And oral traditions have played a significant role in intensifying the enigma surrounding the nation. Prolific children's writer Kunzang Choden recounted how the folklore she had heard as a child comforted her when she moved to a boarding school in India, far from her home. They shaped much of her beliefs and kept her connected to her roots. She spoke at length about the need to preserve these stories and expand their reach with technology. They can be adapted to suit modern times but the essence of classic tales needed to stay alive, said Choden. This resonates with the Kingdom's plans of letting in outsiders, giving them a taste of their culture but at the same time ensuring their land isn't getting steamrollered.
Safeguarding the future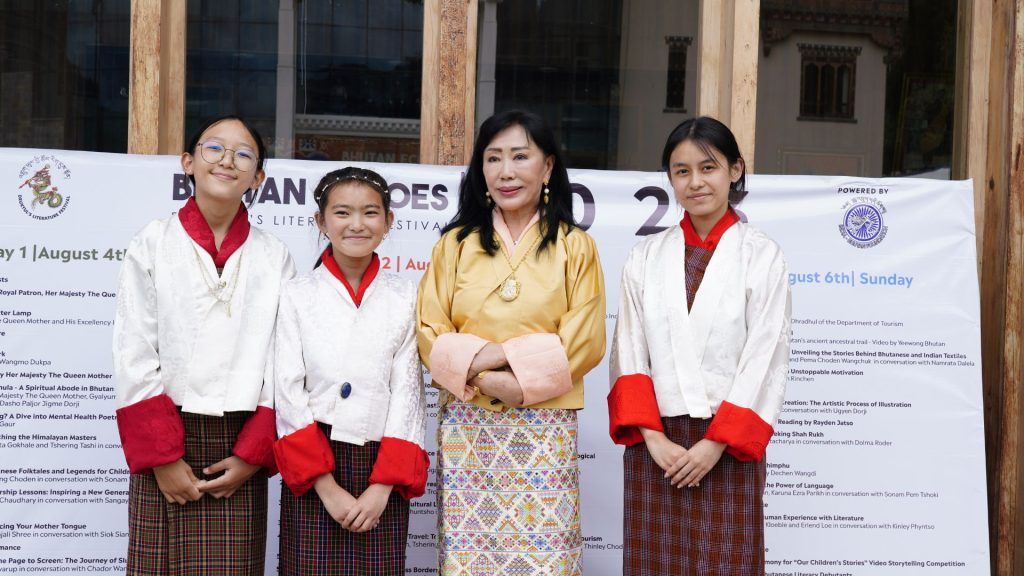 Every year, Drukyul's Literature Festival provides a glimpse into Bhutan's literary scene, where local writers and authors mingle with their counterparts from the US, Europe and other parts of Asia. The festival, however, is attended by lots of college students and schoolchildren.
The future of the country largely depends on the youth, who have been migrating to other nations in search of better opportunities. To instil a sense of pride and belongingness in them, Bhutanese writers and novelists feel an urgency to write about the old ways deep in the mountain villages before that lifestyle disappears. They see themselves as the guardians of their nation's culture.
In an off-the-record meeting of Prime Minister Lotay Tshering and senior journalists of Bhutan with the Indian media delegation, there were discussions on keeping the youth engaged and creating opportunities for them in Bhutan. Binod Chaudhary, the Nepalese billionaire businessman, in his session, talked about opening the country to investments and mentioned he was building a luxury hotel in Bhutan. There are several luxury properties in Bhutan catering to tourists flying in from around the globe. Tourism remains a promising source of revenue but at the same time, Bhutan isn't opening its doors to all and sundry.
The leadership has implemented policies that aim to safeguard the future of this pristine land. The Prime Minister defended the Sustainable Development Fee (SDF) per night that the tourists have to pay–while Indians pay INR 1,200 per night other nationalities have to pay USD 200 (roughly INR 16,620). He stressed that the idea was to boost the revenue generated from the tourism industry and use the funds generated by SDF to maintain the beautiful environment and reduce the carbon footprints left by visitors. Bhutan has also banned mountain climbing in a bid to preserve the sanctity of its peaks.
Besides the insightful sessions at the festival, on my first trip as I wandered through Thimphu, past monasteries, varying statues of Buddha–from gargantuan to miniature. Among robed monks, I developed a sense of appreciation towards being rooted in cultural and spiritual traditions and how it seemed akin to serenity and living a life fully. The people who I met–be it a bunch of oldsters, young men and women going about their lives or kids prancing around in busy shopping complexes—seemed happy and smiled at the slightest pretext. For me, these were surely the signs of a happy nation.
Related: If You're Looking For Reasons To Visit Bhutan This Summer, Read This!
Frequently Asked Questions (FAQs)
–What is the Drukyul's Literature Festival or Bhutan Echoes?
Drukyul's Literature Festival is an annual celebration of Bhutan's literature and arts. Organised under the Royal Patronage of Her Majesty, the Queen Mother Ashi Dorji Wangmo Wangchuck, this not-for-profit free event is open to all.
–What is the literature of Bhutan?
As per records, Bhutanese literature dates back to the 1950s. However, despite being rich in folklore, the country's literary circle is growing at a slower pace than others due to the lack of a reading culture.
– How can I reach Bhutan?
Paro houses Bhutan's only international airport. Druk Air offers direct flights from New Delhi to Paro, and connecting flights from Hyderabad, Kolkata, Gangtok, and Mumbai.
Featured image courtesy: Birger Hoppe/Flickr
Written By