Why We Love India: Discovering Kalap, A Forgotten Self-sustainable Village In Uttarakhand
The Himalayan village of Kalap is an idyllic place with fresh mountain air and pure spring water. Travel + Leisure India & South Asia's contributor travels to this self-sustainable land where people live up to 100 years. By Shivya Nath
After an hour of scampering down the mountain, the trail suddenly disappeared. Huge boulders lay along the shores, and I found myself transfixed by the gushing, free-flowing, sapphire-blue Supin River—a rare sight in Uttarakhand, where most great rivers have been dammed into lifeless trickles. Above the river hung a heap of wires and ropes, and a small metallic basket, my heart-stopping ride to the other shore! For another 2.5 hours, I huffed and puffed up a steep mountain behind my guide, till I finally caught the first glimpse of my illusive destination. The oak forest gave way to yellow mustard fields and baby pink peach blossoms as I walked into Kalap–a forgotten village in the Garhwal region of Uttarakhand, accessible only by an eight-kilometre hike from the nearest road-head at Motwar village.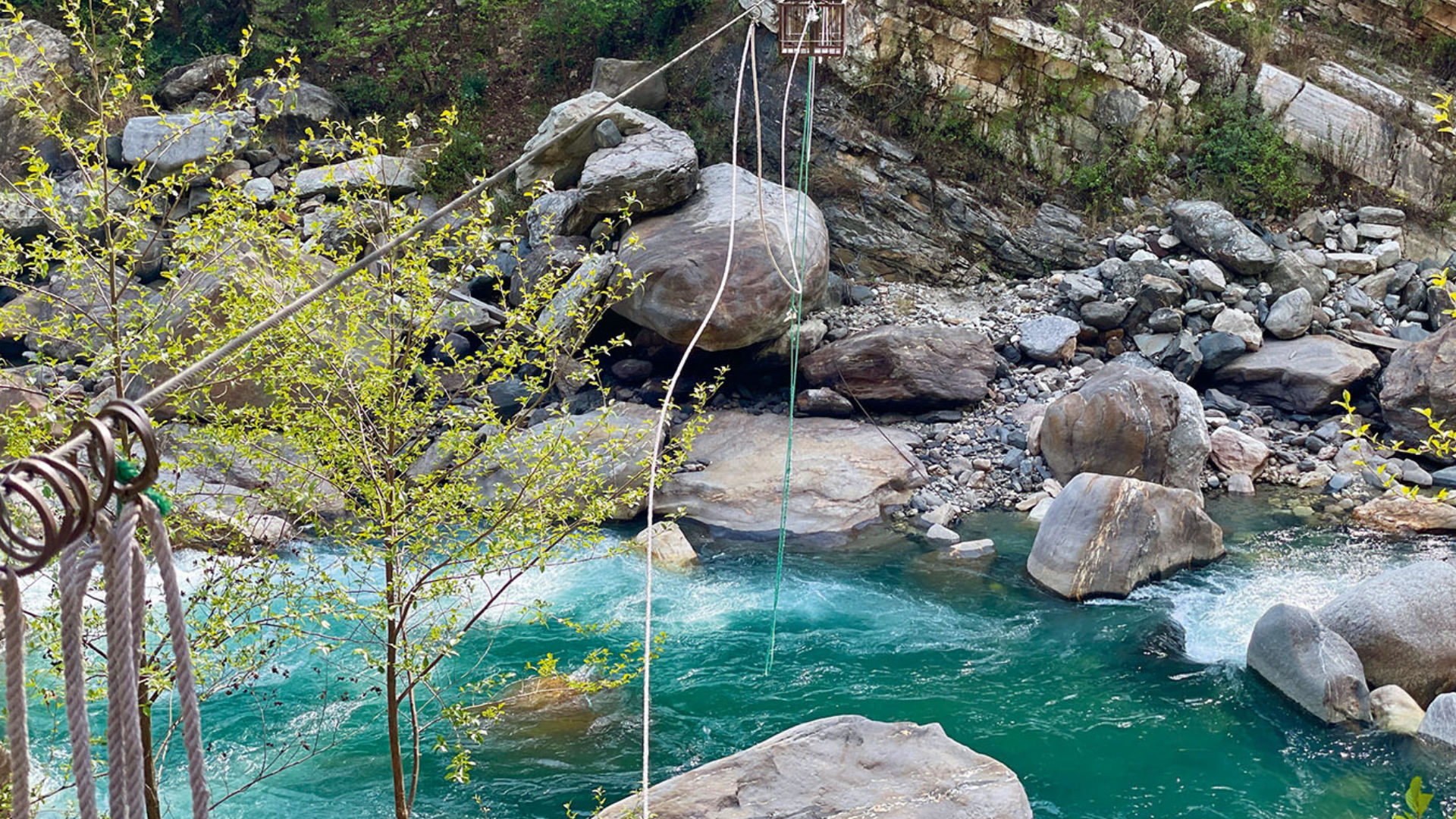 Journey to Kalap
I first heard about Kalap back in 2014. Anand Sankar, an avid hiker, and former journalist had established The Kalap Trust to build a school and medical clinic in this remote village, and employed teachers and doctors to run them (though things fell apart during the pandemic). Back then, a trip to Kalap needed some advance notice. With no phone network in the village, Sankar had to send a letter to Kalap with the public bus driver four days in advance! Dehradun, my hometown, is the nearest big town (only a 12-hour bus ride + eight-kilometre hike away), but it took me another seven years to make it there.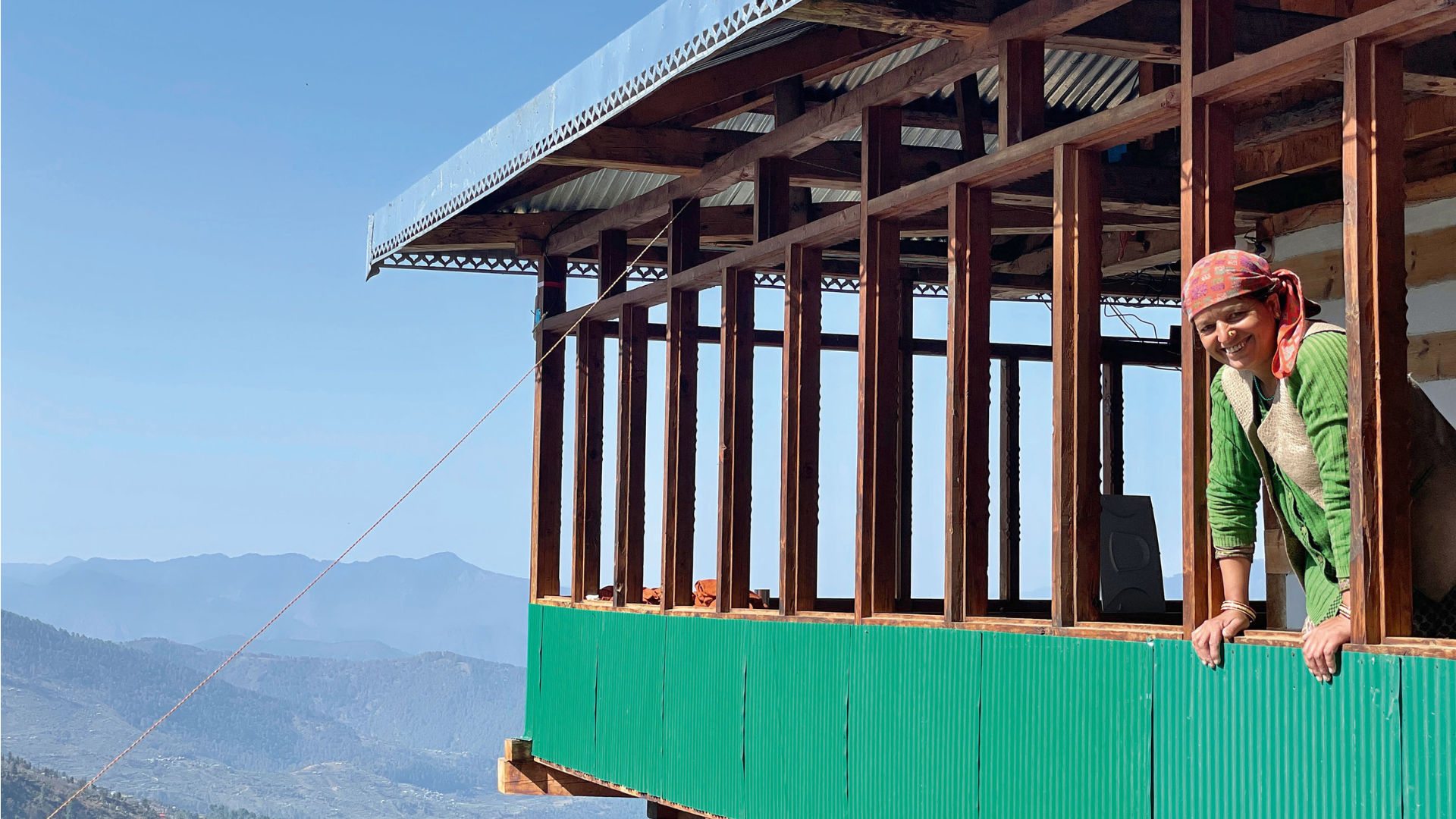 Exhausted by the hike up, I quickly fell into a deep slumber, until the morning light stirred me awake. Slowly unwrapping myself from layers of blankets, I pulled my feet away from the barely warm hot water bottle, unbolted the door, and stepped out. The sun was just rising above the eastern ridge, and from the wooden ledge of my homestay balcony, I felt like I was floating on the clouds.
Sampling Local Flavours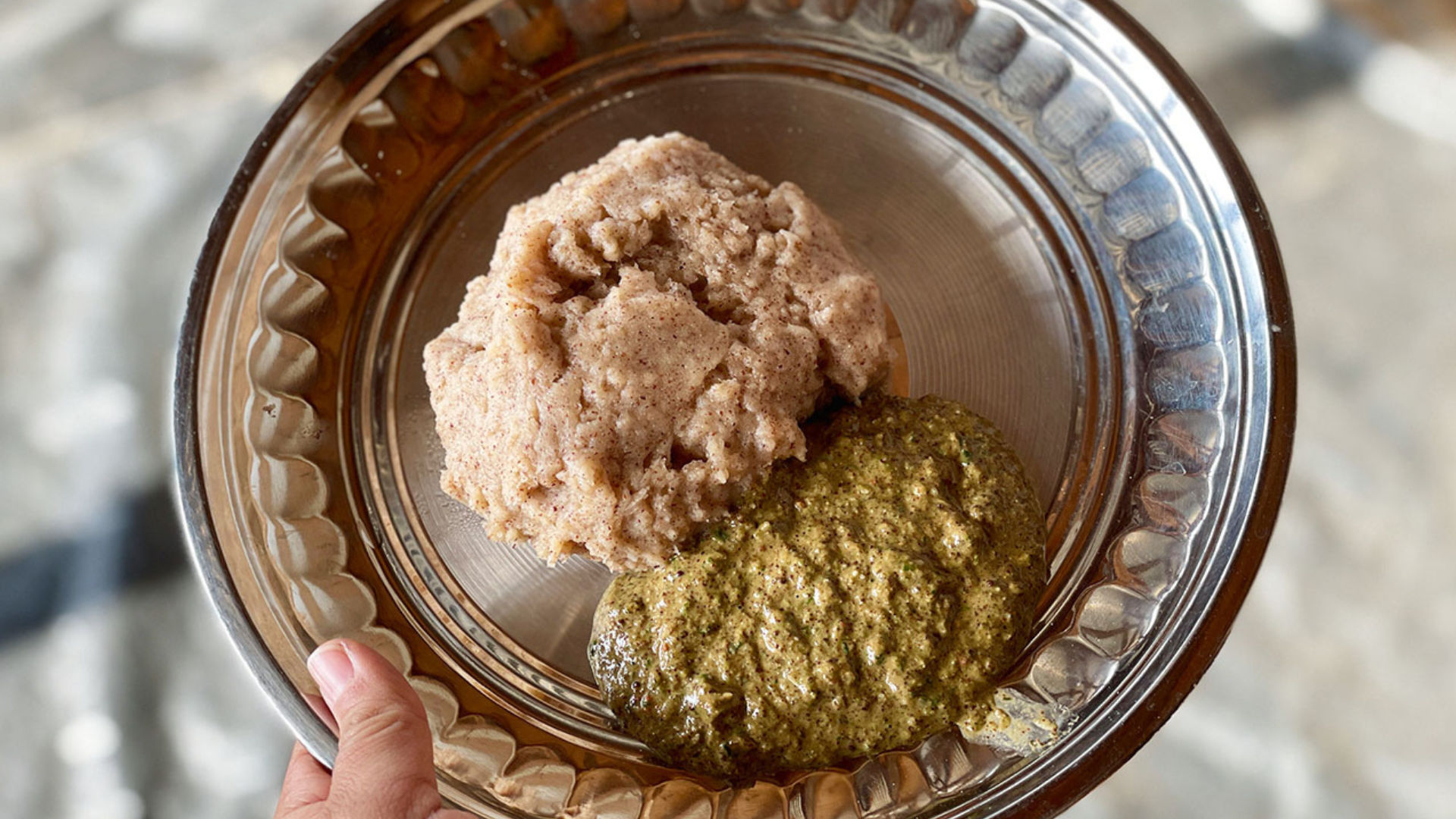 Soon, a sweet fragrance drew me to the kitchen, where my hostess Govindri—a sweet, soft-spoken Pahari woman of 38 years—was rolling homegrown mandava (finger millet) and wheat dough into small balls, flattening them on her palm, and stuffing them with roasted bhangjeera (a seed of the mint family) and jaggery. She dropped the stuffed idli-shaped balls into boiling water, then insisted that I eat them hot with some bhangjeera chutney that she had grinded on a stone mortar and pestle. It was the first time in all my travels across Uttarakhand that I tried what she called goshua—sweetish, spicy, and oh-so-delicious.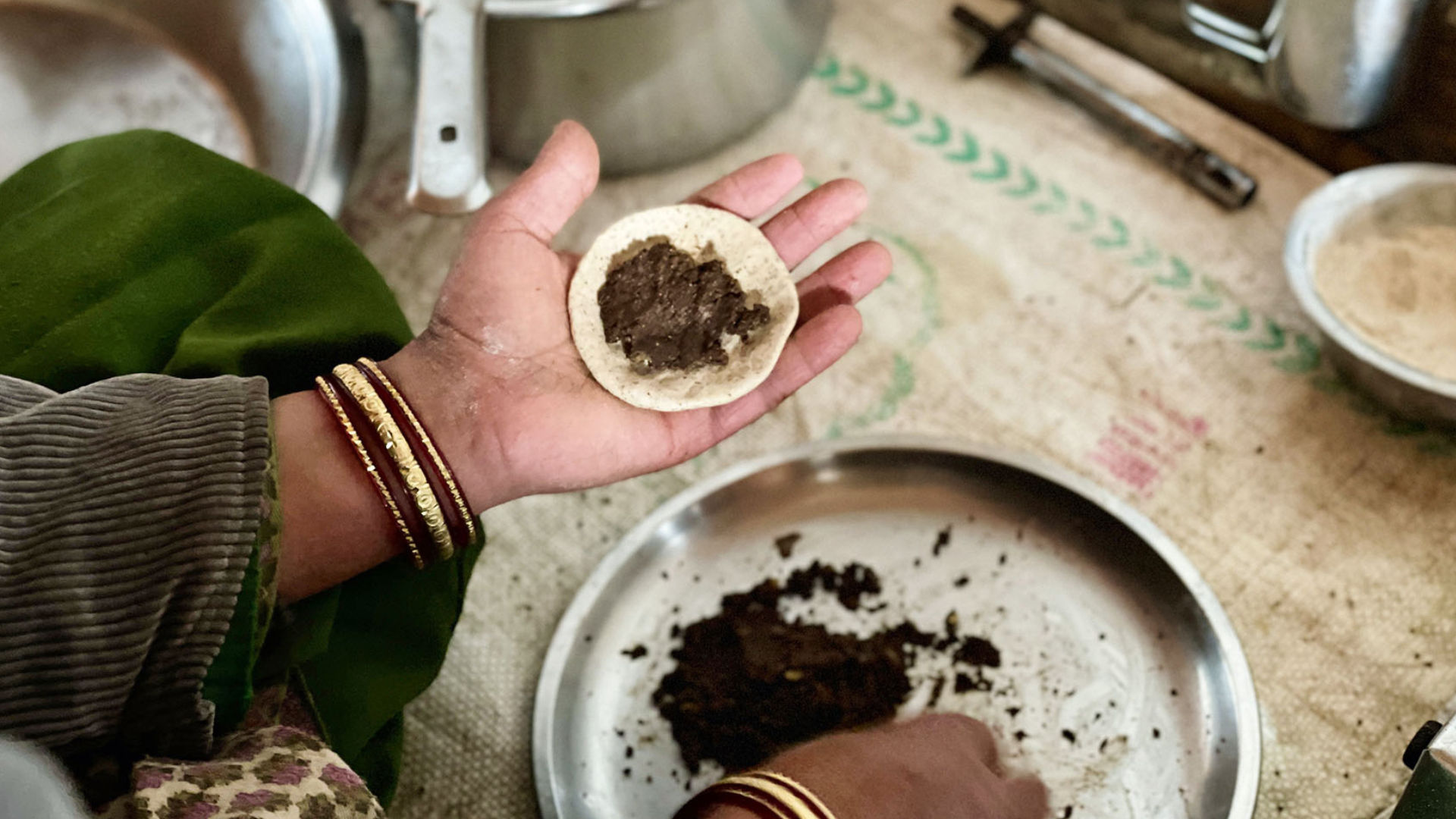 Before every meal, I would follow Govindri to her farm and around the village, plucking organically grown rai (black mustard), spinach leaves, wild lingda (fern), phapda (leafy greens that I still haven't figured out the English name for) and bathua (chenopodium, from the wild spinach species)—to be cooked into simple, flavourful preparations that I relished with mandava-wheat rotis and bhangjeera chutney.
Long before the farm-to-table movement blossomed around the world, it was the only way of life in villages across Uttarakhand. Gradually, access to the market made most locals swap millets for wheat and rice, organic compost for chemical fertilisers and pesticides, agriculture for store-bought vegetables, and self-sustainability for market-dependency. Kalap, with no easy road or market access, escaped most of this transition.
Eager to learn more about what grows in and around Kalap, I joined Jaiveer Singh, a 65+ year old hakim (herbal medicine man), farmer, and shepherd, for a hike along the mountain ridge to an extension of Kalap village called Karba.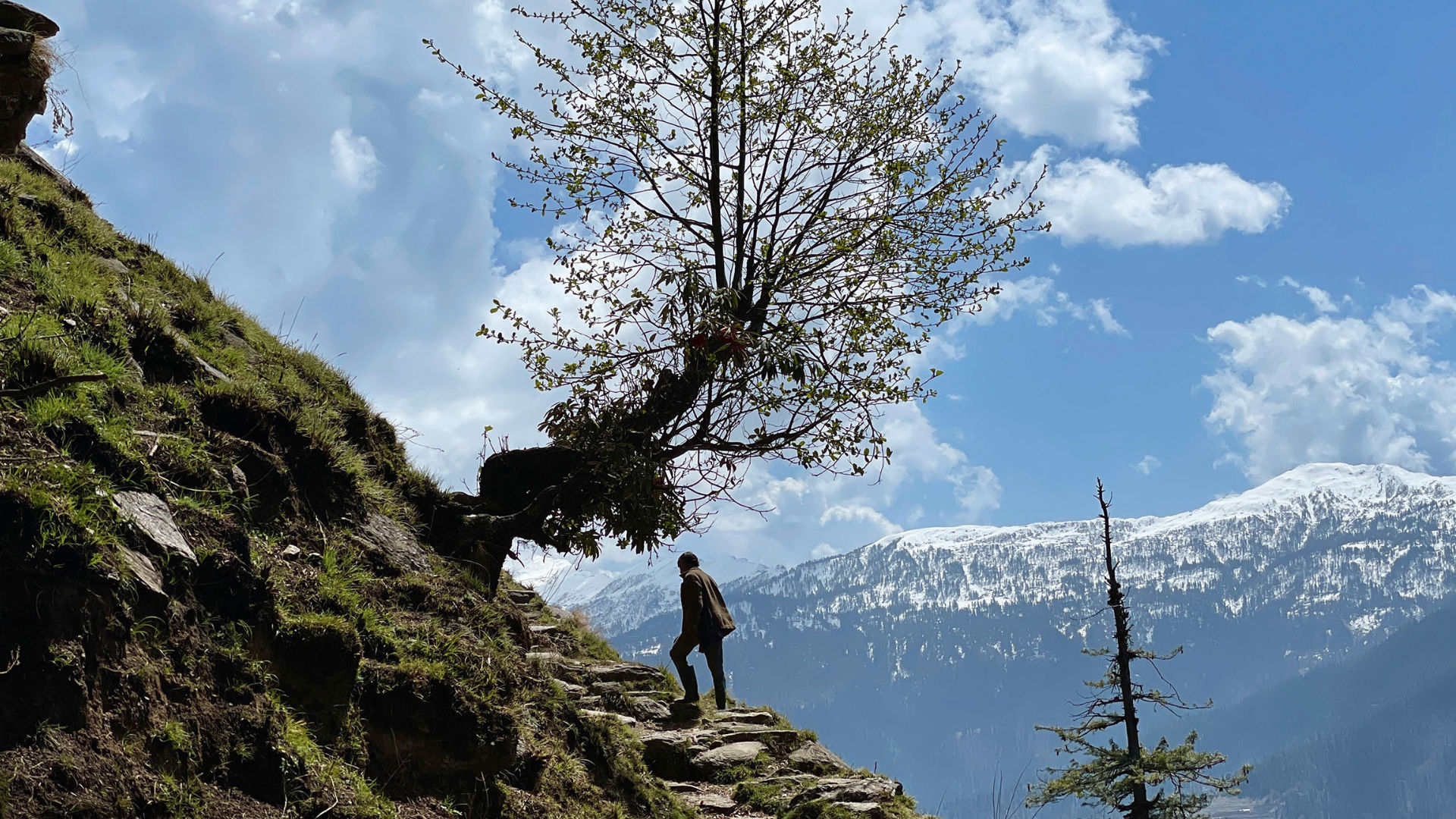 Herbal Happiness
Across us, the snow-capped peak of Kedarkantha in the Garhwal Himalaya range glistened with fresh snow under the bubblegum blue sky. Despite being almost double my age, Singh skipped along on the rocky path with youthful energy, and each time I gradually caught up with him, he would be bending under a rock, or working his spade under a stream to find wild plants and herbs with medicinal properties.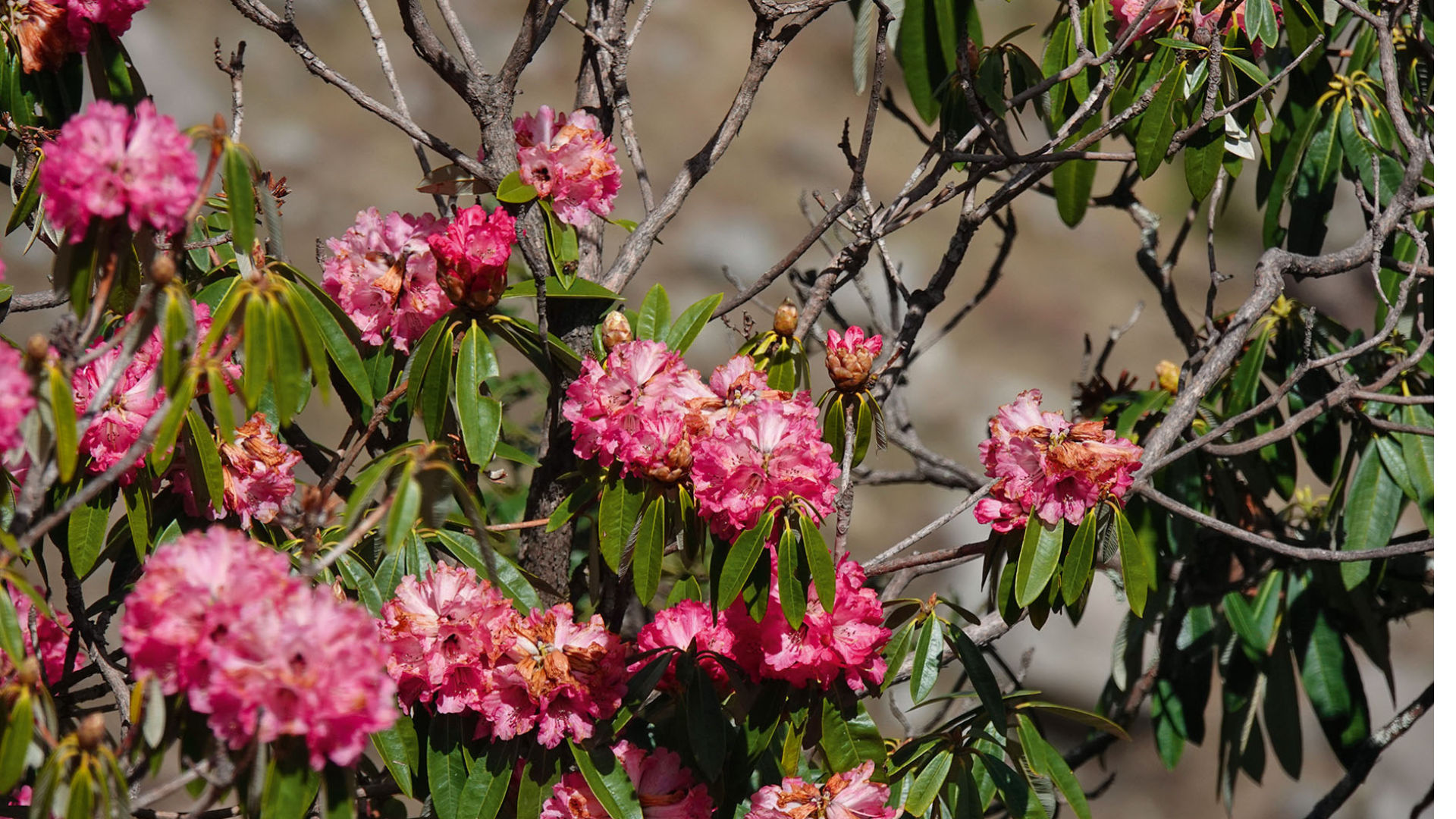 He showed me roots that could heal eye ailments, grass to fix bleeding wounds in cows, herbs to reduce the ache of a broken bone, leaves to relieve stomach heat and joint pain, plants to induce poop and treat kidney stones, wild berries rich in calcium, and even a shrub that could start a fire without a matchbox or lighter!
He spoke nonchalantly of his escapades—how he had climbed Kedarkantha in a single day (average hikers typically take four days) and returned home to Kalap for a good night's sleep, and his one-hour sprint to Netwar (11 kilometres away) to fetch a doctor for his sick brother. I couldn't help but notice that despite his greying hair and wrinkling face, he looked no more than 45 as he marched up the hill and stopped the rare shepherd or wood-cutter passing by for some banter.
When I asked him about the secret to his fitness, he thought hard, smiled, and pointed past the apple and peach orchards to the fields below that were being prepared to sow rajma (kidney beans) and mandava. The organic, nutrition-packed, homegrown diet predominantly featuring millets and legumes had made him strong enough to carry a quintal of weight up the hill to Kalap, and build his own house from scratch in his 40s.
He mentioned there were many Kalap-dwellers who might easily be 100+ but had no registered birth certificates–making me wonder if this was a secret 'blue zone'—places where people live the longest and healthiest lives. Was Kalap our very own Okinawa, with pure spring water, fresh mountain air, and a deep sense of community, yet unknown to the world?
Glimpses of the past…
Legend has it that some 200 years ago, a Himachali shepherd was out grazing his goats in the high mountains when he crossed over the high pass from Sangla towards Kalap. Presumably delighted to find an old deodar forest, rich soil, and abundant water from the mountain spring, he decided to settle here with his family. From there, the village grew to a population of about 100 households, with most houses built in the traditional koti banal architectural style–featuring four to five storeys of flat stones thrust into each other without cement, and wooden doors and windows adorned with likhai (intricate wood carvings). Jaiveer Singh's own family home was one of the last remaining old houses in Kalap, but a few years ago, the local priest, conveying the wishes of the devta (local deity), asked him to dismantle the house and move to another location. So he did.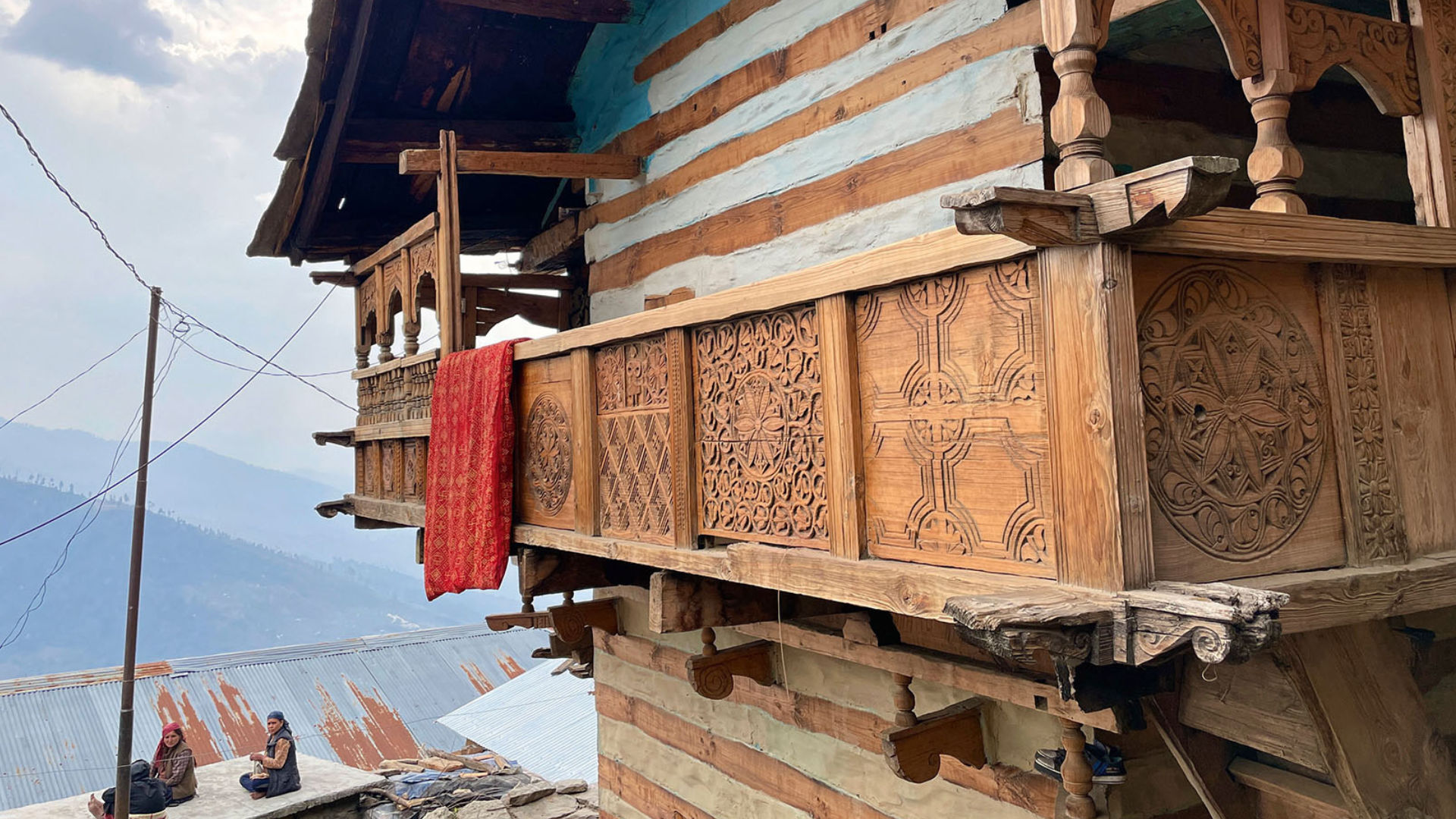 Although most houses are now one-storeyed, made of wood, mud, or cement, with slate or tin roofs, the way of life remains mostly sustainable. In Govindri's kitchen, I noticed the circular food cycle: she composts all her waste, uses it to grow veggies, legumes, greens, herbs, and grains in her rain and spring-fed fields, and cooks only seasonal vegetables. Only a few essentials come from the market and there's no fridge to store produce (the weather remains cold all year). Pure, mineral-rich, drinking water comes from the perennial mountain spring.
…and present.
Come summer, most of the village moves out to their chhani (basic huts, almost like a second home) in Karba, a three-kilometre hike away, where orchards of apple, peach, apricot, and plum demand their attention. Since they can remember, almost every household has had a cow or two, both for manure and ploughing the fields, while goats and sheep are still used for their fine hair to weave winter coats in a manual loom in the village. The animals were often slaughtered for meat to celebrate special occasions. But around 15 years ago, something changed.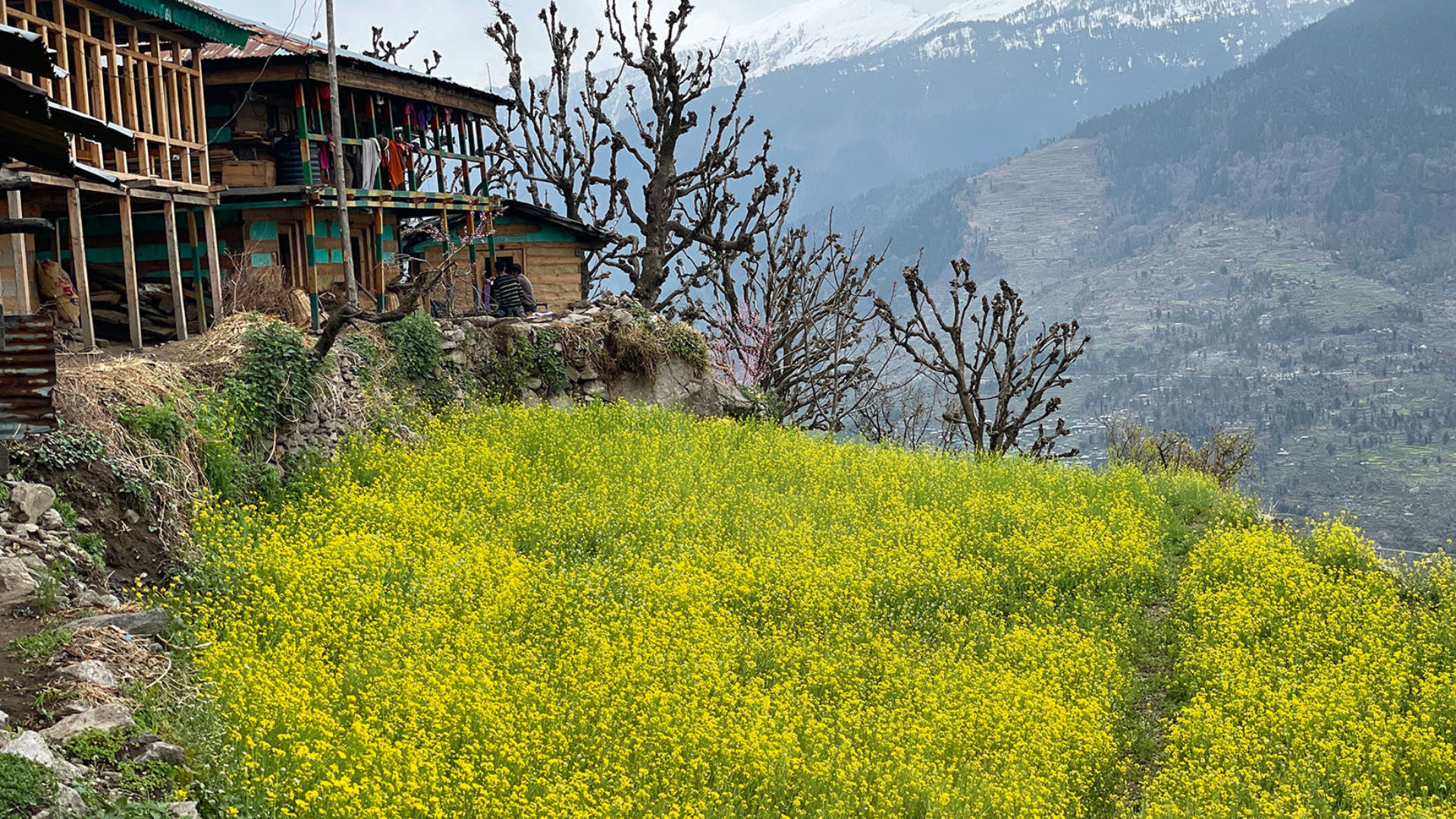 A village elder in Kalap got invited to a nearby village, where he was touched by a sermon on compassion towards all living beings. He swore himself off meat, fish, and eggs, turned vegetarian, and decided to abstain from cigarettes, drugs, and alcohol too. Carrying the message that inner liberation is possible in our current lifetime, he began to spread the word, and soon, many Kalap dwellers and their entire families joined the movement, swearing themselves off animal flesh. Based on varying estimates I heard, 40-70 percent of Kalap's population might now be vegetarian!
On my last morning in Kalap, Govindri whipped up baadi—finger millet dough softened in boiling water—with a side of chutney (though traditionally eaten with ghee) and some wild mint tea. Despite being largely self-sustainable, Govindri explained why the village has its hopes pinned on being connected by road. When someone gets sick, they send a handwritten note down to the chemist in Netwar village, detailing their symptoms, so he can send medicines. Luckily there were no COVID-19 cases detected in this valley during the first wave, but for any serious ailments, men from the village have to chair-lift a patient down the steep trail to the road and get a ride to Dehradun. Teachers often go missing given the long road to school. Market supplies, including the ubiquitous LPG gas cylinder, need to be transported by mules, making them unaffordable. And economic opportunities are severely restricted due to the village's inaccessibility.
"Do you think road access will change Kalap?" I couldn't help asking her. "Maybe," she nodded. "But we've been left out for too long."
As I bade goodbye to this parallel universe and hiked back up into the real world that felt so alien now, I couldn't help but feel fiercely protective of Kalap. A forgotten village that could've become the poster child of sustainable living in a world ravaged by climate change.
The author is a sustainable tourism consultant and advocate for meaningful travel.
Getting To Kalap
The nearest railway station and airport are in Dehradun. From there, Kalap is a 12-hour bus ride away. The hike to Kalap starts from Motwar village and takes about four hours for the average hiker, including crossing a river.
Stay
Tons Trails, founded by Anand Sankar, offers multi-day treks, with a mix of homestays and camping in Kalap Village.
Related: Explore The Tranquil Beauty Of Chalnichina in Uttarakhand