A writer journeys to the Alaskan wilderness for an immersive lesson in mushing—and finds the sport to be the ultimate cold-weather test. Text by Maggy Lehmicke, photographs by Whitney Mclaren
A writer discovers mushing in Alaska
As soon as I arrived in Two Rivers, a wilderness area outside of Fairbanks, Alaska, I was enveloped by yelps and howls echoing through the crisp spring air. The sled dogs twirled in excitement as I stopped to greet each one. For them, a visitor means only one thing— a mushing adventure is about to begin.
I opened the door to the yurt—slightly bigger than the average bedroom, with a central wood-burning stove to make the frigid winter months tolerable—and was immediately charmed by a small Caucasian-shepherd puppy that lay curled beneath a wooden sign that read LAST FRONTIER MUSHING CO-OP. I had come to Fairbanks to try my hand at mushing, or competitive dogsled racing, which has a long history in Alaska—the first known race took place in Nome in 1908.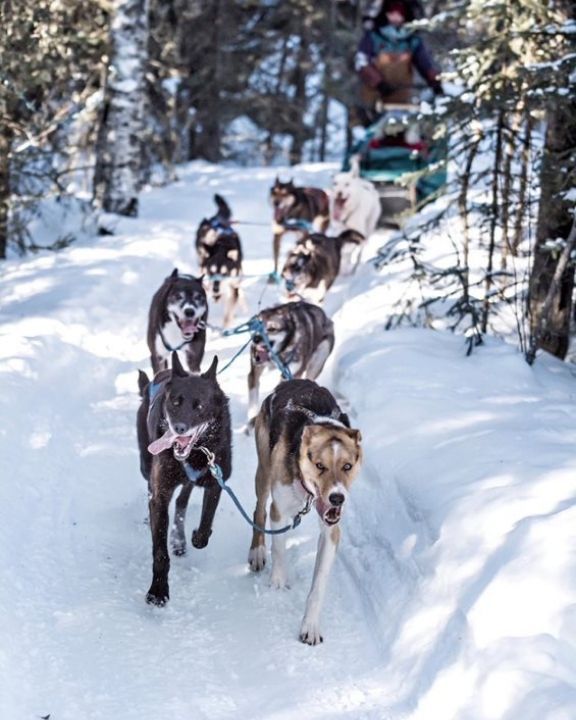 "That's Hoss," said Amanda Brooks, founder of the Co-op—a collective that offers lessons from its competitive racers, using their own dogs—and my instructor for the day. "He's going to be our bear dog," referring to a pack member whose job it is to look out for grizzlies and wolves. In that moment, it was hard to imagine the oversize cotton ball in front of me taking on a raccoon, let alone an apex predator.
For Brooks, learning to mush was the gateway to her off-the-grid Alaskan dream, and led her to found Last Frontier in 2017. Two Rivers and the surrounding area is known as the Valley of the Champions. That's because it's home to more than 40 kennels, many of which are run by former competitive racers who placed in the Iditarod and Yukon Quest— two of the most famous long-distance mushing races in the world, which each span about 1,609 kilometres.
More than 113 kilometres of the Yukon Quest's trail runs through the valley itself, and Brooks and I would be tackling a portion of it on the day's 16-kilometre ride. As we stepped outside to prepare, she gave me a quick clinic on how to harness the dogs.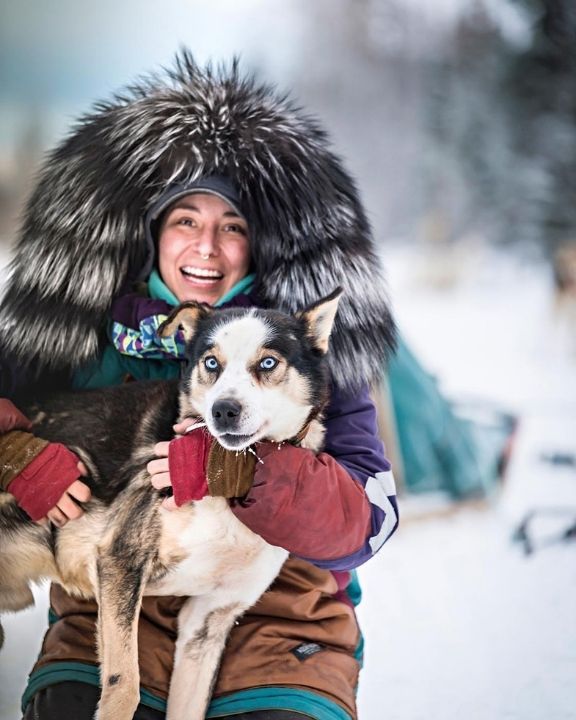 When she's not entertaining mushing groups, Brooks still hits the trail with her dogs at least four to five times per week during peak winter season. She explained that most of these huskies retire from competitive racing around age seven or eight, but it usually takes a few more years of casual runs before they're ready to quit completely.
"Some of these dogs I'm going to have to force into retirement," she said. One such die-hard is 11-year-old Koyuk—the dog I'd spent the last seven minutes trying to harness—who has run five Yukon Quests and two Iditarods.
Once Koyuk and the others were harnessed, Brooks walked me through the essential commands and equipment. "Gee" for right. "Haw" for left. Step on the rubber drag mat to slow down. Secure the snow hook firmly in the ground before stepping off the sled.
I had just started to absorb some of the basic information when Brooks asked me if I was ready to go. I figured that mushing was just another one of those things you really learn only after you've begun. "And if we pass another sled team, do this," she said, shifting her body to the right of the sled and dangling her leg off the side. Though she was quick to reassure me that the chances of this happening were slim, I found myself practising just in case. I wasn't particularly confident with my own two feet on the snowy ground, let alone with one leg on a moving sled.
As I stepped onto the drag mat and removed the hook anchoring the sled to the ground, the dogs pawed at the snow like racehorses, and I could sense the shift when the only thing holding them back was my own body weight on the drag mat. While mushers often partake in years of preparation, the dogs require little training, relying mostly on instinct as multigenerational sledders—they're bred for a "good attitude, healthy appetite, thick coat, and strong feet," according to Brooks.
She stepped off her drag mat and onto the rails of the sled and I followed suit. As our teams took off, the barking quickly dissipated, replaced by the sound of our sleds cutting through fresh powder. The dogs manoeuvred down the spruce-and-birch-tree-fringed trails with ease, and I was humbled by how little control I actually had.
When we stopped for a brief snack, I told Brooks about a moose sighting I'd had on my way to my session. The animal (which appeared to be about seven feet tall) had been crossing a frozen stream at the side of the road. "Moose are common in this area," she said between bites of smoked salmon. "Seeing one on the trail can be fatal." The animals, it turns out, are easily spooked and can mistake the dog teams for a pack of predatory wolves.
Before I had time to worry about aggressive moose, though, my sled team decided it was done resting and began to lurch forward. I hopped back onto my drag mat to stop them. "This is why mushers never get farther away than an arm's length," Brooks said, chuckling.
If this short trip felt challenging, I could only imagine how much could go wrong on a 1,600-kilometre race like the Iditarod. "There's so much you need to know to do a distance race," Brooks said. Most mushers start off as dog handlers so that they learn how to care for the team. From understanding nutrition to knowing how to read river ice, there's a level of situational awareness, competitive mushers need to simply stay alive.
As we rounded the next corner, I heard Brooks shout for me to stop. Panic set in as I peered around the bend to see her hanging off the side of her sled, passing two mushing teams. My reactions weren't nearly as fast, but eventually I came to a halt and a few moments later, I was hanging off the side of my own sled. My left handlebar nicked the side of one of the passing sleds. Once we were in the clear, Brooks turned back to check on me and smiled. I smiled back, mostly out of relief, but also out of pride. Maybe I wasn't ready for the Iditarod, but I was still mushing—and it felt incredible.
Related: Latika Nath Captures The Essence Of Ladakh And Its Ethereal Beauty