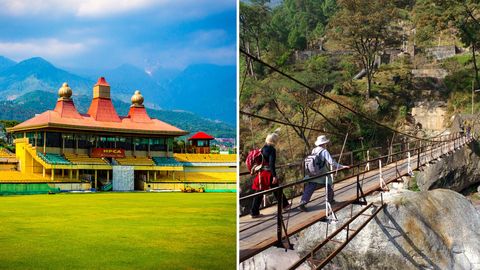 In the shadow of the snow-streaked Dhauladhar range of the Inner Himalayas, amid wild forests of pine and deodar, lies the popular hill town of Dharamshala. Headquarters of the Kangra district, it was declared the second capital of Himachal Pradesh in 2017. It was in 1860, when the Gurkha battalion of the British Indian army moved from Kangra to a new base near the site of a Hindu sanctuary—or Dharamshala (in Hindi)—that the town acquired its name. A century later, it received another makeover when the Dalai Lama and his followers fled Tibet and sought sanctuary in McLeod Ganj, a delightful little pocket in Upper Dharamshala. The Tibetan government-in-exile was subsequently established, and monasteries, temples, schools, and libraries were built, lending it the epithet of 'Little Lhasa'. Today, the vivid character of the town, along with its enticing natural settings, has made Dharamshala a hot favourite amongst travel enthusiasts. By Satarupa Paul Local Buzz
While Lower Dharamshala is a busy mishmash of markets, and tourist spots, Upper Dharamshala is serene.
Tibet Connection
A 20-minute drive uphill from Dharamshala is the Tsuglagkhang Complex, better known as the Dalai Lama Temple. Besides being the official residence of His Holiness the 14th Dalai Lama, this sprawling complex in McLeod Ganj also houses the Tsuglagkhang Temple. The numerous prayer wheels and statues of Buddha here attract throngs of followers and tourists. Namgyal Monastery (namgyal.org) is the largest Tibetan temple outside of Tibet and trains 200 monks. The Tibet Museum houses photos and videos on the Chinese invasion of Tibet and the locals' subsequent struggle. Kalachakra Temple is an architectural marvel featuring stunning frescoes of Kalachakra (Wheel of Time), and traditional thangka paintings on its walls. The Library of Tibetan Works and Archives (tibetanlibrary.org) holds 80,000 manuscripts and 600 Buddhist artefacts, making it one of the pioneering institutions for Buddhist studies and research in India. Natural Splendour
A two-kilometre trail from McLeod Ganj square, along a cliff face with splendid views of the mountains and valleys around, makes for a great short hike to the gushing Bhagsunag Waterfall. The pristine Dal Lake is a 10-minute drive from the square; fringed with towering deodars, it offers boating facilities and scenic picnic spots along its banks.
Noteworthy Landmarks
One of the highest sports grounds in the world, the Himachal Pradesh Cricket Association Stadium (hpcricket.org) in Dharamshala sits pretty at a height of 1,433 metres, against the magnificent backdrop of surrounding mountains. Nestled in the deodar forests of Forsyth Ganj, is the hauntingly beautiful St. John in the Wilderness Church, built in neo-Gothic style. Housed in an elegant bungalow, the War Memorial was built as a tribute to those brave souls who sacrificed their life for the country. The Kangra Art Museum features a collection of Tibetan and local Kangra arts, including the Chamba Rumal embroidery. Day Trips
A 30-minute drive from Dharamshala takes you to the lively hamlet of 15 Dharamkot—home to numerous cafes, yoga and meditation centres, shops selling dream catchers and trippy artworks, and hostels and homestays hosting backpackers from around the world. A relaxed 45-minute drive from Dharamshala will bring you to 16 Kangra Fort— the largest fort in the Himalayas and one of the oldest in India, constructed in the fourth century CE by the Katoch dynasty on a steep rock dominating the valley. The nearby Masroor Temples—an early eighth-century complex of rock-cut temples, carved out of a monolithic rock, are known for their Nagara architectural style. Along the way, drop in at the Norbulingka Institute (norbulingka.org) and witness Tibetan statue-making, thangka painting, screen-printing, woodcarving, and other crafts. Further ahead, a breathtaking drive will bring you to 19 Bir, noted for its monasteries and for being the paragliding capital of India. Thrilling Treks
Dharamshala is an ideal base for avid trekkers looking to explore higher lands.
The forests and mountains around Dharamshala make for fantastic treks, of which the easy nine-kilometre hike from McLeod Ganj to Triund is the most popular. The path goes through thick pine and deodar forests, and several winding curves that open to a green camping ground at 2,896 metres—with stunning vistas of the Kangra Valley and Dhauladhar range. Further up across the snowline is the natural rock shelter of Lahesh Cave at 3,474 metres, with the sacred peak of Mani Mahesh Kailash and the Pir Panjal range running in the backdrop. It makes for a crucial night halt for ardent trekkers continuing on. From here, the trail gets difficult, as it passes over the snowbound Dhauladhars to the 4,389-ft-high Indrahar Pass, which connects the Kangra and Chamba valleys. Many who embark on this trek opt to descend on the other side, through green meadows and tiny hamlets, to Chamba. Wine & Dine
A mix of cultural influences make the food scene in Dharamshala vibrant and interesting.
Cafe Culture
One of the most talked about cafes in McLeod Ganj, Illiterati is housed inside a tranquil bookstore, with a balcony that opens up to a spectacular view. The food is fresh, ingredients organic, and the selection of books varied. Carpe Diem has a relaxed ambience, floor seating, and walls donning artworks—a largely young crowd swears by its pizzas and chocolate cake. For those hiking up to Bhagsunag Waterfall, Shiva Cafe comes recommended. Perched at the mouth of the fall, it offers mesmerising views of the entire valley, with piping hot Maggi and trance music in tow. In sleepy Dharamkot, Trek N Dine is a popular cafe preferred by those looking for a leisurely vibe, great espressos, and sandwiches. Mountain Treats
A strong Tibetan influence underlines the local cuisine of Dharamshala. Tibet Kitchen sports charming wooden interiors and serves Tibetan staples such as thenthuk, gyathuk, and a variety of dumplings including their speciality, spinach and cheese momos. Takhyil Peace Cafe is a little family run joint that serves authentic Tibetan fare; it is frequented for its chocolate momos and Tibetan cooking classes. Mountain towns are known for their fabulous bakeries, and Dharamshala is no different. Woeser Bakery arguably does the best carrot cake in town, whereas Moonlight Cafe serves the local Bhagsu cake. Lhamo's Croissant offers freshly-baked gluten-free cakes and croissants, along with soothing herbal teas. World Cuisines
Nick's Italian Kitchen and Jimmy's Italian Kitchen have been around for years, and are known for their pizzas, lasagnas, and other Italian delights. In Dharamkot, Morgan's Place is ideally located, offering panoramic views of the mountains and terraced fields. It's known to serve the best thin-crust pizzas in town, alongside an enviable menu of other continental delights. With a daily changing menu, Lung Ta Japanese Restaurant is an all-vegetarian affair serving delicious sushi rolls and miso soup. After Hours
Nightlife in Dharamshala isn't loud and buzzing like in the cities. McLlo Beer Bar & Restaurant in the middle of McLeod Ganj square is, perhaps, the most happening place to be at night. Its rooftop offers a lively setting to down a few beers over music and conversation. Xcite Bar is one of the few places here that serves hookah and plays groovy music. Labooze Cafe Bar Lounge is cosy, with warm wooden furniture and a relaxed vibe, best for grabbing a few drinks with friends, when on a budget. Retail Therapy
From handcrafted items to Buddhist paraphernalia and funky clothes, shopping here is an adventure.
Arty Delights
Lower Dharamshala is synonymous with the bustling Kotwali Bazaar, where shops selling household goods and vegetables jostle for space with those stocking a wide array of Tibetan rugs, carpets, shawls, and Buddha statues. The Tibetan Handicraft Centre, established in 1963 with modest contributions from the Dalai Lama, has been the source of livelihood for hundreds of Tibetans-in-exile, who participate in weaving rugs and shawls here. Palaco Handmade Crafts and Divine Buddha Handicrafts are other popular shops for Tibetan rugs, shawls, wall hangings, Buddha figurines, prayer wheels, singing bowls, lamps, incense sticks, and more. Good Buys
The Green Shop is a wonderful little outlet frequented by those looking for organic and eco-friendly products. Run by the Tibetan Welfare Office, it offers a collection of books made from recycled paper, natural beauty products, and organic food items. Bookworm is McLeod Ganj's most famous all-round bookstore catering to various interests.
Style Statements
The main street of McLeod Ganj, Jogiwara Road is lined with shops selling woollen scarves, bags, shoes, earrings, trinkets, jackets, and sweaters at great bargains. In the winding lanes of Dharamkot village, colourful little shops sell harem pants, dream catchers, bedspreads, t-shirts with hand-painted mandalas, beaded neckpieces, bracelets, and more. For branded goods, Maximus Mall is Dharamshala's only modern shopping complex with all the usual brands, as well as a food court and multiplex.
Smart Stays
A heritage property or an upscale resort, stay options here come with awe-inspiring views and warm hospitality.
Hyatt Regency Dharamshala Resort Spread across a seven-acre property in Dharamkot village, in the shadow of the mighty Dhauladhars, this picturesque resort is ideal for solo travellers, families, and couples. It features 80 guestrooms, including four private villas, three suites, and 17 club rooms. Spacious and modern, they offer views of either the lush gardens or the magnificent snow-capped mountains. The resort has a heated indoor pool, an in-house spa, and a fully-equipped fitness centre with a yoga studio and
sauna, and a Kids Zone with various activities and special buffet meals. Thym, the all day multi-cuisine restaurant, offers farm fresh food; there's also the 2082 bar, McLeod & Co bakery, and an outdoor picnic spot called Wilderness.
Address: Village Dharamkot; starts from INR 14,000/USD 195; hyatt.com
Adivaha Sprawled across 10 acres and surrounded by lush green tea gardens, Adivaha is housed in a 300-year-old heritage building, which has been carefully restored and remodelled into a luxury boutique hotel. This all suite property by Leisure Hotels offers a gorgeous selection of well-appointed rooms whose character and construct is largely wood and stone. The dining area, with indoor and al fresco seating, serves delicious local dishes handpicked from different regions of the valley. Its location amid tea plantations allows you to experience the nuances of tea-making, while the resort also organises curated trips, including an archaeological trip to Masroor Temples and Kangra Fort, and a pilgrimage trip to the many revered temples in the area.
Address: White Haven Estate, Upper Chilgarhi; starts from INR6,150/USD 85; leisurehotels.co.in
Rakkh Resort Perched on a hilltop outside the pretty village of Rakh and surrounded by terraced fields with incredible views of the Dhauladhar range, Rakkh Resort has 15 cottages and two interconnecting rooms— built with local materials. Its multicuisine restaurant offers delectable dishes and 180° mountain views. The resort also hosts a traditional dhaam (festive feast) on special occasions at their village kitchen. Besides the mandatory sightseeing trips, Rakkh also organises guided mountain-biking and trekking trips, and activities like wall climbing, slacklining, and camp skill workshops. Yoga classes and an in-house spa cater to those looking for a rejuvenating vacation.
Address: Ghamrota Village, Tehsil Palampur, District Kangra, Jiun; starts from INR 9,250/USD 130; rakkh.com
Fortune Park Moksha Nestled among the picturesque Strawberry Hills of Dharamshala, just two kilometres away from Dal Lake, this luxury four-star property is located away from the din and clutter of the town, yet close enough to all the major attractions around. A member of the ITC Hotels group, Fortune Park Moksha has a total of 59 spacious and well appointed rooms with either pool or garden views. Dining options here include Orchid—a multi cuisine restaurant, Fortune Deli—a patisserie shop, and Neptune Bar and Lounge. An outdoor swimming pool, a fitness centre, and a spa and wellness centre complete the offerings of the hotel.
Address: Strawberry Hills, Satobari, Near Dal Lake, McLeod Ganj; starts from INR 5,800/USD 80; fortunehotels.in
Getting Around
Boarding An overnight state-run or private bus from Delhi or Chandigarh is the most convenient way to reach Dharamshala. The town is also served by Pathankot Railway Station (85 km, 2 hours away) as well as Gaggal Airport (14 km, 30 minutes away). If you are travelling in a large group, the best way to get around Dharamshala is to hire a taxi or a tempo traveller. Auto Rickshaws are also available for local transport and sightseeing.
Related: This Travel Blogger Got Stuck With His Friends In Himachal & Turned It Into A Lockdown Vlog Series
Written By