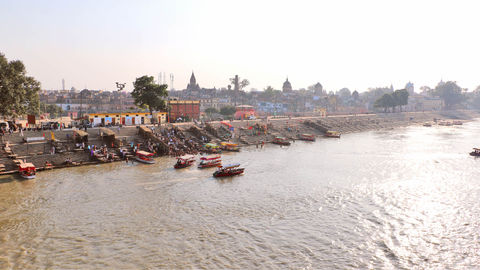 The Uttar Pradesh government is leaving no stone unturned to transform Ayodhya into a steller tourism hub. Luxury cruises on Saryu river are the latest to join the list of many other under-development projects in Ayodhya. By Kumar Shree
While the iconic Ram Mandir and the forthcoming Maryada Purushottam Sri Ram International Airport are already underway, the Yogi Adityanath government has introduced another tourism project in Ayodhya. The state government is now planning to come up with luxury cruises on the Saryu river. Yes, you read that right. By next Diwali, you'll be able to glide over the tides of Saryu river in the land of Ram.
View this post on Instagram
As reported by The Times of India, a ministry spokesperson said, "It aims to give mesmerising experience to devotees with a one-of-its-kind spiritual journey while cruising through the famous ghats of the holy river Saryu."
Each air-conditioned cruise will carry 80 passengers at a time and will cover a distance of 15 to 16 km for a trip. Passengers will be able to witness the scenic beauty of many ghats through large glass windows. The ghats of Saryu embraced a spectacular avatar during Diwali this year as the entire cityscape was lit up with earthen lamps. Now imagine, witnessing this marvellous display of city lights while riding on a luxury cruise!
As per media reports, a private company that already operates similar services on the River Ganga in Varanasi will take care of the cruise operations in Saryu. Not just that, the cruise will also use green fuel, causing minimal impact on the environment.
View this post on Instagram
Another government official in his statement to The Times of India said, "The river has adequate water level running for the cruise, and the water flow can also be stabilised for this purpose. This will be a major attraction for pilgrims visiting this holy city."
The interiors of the cruise will depict symbolism from the Ramcharitmanas, and it will also exhibit a short film based on Ramcharitmanas by Goswami Tulsidas to passengers onboard. The cruise will have several selfie points, and the tour will culminate with a Saryu aarti where visitors can participate.
Related: Ayodhya Airport Will Soon Be Renamed As Maryada Purushottam Sri Ram Airport
Written By