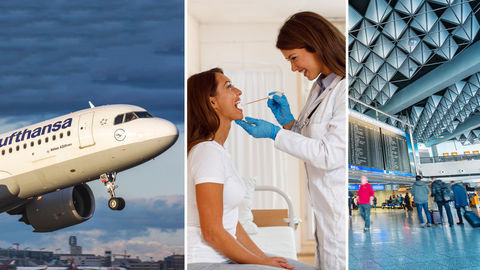 Planning to travel to Germany any time soon? Now you can get tested for COVID-19 upon arrival by Lufthansa. Here is what you need to know. By Amitha Ameen
View this post on Instagram
As new flight procedures come to the surface to abide by the 'new normal' rules, Lufthansa has introduced a fresh initiative. You can now get tested for COVID-19 at Frankfurt or Munich airports if you are a Lufthansa passenger. Customers can decide whether they want to take up the test before departing or after arriving at the airport, and it is certainly beneficial as you can give the 14-day self-quarantine a skip.
"These test centres offer our customers the opportunity to avoid being quarantined, when arriving in Germany and Austria, with a negative Corona test in hand. Results are usually available within four to five hours after testing and are linked to the customer's flight ticket," said Dr Björn Becker, Senior Director Product Management Ground & Digital Services Lufthansa Group (as reported by The Times of India).
View this post on Instagram
According to the list on the Health Ministry's website, the countries that are in high-risk zones who can undertake these tests include Brazil, South Africa, and India along with certain states of the US (excluding New York).
Passengers will need to register for the tests in advance and will be taken to a separate area upon arrival, where they will be tested with a throat swab, and the results are sent within a few hours to an app that the passenger will be required to download.
Those flying out of Frankfurt and Munich can also opt to get tested by Lufthansa, preferably a day ahead of the departure date. "This makes it easier for them to travel safely to other countries worldwide that accept a certified PCR Corona test as well to avoid quarantine," added Dr Becker.
Currently, those arriving in Germany and Austria from certain countries are required to undertake a mandatory 14-day quarantine on arrival, which can be avoided if they can provide a negative PCR Corona test.
Related: Germany Announces Relaxations In Lockdown And Here's Everything We Know
Written By