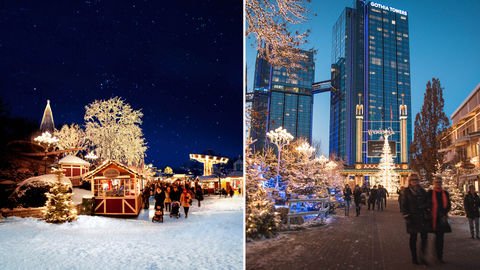 Christmas in Europe is undoubtedly what most of our year-end travel dreams are made of. We give you the low-down on the Christmas markets and places you must head to while visiting the most sustainable destination in the world — Gothenburg. By Amitha Ameen
Dreamy Christmas installations including twinkling fairy lights, a giant wheel, merry-go-round Christmas carousel and plants peppered with snow are what you see at first glance in Liseberg. I wonder if there exists a place prettier than this wonderland. Liseberg, the largest amusement park in Scandinavia, ticks all the appropriate boxes. Giant nutcrackers line both sides of the entryway. Cotton candy eaters, chocolate aficionados, people screaming on the overhead roller-coaster, one of the longest tracks in the world — I don't know where to look. The best part is that the park is doing its bit when it comes to sustainability. They don't just use renewable energy — they own their own wind turbines that power all of their rides.
I find myself walking towards the giant swinging carousel. Happy that there is no line, I quickly find a seat on the outside edge. The ride starts with a Christmas musical number and as I reach the top I see all of the amusement park from a bird's point of view. I think I have found my happy place. Neatly arranged rows of stalls satisfy the inner OCD in me. The carousel starts spinning and I can feel all of my inhibitions of being in a foreign land fading away.
I wouldn't find out untill later what seeing one of my favourite fairytales come to life would feel like. But before that, I head to play a game of wheel of fortune. But this isn't any ordinary wheel of fortune, the grand prize to be won is a 2 kilogram chocolate bar. After many failed attempts, I reluctantly head to the ice rink to blow off some steam. Within minutes a crowd gathers and bright lights come on. I make my way to the front of the crowd and am stunned at what I see. Professional figure skaters dressed to their nines take the center stage and recreate Charles Dickens's classic: A Christmas Saga. And suddenly, I find myself transfixed. They are astonishing — seasoned skaters moving ever so elegantly and recreating one of my favourite stories on ice.
After an hour and feeling completely re-energised by the play I find myself seated inside the Green Room; a vegan restaurant, and trust me when I say this, you wouldn't know the difference unless otherwise told. It is here that I fall in love with the traditional Swedish dark beer that etches its way into my senses, and what would be my choice of beverage for the rest of my travels through this Scandinavian region.
During one afternoon I head to Styrso, one of the two largest islands on the southern Gothenburg archipelago. During summers, I am told, lots of city dwellers take the ferry and find swimming and diving spots, hike through unexplored trails and sit by the sea.
The ferry from the city to this island takes a total of 30 minutes. Apart from the ferry, there is no other transport allowed on the island itself. I arrive at Styrsö and head further up to Stora Ros, the highest point on the island. The views are without a doubt breathtaking. On a clear day, you can see all the way up to Denmark on one side and Gothenburg city on the other from the viewpoint. A local at the viewpoint tells me that there are 8,000 islands from where I am standing to the Norwegian border. The whole place reminds me of a scene from Vikings. Fitting, I think to myself.
The walk stirs up an appetite in me and it is just in time as I head into Styrso Skaret. The cosiest island hotel, a stone's throw away from the sea. The views from the dining room and terrace are nothing short of extraordinary. Fresh seafood and herbs from the kitchen garden dictate the menu for the afternoon meal.
There is a popular saying in Sweden — "Its always time for Swedish Fika." Exactly what I do post a sumptuous lunch. Fika is practiced all throughout Sweden, where people get together for short breaks and share coffee and cookies while talking about their day. The owner of the hotel is kind of enough to bid farewell to me with traditional Swedish chocolates.
Once back in the city, I continue my Christmas market trail. I first head to Kronhusjul located in one of Gothenburg's oldest buildings, Kronhuset dating back to 1654. From the outside, the building looks like a warehouse. I walk in through the double doors and I am surprised to see a whole other world inside. Locals dressed in traditional costumes stand behind stalls selling traditional Swedish goodies. Handicrafts, Christmas decorations, chocolates and more has me confused on where to start shopping.
With multiple bags I find myself heading to another market — Jul I Haga. Gothenburg's oldest suburb, Haga is charming and picturesque with its wooden houses and cobblestone streets. Here, I find a good mix of new and antique shops. The streets too, are lined with pop-up stalls selling all kinds of Christmas goodies. I stop at Cafe Husaren, famous for making the largest cinnamon buns in all of Sweden, and order myself a hot chocolate. Cup in hand, I walk around the market and lose track of time. From Christmas trinkets and home decor to Swedish souvenirs and multiple cafes where you can take a 'Fika break', the market does not disappoint.
I leave the market and catch a tram to my hotel. Trams run throughout the city so seamlessly and are a convenient mode of transportation around Gothenburg. I arrive at my stop and head towards my hotel, Scandic Rubinen. As I walk, I take one last look at the Christmas lights, swathes of green spaces, old and new existing in perfect harmony, the trams, and cars running side by side and think about what a perfect city Gothenburg is.
Related: These Delhi Christmas Carnivals Are Sure To Get You Merrymaking Vibe
Written By