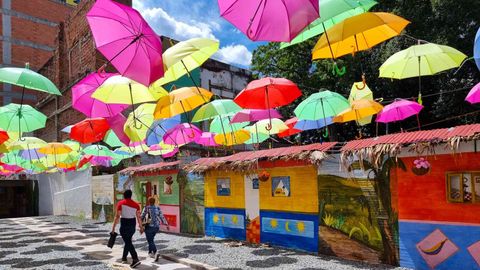 I was dancing to disco-pop music on a flatbed truck behind the DJ when someone spilt aguardiente on me. (It's an anise-flavoured liqueur Colombians seem to drink by the gallon.) But I was unbothered: my tank top was already soaked from rain and sweat, I was surrounded by a sea of smiling people, and I was having the time of my life at Medellín's pride parade.
Medellín's annual pride parade takes place at the end of June and has recently been competing with Bogotá for being Colombia's largest pride festival. There were almost 90,000 people at this year's parade, which culminated after a month of LGBTQ events and festivities in Medellín, Colombia. The parade included an early afternoon street fair of independent shops, health organisations, and nonprofits, and ended after dusk in the historic Parque de las Luces. The parties, though, went all night well past sunrise. My trip organiser, the gay travel agency Out in Colombia, arranged for me and my friends to not only attend the parade but to join it, too. We hopped onto the float sponsored by one of Medellín's biggest gay clubs, Club Oráculo, and partied with DJ Nicolas Machado. After the march, I found myself bouncing between a few different gay clubs where I made some new friends and danced until the clubs closed down.
I partied in the Provenza area, which is a wealthier district in the El Poblado neighbourhood. The areas around the main gay clubs were blocked off, there were barricades to make streets pedestrian-only, and police were visible. As a gay man, I felt extremely safe the entire time in Medellín.
Medellín, which is famous for its culture and being a hub for creatives, has seen a resurgence in tourism since the Colombian Peace Accord in 2016. In fact, Medellín surpassed Bogota and Cartagena as Colombia's most touristic city in 2022. My long weekend was filled with cultural and social activities that were planned by Out in Colombia. (I picked the agency, which started curating itineraries for gay travellers in 2016, for their tailor-made experiences, their LGBTQ tour guides, and their focus on sustainable and educational tourism in Colombia.)
Explore the LGBTQ scene in Medellín, Colombia
What to see and do Capilla del Rosario, a 120-year-old coffee farm, offers tours, speciality coffee tastings, and educational sessions to learn about the farms. The family-run farm has 25 different varieties of speciality Colombian coffees across 65,000 trees on 45 hectares.
For a unique city experience, visit the Moravia neighbourhood — a former landfill in an industrial area that's been transformed into a cultural and arts neighbourhood since the early 2000s. Local neighbourhood leaders, namely an 87-year-old woman named Gloria, now run a cultural centre that even hosts street art tours — check out MamaChilla Tours — for visitors. There's also a Barrio Transformation tour where you can learn about all the changes the neighbourhood has undergone. It's an inspiring and interesting region that many might miss out on. And because the city is in a valley, going to the mountains offers exquisite views from the scenic vistas.
If you're looking to shop for local brands, Industrias Roboto is a Colombian fashion brand specialising in techno-party clothes with a very industrial and futuristic aesthetic with an outpost in Medellín. The owners also have La Panaderia Rusa, which specialises in parkas and hoodies.
Where to eat and drink There are lots of restaurants in Provenza with open-air eateries under the lush green canopy of trees that line the streets. For quick bites and coffee, keep Repostería Astor in mind — it's a traditional Colombian pastry shop and café, with several locations across the city.
Brunch at Repeat is a staple — it has an eclectic international menu. Their large patio and spacious interiors (with a wrap-around bar with great cocktails) host live DJs in the afternoons and evenings, making it as much a place to enjoy a meal as it is a chill-out spot.
Another great lunch spot is Lavocaderia where every meal features avocados prominently in its recipe. For example, you can get a burger where the meat patty is served between two giant avocado halves instead of buns.
For more fine dining, the reservation-only Test Kitchen Lab is a must-visit. Each dish features Colombian-only ingredients and is paired with an equally enticing drink or cocktail. The open kitchen allows you to interact with the chef directly making it a memorable and intimate dining experience.
Shop the best travel experiences here
Where to party While there isn't an official "gay neighbourhood", Provenza has the largest concentration of LGBTQ bars and its safe and welcoming environment makes it easy to enjoy the bars and nightlife in Medellín, Colombia.
Mad Radio, a club for music lovers, is my favourite hangout in the city and a venue I visited every night during my trip. The indie club looks and feels like someone's house, with an open-air living room that spills out onto the sidewalk. A trickling creek outside adds to the home-like ambience.
The bar is focused on a DJ booth placed squarely in the centre of the building and the crowds are there to dance. While not exclusively a gay spot, it's a very queer-friendly venue that even hosted a queer-centered pride party during pride weekend that showcased women DJs.
Other more traditional gay bars in Medellín include Donde Aquellos Bar, a great spot for a casual hang with tables on an outdoor patio and great cocktails. Just up the street is Bar Chiquita — an upstairs bar and club with a back room that has regular drag shows. (Insider tip: they're famous for their lychee martinis.)
But the heart of gay Medellín is Club Oráculo, a massive gay club with three separate dance floors: one plays traditional gay pop and has a massive stage where you can catch full-on, elaborate drag performances; one dance floor upstairs plays techno; and one plays Latin and samba-style music.
Where to stay Many of the city's best hotels are in the Provenza neighbourhood but I stayed at The Click Clack Hotel Medellín. It is a Colombian brand and the second hotel after its flagship property in Bogotá. The luxury hotel has a large open-air, green lobby under towering trees and bushes, where breakfast is served daily.
There are three on-site restaurants serving Colombian, Greek, and Thai cuisines and two separate rooftop bars. The newest addition is the newly opened Náufrago, a rooftop cocktail bar with 360-degree panorama skyline views. Their delicious cocktails are designed after different Colombian regions, each with its own localised liquors and flavours.
There's no need to leave the hotel with all its amenities (and a downstairs art gallery, even) but it's within walking distance to all the attractions and gay bars in Provenza, making it the perfect place to be based while exploring Medellín.
Book your stay at The Click Clack Hotel Medellín via Booking.com
Book your stay at The Click Clack Hotel Medellin via Agoda.com
(Hero and feature image credit: Getty Images)
This story first appeared on travelandleisure.com
Related: These Are The Friendliest Countries For LGBTQIA+ Community In 2023
Written By