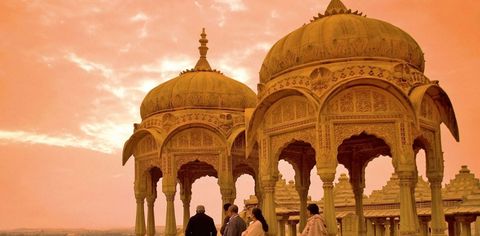 Travelogues on Rajasthan often brim with effusive praise for its palaces and castles. But every royal city has another common feature: cenotaphs. Our contributor follows the trail. By Anubhuti Krishna Around 10 kilometres from the city of Bikaner stands a sprawling compound. Enclosed by a low, white boundary and surrounded by a barren desert, the compound is home to dozens of domes of various sizes. The structures wear hand-painted frescoes inside and hand-carved motifs outside. A small shrine of a local deity stands nearby, as if protecting the structures from the vagaries of nature. But this is no palace or castle. These are cenotaphs of the royal family of Bikaner.
Traditionally erected to honour the memory of a person or a group of people, cenotaphs literally translate to empty tombs. While they are seen throughout the world, in India they are mostly found in the central and western states, with the largest and most ornate ones spread around Rajasthan. Every major town that has been a seat of power— Jaipur, Jodhpur, Jaisalmer, Udaipur, Bundi, Bikaner—is home to cenotaphs, or chhatris as they are called in India.
I first learnt about them about 10 years ago. I was on a trip to Jodhpur and was staying with a family in the old city. Their home, one of the many that form the Blue City, was narrow and high, and the only way I could get some fresh air on those stuffy August evenings was to get to the rooftop. There was another reason to climb the steep flights of stairs though: the view. Late in the evening, the Blue City would twinkle on one side of our residence, and on the other stood a glistening marble structure. Tall, majestic, and ornate, it looked like an ostentatious temple to my untrained eyes. I learnt from my hosts that it was actually a cenotaph, the final resting place of the famous
Jodhpur
king Jaswant Singh II built by his son, Maharaja Sardar Singh.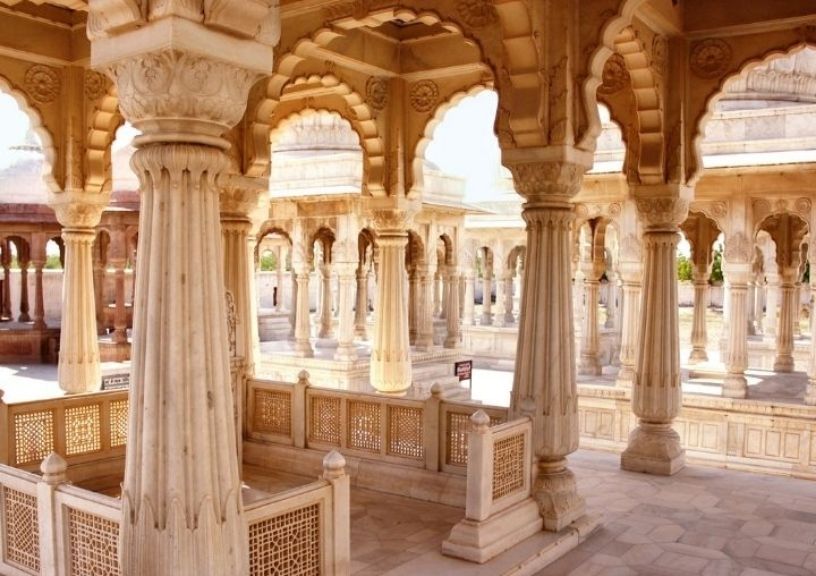 We did make time to visit Jaswant Thada later on that trip. A sprawling monument with tall spires, ornate columns, and many smaller, intricate chhatris around the main structure, Jaswant Thada was unlike anything I had experienced until then. It was hard to believe that such a grand monument was not a palace or residence but a memorial and crematorium. On the same trip, we came across more chhatris a few kilometres outside of Jodhpur. In Mandore, among overgrown gardens and temple ruins stood clusters of cenotaphs— also of Jodhpur rulers but much older. These were carved out of red sandstone and were far more elaborate than the marble ones at Jaswant Thada. While the gardens were generally run down, the chhatris were in perfect shape. Some had multiple spires that reminded me of intricate Jain temples seen across Rajasthan, others looked like small palaces adorned with sculptures of nymphs and celestial bodies, and some—probably belonging to the lesser wives and younger members— were small and plain. I remember being mesmerised by the place on that humid morning. I remember telling myself to find all the cenotaphs in the state. It was a thought that would materialise a decade later.
June isn't the ideal time for anyone to be in
Rajasthan
, but here I am in the middle of a heat wave standing at the threshold of Bikaner's most sombre monument, Devi Kund. In a town where everything is so intricate that it looks unreal, this is the most surreal place of all. The stone boundary wall, interjected with red pillars, stands guard to the small and intimate campus. A blue board with white signage declares that this is the final resting place of the Bikaner royal family. Another board lists nominal entry ticket prices, timings, and some ground rules.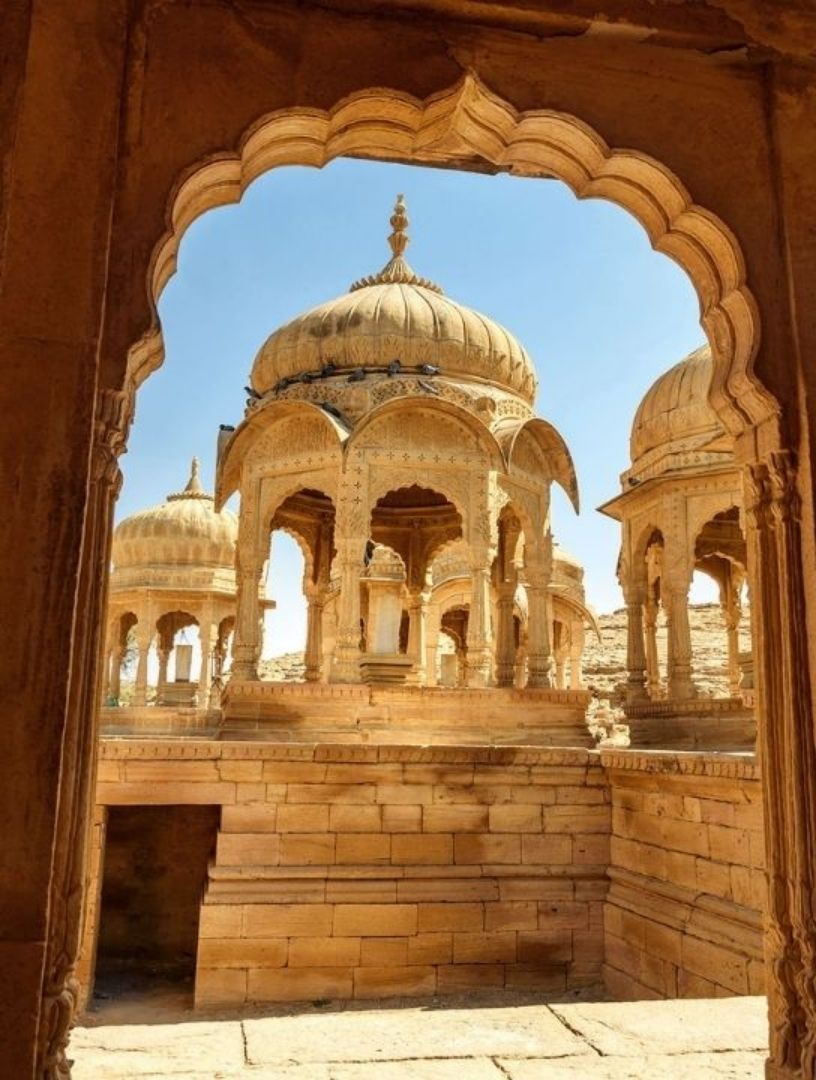 "The oldest chattris here are almost 500 years old," my driver and guide Pushpendra Singh tells me, as we walk towards a small shrine inside the compound. He has insisted that I first pay respect at the shrine before exploring further. The newest cenotaph, Singh says, was added just a few years ago and belongs to the last king of Bikaner, Maharaja Narendra Singh. Given that I am living in his palace (now a boutique hotel called Narendra Bhawan), I am intrigued. Unlike most new cenotaphs that are made in marble, this one is made with sandstone and is the smallest and simplest of all. "Our maharaja was a great soul," Singh mumbles, as he folds his hands in front of the tomb.
Built over the last five centuries, the cenotaphs at Devi Kund vary in both size and style. I see a mix of Mughal and Rajasthani architectural elements, apart from differences in stone and adornment. Some chhatris have multiple columns supporting the domes, others have frescoes on their ceilings; some are adorned with jali work, and others have none of these features. Even the plaques are different. "The chattris for kings have an erect stone with a man carved on it," explains Singh. "The ones for the queens have footprints on horizontal plinths, and the ones for children are just plain platforms." It's those without a roof or dome, belonging to children, that make me uneasy.
Most cenotaphs at Devi Kund are built within an L-shaped enclosure. Beyond this, I am told, are more cenotaphs and a
lake
. On another day, I would have demanded to see both, but the heat is unbearable. After a final glance, I leave Devi Kund wondering how long it will be before I visit another cenotaph.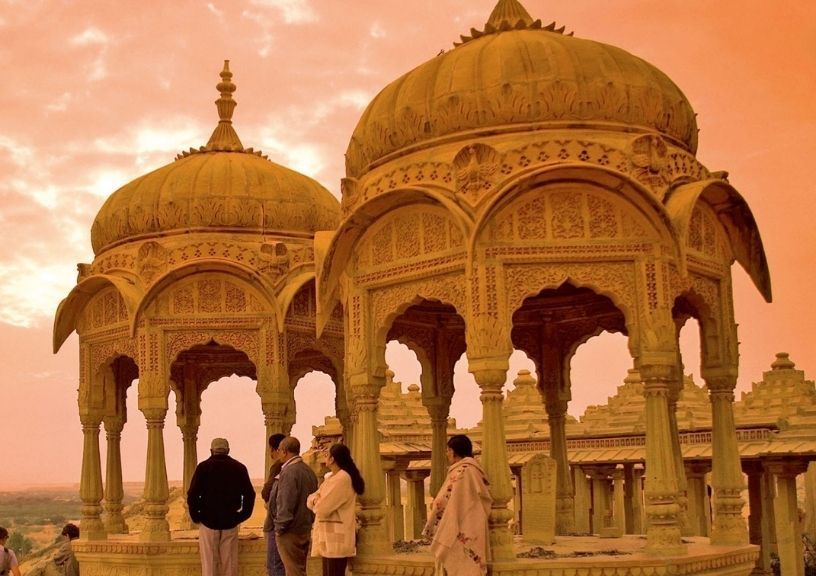 It is by sheer chance that I am back in Rajasthan a few months later, this time in my favourite city, Jaisalmer. I have much to see and do, but the most important item on my itinerary is Bada Bagh, the royal cenotaphs of Jaisalmer. The 'bagh' in the name refers to a massive mango grove that was planted in honour of Maharaja Jaisal Singh back in 1743. Today, it is a lush orchard contrasting with the ochre sand and golden stone of the cenotaphs that have since come up. "Maharaja Jaisal Singh, who ruled the area in the 1700s, had built a dam to bring water and greenery to this part of Thar," says Bhanwar Lal, my driver and guide from Suryagarh Jaisalmer who has spent his entire life in the region. "To honour his vision, Jaisal Singh's son planted the mango orchards next to his chhatri." Many other chhatris and trees got added over the years until 1947, when the place was abruptly abandoned. "During the construction of Maharaja Rawal Singh's cenotaph, his son passed away. The Bhatti dynasty who ruled the area considered it a bad omen and abandoned the place." This is why, explains Bhanwar Lal, the place is now in disarray. "Unlike the cenotaphs in other parts of Rajasthan that are still in use, this has no one to look after it." It may hurt the locals, but to an outsider, these broken roofs, chipped stairs, and uprooted tombstones only add to the appeal of the place.
Like the chhatris of Bikaner and Mandore, Bada Bagh also shows signs of disparity within the royals. The ones belonging to men are larger, those for women are smaller. The grandest are made for more powerful kings, and the simpler belong to the not so famous ones. Most have a marking stone inside, similar to the ones I saw in Bikaner, with etchings of a man riding a horse; some also have a number of women sculpted along the rider. "The women indicate the number of queens who performed sati on the king's pyre," Lal tells me matter-of-factly. I try to count the etchings but give up midway; there are far too many chhatris and even more sculptures to count.
It is evening by the time we get done with Bada Bagh. By now I have climbed countless cenotaphs and read umpteen signages. I have taken more pictures than I will ever share and noted more details than I will ever write about. "Would you like to go to Vyas Chhatri, Madam?" Lal asks, as I get back into the car. "It was built in honour of Maharishi Ved Vyas, the one who compiled Mahabharata." My head tells me I should go back, but my heart doesn't want to let go of the opportunity; who knows if I will ever return to Jaisalmer.
"Yes, let's look at that," I smile at Bhanwar Lal, and we set off to revisit another chapter in history.
GETTING THERE
Rajasthan is connected to all major Indian cities by flights, trains, and excellent roads. Air India flies daily into Jodhpur, Bikaner, and Jaisalmer from Delhi, Mumbai, and Ahmedabad.
STAY
JODHPUR:
Umaid Bhawan Palace offers sweeping views of the city and lessons in history. From INR 25,000.
RAAS Jodhpur is the city's first boutique hotel built in 18th century haveli style. From INR 18,360
BIKANER:
Narendra Bhawan, the erstwhile home of the Maharaja of Bikaner, is inspired by his lifestyle. From INR 6,000
Laxmi Niwas Palace is replete with gilded rooms and halls decorated with hunting trophies. From INR 10,000
Written By