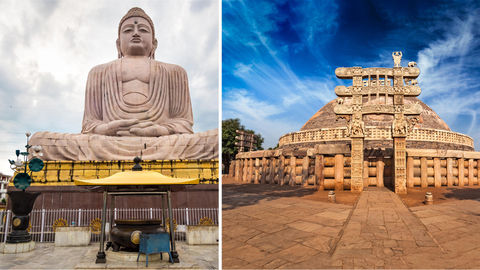 Editor's note: The global COVID-19 crisis has left each one of us deeply affected and we want to help. Burda Media India has organised a fundraising campaign to #FightBackWithTesting and donating RT-PCR test kits to the worst-affected areas in India, which will be secured from our testing partner Mylab Discovery Solutions. You can help these kits reach many more by donating for the cause or by adopting a kit. Click here to join the fight.
With the many religions coexisting in India, Buddhism is fast gaining spotlight despite being in the country since the 3rd Century BC. Whether you've jumped on to this religious bandwagon only recently or you've been seeing it rise in popularity from a distance, its alluring calm is sure to intrigue you, and its many tourist spots – invite you. We've chalked out the Buddhist circuit in India for you to trod along once restrictions ease. By Bayar Jain
Although Gautama Buddha – the founder of Buddhism – was born in Lumbini, Nepal, he is believed to have spent most of his life in India. However, apart from his physical presence in the country many years ago, his teachings and practices have lingered around for centuries with many newer generations continuing to imbibe his philosophies even today. Once relaxations come into the picture and venturing out to the streets is normalised, a journey along Buddha's footsteps should be on your bucket list. Plus, you'll return with a new-found calm!
While the Buddhist circuit in India spreads wide and covers multiple destinations such as Kaushambhi, Nalanda, Sravasti, Bavikonda, and more, these are some of the most revered destinations in the entire circuit.
Bodh Gaya
View this post on Instagram
Located in Bihar, Bodh Gaya is the place where Gautama Buddha attained enlightenment. It is believed that Buddha – at that time only a prince – meditated under the Bodhi tree for 49 days to attain enlightenment. In fact, due to this historic relevance, Bodh Gaya has elevated to become one of the most revered Buddhist sites in India and abroad. Dotted with many temples and countless monasteries, this tranquil space is believed to have inspired the philosopher to take the Middle Path – a theory underlining Buddhist philosophies. Today, to mark the importance of the land, the UNESCO World Heritage site has the Great Buddha statue – stretching up to 25 metres, the Bodhi tree, the Mahabodhi Temple, and countless other attractions.
Sarnath
View this post on Instagram
Dubbed as the first place Gautama Buddha gave his first sermon, Sarnath is close to another holy city, Varanasi. The Dhamek Stupa (seat of Buddha) here is considered the very spot he imparted his wisdom. The wheel of teaching or dharmachakrapravartna came into the picture here, during which it is said that he revealed the four noble truths and the concept of dharma, buddha and sangha via the eight-fold path for inner peace, and ultimately nirvana (salvation). Moreover, Emperor Ashoka – widely regarded as a follower of Buddha's teachings – visited this revered land around 234 BC and constructed a stupa in the philosopher's honour. This stupa thus established has now become India's national emblem, the lion pillar or the Ashoka pillar.
Kushinagar
View this post on Instagram
Located in Uttar Pradesh's Gorakhpur district, Kushinagar is the last stop to complete the tranquil circuit. Gautama Buddha breathed his last at this eastern Uttar Pradesh town in 543 BC and attained nirvana. Legend has it that Emperor Ashoka distributed mortal remains of the philosopher to more than 80,000 stupas. Excavations also revealed that a community of monks once lived here as recently as 11th century AD.
Today, when devotees flock to Kushinagar, they can marvel at the uniquely crafted Mahaparinirvana temple where a red sandstone reclining statue of Buddha rests. The Matha Kuar Shrine is also worth a pitstop as it houses a statue of the great man arguably constructed using a single stone. Other attractions are Wat Thai Temple, Chinese Temple, Japanese Temple and more.
Sanchi
View this post on Instagram
Although this spot doesn't have a direct connection to Gautama Buddha himself, it holds immense reverence to devotees of this religion. Synonymous with Buddhist architecture, a cluster of stupas and monasteries pay homage to the days when the religion flourished in India. Believed to date back to the 3rd century BC, this UNESCO World Heritage site is considered one of the oldest stone structures in the world. Here, the Great Sanchi Stupa, Buddhist Viharas, Sanchi Museum, The Gupta Temple and more coexist in perfect harmony – much like the core principle of Buddha's teachings.
Related: Follow This Buddhist Trail In Bihar To Walk Into Buddha's Steps
Written By