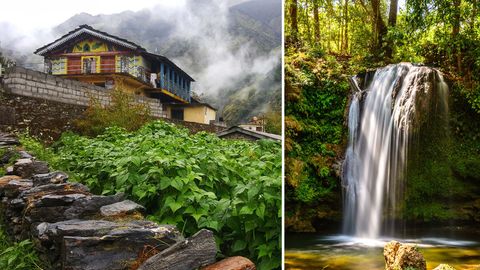 Uttarakhand has a lot to love. From temples aplenty to waters ideal for rafting, and hills which double as beautiful weekend getaways, this mountainous state has it all! As travel restrictions to this state ease, we bring you five boutique hotels in Uttarakhand to stay at when you embark on your rebound trip here. By Bayar Jain
Boutique Hotels In Uttarakhand
As per a press release on the state tourism's website, all inbound travellers to the state have to mandatorily register themselves on the SmartCity web portal, even though no e-pass is required. Upon entering the state, however, documents will be verified at border check posts. The download and use of the Aarogya Setu app are also compulsory as per the release, while home quarantine for 14 days is mandatory for travellers incoming from less-risk cities. Those entering from high-load cities or international grounds have to undertake a seven-day institutional quarantine (with the option of choosing between a free governmental facility or self-paid quarantine facility), followed by a seven day home quarantine. Pregnant individuals, children below the age of 10, and senior citizens above 65 are exempt from institutional quarantine. Additionally, the release also states that tourists going to Uttarakhand have to book a minimum stay of seven days unless they have a negative COVID-19 test report furbished not more than 72 hours prior to their arrival. A written self-declaration form must also be submitted to the accommodation, states the same release.
With the quarantine rules sorted, the next step of your rebound travels is choosing your stay — and what better place to head to than the many gorgeous boutique hotels that Uttarakhand has to offer! We've picked our top five.
View this post on Instagram
Nestled on a ridge in the shadows of the sacred Nanda Devi Range, this private mountain retreat is home to 10 luxurious suites across five structures with private overlapping terraces offering views to the Great Himalayan range. The floor-to-ceiling windows in each of the accommodation types allow sweeping views of the grandiose mountains, while the use of locally-quarried stones and fly-ash bricks clad in bamboo sticks radiate traditional ways of living indoors. Adding to the rustic charm here are traditional wood-burning bukharis (heaters) which find a space in every suite. Their dining offerings, too, are painted with this simplicity. Picture a cantilevered structure offering unmitigated views of the Himalaya's mighty Kanchenjunga, with a mix of Kumaoni and international cuisine dressing the table, peppered with seasonal produce foraged from nearby village farms.
View this post on Instagram
Away from the city's bustling life, Banyan by the Ganges is a riverside retreat accentuated by the luscious greens surrounding it. When here, the calming music of singing birds, chirping crickets and the murmur of the flowing river will lull you into a relaxed frame of mind, while the nighttime twinkling fireflies are sure to entrance you. Spread over three acres in Vyasghat, this retreat has 12 well-appointed luxury Swiss cottages to better your stay. A green signal for paw-parents choosing to vacation with their pooches here makes it even better! The retreat's love for all things eco-friendly and sustainable adds to the alluring charm. Think, UV-treated mountain spring-water to drink, a no-plastic policy, paraben and sulphate-free natural soaps, farm-to-table food, and over 500 self-planted trees!
View this post on Instagram
The Haveli Hari Ganga Hotel in Haridwar is steeped in rich history and traditions. Set on the banks of India's holy river Ganga, this hotel once doubled as the personal residence of Maharaja of Pilibhit. Today, this ornately decorated residence houses many devotees and travellers in its luxurious abode, offering each guest a peek into Hindu ancestry. With the tranquil river on one side and hill views on the other – each of which can be gawked at from the cosy confines of the private balconies in the rooms – add to the true haveli experience here.
4. Namah, Jim Corbett National Park
View this post on Instagram
Surrounded by natural beauty and greens in abundance, Namah is the ideal vacation for a retreat in the wild. Offering modern-day luxuries in the au-natural forests of Jim Corbett, this escapade has all the activities you need to make it a memorable wildlife vacation. Namah has naturalists and experts to help you explore the wild in comfortable jeeps, post which you can unwind at their in-house spa. If you're up for a more adventurous experience, they even offer an elephant safari across the river and on jungle tracks where jeeps may be restricted.
View this post on Instagram
Perched between the Himalayan foothills in the north and the ancient Shivaliks in the south, Jim's Jungle Retreat is a wildlife lodge itching to be explored. When here, a lush refuge of expansive forest and mountain vistas greet you, while countless bird-spotting opportunities entice. The 18 independent cottages here echo with the soothing lapping of water bodies and carry with them whiffs of deciduous flora from the Terai planted decades ago. Reflective of the area's Raj-era legacy and influences of the wandering pastoral tribes of the Van Gujjars, you can choose from three accommodation styles here, each designed with a focus on aesthetic, comfort and local histories. The many chirruping birds accompany, irrespectively.
If you have been to any of these boutique hotels In Uttarakhand, share your picture with us on social media.
Related: #SomeGoodNews: Uttarakhand Lifts Travel Restrictions For Everyone!
Written By