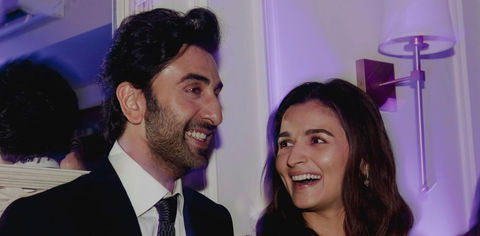 So, you've fallen deeply in love and want to take your relationship to the next level. If you're looking for some inspiration on how and where to pop the question to your partner, check out the exotic locations these Bollywood celebrities planned the perfect proposals at! By Anushka Goel
Falling in love is a beautiful feeling, and what makes it even better is knowing that your partner is the person you want to spend the rest of your life with. There could be nothing better than marriage and sharing a lifetime of love together (and yes, it's the romantic in us talking), and what makes the feeling of being engaged to someone so special is the time and efforts you spend in proposing to your loved ones.
Over the years, planning the perfect proposal has become a must-take step when asking a partner to marry you. Be it extravagant vacations or a simple 'let's get married' at a bar, proposals often make for the most memorable stories, especially since they mark the beginning of a marriage and spending lives together.
When it comes to romances, Bollywood leaves no stone unturned. The film industry has given us many real and reel love stories to look back at and cherish. From Saif Ali Khan-Kareena Kapoor Khan to Anushka Sharma-Virat Kohli and Katrina Kaif-Vicky Kaushal, the amount of love we've witnessed among celebrities gives one hope of finding the perfect partner. What's more, some of these Bollywood celebrities have given their partners the most perfect proposal, setting major goals for friends and fans alike.
So, if you are planning to propose to your partner anytime soon, here's how you can take cues from the stars and make the most of your proposal – be it fancy, or be it simple and sweet!
Places where Bollywood celebrities planned the perfect proposal for their partners
Alia Bhatt – Ranbir Kapoor: Masai Mara
View this post on Instagram
The latest season of Koffee With Karan kickstarted on Disney + Hotstar last week, and gracing the couch on the very first episode were Ranveer Singh and Alia Bhatt. Apart from other things, what caught our attention was Alia talking about how her now-husband Ranbir Kapoor proposed to her at Masai Mara in Kenya. "He (Ranbir) totally blew my mind away because I was not expecting it. We were not even talking about it. We were talking about it for a very long time but then there were so many pandemic delays, that we decided we won't talk about it (a proposal and marriage). We'll just go with the feeling. And that's exactly what he did. He didn't tell anyone. He just carried the ring and he did it in the most amazing place — Masai Mara," the actress told host Karan Johar.
Saif Ali Khan – Kareena Kapoor Khan: Paris
View this post on Instagram
Among the Indian celebrity proposals that have our heart is the one by Saif Ali Khan to actor-wife Kareena. The actor first popped the question at a bar in Paris, and later in front of the Notre Dame Church on the same trip. However, it was two days after the proposals that Kareena agreed, and the two then got married in a simple ceremony. Saif chose Paris since that was the destination his father, Mansoor Ali Khan Pataudi, proposed to his mother, Sharmila Tagore. However, Saif had already been rejected by Kareena once when proposed to her in Greece, while shooting for the film Tashan!
Abhishek Bachchan – Aishwarya Rai Bachchan: New York
View this post on Instagram
In a media interaction, Abhishek Bachchan revealed how he used to think of marrying Aishwarya in the balcony of a hotel in New York, where he was staying while filming for a movie. And sometime later, when the couple was in the city for the premiere of their film Guru, Junior Bachchan popped the question on the very same balcony of the same hotel! Isn't that romantic?
Shah Rukh Khan – Gauri Khan: Juhu Beach, Mumbai
View this post on Instagram
If you're not one for grand proposals, Bollywood celebrity King Khan and his ladylove are the perfect couple to inspire you and your love story. The two started to date when they were in college, and once, when she got tired of SRK's possessiveness, she went to Mumbai, and the actor followed her, searching for her everywhere in the city of dreams. He finally found Gauri at Juhu beach, where he asked her to marry him. It seems like the king of romance is a true romantic in real life, too, and planned the sweetest and the best celebrity proposal for the love of his life!
Priyanka Chopra – Nick Jonas: Greece
View this post on Instagram
The romance between Priyanka and Nick may have been quick, but it was meant to last long, and the couple keeps proving it time and again. Months into the relationship, Nick knew that Priyanka was the one for her, and he shut down an entire Tiffany & Co store in London to find the perfect ring for his lady love. Later, he proposed to her while on vacation to Crete in Greece.
Bipasha Basu – Karan Singh Grover: Koh Samui
View this post on Instagram
Karan and Bipasha are among the most popular Bollywood celebrity couples, and their proposal was nothing less than a dream. Among the destinations where Bollywood celebrities proposed was Koh Samui on December 31 thanks to this dreamy couple, and the actress took her own sweet time before saying 'okay', which Karan took as a yes!
Sonam Kapoor Ahuja – Anand Ahuja: New York
View this post on Instagram
Sonam Kapoor Ahuja and her businessman husband Anand started dating in 2017, and reports suggest that Anand wrote a long love letter to her, which she ignored. Later, he got down on one knee on a street in New York to pop the question, and the couple is now expecting their first child together.
Sagarika Ghatge Khan – Zaheer Khan: Goa
View this post on Instagram
Sagarika Ghatge and Zaheer Khan kept their relationship under the wraps for the longest time, but fans saw him proposing to her at a beach in Goa during the IPL season. Later, the actor made their relationship Insta-official with a selfie.
Neha Dhupia – Angad Bedi: Mumbai and Delhi
View this post on Instagram
Angad and Neha started out as best friends, and soon, their friendship blossomed into love. When the couple decided to get married, Angad didn't propose, Neha told Humans of Bombay. He just said 'Chalo Dilli' to meet his parents, and the two got married after two days.
Kunal Kemmu – Soha Ali Khan: Paris
View this post on Instagram
Another one among the dream Bollywood celebrity proposals was by Kunal Kemmu. He asked Soha Ali Khan to marry him in the city of love, with what Soha, in a tweet, described as "the most perfect ring in the world." The couple is now parents to daughter Inaaya Naumi Kemmu.
Hero and Featured Image: Courtesy of @aliaabhatt/Instagram
Related: These Monuments Of Love Are Food For A Romantic Soul
Written By