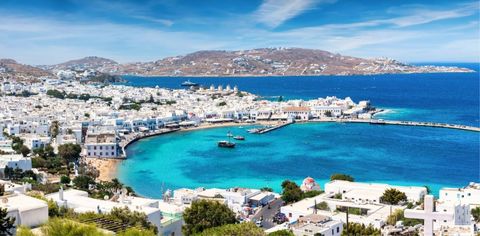 Happy birthday to you! When it comes to celebrating another trip around the sun, the only thing better than presents and cake is travelling (but don't let anyone stop you from having all three). Read on for the best birthday trip ideas from sea to shining sea — and beyond. By Skye Sherman
1. Tulum, Mexico Gather a group of friends and enter a new year of life with a clear mind after spending your birthday in the spiritual centre of Tulum. Located along Mexico's gorgeous Riviera Maya, the Caribbean coastline, replete with crystal clear waters and white sand beaches, means you'll welcome another year on Earth in one of its most beautiful locales. Known for its yoga retreats, jungle cenotes, sacred ceremonies, and Mayan ruins, Tulum is the perfect place to centre your mind and reconnect with nature. The city also has plenty of hotels, restaurants, and shopping to explore when you want to leave the peace of the jungles and beaches behind.
2. New York, New York You can't beat the energy of New York City for marking a major milestone, especially growing older. Plus, the city that never sleeps is guaranteed to keep you young because there's always something new to discover. No matter how you hope to celebrate, New York has it — from live entertainment to gorgeous green spaces to Instagram-famous foodie finds. Every season has something different to offer, so New York makes for a festive trip no matter your birthday month.
Book a room at the Renaissance New York Times Square Hotel for a stay in the heart of the action, where you can fall asleep amidst the glow of neon lights — a birthday fit for a movie scene.
3. Laguna Beach, California For a truly pampered birthday trip, head to Laguna Beach, where you'll find the ultimate Southern California escape, complete with sunshine, surf, shopping, and spa treatments. A quirky yet chic beach town about an hour south of Los Angeles with surf shops, art galleries, and everything from to-go tacos to fine dining, Laguna has something for everyone. There's no better place to stay than the oceanfront Montage Laguna Beach, where your party can share a private villa or book spacious adjoining suites, enjoy views from the stunning Mosaic Pool, take a scenic stroll along immaculately manicured paths, or hit one of the area's most beautiful stretches of white sand beach. Enjoy luxurious treatments at Spa Montage, from massages using California wildflowers to romantic couples' experiences.
4. Maui, Hawaii
If Hawaii has long been on your "someday" list, then let your birthday provide the excuse you've been waiting for to finally book that flight and just go for it. Regardless of your age, Hawaii offers lots to do, great eats, and cultural experiences to enrich your global education, while the greens and blues of Maui's tropical landscape offer a feast for the eyes. Try something new on your visit, whether that's learning to surf or sampling a spoonful of purple poi. To really celebrate your birthday with a bang, make sure a traditional hula performance is on the itinerary.
5. Train journey through Italy If you know of a better way to celebrate a birthday than all the pizza, pasta, gelato, and wine your heart desires, then please alert the presses. Otherwise, head straight to Italy for a travel birthday bonanza — there are few better ways to explore the dreamscape that is Italia than to see as much of the boot as you can by train. Include highlights like Florence, Cinque Terre, and Tuscany (Italy's heavenly wine region) for the kind of trip that might make you pick up scrapbooking again.
6. Charlotte, North Carolina
If melt-in-your-mouth BBQ and outdoor adventures are right up your alley, then look no further than Charlotte, for the ideal birthday trip destination. Home to the US National Whitewater Center — where you can find whitewater rafting, biking, zip lines, live music, and craft brews all in one action-packed location — and the fragrant pits of drool-worthy Noble Smoke, Charlotte promises great eats and a great time.
Looking for more? Charlotte is also home to the NASCAR Hall of Fame, Bechtler Museum of Modern Art, and NoDa art district. If you're travelling with a group, head to Optimist Hall, where everyone can enjoy a meal of their choosing from local food vendors.
7. Santa Fe, New Mexico If all you want to do on your birthday is relax and unwind, then plan an indulgent spa retreat to the American Southwest and put Santa Fe at the top of your list. At Ojo Santa Fe Spa Resort, you'll find spring-fed waters and the opportunity to soak in blissful thermal pools following a top-notch spa treatment; healthy, nourishing farm-to-table meals are also included in your stay. It's the perfect getaway, especially for a solo birthday trip or a quiet retreat with a loved one.
8. Mykonos, Greece If you really want to fete your birthday in style, there's no better place to do so than the party destination of Mykonos. Located in Greece's Cyclades islands, Mykonos captures the classic fluffy beaches and white churches most people associate with a Greek vacation. But, what makes Mykonos most appealing for birthday trips, especially for groups of friends, is its populous beach parties and thriving nightlife, allowing travellers to celebrate from sun-up to sun-down. Check in to The Wild Hotel by Interni for exclusive, private access to the beautiful Kalafatis beach below the hotel's cliffs.
9. Vail, Colorado
If you enjoy being active, Vail should top your birthday bucket list. You can snowboard and ski in the winter on Vail's renowned slopes (and who doesn't want to indulge in the pleasures of après ski for their birthday?) or hike among blankets of wildflowers in the spring and summer. Book a birthday dinner in a woodsy lodge for the full experience.
10. Backpack through Thailand Fly the distance to South Asia for an unforgettable adventure packed with amazing views, flavourful dishes, and a welcoming culture, both from native residents and the country's large community of expats. Thailand is a bucket-list trip for many, so what better reason to plan a trip than for your birthday?
Whether you go solo, with a friend or partner, or with a group of friends, Thailand is sure to please — the reason for its popularity among travellers is immediately obvious upon touchdown.
11. Las Vegas, Nevada Vegas is a classic destination for celebrations of every kind, and birthdays are no exception. Whether you're in it to win big at the casinos or splurge on world-class shows, birthdays present the needed excuse to run wild in Sin City. For a little balance, consider adding on a road trip through Nevada's deserts, stopping to check out roadside art and Gold Rush ghost towns along the way.
12. Chicago, Illinois With lots to do, see, and eat in Chicago — and sprawling views from spots like Skydeck Chicago at Willis Tower — it's a great place to ring in another year. You can get out on the water or spend your birthday trip exploring museums and galleries, depending on what suits your fancy. And no worries if your birthday's in the winter: after ice skating along the Maggie Daley Park Ice Skating Ribbon, you can warm up with a piping-hot deep-dish pizza, a Chicago classic.
Swissotel Chicago provides well-situated digs located within walking distance to many attractions, including the shops of Magnificent Mile. Book a corner room for views of the Chicago River, Navy Pier, and Lake Michigan.
13. Toronto, Canada Toronto's thriving music, food, and entertainment landscape mean visitors never lack fun things to do in Canada's largest city. Explore the culture of the 6ix by taking a street art crawl or spending the day at one of the city's various museums and galleries. If you're a spring or summer baby, turn another year older at a Toronto music or film festival. And, of course, there's plenty of fall foliage and winter fun to enjoy in the colder months, when you can spend your birthday at the Toronto Light Festival or at a nearby winter getaway.
14. River cruise through Europe on U by Uniworld
London, Paris, Rome — sure, these are great places to turn another year older in Europe, but they've been done before. Instead, explore a lesser-known side of the continent by boarding a U by Uniworld cruise and rolling down the Rhine or floating down the Danube. Not your grandma's stuffy river cruise, this line is a fresh take on a method of travelling that's totally underappreciated by everyone under 60 — built for the young (and young-at-heart).
Whether you sail between Amsterdam and Brussels or explore Eastern Europe on a cruise connecting Vienna and Belgrade, you'll never forget a birthday spent meandering Europe's scenic rivers on a luxurious cruise with locally-inspired food, fun-loving fellow passengers, and tons of activities, from biking or walking tours at port to silent discos and stargazing onboard.
15. Savannah, Georgia No place does southern charm quite like Savannah. Walk her cobblestone streets, shaded by canopies of live oaks aged hundreds of years, and pop into her many award-winning eateries, like The Grey, housed in a former Greyhound Bus station. By night, book a ghost tour for some serious spooks (after you've treated yourself to a generous scoop of Leopold's Ice Cream, of course). The new Plant Riverside District is another main attraction, packed with shops, galleries, entertainment, restaurants and bars, nightlife, and even a hotel, the JW Marriott Savannah — all housed within a repurposed power plant, now a one-stop-shop for merrymaking.
16. Napa Valley, California
(Almost) any age can appreciate a cultured jaunt through wine country, which explains why it's a long-popular birthday destination. Between the picturesque landscapes, the enchanting towns, the award-winning restaurants, and the world-class wine, Napa Valley is an easy choice for a birthday to remember — and a crowd-pleaser if you're hoping to convince a group to join you.
17. Machu Picchu, Peru The more adventurous traveller might consider spending a birthday exploring Machu Picchu. Hike, bike, raft, or zip line to the lost Incan city on one of the various local tours that take thousands of people to Machu Picchu each year. If you're a more low-key traveller but still want the experience, you can also take a scenic train ride from Cusco. Once you're acclimated, see why the Incan citadel, high in the Andes Mountains, is one of the Seven Wonders of the World. Breathtaking views and complex stone architecture make this ancient astronomical observatory a must-see. Before and after travelling to Machu Picchu, you'll most likely stay in the nearby town of Aguas Calientes, which offers plenty of lodging, eateries, shopping, its namesake thermal springs, and the Mariposario de Machupicchu butterfly sanctuary. You can also explore Cusco, full of hotels, restaurants, and UNESCO World Heritage architecture.
18. The Palm Beaches, Florida
The Sunshine State promises a laid-back, fun-filled visit any time of year. There are great places to visit in Florida from the Keys to the Panhandle, but the Palm Beaches are Florida's crown jewel. Packed with arts and culture, outdoor activities, world-class shopping, picturesque beaches, and every sort of entertainment, the area has something for everyone — whether you're looking for a chill escape in Lake Worth Beach, buzzing nightlife in Delray Beach, or a glamorous vacation spent rubbing elbows with the rich and the famous in Palm Beach.
Want to really up the ante? Miami is just a one-hour ride away on the luxurious Brightline train. Head even further south and you'll hit the Florida Keys, where anything goes — especially on birthdays.
19. Alexandria, Virginia
To enjoy your birthday to the fullest, head to the underrated and affordable small town of Alexandria, where you'll find both fascinating history and mouthwatering eats, a happy marriage of Southern hospitality and mid-Atlantic sophistication. Stay in Old Town at Hotel Indigo Old Town Alexandria, mere steps from easily walkable King Street with a clean, nautical vibe.
The city is charming, artsy, and packed with irresistible boutiques to shop; best of all, Washington, DC, is just a quick 20 minutes away on the metro (and it'll only set you back USD 5 or INR 382) — or you can simply enjoy the view of our nation's capital from across the Potomac River.
20. Reykjavík, Iceland If unrivalled sights and some of the best hot springs in the world are on your birthday itinerary, you can't go wrong with Iceland's capital. Go for the city's famous lagoons and swimming pools, stay for Reykjavík's museums, galleries, theatres, and cafés. Enjoy a local game at one of the nearby restaurants, or go whale watching and sightseeing in Iceland's natural wonder. For the full experience, try horseback riding, glacier climbing, river rafting, caving, and more.
Related: 10 Places Near Chennai To Visit Within 150km For Your Next Weekend Getaway
This story first appeared on www.travelandleisure.com
Written By